Hey there guys! Earlier today, we were looking at all the options that can help a marketer promote their business in one way or the other and do nothing but effective marketing and we are so glad that we have a bunch of ideas to share with you. But as they say, "One idea at a time…", in this blog we will share one of the most effective marketing 'platforms' with you along with an absolutely free yet highly editable mock-up PSD file so, are you guys ready?
Have you (ever) noticed that when you are in a cinema hall, waiting for a new movie to start, there are also ads being played on, on that huge screen? Those are not just trailers of the upcoming movies or TV series but intelligent marketers have also taken the spot to talk to you about their business and services. We find it quite an interesting option to explore for any type of business because that's not only a smart way to do that but you exactly know the audience and you get a chance to target them.
May be no one has told you before but the cinema hall screen can be used for more than just playing movies and while you are all free to pitch your design ideas for an upcoming movie or play for a cinema screen, there is something else that you can do with our mock-up PSD file and we are about to share what that is.
For instance, if we are the brand managers of umm let's say a brand that sells cosmetics, then we will go check the movies that happen to have an 'undertone' of fashion and styling and grooming yourself and then we will only book the slots for our advertisements of the halls which are going to be used to play those movies. It is literally that simple yet effective when it comes to conventional marketing. Also, this is a new way to go about things so we will suggest you to do check out your options too.
Okay so, you know that there exists another amazing area for you to market your brand and its products etc. Now you would need a few things to start working on the actual idea and its pitch presentation and everything else for that matter. And to kick it off in style, the first thing that you must have with you is our free cinema movie theater hall screen mock-up PSD file, everything will fall into place (almost) on its own.
Once you have downloaded the PSD file, you also need to know the exact dimensions of the screen as well so that nothing seems too big or too small, you know!? Knowing how the screens are there at the cinemas that you or your client have shortlisted is another step which shouldn't be skipped because the lights will play the most important role for your ads especially is the ad will be displayed when the cinema hall lights are not dim.
In addition to making sure that you grab the attention of everyone who is there to watch a movie, you need to be quick, you need to be different and your ad must have something so interesting that it forces the audience to stop whatever they are doing and look at the ad. We are sure that you would know how to do that but if you need help with the creative ideas then you must continue reading.
First things first; your ad size must be the same for a person who is sitting in the first row as well as for the person who is in the last row way too far from the screen so that they know that you are not marketing to the front seaters only. Another thing to keep in mind is that your ad has to have a powerful design element – it could be the visuals, the typography, may be the sound / background music and the overall aesthetics, everything has to complement everything else so, that your business comes as a complete package to your potential customers.
For copy, make sure that you do not take too much of your audience's time but you also deliver the entire message in one go. You might as well want to consider that since we ae living in a world oh so digital, everyone wants to get quick information in a matter of seconds along with a link or address or social media handle name so that they can reach out to you in clicks or something.
Of course once you are done designing your versions of the cinema movie theatre hall screen, make sure that you put all of them in a mockup presentation so that it can be shared with the concerned team members or clients for a final go ahead. You might have to incorporate a few changes here and there and while you are making the changes, make sure that the mockup presentation is also updated and shared with the decision making body.
And that's a wrap for today guys! We hope that you will find this blog helpful and will also create stunning movie theatre hall screen mockups for your brand or for your clients. Don't forget to share your feedback with us in the comments section down below!
Free Cinema Movie Theater Hall Screen Mockup PSD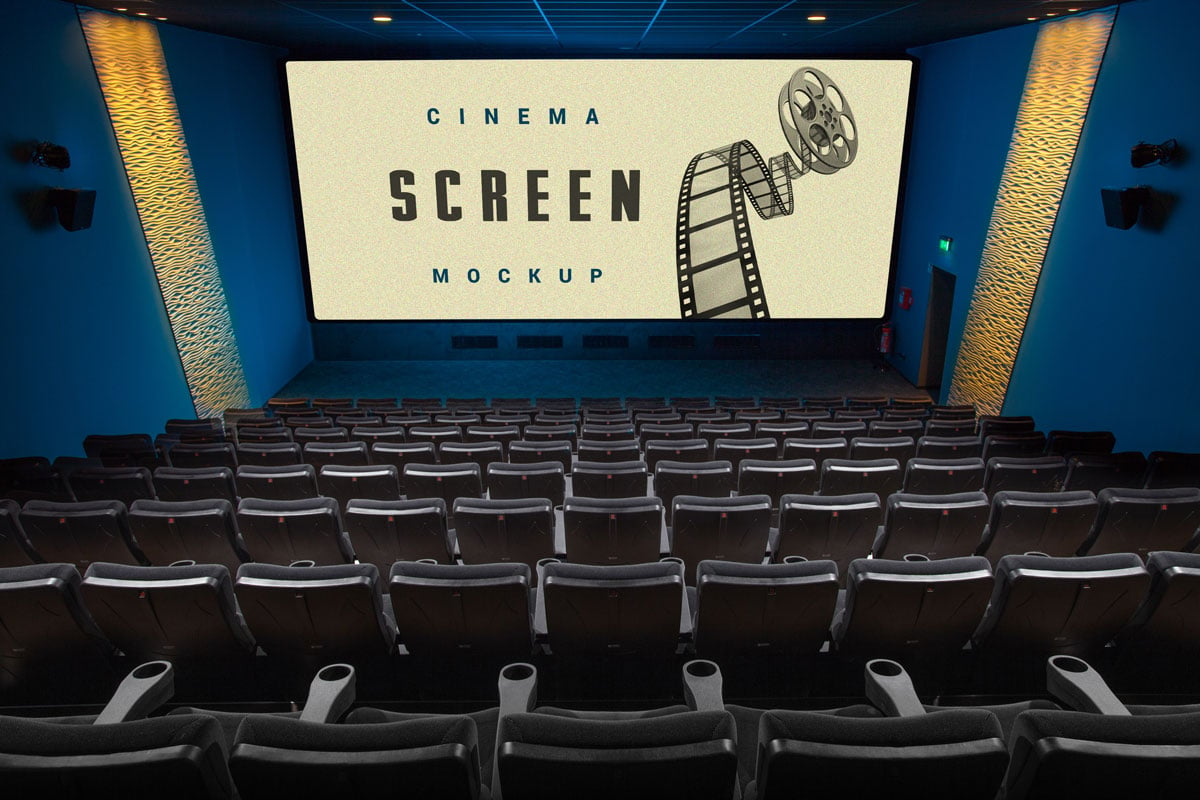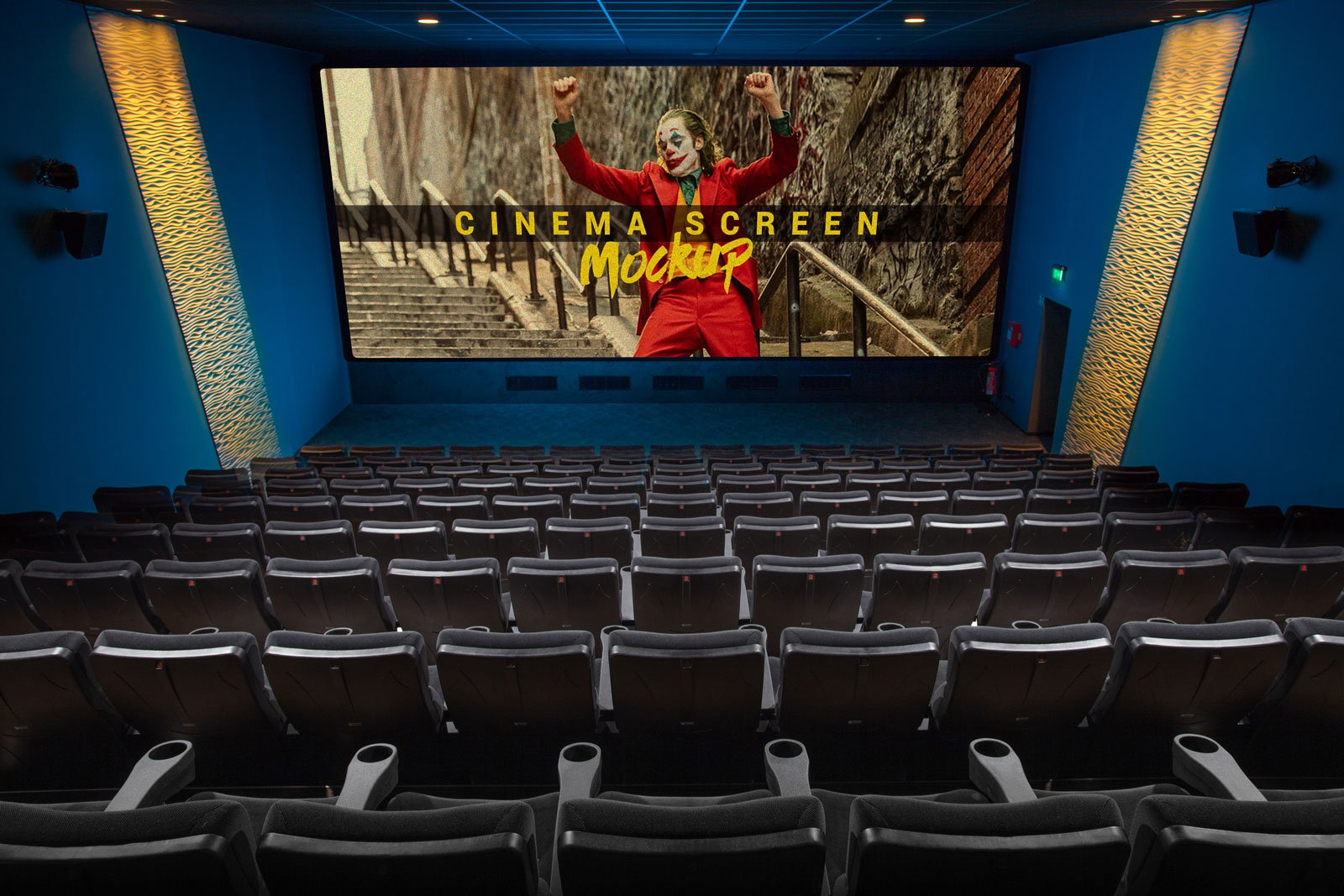 Available Format: Photoshop PSD
License: Free for personal and commercial usage
File Format: WinRAR
Mockup Resolution: 3500 x 2333 px
Note:
1. Free Cinema Screen Mockup is allowed to share online (A Must Linkback to this page)
2. Say thanks if you like or share/tweet with your friends. That means a lot to me.
3. And don't forget to follow or subscribe to receive more high quality premium freebies & awesome articles only.
Download Cinema Screen Mockup
More Unique Mockup PSD Files You Would Love To Download: