Hey there lovely readers and super creative people! We are back with yet another amazing blog of ours and we want you all to drop whatever you are doing and keep reading this.
So, as you all know that we always sit down for a while to think of all the possible ideas that you might need for your design projects and then create awesome mockup PSD files which you can use for your pitch presentations and it suddenly clicked that we should also create something that is needed in a presentation hall. Well, it is good if you have guessed it already but if you haven't then allow us to share what we have got for you guys!
With our informative and full of easy to follow design tips, all of you will also be able to get your hands on our free presentation hall screen mockup PSD. Now, you must be thinking of all the ways to use the PSD file in order to promote your business or help your client achieve their marketing goals but while we are at the point of sharing this new design with you guys, we also want you to think of all the possibilities that can explore through a presentation hall screen. It could be literally everything rather than just a screen design and we are going to tell you that and more.
First things first; a presentation hall screen design is created by companies that have to pitch organizations like all types of workplaces, educational institutions, training centers and literally everywhere else which is used as a platform to share presentations, to give a run down of a marketing campaign or to even deliver a lecture. Then there are some high profile offices as well who need to present their points to the bodies that are attending a seminar at a restaurant and they do that through huge screens too.
Recommended: 100+ All Time Best Free Mockups
And if you are associated with an organization that creates presentation hall screens then this is your chance to work on designs that are going to be approved instantly. All you have to do is to focus on what matters and you will achieve your project's objectives in no time. For a presentation hall screen design, it is important to know the dimensions of the area which will be used for the screen.
Although, the best practice is to keep the sizes standard so that the designed object can be used everywhere without facing any difficulties but there are certain walls which are not too high to hold or even display a standard sized screen. So, make sure that you have done your research before you start working on a certain project. Another thing to keep in mind is that the presentation hall screen's borders must be kept either white or black in color so that the main focus remains on the actual presentation and nothing else gets to grab audience's attention.
Another thing that you might want to look at or may be see in person is the lighting of the presentation hall or the room because usually that is something which gets ignored by the staff members who are in charge of setting the room and result in putting the chairs / sofas etc. where they either block the view of the screen or the room gets so congested that it becomes difficult for the audience to stay focused at the presentations. You can also ask for some photographs of the rooms or halls to get an idea about where the screen will be set.
Once you have created the design of the hall screen, you are free to create variations so that you have more than one options to share with your clients and when we say variations, we (still) do not want you to create funky borders of the screen but what you can do is that you can use the photographs of the halls and meeting rooms and use those very photos to create a mock-up presentation while displaying your own screen designs. Now how's that for a perfect pitch or design review meeting for your company? Interesting, isn't it?
Since presentation hall screens cost a big amount of money when they are designed and manufactured as well as when they are moved to the venue, it is important for you to make sure that you have presented the design options to the concerned authorities and have also received their formal approvals in order to have the screens become available physically.
This is however, a job that has to be taken care of by the vendor who is working on manufacturing and producing the screens but you must double check that there are no black spots on the screen before they are sent out to the clients.
And that is all for today, you guys! We hope that you will enjoy reading this blog and will also share it with your friends and favorite colleagues too.
Free Presentation Hall Projector Screen Mockup PSD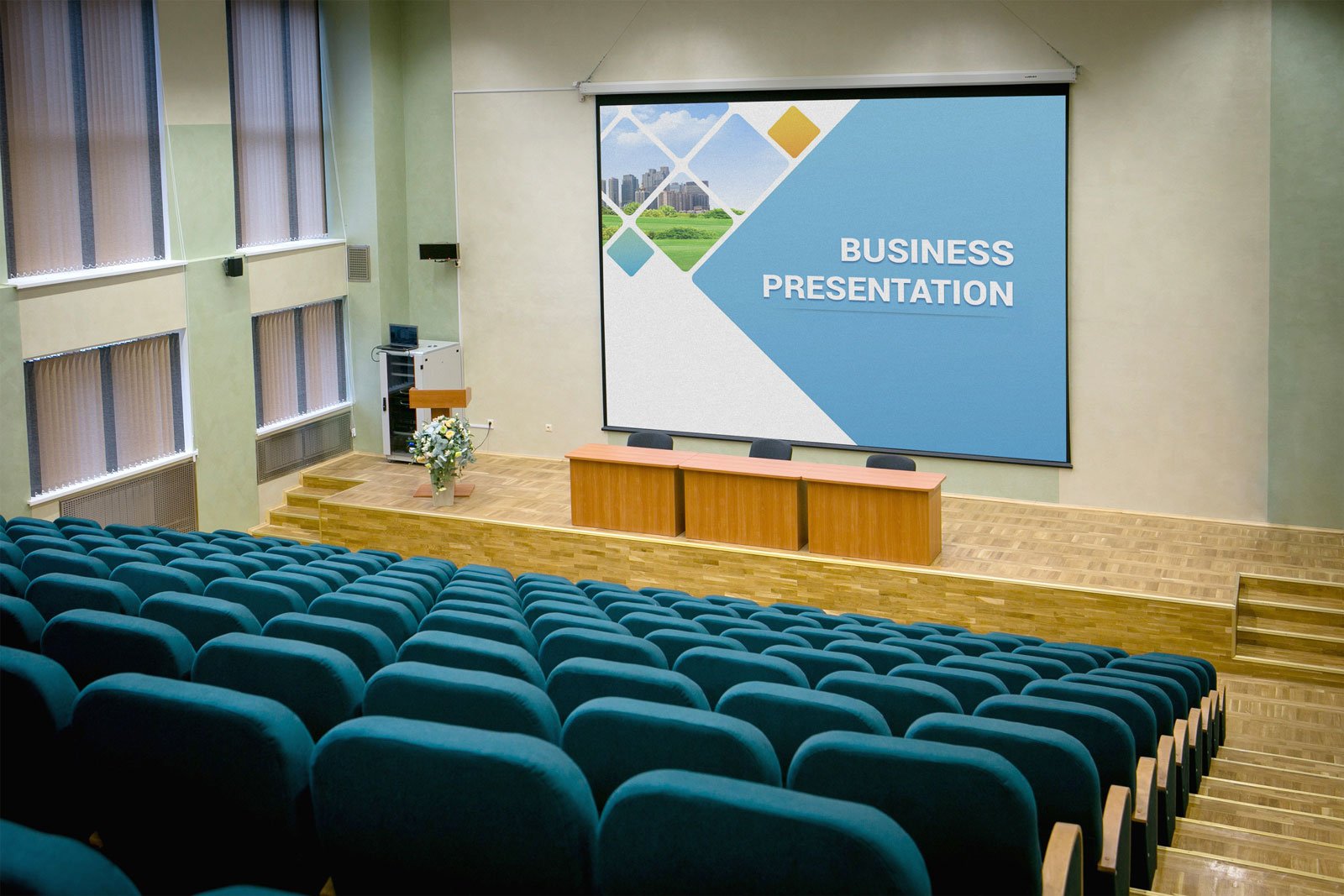 Available Format: Photoshop PSD
License: Free for personal and commercial usage
File Format: WinRAR
Mockup Resolution: 3600 x 2400 px
Note:
1. Free Presentation Screen Mockup is allowed to share online (A Must Linkback to this page)
2. Say thanks if you like or share/tweet with your friends. That means a lot to me.
3. And don't forget to follow or subscribe to receive more high quality premium freebies & awesome articles only.
Download Presentation Screen Mockup
More Unique Mockup PSD Files You Would Love To Download: