Hey there readers! We are so happy to receive your overwhelming response on our previous blogs and we want to thank you all for always being so supportive and it's you and your love that motivates us to keep designing and writing content that for you.
For our today's blog, we are taking a different route as we are about to share a makeup bag mock-up PSD with you but before that, we would like to take some of your time to discuss the need to carry a makeup bag so that you know the desire and can create exactly what is required by the audience.
Although, there are tiny / compact containers and bags available in the market that are used to carry items on a daily basis by men & women for example; hand cream, lip balm and lipstick, petroleum jelly, bandages, hairpins and hair ties and more stuff like that but there are many people (including us) who love to carry a makeup bag that can carry their extensive range of lotions, lip colors, multiple nail colors, blush on kit, loose powder, sanitizer etc.
The main reason why we want to have all the stuff readily available is that well, we and our friends are very spontaneous and we make hangout plans within half an hour which means that we do not have the time to go back to our house and grab that favorite perfume of ours and we know that you cannot go running to your place to grab your makeup kit because then you will have to reschedule the hangout plan. So to have what we need and whenever we need, it is super important for us to keep a bag with us 24/7 – just in case.
Recommended: 100+ All Time Best Free Mockups
Now, what we have observed in the market (both in physical and online stores) is that, that they just do not have a makeup bag in the size which is actually going to carry a number of items and we are sure that you would agree with us on that because that it literally what happens. The worst part is that we end up buying a bag that is too small to carry our precious and handy items and after a month or so, we find out that either the zipper is getting off track or that bag is being helpless about the entire situation.
Keeping in mind the real struggle of managing our multiple self care and regular items, we decided to work on something that is guaranteed to solve all the problems. Yes, you guessed it right! We have created a makeup bag that can not only keep your day to day cosmetic items safe and secure but it also has the capacity to hold a number of items for you and isn't that great? Well, of course it is and we know that you are (finally) relieved.
Allow us to give you a run down of our free makeup bag mockup PSD now. As you know that all our PSD files are highly editable, you get many chances to play and experiment with the design and colors and everything else for that matter so, the first things first, we have kept our design simple yet appealing and we can bet that you and your audience is going to love it as is.
But it is totally up to you to follow a certain theme to attract your audience in a subtle way. For example; you can create designs that have interesting one liners and tags like "It's my time to shine!", "Today's gonna be a great day!" or "Boss Girl", "Beauty Queen" etc. for girls and women and similarly, you can create customized designs for men too.
In addition to writing quotes and one lines etc., you can also incorporate patterns or follow minimalistic approach to create your makeup bags. We would also like to suggest that you must create designs for teenage boys as well but make sure that the themes that you are working on are also relevant to the boys of the age.
Of course once you have created mock-ups of your makeup bags, you should definitely put them up on your website, Facebook Shop or Instagram account to introduce the ideas to the world where your audience will be able to check out the designs that can be created and then they will be able to place an online order.
Similarly, you must never forget to create a detailed mock-up presentation and share it with your client(s) for their review. Feel free to add in the rationale of following a specific design approach so that they can take an informed decision regarding the final go ahead!
And that's all for today, gals and guys! We hope that you will enjoy the blog and will also love to create pretty makeup bags for yourself as well as for your clients and when you do that, don't forget to share your design journey with us in the comments section down below.
Free Makeup Handbag Purse Mockup PSD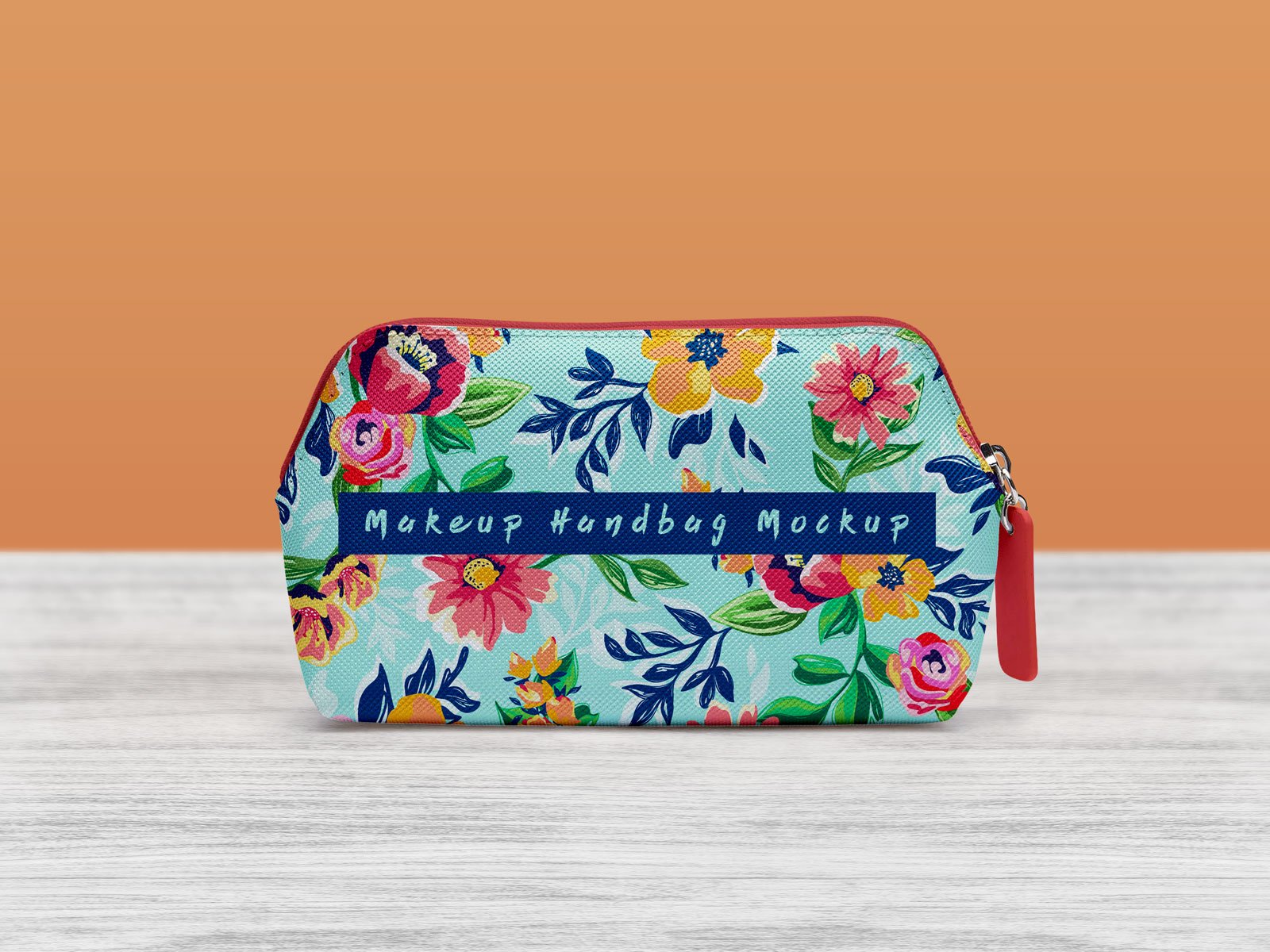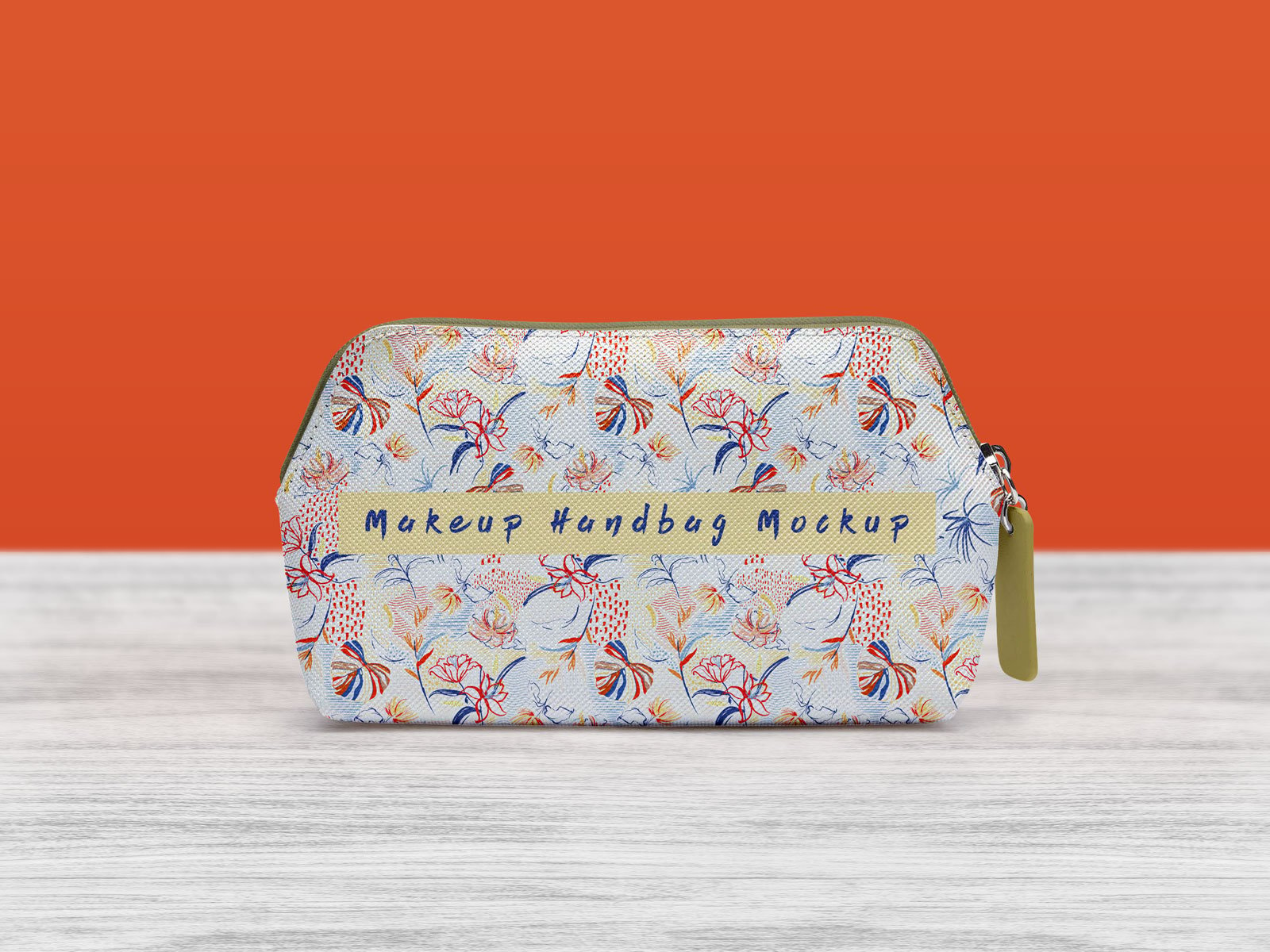 Available Format: Photoshop PSD
License: Free for personal and commercial usage
File Format: WinRAR
Mockup Resolution: 3000 x 2250 px
Note:
1. Free Makeup Handbag Mockup is allowed to share online (A Must Linkback to this page)
2. Say thanks if you like or share/tweet with your friends. That means a lot to me.
3. And don't forget to follow or subscribe to receive more high quality premium freebies & awesome articles only.
Download Handbag Mockup
More Fresh Free Mockup PSD Files: