Hey there creativity lovers! Okay so, we knew you all were waiting for some exciting new blogs to be shared here and before we reveal what we have stored in for you, we want you all to know that it is always fun to work on new blogs and mockup PSD files and your feedback and comments tell us that you love everything that we share here. Uh yes, that is us indirectly asking you guys to keep on sharing your positive feedback with us because it encourages us to continue doing what we are great at.
Anyways, we would now like to officially start our today's blog so tell us you guys, are you one of those people who just loved (and still love) decorating the walls of your room with posters? Come on, tell us!? Oh, and we won't judge, promise – because we also have some super old posters of our favorite singers, actors and cartoon characters still lying somewhere in our store room.
We are sure that you would also save some of your pocket money to purchase the posters for your room etc. like us but the only thing we did not like about them being posted on the walls was that it sucked when we had to repaint our walls or when we wanted to put up on some new posters. It not only messed up the entire wall no matter how careful we were but our posters would also get wasted due to all the pulling and the 'de-taping' process. And we still remember our older siblings and mother getting angry – yeah those are some bitter sweet memories we can bet you will also be able to relate to.
So what should be done now because well, we cannot stop loving our favorite movie characters nor can we stop buying their posters, you know!? Sit tight you guys because we have cracked the code and we would love to share it with you as well. All those who love posters must be told that another (rather exciting) way of displaying your favorite posters on your room's walls is to have them framed.
Recommended: 100+ All Time Best Free Mockups
You can also use the frames to decorate your cute cafés and bakery shops too because that is not just a cool way to go about it but the over all look will also be enhanced. Now you must be wondering how to create frames for your posters, right? Well, we have created a poster frame mock-up PSD file for you guys which is absolutely free to download and highly editable as well. And all you will have to do is to get your hands on it right away, get your creativity and imaginations cap on and start creating frames of your choice.
And to ease the entire process, allow us to give you all a run down too – as you can see that our free poster frame mock-up PSD is kept blank from the inside and we also decided to keep the frame in one solid color (black) so that you can do whatever you want to do with that. Some of your go to design inspirations could be:
Multiple solid colors for each side of the frame (If you want to stay on the funkier side!)
Patterns and shapes to create depth like geometrical patterns for example; circles, lines, ellipses, triangles, rectangles, polygons etc.
Polka dots (Know that they are never going to be boring!)
Alphabets, shapes, mathematical figures
Rainbow effect
And anything else for that matter
Another way of creating pretty poster frames could be to complement the theme of the poster itself because that is something which will stay relevant as well for a longer period of time. And of course, for posters you can literally pick anything to use for and create a poster frame for yourself. Oh, and you know what poster frames can also be a great gift option as well and you can surprise your close friends or family members with their favorite posters too.
Also, if you are someone who loves to create customized products for your customers then you should check out our easy to follow tips and ideas as well. Honestly, you will be sold out in like minutes – just make sure that download our free poster frame mock-up PSD first for a smooth designing process.
Last but not the least, and know that this happens to be our favorite part where we get to remind you all to create multiple design options for your websites or for your design review meetings because in this way, you will know which designs are liked and approved by the decision makers / clients and all the money and efforts will be invested in things that actually matter.
That's all for today! We hope that you will not only create amazing poster frames for yourself as well as for your clients but we know that you will also share the blog and our carefully designed free poster frame mockup PSD with your friends and favorite colleagues too.
Free Hand Holding Poster Frame Mockup PSD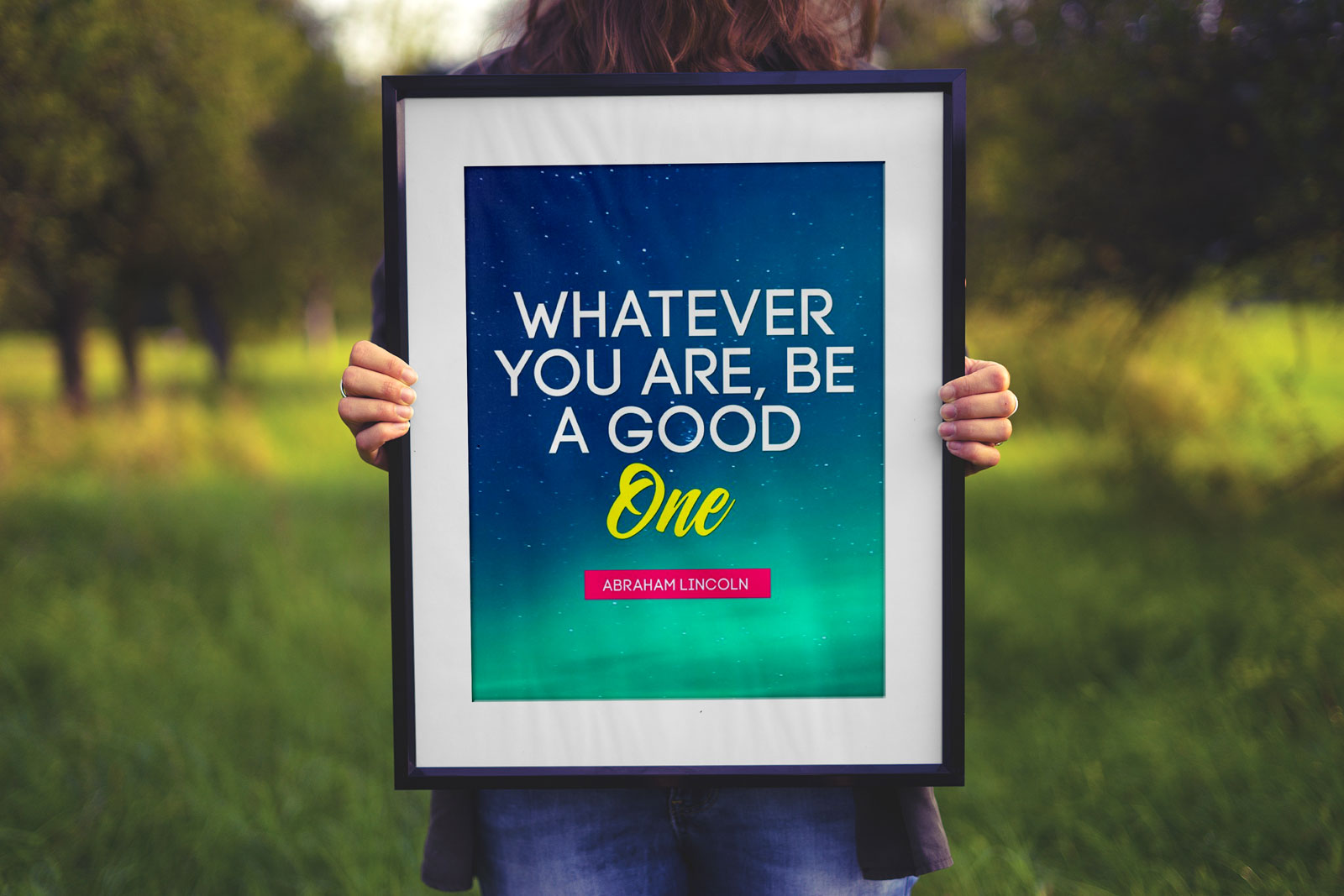 Available Format: Photoshop PSD
License: Free for personal and commercial usage
File Format: WinRAR
Mockup Resolution: 4000 x 2667 px
Note:
1. Free Poster Mockup is allowed to share online (A Must Linkback to this page)
2. Say thanks if you like or share/tweet with your friends. That means a lot to me.
3. And don't forget to follow or subscribe to receive more high quality premium freebies & awesome articles only.
Download Poster Mockup
More Poster Mockups To Download For Free: