Hey there guys! We are back with yet another great blog of ours and we know that you are going to love it but before we start talking about what we have to share today, we would take a moment and thank each one of you for your constant support and positive feedback. So, keep your suggestions and requests coming in and we would love to work on them.
Now, allow us to share what we have for you guys! We will be talking about MacBook Pro 16 inch in our blog today (and we can totally hear all the Apple fans scream with excitement) and once we are done, we will share our free mock-up PSD file for all of you to work on your personal and professional projects.
"…the new MacBook Pro is by far the most powerful notebook we've ever made.", we are not saying it, it's Apple who claim that their MacBook Pro 16 inch is designed for those who defy limits and change the world and tell you what, we believe them with all our hearts and techy minds.
Those of you who have already read up on the MacBook and know how great it is probably also know the opportunities you can explore through this gadget in terms of creating apps and websites and designs in general. But those of you who still have not gone through the specs and everything great about Apple's 16 inch MacBook Pro are more than welcome to know everything about it – in detail. So, let's get started!
First things first, the super past processors (8 core) of this machine make it the most powerful notebook but that's not it. In addition to the 16 inch Retina display, next generation graphics (AMD Radeon Pro 5000M series), a new "Magic" keyboard, THE largest battery ever to become a part of a MacBook and the massive storage (up to 8TB SSD) are some of the specs that are being offered by Apple and we know that we are already in love with this brilliant machine.
Moving on, MacBook Pro happens to have 64 GB of memory and 6 speaker sound system as well as studio quality mics. But there is still something else which you must know if you are either planning to purchase a MacBook Pro 16 inch or if you just got a project to design stuff using our free mock-up PSD file so, keep reading to know more!
The largest Retina display of the MacBook Pro is designed to produce 500 nits of brightness that create bright whites and stunning highlights making the machine the brightest thing for anyone to see photos, videos and everything else for that matter. Its P3 wide color gamut also enables brilliant "full of life" images & videos allowing you to experience everything that you see without having to worry about the brightness or darkness – no matter where you are.
Apple also claims that the processor and memory of the 16 inch MacBook Pro work at the speed of thought (what!?). Do you want to know more about this? Well, it literally means that you won't have to worry about your machine taking a lot of time while rendering a video for you or compiling and testing codes for you. It is super fast – faster than the super fast and that is another thing which can make anyone fall in love with it. And all of this happens due to the thermal architecture that allows faster processing without getting heated up. If you want numbers, then we will leave you with a percentage of 27% of airflow and 35% larger heat sink.
The keyboard is another great thing which makes the MacBook Pro one of the best gadgets a person must invest in and we will tell you why. They say that the keyboard has magic in it – meaning that the masterminds at Apple have put in their thoughts and efforts for creating a keyboard that allows you faster & comfortable typing whereas, the Touch Bar also provides fast authentication and the dedicated Escape key allows you to switch between modes and views quickly.
Now that you know that whatever is a part of the MacBook Pro 16 inch is nothing but the perfect component, feature and specification, it is time for you to decide how you are going to take things forward with developing and designing stuff. From creating more responsive websites and games etc., you can work on apps, create amazing wall paper designs and what not.
You can also create skins and covers for the MacBook too – if you are in that business and we are sure you will work on really nice ideas and produce stunning design options for yourself or for you clients. So, what are you waiting for? Get you hands on our MacBook Pro 16 mockup PSD right now and start creating what you love to create.
Free MacBook Pro 16 inch Mockup PSD & Ai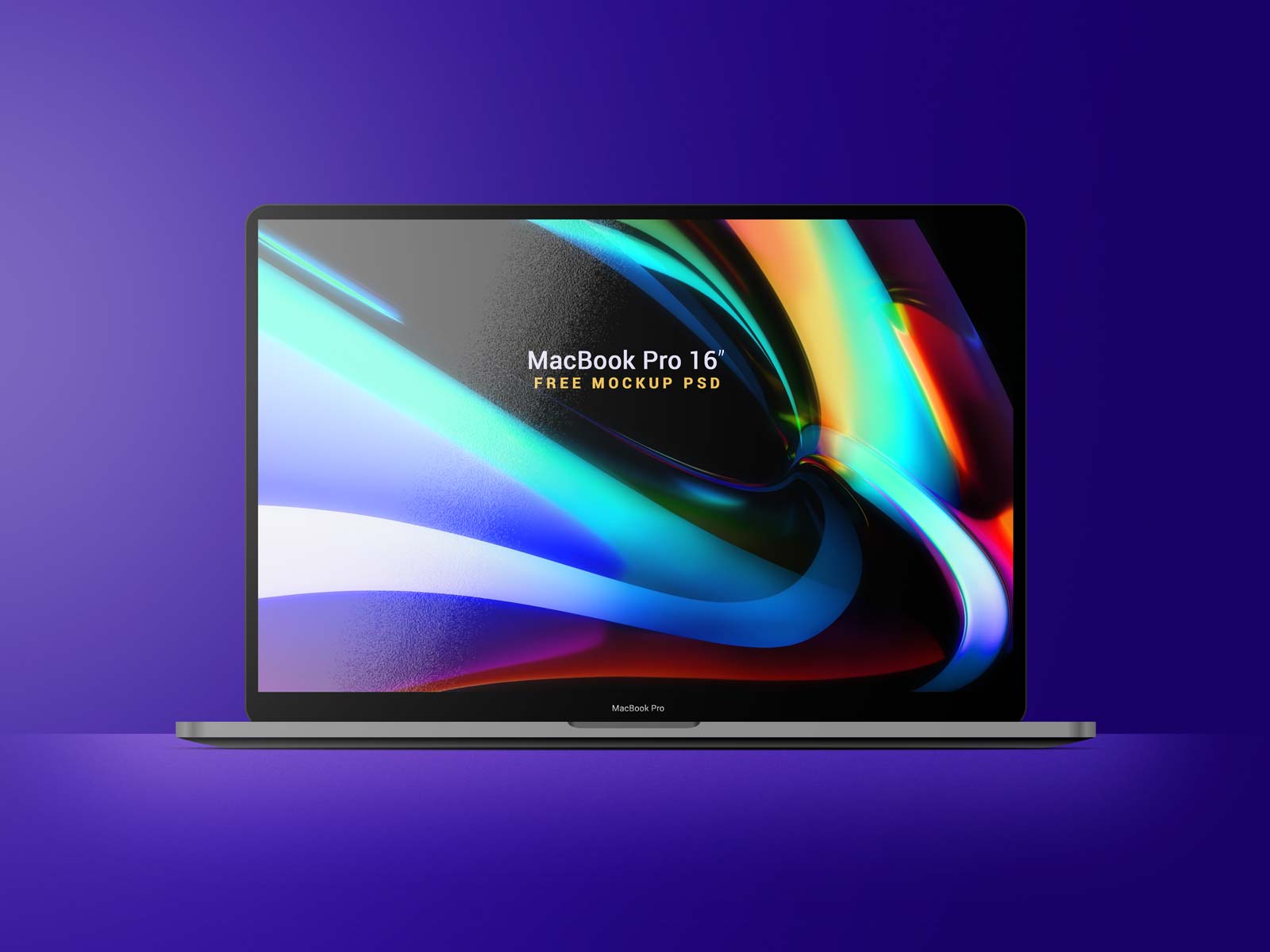 Available Format: Photoshop PSD
License: Free for personal and commercial usage
File Format: WinRAR
Mockup Resolution: 4000 x 3000 px
Note:
1. Free MacBook Pro 16 Inches Mockup is allowed to share online (A Must Linkback to this page)
2. Say thanks if you like or share/tweet with your friends. That means a lot to me.
3. And don't forget to follow or subscribe to receive more high quality premium freebies & awesome articles only.
Download MacBook Ai
Download MacBook PSD
More Awesome Mockup PSD Files: