Hi there lovely fans! We are thankful for your overwhelming response on our previous blogs and we would also like to thank you all for sharing our blogs with the ones you love. Knowing that you are always there to appreciate us and are forever ready to help us do better, we feel amazing and all charged up to write and create everything you ask for. And we are back with yet another great blog of ours which will not only help you in thinking better and creating mind blowing designs but along with the tips, you will also be able to get your hands on a free mock-up PSD file too so, let's get started!
Recommended: 100+ All Time Best Free Mockups
We have many friends who just love to decorate their personal spaces and at times, they cannot stop getting stuff for their office rooms as well because they just love that place all decorated, giving out happy vibes, you know – and honestly, we love that for them too. We also got a chance to have long discussions with our friends over the past weekends and they were telling us about everything that they find hard to buy from a store. Something that just clicks with them and how they would want to instantly purchase it for their lounge or bedroom and kitchen etc.
Although, our friends mentioned a few things while they were slow-key complaining about how they are unable to find their favorite décor items, we decided to pick just one for today and thought of creating a new design for them as well as for you guys so that you don't have to physically go to a market only to find out that they are not making pretty frames anymore.
Okay so, in our today's blog, we will introduce you all to a free mirror frame mock-up PSD which is of course, highly editable and you can basically do anything with the design to make it more appealing or you can just download the design that we have created and have it manufactured by a vendor. Allow us to give you a rundown of the thing that we have made and after that, we will share a few easy to follow design tips with you!
First things first, it is important to know the size of the place where you are going to hang a decoration item so, get done with the measurements before you start working on the design itself because that can be taken of in later stages. There are several things which you must keep in mind before you pick up a full size mirror or photo frame to hang on a wall like; you wouldn't want to suffocate that wall and the view.
Another to keep in mind is that, if you do want a full size decoration item or may be a photo frame up on a wall then make sure that it is right in the center and there is nothing around it. Make that spot your center of attention and you will see how everyone wants to have a closer look at it.
Anything that is hung on the walls especially in a TV lounge or a rest room has to be the best thing in terms of design and colors as well as the aesthetics. It is have to be just out of the world kind of a thing and we know that our free mirror frame mock-up PSD file will help you achieve exactly that.
If this mirror / picture frame is going to stay in a room or area that is of high importance like a lounge or dining room then you need to make sure that your design follows a theme too. For example; you can choose one color from your house or office's design for the frame. It will not only help you in complementing the theme of the place but it will also grab the attention too (if that's what you want!).
This is more of a post design tip but make sure that you display a picture that goes with the frame design. We are sure that you must have noticed very funky and casual photos being displayed in frames that are sophisticated and the photos don't complement the design nor do they match the overall aesthetics of that area. Bonus Tip: For sophisticated picture frame designs, it is always a great idea to have your family photo displayed in it.
So, that is all for today guys! We hope that you will enjoy reading our blog and will also create really pretty mirror / picture frames for yourself as well as for your friends and clients and when you do that, don't forget to share your thoughts and feedback with us in the comments section down below.
Free Hanging Mirror On Wall Mockup PSD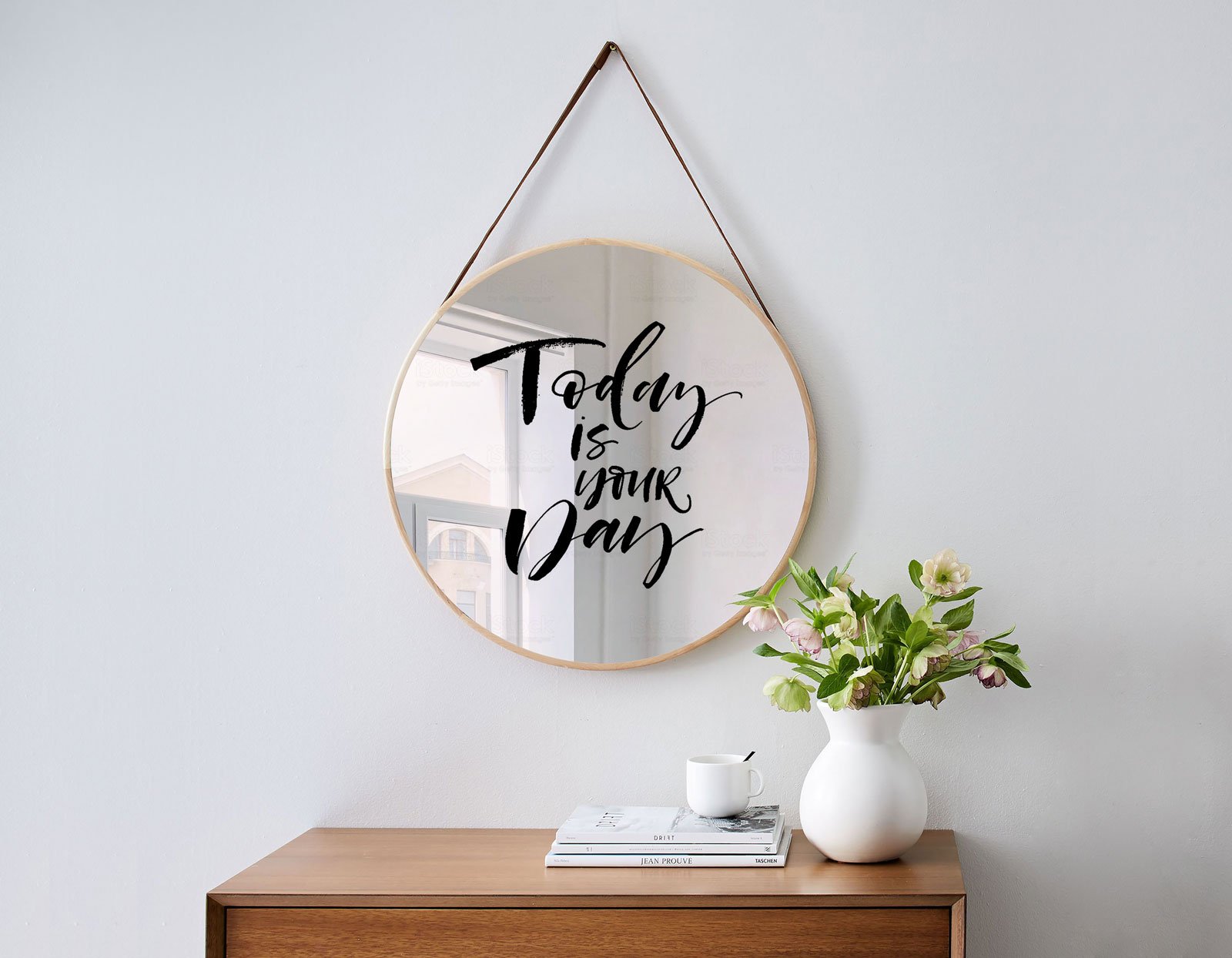 Available Format: Photoshop PSD
License: Free for personal and commercial usage
File Format: WinRAR
Mockup Resolution: 3500 x 2721 px
Note:
1. Free Mirror Mockup is allowed to share online (A Must Linkback to this page)
2. Say thanks if you like or share/tweet with your friends. That means a lot to me.
3. And don't forget to follow or subscribe to receive more high quality premium freebies & awesome articles only.
Download Mirror Mockup
More Unique PSD Mockup Files You Would Love To Download: