Who doesn't love reading books? And even if you don't then that's okay because there had been a time when you did or there will be a time when you will go around saying book reading is something that you cannot get enough of. Oh, and hi there guys! We are back with yet another amazing blog of ours and we know that anyone who loves collecting or even writing books is going to find this blog a treat so, let's get started!
We want to be honest here (and we think that this isn't a bad thing that) we have often purchased books just because of how pretty they would look and we remember getting overwhelmed by checking out adorable book covers at book fairs and stores. We do have a collection of books that were totally bought because of their extremely beautiful floral covers or the hand paintings that they have of people and houses and gardens and what not.
In addition to getting books based on their covers, we have also purchased a number of books that are different in shape and we are pretty sure no one would mind books that are not rectangular, yeah? We also kind of think that we like square books more than we like holding books that come in their regular shape, you know? But enough of us now – and we would love to hear what's you take on this? You can tell us in the comments section down below after you have seen and read what we have for you guys!
We have created this square book mockup PSD for you to download and create designs of your upcoming books. You can obviously use the mock-up PSD to pitch ideas to your writer clients because honestly, we think that books that are of unusual shapes will be sold out within hours of launching them. Want to know why? Well, it is simple – the audience wants to see and own stuff that is not regular, they want to buy items that are different from the items bought and owned by the majority.
Recommended: 70+ Best Hardcover & Paperback Book Mockups
It is the time when everyone wants to be a little different from everyone else and that's how you are going to target them – through creativity, imagination and our free hand holding square book mock-up PSD file. Allow us to give you all a run down of our mock-up PSD before we share some really cool and easy to follow design tips with you guys!
Okay so, as you can see that we have incorporated the human element into out mock-up PSD file and that's been done to give you an idea of the size of the square book. It will also be easier for you to imagine and think of the book covers keeping in mind the design space that you will get through our free hand holding square book mock-up PSD file.
And as far as the design is concerned, well you know that you are free to create anything and everything but keep in mind the below mentioned pointers at every cost:
Your book cover must depict what the book's about and in order to achieve that design goal, make sure that you read the book or content by yourself to know and design better.
That being said, do not give out a lot of information about the plot of the book and keep the readers curious.
For design elements, you must ensure that you are using the white space to create a focal point for your potential reader to grab the book from the shelf and consider buying it.
We always encourage everyone to follow this tip and we will do that again – make sure that your book cover has a strong visual, it could be anything from a high res. photograph to a hand drawn character to may be even a painting to stand out in the crowd.
Another tip that you can follow to make sure that the books get sold out is to create a 3D book cover. It is not only modern and interesting but it will capture more eye balls that way.
Or you can also experiment by going minimalistic to see if things are working for the theme – know that whatever you will decide for the book cover, it must be created through experiments and getting to know what is great and what isn't so, feel free to play a little before you finalize the entire look.
Last but not the least, typography is another technique which can help you creating something different for your book cover design and we are sure you would also want to keep it exciting when it comes to aesthetics.
And that's all for today, guys! We know that you will be creating brilliant designs using our free hand holding square book mock-up PSD and once you are done, do let us know about your creative journey.
Free Hand Holding Square Book Mockup PSD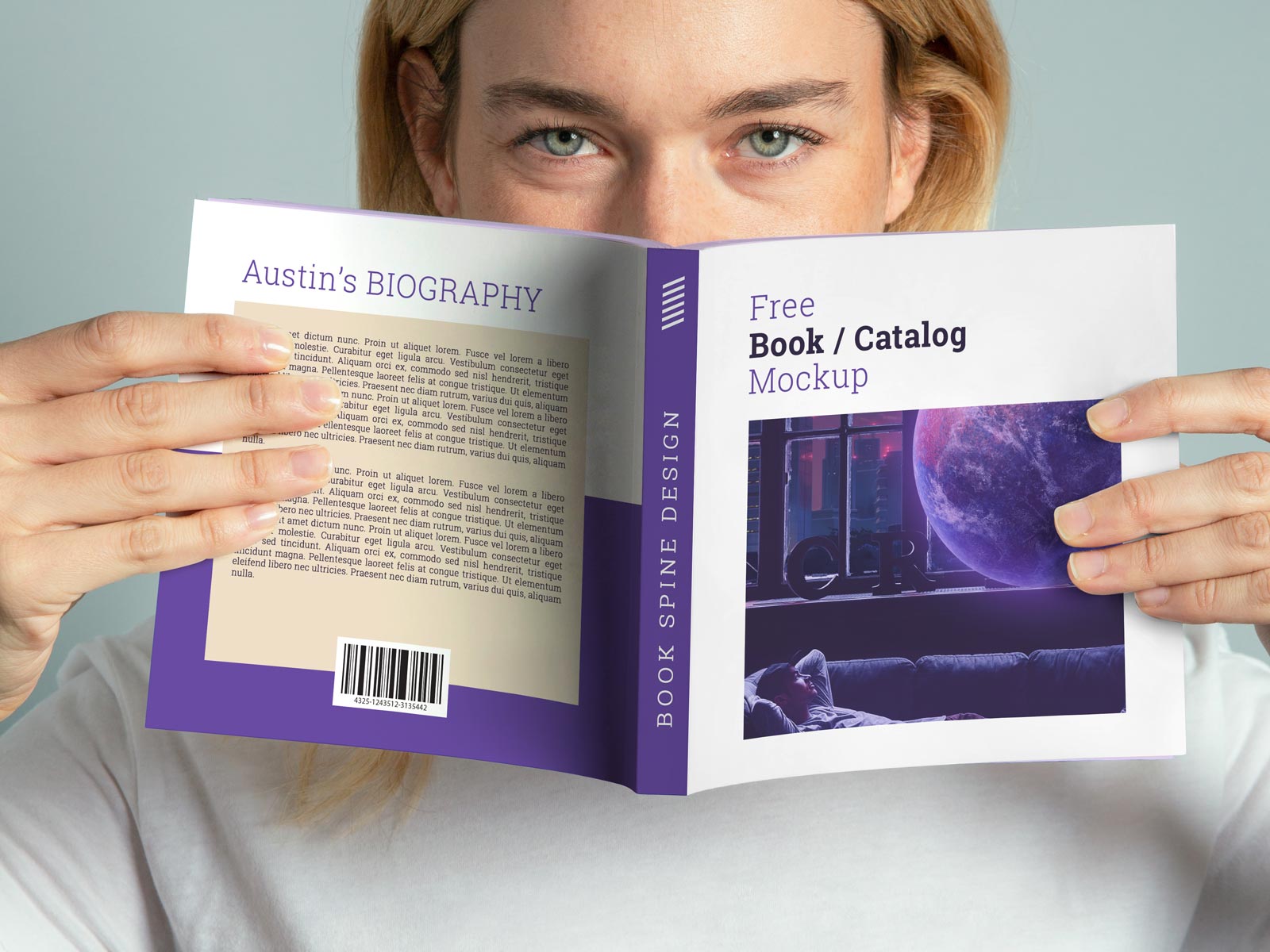 Available Format: Layered PSD with smart object insertion
License: Free for personal presentational use only
WinRAR File Includes: Book Mockup PSD
Resolution: 3840 x 2880 px
Artwork Resolution: 1750 Sq Inches
Note:
1. Book Mockup is allowed for sharing online (A Must Linkback to this page)
2. Say thanks if you like or share/tweet with your friends.
Download Book Mockup
More High Quality Mockups You Would Love To Download: