Hey there guys! We are back with yet another amazing blog of ours and we are sure that you are going to love it but before you start sharing the creative ideas and walk you all through our today's mockup PSD, we would like to thank each one of you for always supporting and encouraging us with your positive feedback. And we hope that you will continue to drop in your suggestions as well as your requests.
In our today's blog, we will be talking about packaging a candy / goodie bag so, if you are one of those people who wanted us to share a mock-up PSD file just on that, then keep reading to know more. Okay so, let's get real – we all love candies and we also love getting a goodie bag or two that's filled with interesting & yummy goodies and to be honest, no matter how old we are, we want to get more than just one of those pretty candy bags. Oh, and if you are feeling like going to a party to get some goodie bags for yourself then know that, we totally get you.
Candy and goodie bags are designed for various purposes like for get togethers and parties for kids (and for everyone else too!). You can also distribute goodie bags among the individuals during a professional meeting as well and of course, if you are a vendor who happens to create the candy and goodie bag packaging design for stationery stores and gift shops then you must also have to have a nice packaging mock-up PSD with you.
Now, that you all that we create everything from scratch but we also keep it free of cost for everyone so that you can design whatever you want to design for yourself and for your clients as well and with our super creative ideas, you will also be able to get your hands on a free candy / goodie bag packaging mock-up PSD file. Allow us to share a few easy to follow design tips and creative ideas to help you get started.
Recommended: 30+ High Quality Packaging Mockups
We can bet that with our ideas and suggestions, you are going to impress yourself and your clients so, let's have a look at them!
We have kept our candy / goodie bag design minimal because we wanted to leave the space for you to write what you want to write on it – and by that we mean, you can not only play with words and create copy for your event but you can also use the space for your branding too.
Keep the fonts relevant with the 'audience' meaning that you must keep it funky and playful for a child's birthday party and make it look sophisticated (not reserved or boring) for professional conferences and events.
The next most important thing for us was to accessorize the bag and we chose a ribbon packaging style for this one because well, everyone loves a little surprise and the oh so satisfying feeling of untying a ribbon is going to be worth everything – you just gotta trust us!
The shape of the candy / goodie bag design has to be given proper attention to as you want the receiver to feel extremely happy about receiving it and we know that you will be putting in really great candies and goodies but always remember that when it comes to packaging, looks *do* matter. Our free candy bag is designed in a unique shape and we are sure that it is going to steal the limelight at your event.
As far as the themes of the party favors or candy / goodie bags are concerned, you must put in some thoughts and efforts while coming up with ideas. To help you start the process, we would like to drop in a few ideas so that you can initiate the thinking and design process.You must be aware that people of all ages feel relatability with certain cartoon characters, movie & drama artists, TV seasons, singers, poets as well as with quotes. Then there are large groups of individuals who live for the memes, puns and doodles. So, you might want to pick and choose what you think is liked (or may be loved) by your audience.
With that being said, if you have an online store or a Facebook Shop or if you take orders from your customers on your Instagram's Business Account, then what you can and must do is that you need to create multiple design versions of candy / goodie bags and upload the images on the portals. By doing so, you will know exactly what to create as a final product and also have it manufactured for your clients.
And that's all for today, you guys! We hope that you will find this blog helpful and will also be able to create cool candy / goodie bag packaging for your own shop etc. as well as for your clients. So, what are you waiting for? Get your hands on our free mock-up PSD and start creating magic!
Free Candy / Goodie Bag Packaging Mockup PSD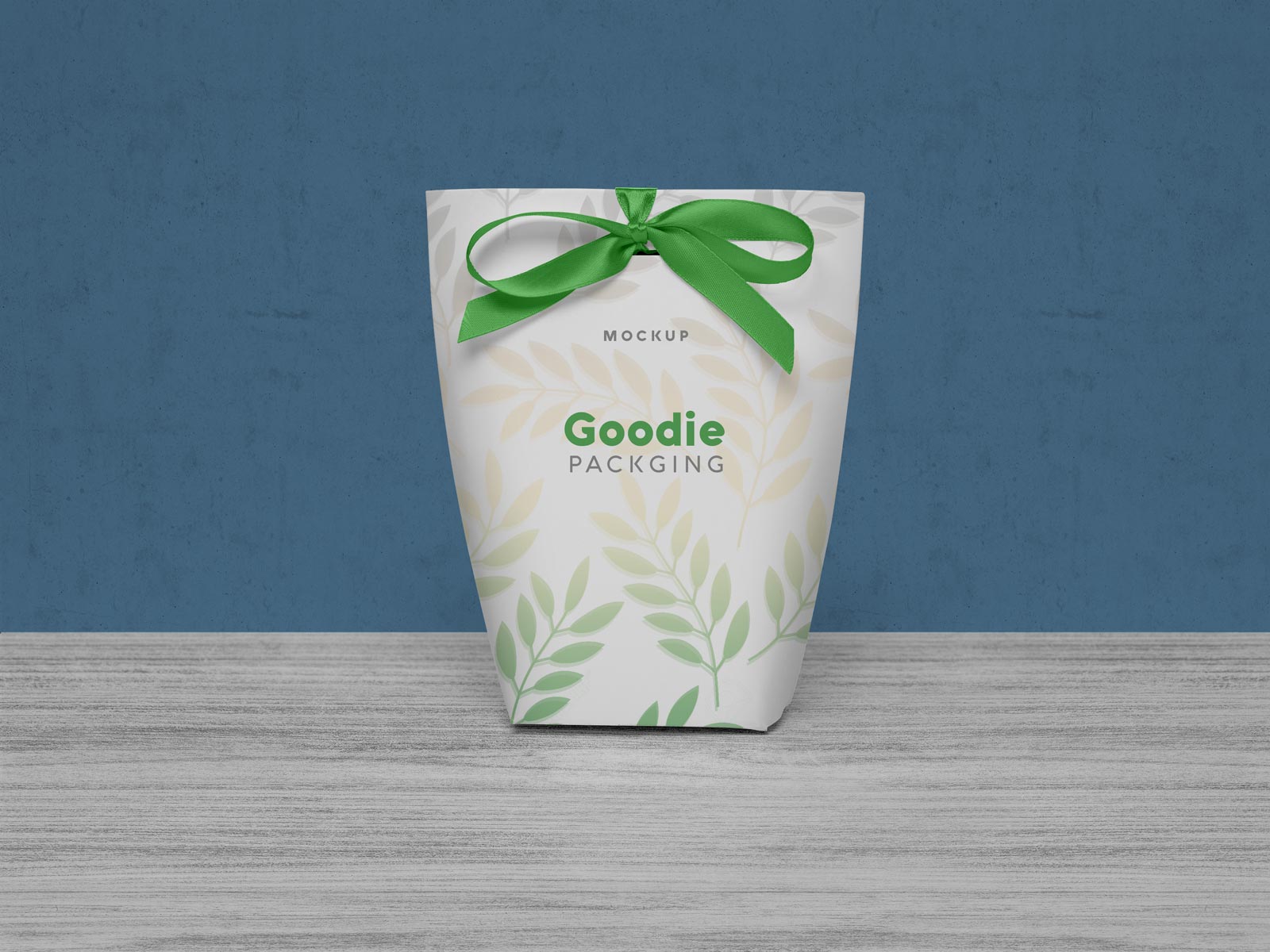 Available Format: Layered PSD with smart object insertion
License: Free for personal presentational use only
WinRAR File Includes: Goodie Bag Mockup PSD
Resolution: 4000 x 3000 px
Note:
1. Goodie Bag Mockup is allowed for sharing online (A Must Linkback to this page)
2. Say thanks if you like or share/tweet with your friends.
Download Goodie Bag Mockup
More Beautiful Packaging Mockup PSD Files: