Hi there guys! We are back with yet another amazing blog of ours and we can bet that you are going to love it as much as we do because well, it is going to be covering one of the Apple products. You must have seen many people raving about the AirPods and we can't blame them. So, why don't we have a look at what we have got for you guys today and once we are done, you all will be able to get your hands on our free AirPods Pro mock-up PSD. Let's get started!
Although, we will talk about the AirPods Pro in detail, but we would also like to cover the specs of AirPods as those are responsible to "deliver effortless, all-day audio on the go". If you are one of those people who could not read about the AirPods, know that this section of blog is for you guys. Okay so, AirPods come is universal size, are not built to cancel noise but have the H1 chip, Hey Siri is always on, on them. They are not sweat & water resistant, but the battery life is up to 5 and up to 24 hours upon charging one time and with the charging case respectively.
Oh, and you also get a wireless charging case or a standard charging case as well. And if you like, you can also have your AirPods engraved for yourself or for your loved ones. With the AirPods, you get more control and freedom on all your devices as all you have to do is to take 'em out of the case and your device will automatically connect. Isn't that just so cool? It is, right. It so is. In addition to the AirPods being really easy to use, they are designed to provide an unparalleled and brilliant headphone experience and we just fancy that.
If AirPods are so cool, AirPods Pro must be so much cooler than them, right? And we are ready to show you how. As we all know that Apple ensures delivering nothing but brilliance and if AirPods work like magic then AirPods Pro have something awesomer than magic to deliver for example; you can have them customized for the size that fits your ears. That is one of the best things about the AirPods Pro and to put it in simpler words; know that the Pro pods come in large, medium and small sizes. Well, there is more to that and we would like you all to sit tight and keep reading our blog!
AirPods Pro are sweat & water resistant and that gives the music lovers are chance to use 'em in the gym, under water and wherever else they would like to be connected to their devices. There is the H1 chip installed along with the Hey Siri enabled at all times and you get up to 4.5 hours and up to 24 hours of batter life time upon charging them for once and with the charging case respectively.
Charging case in also included in the package and of course, you can have your AirPods Pro engraved too. But there must be something else that make these AirPods Pro stand apart, right and what's that? That's the (active) noise cancellation structure which helps the person have their time in the world of calls, music and everything else for that matter without having to worry about the noise(s) around them. And it is safe to say that, we love this 'ability' of AirPods Pro so much.
Now, you must be thinking what you can do with our free AirPods Pro mock-up PSD file, right? Well, allow us to tell you that there is more than one things that you can do by downloading and working on our PSD file and we are going to share them in this section of our blog.
Since most of you are graphic designers and developers here, you would know how new gadgets bring a lot of opportunities for design and development projects like you can create customized designs of the AirPods Pro if you or your brand is collaborating with another brand and you are planning to bring something unique to the table. This customization thing can also work for celebrities and other important personnel as well like you want to pay a tribute to them on their anniversary etc.
And the best way to go about that is to download our free AirPods Pro mock-up PSD and use it for creating mock-ups. Your next step must be to also create a mock-up presentation and share it with your clients and other decision making authorities. Don't forget to put in a detailed rationale along with each design so that the concerned individuals can take an informed decision about the design and manufacturing processes.
That's a wrap for today! We hope that you will find this blog useful and will also share it with your friends and favorite colleagues too. Oh, and feel free to share your feedback with us in the comments section down below!
Free AirPods Pro Mockup PSD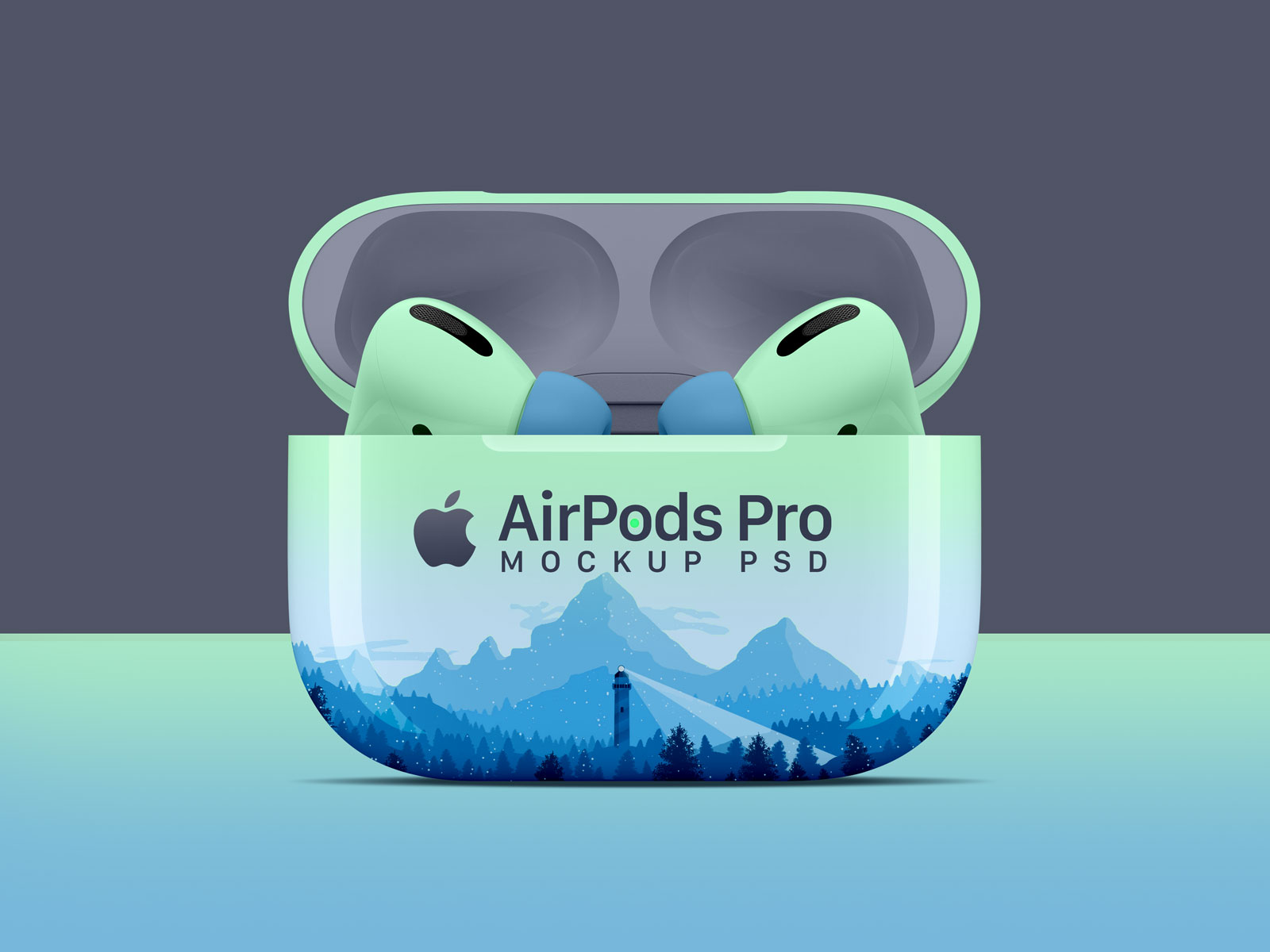 Available Format: Layered PSD with smart object insertion
License: Free for personal presentational use only
WinRAR File Includes: AirPods Pro Mockup PSD
Resolution: 4000 x 3000 px
Note:
1. Airpods Pro Mockup is allowed for sharing online (A Must Linkback to this page)
2. Say thanks if you like or share/tweet with your friends.
Download AirPods Pro Mockup
Latest Free PSD Mockups: