Hi there lovely readers! We are back with yet another super awesome blog of ours and we are sure that after reading it, you are going to create some really brilliant designs for your own brand as well as for your client(s). But before we move on to the actual topic, we would like to thank each one of you for sharing your positive feedback with us. Keep doing that because that's what encourages us to do & create even better!
We have been receiving multiple design requests from many of you in which you were asking us to create something on laundry items and here we are with our free bleach / fabric softener white plastic bottle mock-up PSD file. With this design idea, you will be able to create your very own versions and we can bet that you and your audience will fall in love with them.
As you all know that we keep our mock-ups and template files free to download and easy to use so that you can work on them without having to worry about getting design elements from the internet or other sources but what you do need to do is to go a little more creative if you want to stay ahead in the game and if you want your potential customers to just grab your product from the shelves and start using it whenever they will get a chance to do so. But how do we do that is the question here, right? Well, allow us to share a few design tips which are going to help you achieve your marketing and advertising goals within days!
First things first; you need to understand the brand you own, you are about to launch or you are going to pitch for. Is it a unique product that you will bring to the market or is it something that exists in other forms under other brand names and you are all ready to compete with those very brands? If it's unique then that means that you have an open ground to play on and learn from your marketing mistakes as well as experiences and insights.
Recommended: 100+ All Time Best Free Mockups
And if it isn't then you will have to get your hands on the consumer data, their buying cycle and pattern and you will also need to assign a team member or two to gather competitive analysis for you. All of this data and information as well as the results will help you in determining your goals as an advertiser and in addition to that, you and your team members along with the brand team will also know what has been happening already in terms of the communication and what you can do differently to ensure that you are bringing interesting stuff to the table.
Once you have gathered all the relevant and necessary information, you and your creative and graphic design will be able to think even more creatively and they will also make sure that the packaging is not just attention grabbing but it is also going to help the brand increase their sales too.
Recommended: 30+ Best Packaging Mockups
While working on our designed mock-up PSD file, you will be able to change everything that you think will work for your brand like the color of the bottle, the sticker and everything else for that matter but allow us to give you a detailed walk through so that you know how to start off. Keeping in mind the usability, we have ensured that the handle is designed in such a way that it is convenient as well as easy to carry too (yeah, we know that all the heavy bottles must have crossed your head just now as carrying them would give you red marks) so that's that – you and your customers will love carrying our carefully designed bleach / fabric softener bottle, that is guaranteed.
As far as the branding is concerned, it is important for you to place your logo prominently. Make sure that it is easy to look at and it is also standing on its own too so that everyone knows that there is this brand they should get their bleach from. Explain what your bleach / fabric softener does or can do, if you have facts to back your statements then add at least one of those in the label for the world to know. You can also mention if your product comes in different odors like lemon, orange, cherries etc.
Your next step should be to work on the copy that must cover ingredients, directions to use as well as the precautions & safety measures in case of an emergency. Be crystal clear about the strong ingredients if there are any and if your customer has to use gloves before using your products. You might want to write the copy in multiple languages to reach a larger number of audiences easily.
And that's all for today guys! We hope that you will find our blog and free bleach / fabric softener white plastic bottle mock-up PSD file useful and if you do, feel free to share it with your friends and favorite colleagues as well.
Free Bleach / Fabric Softener White Plastic Bottle Mockup PSD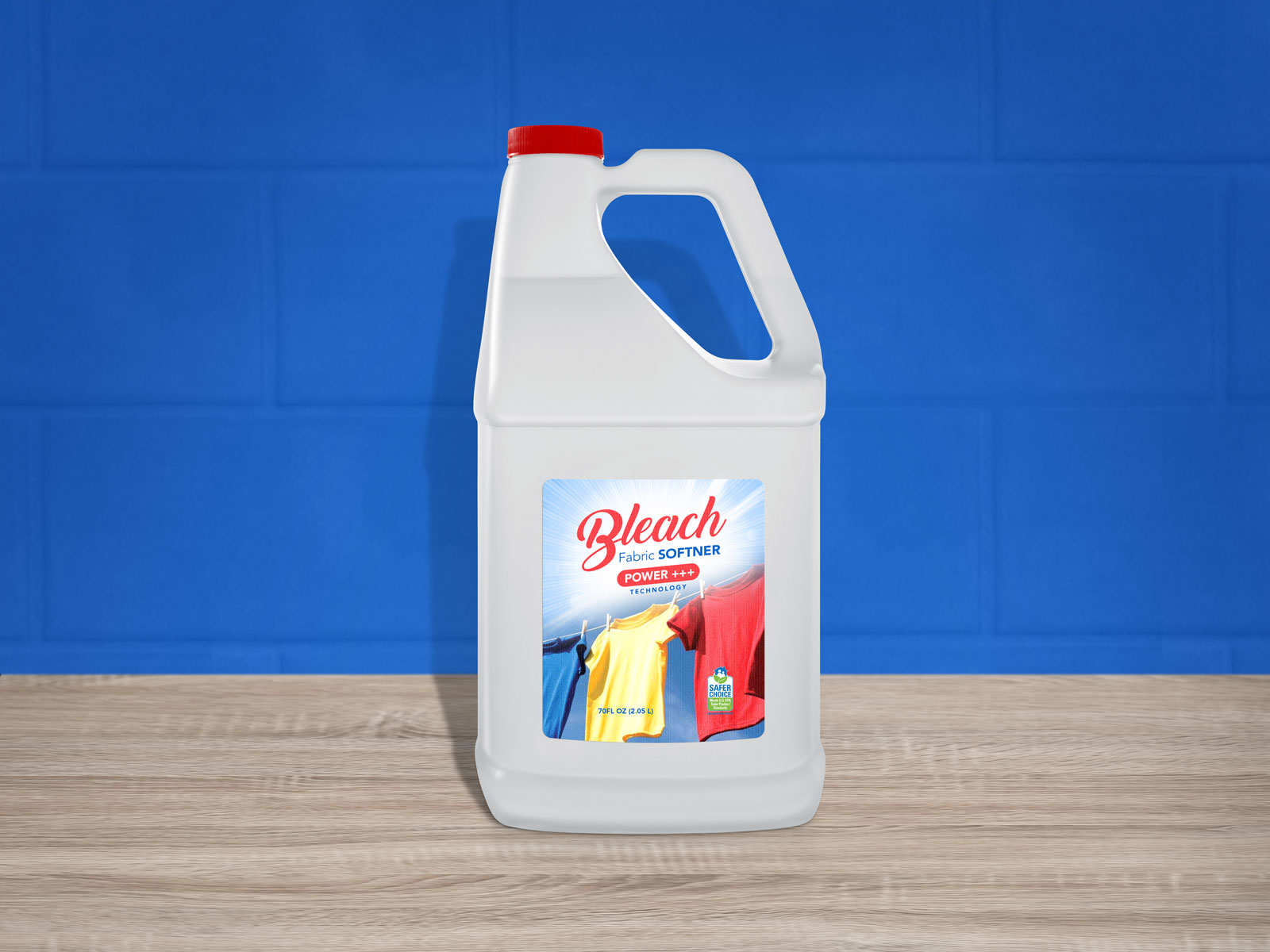 Available Format: Photoshop PSD
License: Free for personal and commercial usage
File Format: WinRAR
Mock-up Resolution: 4000 x 3000 px
Note:
1. Free Fabric Softener Bottle Mockup is allowed to share online (A Must Linkback to this page)
2. Say thanks if you like or share/tweet with your friends. That means a lot to me.
3. And don't forget to follow or subscribe to receive more high quality premium freebies & awesome articles only.
Download FabriC Softener Mockup
More Latest Free High Quality Bottle Mockups: