Hi there everyone! Today we are really excited because we are about to share a very different kind of a blog and design template with you guys and we are sure that you are going to love every bit of it. So, let's get started without any further delays!
As you all know that companies and corporate offices arrange events and parties very frequently and we think that, that is a nice practice as it not only gives your team members a breather but they also come back to work refreshed and all charged up. Arranging any party or event is a task, many people do not want to do because well, let's be honest – it is a lot of work and you need to be on your toes if it is an official event and even if your boss or team lead is a friendly person, you have this thing in mind to give your 110 percent.
Trust us, we get your anxiety and your goal to be the best event planner and although, we have shared multiple blogs in the past sharing how to arrange an exiting party or event for your loved ones, we are going to share everything that you should know about a ribbon cutting ceremony but that's not it because along with a few tips for making your ceremony a hit, we want to tell you all that we have also worked on a free ribbon cutting ceremony flyer design template so, know that we have got your back!
Ribbon cutting ceremony is arranged when a new business is about to hit the market or when a new store is being launched for the customers and also to celebrate an opening of a site which means that everything about the ceremony will be a surprise for everyone who is going to attend it. The entrance is temporarily blocked by suspending a ribbon across it and a chief guest or the company's CEO is invited to cut the ribbon. To make it more fun, there are refreshments as well and the guests are welcome to enjoy a small & nice gathering.
– – – – – – – – – – – – – – – – – – – – – – – – – – – – – – – – – – – –
More Free Premium Flyer Templates:
– – – – – – – – – – – – – – – – – – – – – – – – – – – – – – – – – – – –
Normally, there is also a theme to complement the ceremony and if you are thinking about the colors of the décor etc. then always keep in mind that the branding of the organization can help you pick your theme as well as the colors and everything else for that matter. Always ensure that the food tables, banners and even curtains of the hall match the theme in every sense of the word.
Okay so, you have gotten in touch with your food supplier and you are also getting in touch with the hall / venue management for arranging the event but how are you planning to invite the ones who are supposed to be there at the ribbon cutting ceremony? Are you forgetting anything? Of course you are not because it is time to share our free ribbon cutting ceremony flyer design template with you guys!
So, we have created this design template for any sort of ribbon cutting ceremonies and by keeping it highly editable and easy to work on, we can bet that you are going to have a lot of fun while creating your very own ribbon cutting ceremony flyer designs. We would also like to give you a run down of how we created the design template by dividing it into multiple sections so that each part of the flyer gets the attention it deserves. We chose red, black, white and grey colors to complement a corporate-ish look for the flyer as that is one of the standard color palettes to keep things look appealing especially when the stuff is being designed for an official ceremony. For the pair of scissors, we picked the golden color for it to make it look royal and sophisticated.
Moving on to the copy of the flyer; make sure that your main message is visibly clear and you can write whatever you want to write to announce that you are inviting the person to a ribbon cutting ceremony. Other details like the date, time, venue etc. must also be mentioned and also make sure to proofread the copy so that there are no spelling errors. Another important thing to keep in mind is that you should also add an RSVP section to your ceremony flyer design, by doing so, you will be able to know how many people are actually coming to attend the event.
If you want, then you can also mention the facility, site, store details that is being launched to build more interest and for more details and updates on the ceremony itself, you can also share your website address on the flyer as well. That being said, we would also like you all to make sure that the fonts that you are going to pick for the flyer design go with the organization and their audience.
And that's all for today! We hope that you will find this blog and our free ribbon cutting ceremony flyer design template useful and we are sure that you are going to make some really nice flyers too.
Free Ribbon Cutting Opening Ceremony Flyer Design Template PSD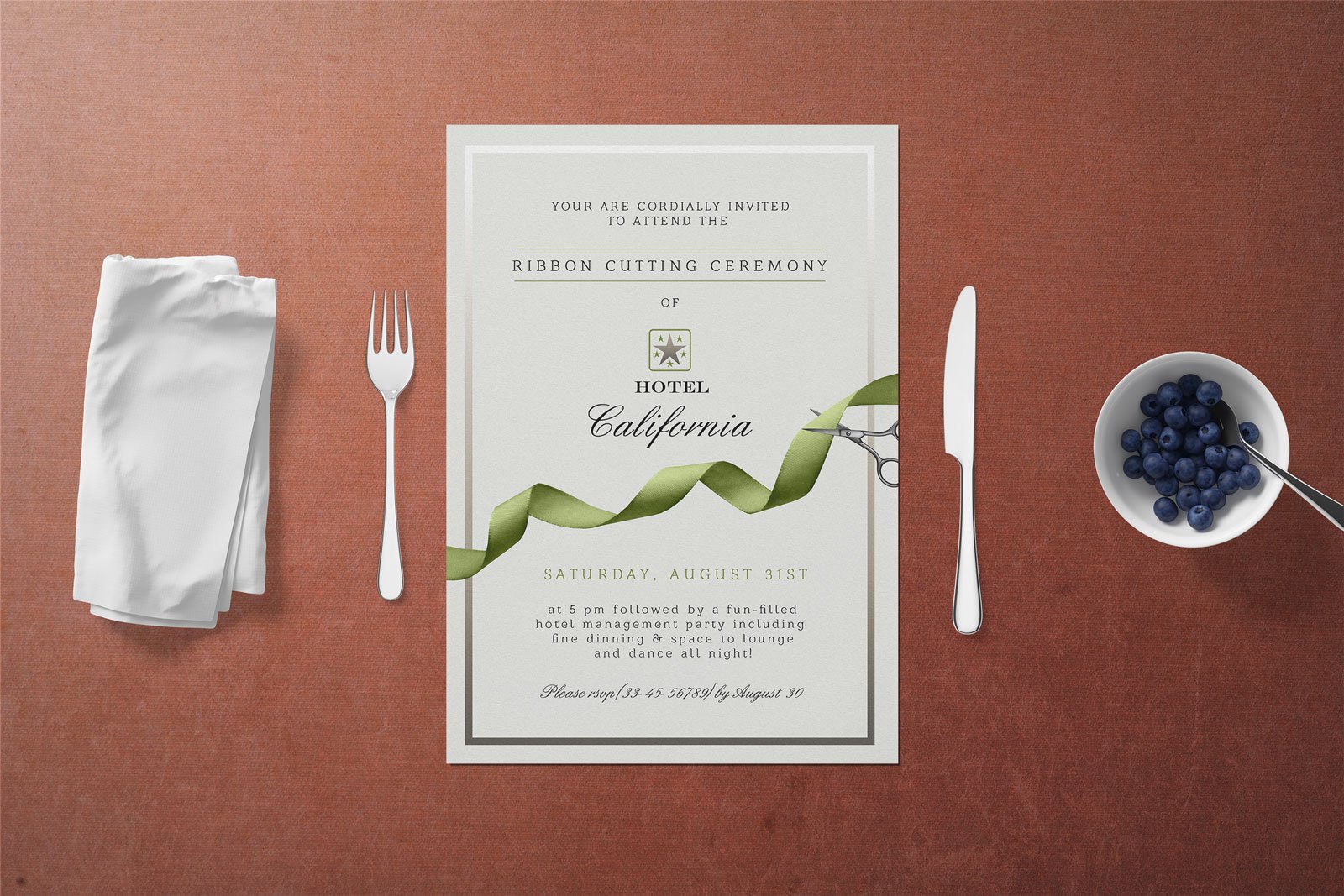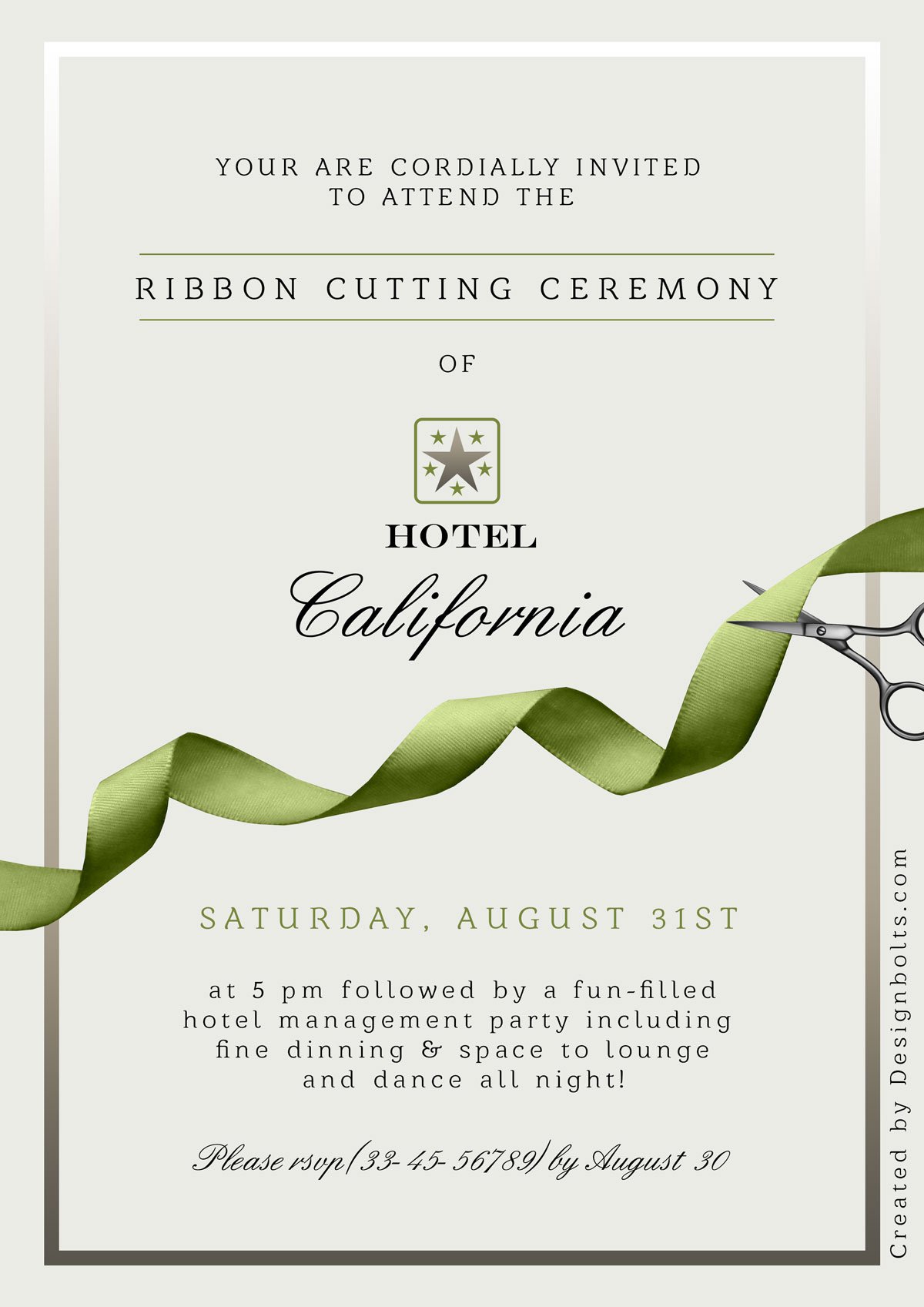 Available Format: PSD
License: Free for personal & commercial usage
RAR File Includes: Free Flyer Template
Design Template Resolution: A4
Font Used: Barkentina Text, English, Engravers MT
Mockup: Freepik.com
Note:
1. Free PSD Template are allowed to share online (A Must Linkback to this post)
2. Say thanks if you like or share/tweet with your friends. That means a lot to us.
3. And don't forget to subscribe to receive for more high quality premium freebies & awesome articles only. Unsubscribe anytime.
Download Ceremony Flyer