Hi there guys! Thanks so much for sharing your positive response on our previous blogs and since we know that you all love to read our content, we are back with yet another amazing design template so, let's get started!
As we all know that the temperature has started to rise and before we know it, we will be 'in' summers real soon. Now, we know that most of you love winters and how getting all cozy and warm in your favorite winter wardrobe is what you enjoy the most but well, seasons gotta change and take turns too. Oh, there is absolutely no need to get sad because we have something really exciting to share with you guys – for which you can thanks us later!
Summer partying is one of those things that many people enjoy about summers and although, we know it takes some time to get readjusted to temperatures and all and also when you have to put back your winter clothes in cupboards or storage cages and take out the summer wardrobe, we think that arranging a summer party or two can really help everyone in making things fun. And apart from practically arranging a party for your friends and family members to welcome and celebrate summers, you would want to start it off by announcing it first.
If you are an individual who is about to arrange a summer party for their loved ones then you might want to create a party invite which can be shared with the guests through your local post service or through Facebook, WhatsApp etc. But if you own a café or any other eatery, if you are an event planner or if you are planning to throw a summer party for your work colleagues then having a flyer designed and shared is the best thing that you can do.
– – – – – – – – – – – – – – – – – – – – – – – – – – – – – – – – – – – –
More Free Premium Flyer Templates:
– – – – – – – – – – – – – – – – – – – – – – – – – – – – – – – – – – – –
Keeping in mind all the necessary information pointers that must go on a party flyer, we have created our free summer party flyer design template for you guys. It is not just free but is also highly editable for you – meaning that you are going to have a party before your actual party. Allow us to give you a walk through and once we are done with that, we will share our full of magic & easy to follow design tips!
First things first, for every party (summer, winter, spring etc.), you have to have a theme so, what we have done here for our flyer design is that we have kept it more of a beachy themed design as most summer parties are arranged at the beaches but you can change the theme if the party is being thrown at a different venue like a resort or a pool house. We did not feel like using actual imagery of the beach because we feel like design elements look a lot cooler than photographs and all. So, feel free to go vector-ish and might as well incorporate icons and symbols too – if need be.
Always keep in mind that the fonts can 'make or break' your design. It is true and we are not exaggerating it and if you are working as a graphic designer, illustrator for too long then you would also know how fonts and their families just go with a theme and complete the design as well. You must also keep in mind that the tone must be playful and funky when it is a summer party flyer, you have to keep it all fun and games so that people would want to attend the party, you know!? Another thing that is also important is the color palette. It is totally up to you to follow the theme that we have created for a generic summer party flyer or come up with your own versions of interesting and attention grabbing themes and color palettes. Your go to colors must be summer colors and you can check out the latest color trends on the internet as well in case you find yourself somewhat confused.
Next up is the copy of your flyer! It is another important task that deserves all the attention in the world. Go creative and make sure the copy is so compelling, now one would even think of ditching your party. And along with going super creative and fun with the copy, also ensure that the details are also mentioned like the venue (address), contact number, time etc. You can also mention that you are going to have a proper music and DJ system as well to entice your guests.
That's all for today guys! We hope that you will like our latest blog and will also find our free summer party flyer design template really useful for your upcoming design projects. Don't forget to write to us – if you have any queries or suggestions.
Free Summer Beach Party Flyer Design Template PSD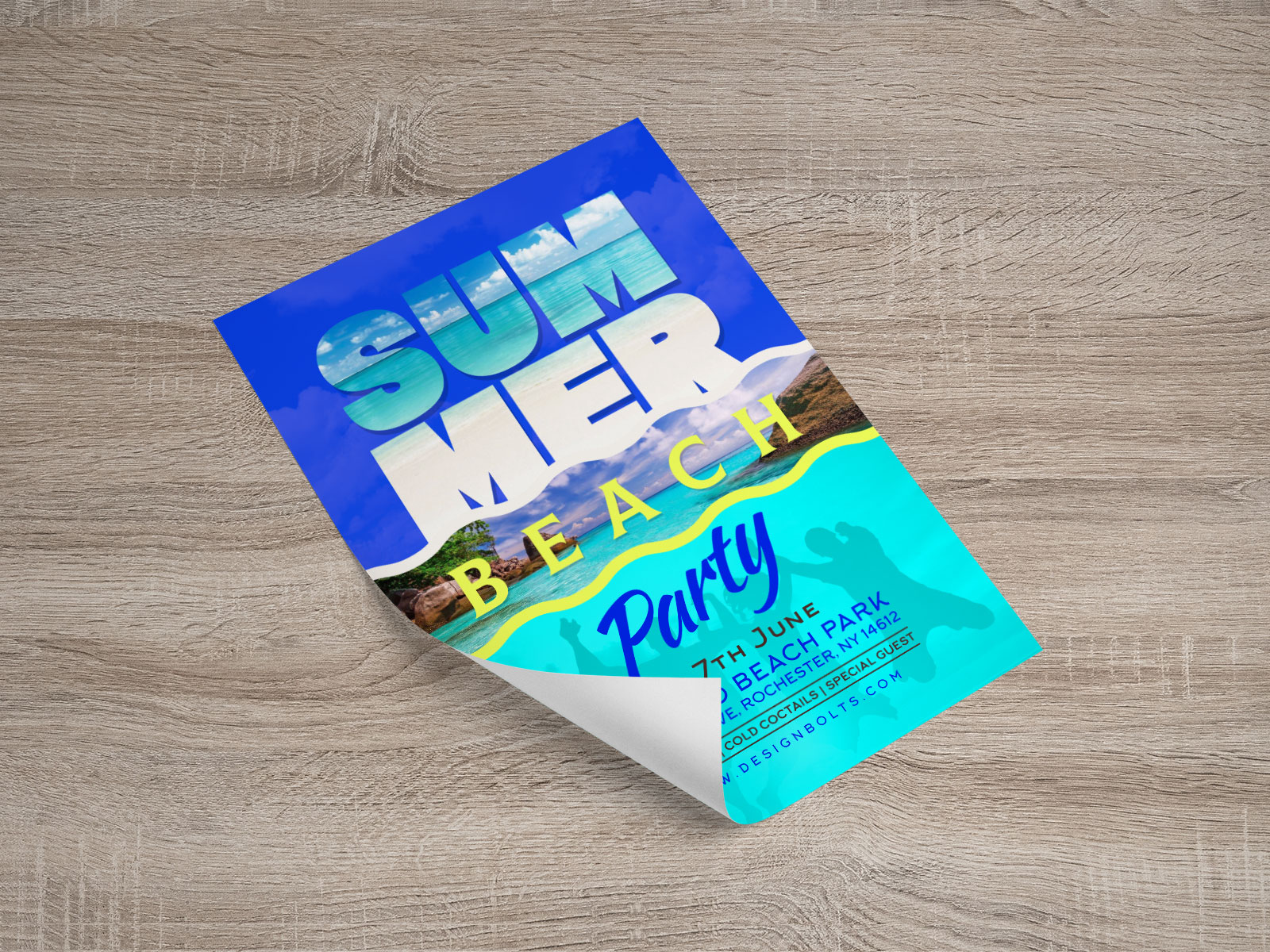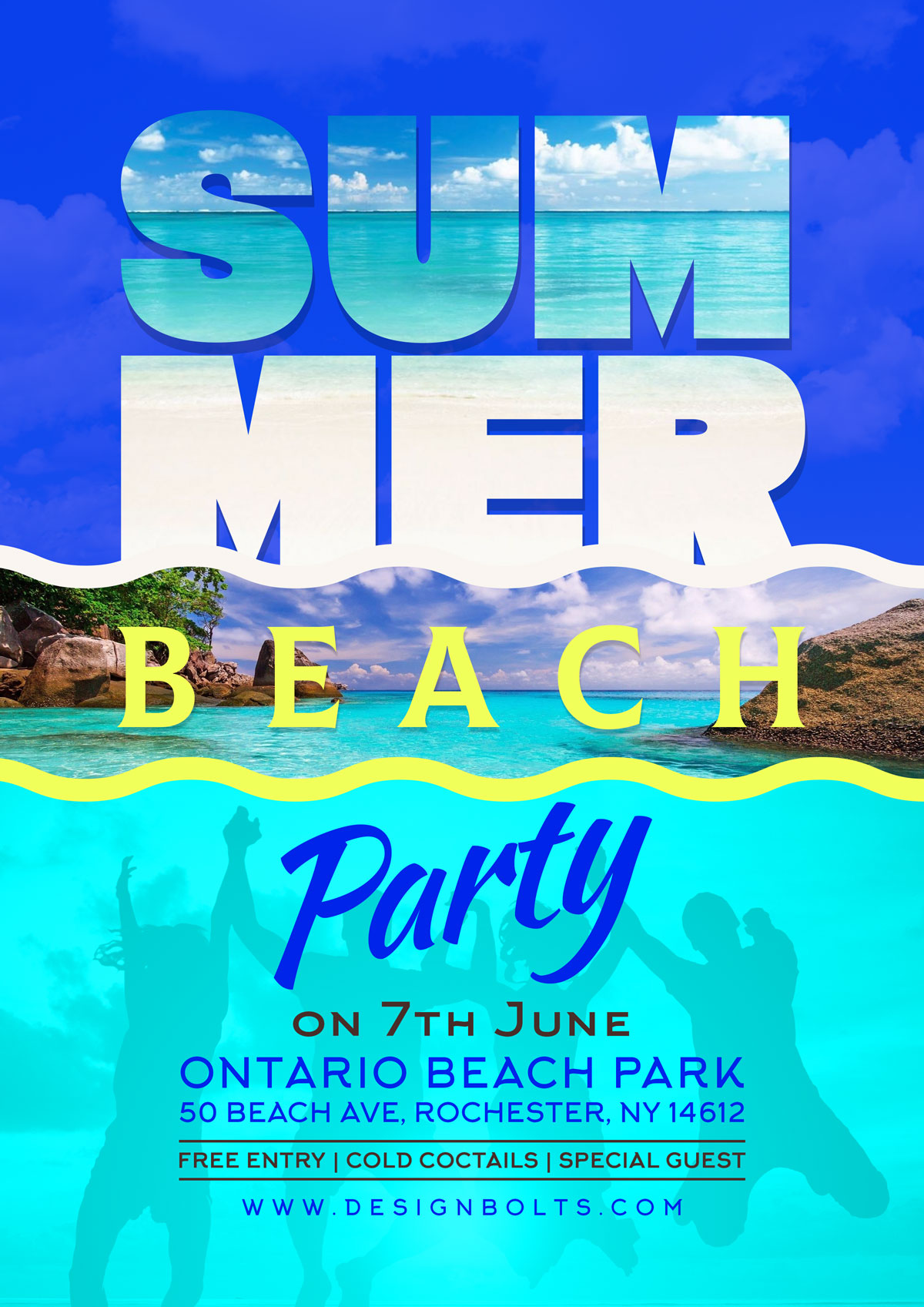 Available Format: PSD
License: Free for personal & commercial usage
RAR File Includes: Free Summer Beach Flyer Template
Design Template Resolution: A4
Font Used: Colus, Kaushan Script & Arkhip
Note:
1. Free PSD Template are allowed to share online (A Must Linkback to this post)
2. Say thanks if you like or share/tweet with your friends. That means a lot to us.
3. And don't forget to subscribe to receive for more high quality premium freebies & awesome articles only. Unsubscribe anytime.
Download Summer Beach Flyer