Hi there guys! We are back with yet another awesome blog of ours and we know that you are going to love it. As you all know that we get back to all the requests and create the designs as soon as we can so that we can share them with you here so, this blog's idea came through one of the requests that we got to read earlier this week. Since, it was a request for sharing a mock-up PSD file of a flyer, we started working on it and here we are. If you are one of those readers who need to design a landscape flyer for their businesses, then know that you are in for a treat!
You must have seen multiple flyers being handed over to you while you are at your favorite shopping mall hanging out with your friends and all or when you are exiting your work place and see a flyer lying on your windscreen but the flyer design that we are about to share here is a landscape flyer that is not just different but we also think that peculiar shapes and forms attract more number of people than the regular ones and that literally is your first step towards a successful marketing campaign.
Although, the shape or the size is one of those factors that can make or break your promotional campaigns because there is so much to just that and we are going to tell you everything that matters. We are sure that you must have read our previous design blogs in which we not only share interesting mockup designs but also help you all with brilliant creative ideas as well that can impress your team lead as well as your clients within minutes and with the same energy and creativity, we will help you create your landscape flyer designs – all you will have to do is to get your hands on our free landscape flyer mock-up PSD and start creating magic.
First things first – and this just by the way, goes for each marketing & promotional material that the graphic designer and other artists must know the brand / business as well as the guidelines because that can tell you what you can and cannot do while designing the brand architecture. To do that, you can either sit with the brand manager(s) and have direct conversations with them to know what their ideology is and also ask them about their expectations regarding a certain marketing campaign. Do not forget to write or record the discussion so that you can come back to it whenever you can.
Recommended: 50+ Best Stationery Mockups
Your next step must be to go through the meeting minutes once again and then arrange at least two briefing sessions with your internal team members as you are a bridge between the client and your team. In this way, you with your Creative and Design team can also decide the objectives and deadlines to deliver the design projects. During these meetings, it is also important to explore design opportunities as well as to finalize the branding (in every sense of the word). In addition to that, you must also have the task of content assigned too so that, that task is being taken care of while you are working on the designs.
We know that whenever we are sharing ideas and designs for the promotional materials, we suggest you to also work on your visual imagery decks as well so, take your time and gather interesting photos for the flyer. Although, we must advise you all to have the photography done just for your own brand. It will be your own photography deck, your personalized imagery and since you would have gotten the shoot done in every angle of your choice, you won't find it difficult to use whatever pose and angle you like to incorporate into the designs.
Now, let's come to the branding itself. Your logo must be at a prominent position – it is not just a standard for creating a flyer design, but you must ensure that your brand gets the attention that it deserves. Another important thing is to stay relevant to the branding campaign along with the audience needs as well as the marketing techniques & trends that are in fashion while you start working on your design projects.
With your amazing and to the point content, powerful imagery and relevant information, you sure are going to get in the heads of the people who will come to you for their business needs. But there is one more thing that matters and that's your business's contact information and by that we mean; the address of your website, phone number(s), office address and social media handles as well so that your potential customers can reach out to you through various platforms.
So, what are you waiting for? Get your hands on our free landscape flyer mockup PSD file right away and start designing your own flyers for yourself as well as for your clients.
Free A4 Landscape Flyer Mockup PSD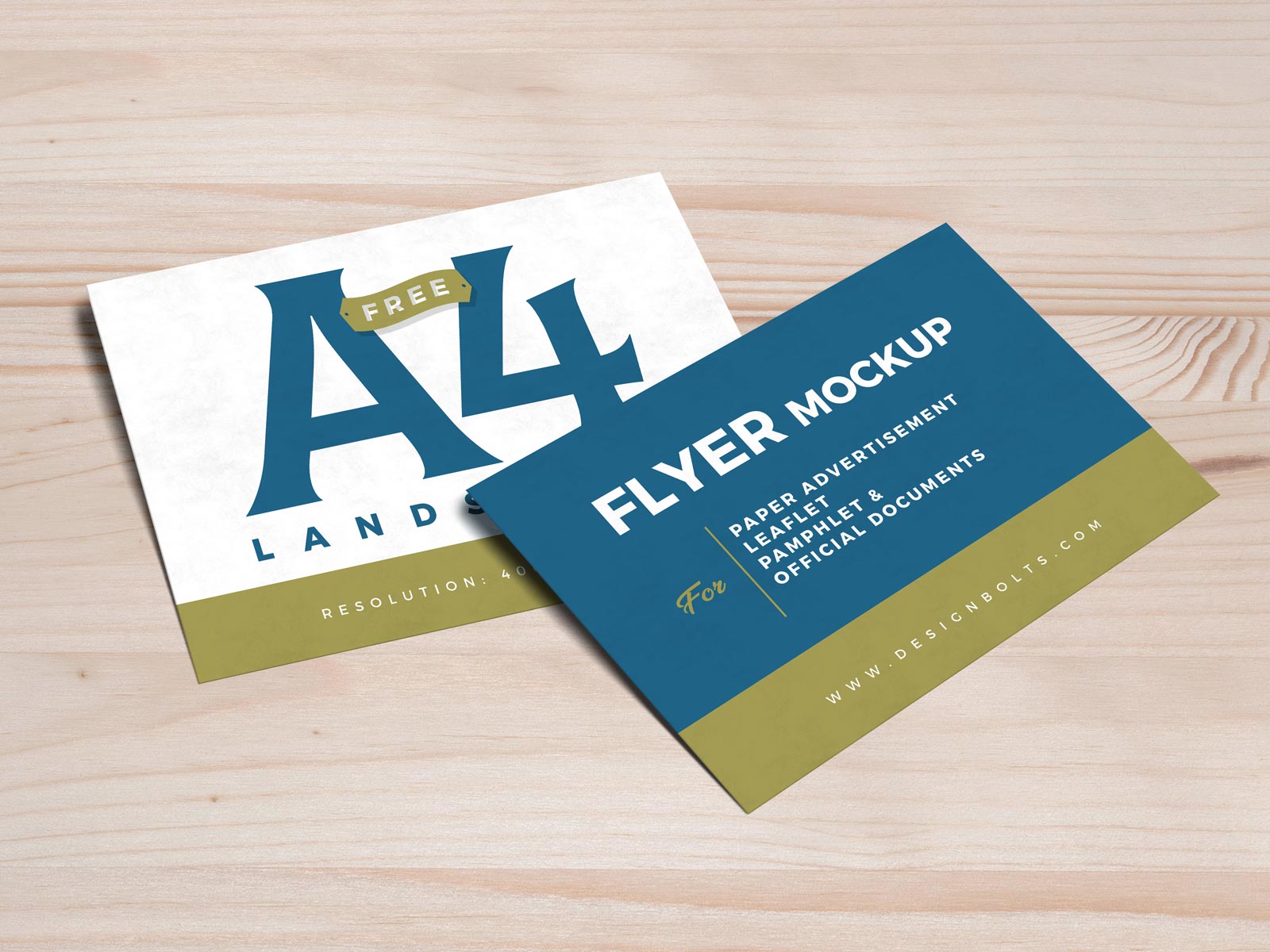 Available Format: Layered PSD with smart object insertion
License: Free for personal presentational use only
WinRAR File Includes: A4 Flyer Mockup PSD
Resolution: 4000 x 3000 px
Note:
1. A4 Flyer Mockup is allowed for sharing online (A Must Linkback to this page)
2. Say thanks if you like or share/tweet with your friends.
Download A4 Mockup
Latest Free PSD Mockups: