Hi there guys! We are back with yet another amazing blog of ours and we know that you are going to love it as most of you wanted to create & share a free hotel wall mounted signage mockup PSD with you guys so, let's get started!
As you all know that all our mock-up PSD files are absolutely free to use and fun to work at, we would just start sharing our easy to follow design tips & tricks that can help you create brilliant signage designs for your hotels etc. First things first, and we know that we always say it that you must start working on your design projects after doing research and your research should include a competitive analysis.
In addition to that, you must keep yourself updated with the ongoing trends and techniques that are loved by the audience and have higher chances of going successful. To help you get started, we would like you all to sit down with your team members to carry out a research on how your competitors are doing things when it comes to promoting, marketing and advertising their business. Make sure that you not only analyze them on the basis of their on ground campaigns and marketing materials but you should also go and check their digital & social media platforms as well. This mixed analysis of yours will help you in taking informed and better decisions.
Once you have carried out the research in detail, your next step should be to go through the latest trends that are relevant to your business and brand category. For example; in this blog, we are talking about a hotel wall's mounted signage, that means that you need to go through the practices that are being followed by the hospitality industry on ground as well as on their social media platforms.
Recommended: 60+ Best Free Signage Mockups
Hotel branding is not just about branding a pretty place and putting up menu cards that give royal feels, but it is more than that. For a hotel to be run successfully, the brand team as well as the creative team must ensure that their hotel not only has a theme to go about but it is also reflected in the place, through their cuisine and everything else for that matter. You cannot run a hotel business, if you are branded sophisticatedly but your services are not top notch so make sure that your brand ideology is reflected through your branding as well as through your services.
Now, you must be wondering what are those trends that are being followed by the hotel businesses, right? Allow us to share them with you! Hotel means sophistication, whether you agree with that or not, but you just cannot be all funky if you are about to run a hotel business. And through your elegantly designed brand architecture, you will be able to hit your audience with great branding and marketing.
Recommended: 50+ Vintage Hotel Signage Ideas
There are certain color palettes that are liked and used by the people who design hotel signage for example; royal blue, dark green, black etc. but golden & silver colors always stay in fashion when it comes to designing hotel branding. Know that all these colors are used for hospitality business as a representation of maturity, trust, sophistication on existing and potential customers. We are also in favor is using colors that hues of brown also look nice when it comes to branding a hotel but you are free to choose whatever color palettes seen nice to you and your brand team.
Then comes the fonts and although we have already created the hotel wall mounted signage mockup PSD for you guys, you might want to use Optima, Mightype, Flamingo etc. to incorporate into your signage. Here, we would also like to encourage you all to create at least 3 different options to present to your team lead and clients so that they have a variety of designs to look at and choose from. This will also help you in exploring your design skills and opportunities that are out there in the world of graphic design.
And what's the best way to share multiple design options with the decision makers? A well designed mock-up presentation, right? Well, if you want to impress your team leads and brand team, then you must always present your ideas and design options through a detailed mockup presentation in which you must also mention the rationales to help them understand the entire design process.
That is all for today! We hope that you will find our blog and free hotel wall mounted mock-up PSD file extremely useful and that you will also create stunning signage for your own hotel(s) as well as for your clients' hotel businesses. And when you do, feel free to share your design journey with us in the comments section down below!
Free Hotel Wall Mounted Signage Mockup PSD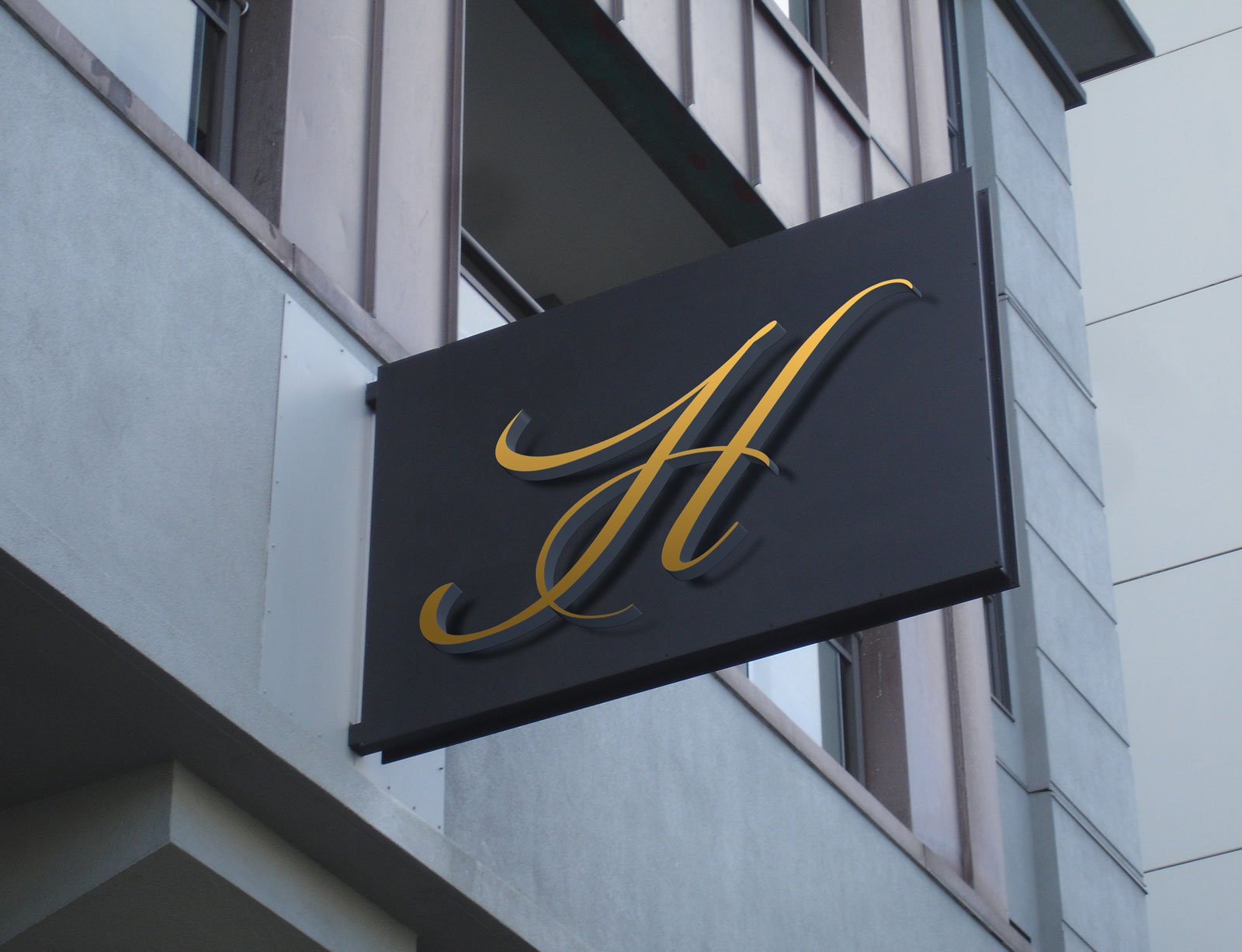 Available Format: Photoshop PSD
License: Free for personal and commercial usage
File Format: WinRAR
Mockup Resolution: 3000 x 2300 px
Note:
1. Free Rectangle Signboard Mockup is allowed to share online (A Must Linkback to this page)
2. Say thanks if you like or share/tweet with your friends. That means a lot to me.
3. And don't forget to follow or subscribe to receive more high quality premium freebies & awesome articles only.
Download Signboard Mockup
More Free Sign Board Mockup PSD Files: