Hi there guys! We know that you just love our content and all the designs that we share with you all as your feedback is increasing day by day and know that, that is one of those things that keep us motivated to design and write on a regular basis. And for our today's blog, we decided to introduce something that is not very new but we thought to work on it so that you can also suggest your team members and clients to bring innovation to their branding styles.
So, what do we have for you? Well, it's a city light poster mockup PSD file that has become one of the most favorite outdoor advertising materials and for all the right reasons. It is not only attractive to look at, but it also has the power to convince your potential customer to look at the ad and to spread the message effectively. For these reasons, we had to create a free city light poster mock-up PSD file for you guys so that you can get your hands on it and start creating magical digital posters in no time.
But to initiate the design task and to make sure that it your city light posters become a hit for yourself as well as for your brands, we would like you all to continue reading this blog as we have a few easy to follow and effective tips to share with you all. In addition to that, we will also share a secret of how to make things work for you with putting in a little effort. Are you ready to learn amazing things? We know you are so let's get started!
To design a city light poster, it is important for you to know all the spots on which the poster is going to be installed. The placement areas could be on the sidewalks, outside malls and shops, near hospitals and other buildings and knowing what's where will help you in determining the color palettes, fonts, and in some cases languages too.
Recommended: 60+ Best Signage Mockups
For example; if the city light posters are installed outside a school or an educational institution then you will have to make sure that the ad does not have complicated copy that cannot be even read by the students. If the spot is on the sidewalks, then you must consider the trees or other plants that are being grown as they might hide your ad entirely. Now, we are not suggesting you to change the ad so, that it becomes easy to understand nor do we want you to have the trees and plants removed from the area but know that this could be your chance to play and be creative.
Have you seen ads that are created keeping in mind the minimalistic approach? That is one of the solutions to your design problems. You can also write your copy in such a way that nothing can hide anything from the city light poster or how about using such colors that are striking enough to invite a customer to come & have a look at the ad?! All of this makes sense, right? But don't rush into things as experimenting is the only way to make ways and it will also help you in staying ahead in the game so, never be afraid to try out new things.
Recommended: 100+ Best Outdoor Mockups
Know that you are free to challenge your creativity and imagination. Also, don't care about the budgets at this time, just create what you think is going to become a talk of the town and we are sure that you will get there.
Here are a few color combinations that we think are going to make your city light posters stand out:
Black & Lime
Scarlet & Black
Peach & Orange
Pink & Electric Blue
Mint & Navy
Beige & Mustard
Teal & Burnt Orange
White & Soft Green
With these colors, you will be able to create amazing designs for your city light posters so, you can also consider reworking on the brand's design guidelines too if you really want to make ads that will bring nothing but positive talkability to your brand – eventually helping the business grow.
And now it's time to share the secret as we all know that you guys were waiting for it. Isn't that correct? So, to make things work for you and your design & creative team, we would like to suggest you to create at least three design options for your review meeting following three different creative thought processes and once you are done, you will have to put them all together in a detailed mock-up presentation along with well explained rationales so that your clients are able to make an informed decision on giving you a go ahead for the printing and installation of the city light posters.
Know that, that is the only tried & tested tip that can help you impress your team members within seconds! So, what are you waiting for? Get your hands on our free city light poster mock-up PSD file right away and start creating your own poster designs.
Free City Light Poster Mockup PSD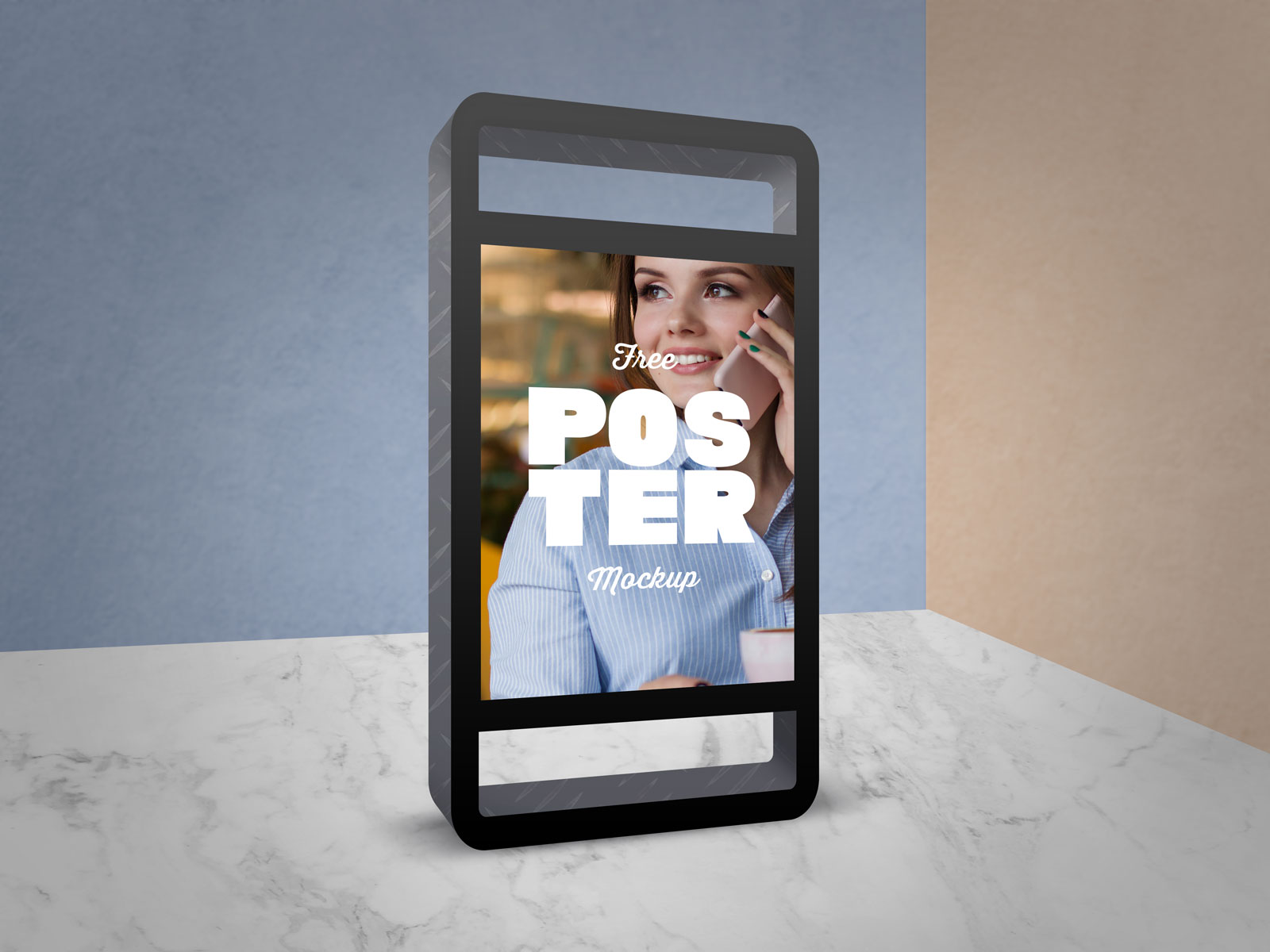 Available Format: Photoshop PSD
License: Free for personal and commercial usage
File Format: WinRAR
Mockup Resolution: 4000 x 3000 px
Note:
1. Free Poster Mockup is allowed to share online (A Must Linkback to this page)
2. Say thanks if you like or share/tweet with your friends. That means a lot to me.
3. And don't forget to follow or subscribe to receive more high quality premium freebies & awesome articles only.
Download Poster Mockup
More Outdoor Mockup PSD Files: