Hi there everyone! Before we start our blog today, we would like to thank you all for appreciating our content and all the creative thoughts that we share here with you guys and we would also like to say that keep your positive feedback coming as it helps us in staying motivated.
Since, almost all of us are staying indoors we can tell that for most of you it must be quite overwhelming and in order to deal with a situation like that where you are supposed to be at one place (as we shouldn't be going outside for parties and fun) and have to manage work from home as well – we can get how tough it might be so, feel free to reach out to us even if you want to distract yourself from the usual routine of yours.
Let's get back to the topic now! So, we decided to work on a coffee cup design. It is neat and simple and it can be used by any coffee shop but what makes it great is that it is absolutely free to download and super fun to work on. Also, don't forget to notice the creativity that we have incorporated here by keeping it on a floor because we get it, some clients can be finicky and they would want you to share the design or mock-ups in different positions and settings.
This lying position of the coffee cup on floor will also help you determine the size of the cup as well so, let's get started! As you all know that branding is that first step that you need to take to talk to your audience. It could be anything from your creative logo to a catchy tagline  and can lead to the way you do the marketing by making sure that you don't hurt anyone's sentiments and to being a responsible brand (by using environment friendly packaging and stuff), the list can go on and on.
And there are more than four hundred coffee brands that are serving coffee in their own countries and around the globe too so, how can you be different? Always know that this is why branding the brand is important as well as crucial and probably this is why many brand managers take all the time in the world to share feedbacks or approvals instantly because well, everyone wants to be unique enough to hit the market so that it can increase talkability and can also generate money.
So, how to start it? How to get there!? And make sure that the efforts are recognized and that the audience is asking for more the moment they look at your logo – this question is valid for all the brands and their products and services. It is simple and all you need to do is to stay focused and set your objectives beforehand so that you know where you stand as a brand. First things first; you need to get a competitive analysis done.
Check out what your competition is doing, have the researches done. If you have the time, resources and budget then you must also go for door to door surveys too. Don't worry about the lock downs in your city or country because you can have the surveys done on your Facebook, YouTube as well as on Instagram as well so, there is that!
Competitive analysis from all the platforms will help you make your own (better) strategies which you can implement once everything gets finalized. At this stage, you would probably have your own color palettes and design guidelines to follow and now you will have to see how things have to be sketched, created, designed and then printed.
With our free coffee cup (lying on floor) mock-up PSD file, you guys will be able to present whatever you would want to design in a matter of a few minutes with smart object insertion. Ensure that you have the copy and all the design elements ready so that you do not have to wait for anything when you would be sitting in front of your screen(s).
We always encourage our friends and readers to play with colors, design elements to see what works best for your brand's communication and if you happen to like more than one creative ideas then you know what to do – yes, we are talking about creating mockups for your design review meetings as those will help you and your team in presenting the thought processes and creativity well and guys will also be able to take get direct feedback from the concerned authorities.
So, what are you waiting for? You have the cup and the lid, and you also know how to make it work for your brand as well then, the next step should be to get your hands on the mock-up PSD file, right?
Feel free to share your design journey with us in the comments section down below!
Free Coffee Cup Lying on Floor Mockup PSD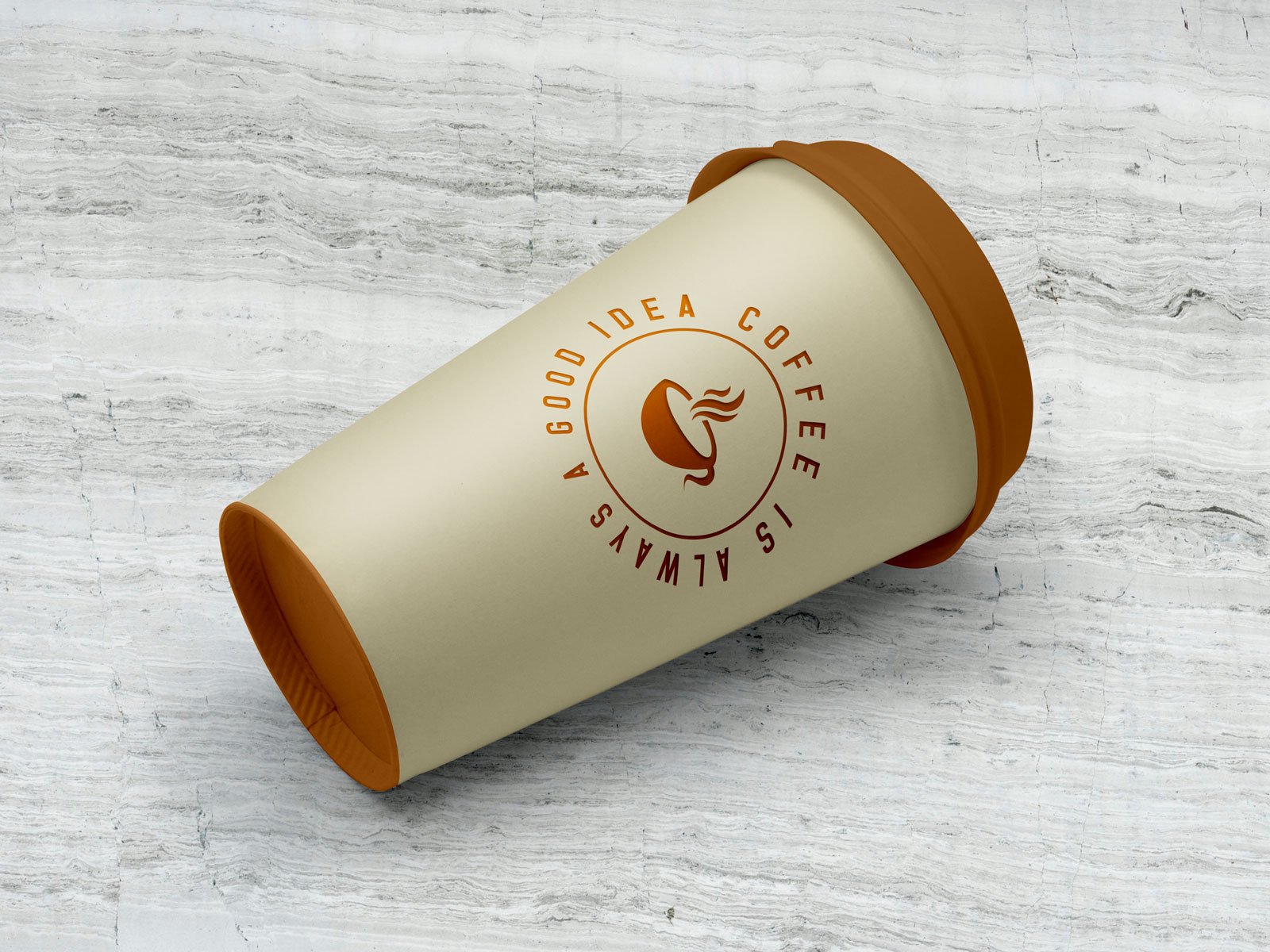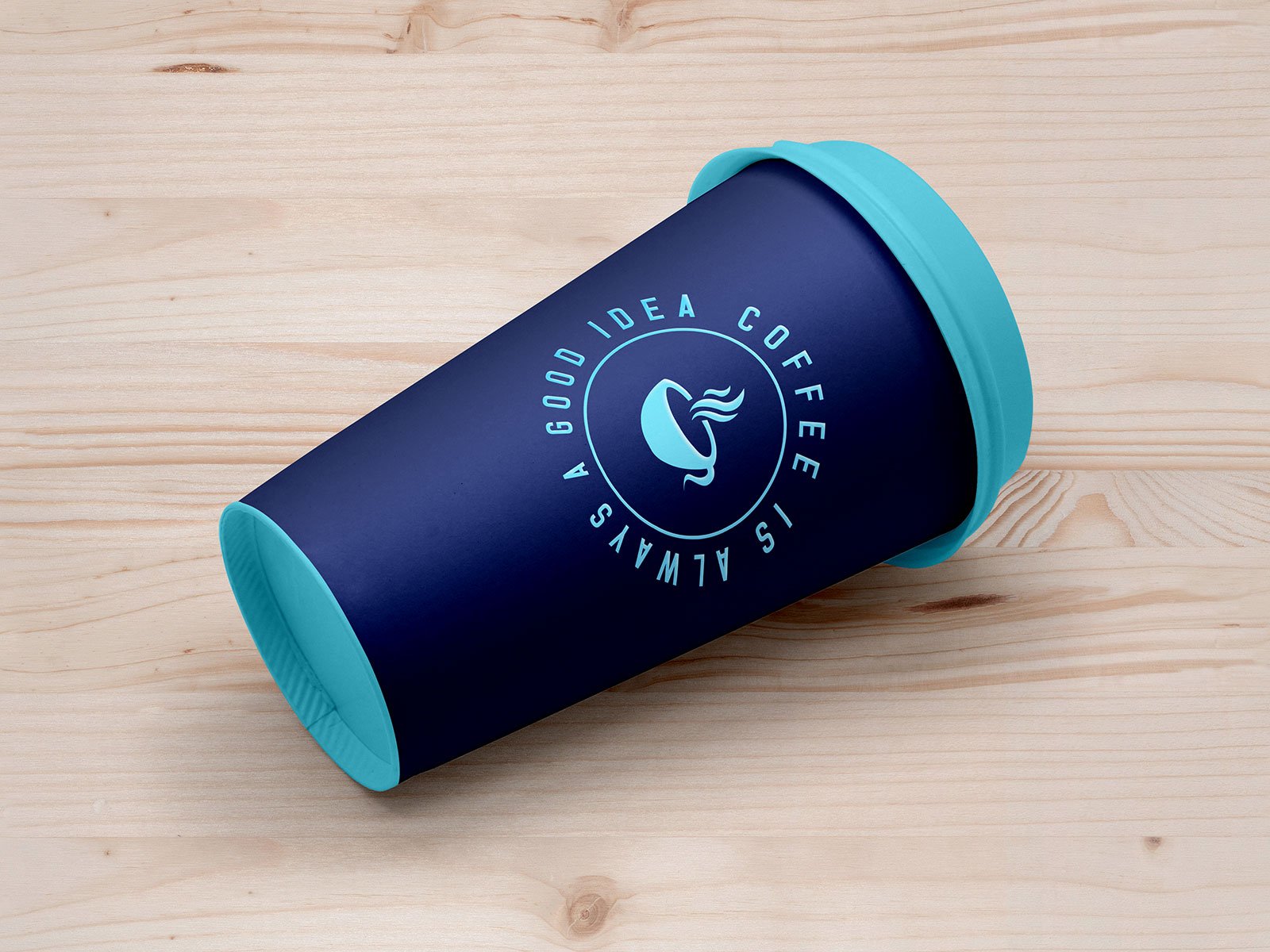 Available Format: Photoshop PSD
License: Free for personal and commercial usage
File Format: WinRAR
Mockup Resolution: 4000 x 3000 px
Note:
1. Free Coffee Cup Mockup is allowed to share online (A Must Linkback to this page)
2. Say thanks if you like or share/tweet with your friends. That means a lot to me.
3. And don't forget to follow or subscribe to receive more high quality premium freebies & awesome articles only.
Download Coffee Cup Mockup
More Free Mockup PSD files: