Hey there friends! We hope that you all are doing great and are also producing amazing art works and designs from your homes and special thanks to each one of you who is sharing their positive feedback with us because in these trying times, such things are considered to be even more valuable and we would like to encourage you guys to keep it coming.
While we were finalizing the content and design mock-ups for the blog, we thought of creating this vehicle bus branding mock-up PSD file for you guys. Now, we know that in many countries, local transport companies were asked to shut down their services so that they could contain the spread of the COVID-19 but those countries that took precautionary measures before time are safe and thankfully, their routine life is also in full swing.
Interestingly, in China as well the city that got most effected with the outbreak of the Coronavirus Wuhan fought and bounced back and now the inhabitants are also trying to lead their life as it was used to be and what better way is to keep educating the masses even after there are less to 0 chances of getting infected than arranging an awareness campaign. We think that bus branding can help many people get the message that we still need to be careful and avoid crowded places so that we can stay safe.
Bus services that are still in business must get a little more creative and start having the branding designed in such a way that the health care messages can be passed on to the masses and of course; when it is over (and we hope that it is over soon), we can always brand our buses for our businesses. Right?
Recommended: 60+ Best Signage mockups
Anyways, we will try to keep this blog a little generic as we want to share how you can create vehicle bus branding for your own business as well as for your client's business so, let's get started! Bus branding is considered to be one of the most effective ways of delivering a message as buses move around the city and even within cities and that's why we need to put the brand message on anything that can catch maximum number of eyeballs and can increase awareness as well as talkability.
You must have gotten to know about a pizza brand or a new telecommunication service and its packages through a branded vehicle and in some countries, vehicles are also used for carrying out political campaigns so, it is time for you to brand vehicles and buses for your products and services etc. In order to make sure that your branding is on point, you need to do certain things so that you are all set. Allow us to share all the design tips & tricks with you guys!
One of the most important things to be kept in mind is that you need to keep the design simple so that it can be effective. Always remember that too much information might kill the design and the message won't be delivered too. To keep the design clean, you need to finalize the design elements first like the imagery, design elements along with the copy. We would suggest you pick the key visual that is being used for other types of communications as well and use it for the vehicle branding. It is your duty to make sure that the images you use are high resolution because you would not want them to get pixelated or anything.
Make the logo prominent enough so that it can be seen in a matter of seconds but also make sure that you don't overdo the "branding". And the copy has to be minimal so that if a moving bus is capable of delivering the message well. Also, keep one message for one bus and if you have multiple messages to send across the city, country etc. then for that, you will need to use multiple vehicles so that you don't confuse your audience.
For the fonts; you need to keep them sophisticated and make sure that the content can be read from a distance as well. Lastly, be creative! Remember that there will be other vehicles too that are roaming around the city delivering other messages too so, you have to be different and your message has to be interesting enough to grab your audience's attention.
Once you have created the designs, create a mock-up presentation having all the variations so that your clients can have a clear idea on how the buses will look like after getting branded.
And that's all for today guys! We hope that you will be able to create brilliant designs using our free vehicle bus branding mock-up PSD so, get your hands on the file and start creating magic.
Free London Metroline Vehicle Bus Branding Mockup PSD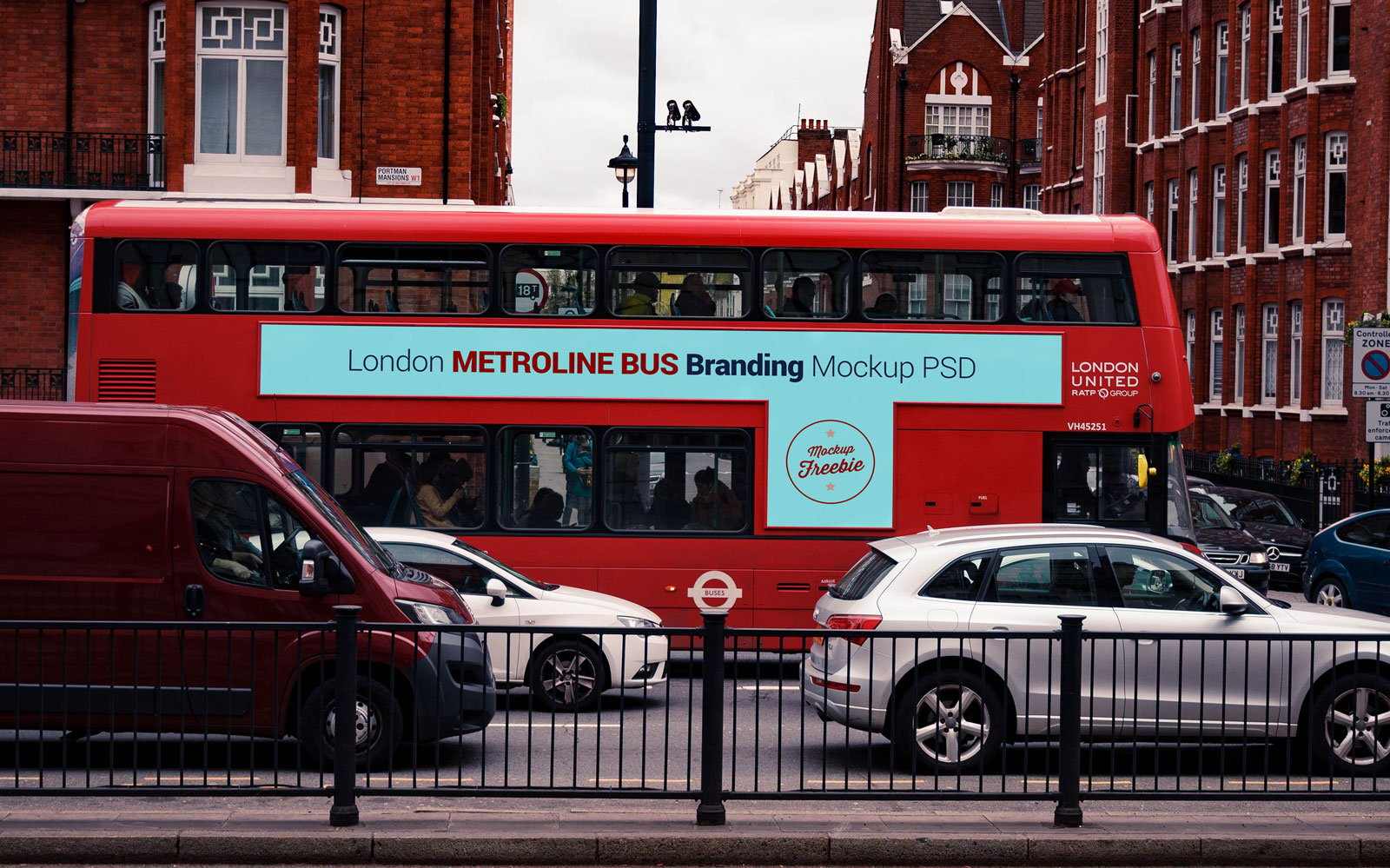 Available Format: Photoshop PSD
License: Free for personal and commercial usage
File Format: WinRAR
Mockup Resolution: 4300 x 2686 px
Note:
1. Free Bus Mockup is allowed to share online (A Must Linkback to this page)
2. Say thanks if you like or share/tweet with your friends. That means a lot to me.
3. And don't forget to follow or subscribe to receive more high quality premium freebies & awesome articles only.
Download Bus Mockup
More Outdoor Mockups: