Hi there friends! Thanks a bunch for liking our blogs so much and for also sharing your positive feedback, we are humbled and we would like to encourage you all to keep sharing your thoughts, suggestions & ideas with us.
As you all know that that entire world is under lockdown during these days due to the outbreak of COVID-19 and almost everyone is staying indoors, working from home and trying to be socially responsible. But there are still a huge number of people out there, working to make things better. They did not get a 'Work from Home' notification from their workplaces and they are not really sure how long it will take but they are hopeful and are doing their best. They are the doctors, nurses and everyone else who is working at and around hospitals.
We believe that doctors etc. are those people who are extremely self-less and make sure that they put the world before themselves and at times, their families too. During these trying times, we have seen that most countries and their governments lacked strategy & planning, and many are still struggling to take things under their control. And as much as we want this all to be over, we also want our caretakers to know that they have impressed us with their hard work and resilience, and we know that they are going to make things better too.
You must have seen many countries did one thing or the other to send a message of hope and love around the world like in Italy, people decided to sing their hearts out from their windows and balconies. Videos were recorded and shared over social media platforms and humans around the world felt great because that indirectly motivated all of us to stay hopeful. In some countries, white flags were hung on houses to show support with the doctors and their medical staff and to send them a message that we know that it must be difficult for them to be away from their loved ones.
Recommended: 50+ Cool Coronavirus Masks
Everyone around the world is concerned about their own safety as well as about the safety of their loved ones but at the same time, we are also concerned about our front line heroes as well. We know that, that they are the ones are the superheroes – working day and night so, that they can save the lives of their patients while being low on protective gears, masks and basic equipment in many countries. It has been weeks that they have gone back to their houses to rest or have a cup of hot coffee, and it has been days that they are not being able to sleep properly.
We would like to take this moment to mention this here that let's also acknowledge the fact that they also get anxiety, that they get worried too and even though, they are the ones who have the knowledge to make things better, we need to stay at home so, that we do not happen to spread the virus by being carriers or by getting infected.
Recommended: 30+ Funny Coronavirus T-Shirts
All the front line heroes deserve the applause and appreciation and artists are also trying their best to express their gratitude towards doctors and everyone else who is literally risking their life so, that many other lives can be saved. Keeping the powerful art works and illustrations in mind; we had to share the ones created by this super talented Iranian artist. Now, it is important to note here that it is not fun and games for doctors etc. especially during a pandemic because you really do not know how to treat your patients and how to stay sane at the same time. Right now, we are not even sure how long it will take for the vaccine as well so, here is what was illustrated:
Imagine a female doctor staying with her patient and it's been so long that she paints her family members on the wall and dozes off in their arms and we can bet that this illustration is strong enough to move your heart mainly because doctors, nurses etc. do not even know when they will go back to their families without having to worry about the pandemic.
Recommended: Free Coronavirus Stickers 
No doubt, doctors and nurses are angels because they are there for us no matter what and they treat us with kindness & love and that's something no one can give you unless they are related to you. An illustration showing a doctor's shadow on the wall with angelic wings is one of our favorite illustrations. It is also important for all of us to stay at home so that we do not result in a problem for anyone like policemen, janitors and everyone else who is taking care of this world and is trying their best to make this world a healthier place.
Don't forget to check out all the illustrations of doctors, janitors, policemen etc. to see how difficult it is for them to make sure that we wake up in a safe world. Feel free to share this blog with your loved ones too!
The Heroism of Health Workers for Coronavirus Patients | 30 Illustrations by Iranian Artist Ali Reza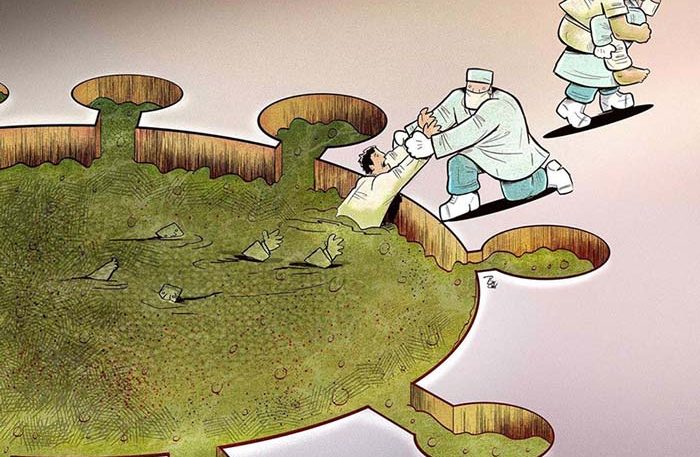 Credit: Ali Reza Pakdel
Recommended: