Hi there friends! We are sure that you must be relaxing at homes these days due to the outbreak of COVID-19 but as we all know that the work does not really stop and that many of us have to deliver the jobs too. As soon as the hashtags on Twitter started to trend about work from home and about maintaining social distancing, we knew that most of our readers would now have a little more time to create & design and to work on their creative ideas. So, here we are with yet another interesting blog of ours. Let's get started!
Have you guys noticed that whenever you are assigned a task of creating a logo or building an architecture of a brand, the brand managers & your team leads are super excited to work on the task as well as to execute it in a way that it becomes the talk of the town? And you, each one of you also start working on the creative ideas and treat the designs as your babies. It does happen, right? That is because a logo is so important and crucial for a brand, any brand for that matter that they want it to be perfect. We get it and we create things in such a way that they serve the purpose well.
But there is more to long brainstorming sessions and meetings in the board rooms. There is also more to the fact that you have to design a logo and share it with the client so that they can have it printed, engraved and displayed everywhere in the town and that's keeping up with the latest trends of marketing, advertising and designing. It is important as it determines what your audience will approve of and what will be "discarded" or "ignored" by them.
Now, it is sad to mention here that there are still few brands and brand managers who do not believe in the idea of keeping the audience in the loop. And when we say that you must keep your audience in the loop, we don't mean that you have to consult your target audience for every decision that you are planning to take for your branding etc. but what we do mean is that you need to know what they like and don't like when it comes to your brand, your products and the services. You must also know the trends that are being up and live digitally and on ground and what's the general perception like!?
Another thing to keep in mind is that you need to keep up with the industry trends as well. for starters; you can literally get a competitive analysis done and see what your competitors are doing in order to get a general idea. If there isn't a bandwagon to jump on then you can become a trend setter so feel free to create a trend when it comes to marketing the brand and do it like a pro and know that the world will follow you – for all the right reasons!
Let's come back to the actual thing now which is a logo and for our today's blog, we have created a wooden engraved logo mockup PSD. It is (of course) free to download and fun to work on so, know that all of you are going to love creating your own wooden engraved logos in no time and since, it is all about introducing a trend, we all are here to help you with that and more! You must be wondering how to go about it, right? Here are a few tips that you need to follow before you start creating designs for a wooden engraved logo for yourself or for your clients:
First things first; keep it minimal in fact, super minimal. We would suggest you skip the tag line (if there is any) and just create the brand name so that it looks neat and is attractive enough to grab your attention.
Choose the placement wisely. Do you want it to be there loud & clear or do you want it to subtly deliver the message that you have to deliver? In both ways, all you need to do is to actually determine the objectives as this will also help you in determining the "size" of the logo as well.
Moving on, the base of the logo (wood) will also matter here as well as its color so, make sure that you have all the things in mind when you get in touch with the third party vendor for the engraving and production of the logos.
And we are sure that you would know what we are about to say here now! Well yes, you guessed it right. Always create at least two to three design mock-ups that you can share with the concerned team members & clients in a mock-up presentation so, that you can get their final approvals on the designs.
That's all for today, guys! We hope that you will find this blog super useful and will also create amazing wooden engraved logos for your branding.
Free Wooden Engraved Logo Mockup PSD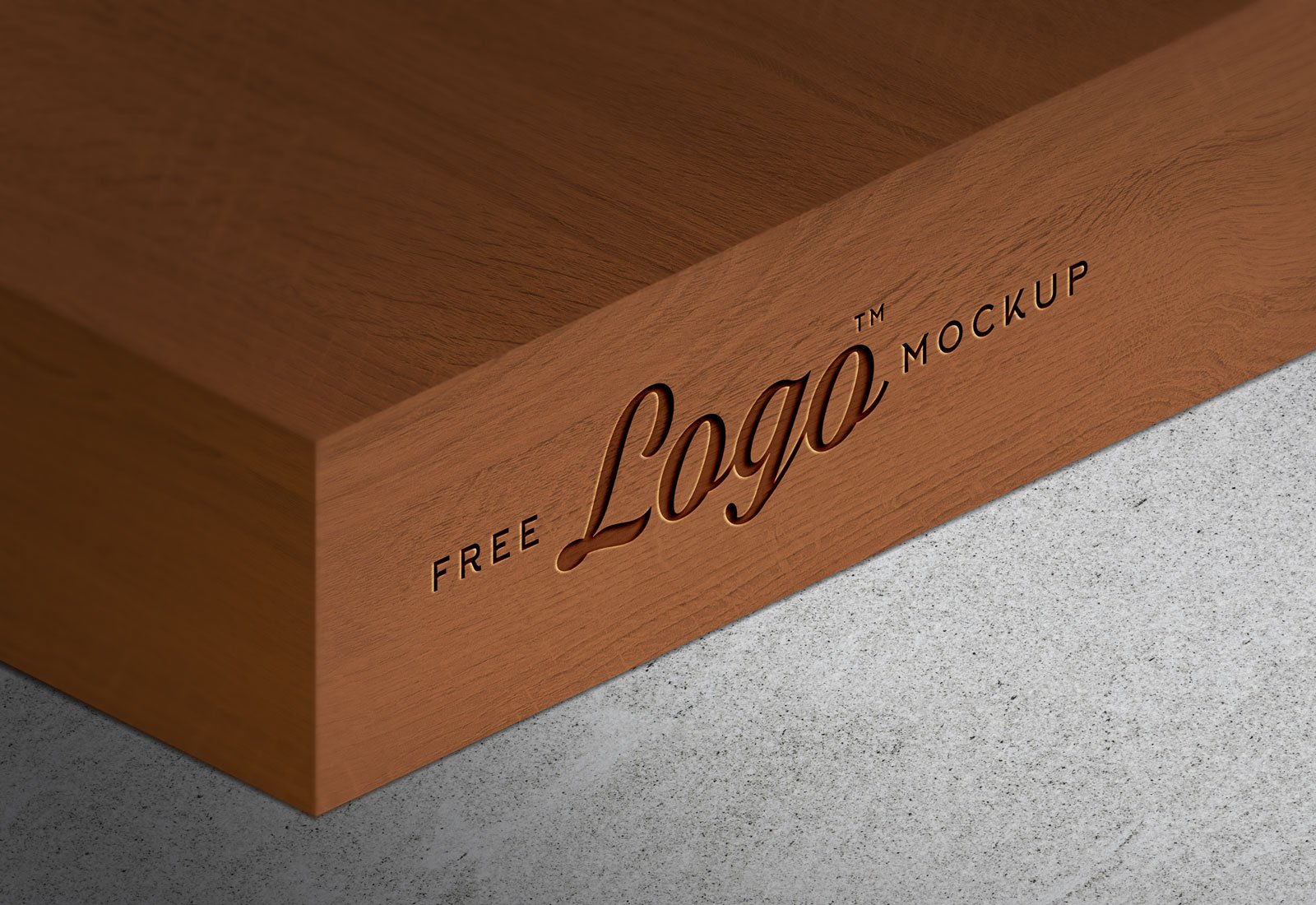 Available Format: Layered PSD with smart object insertion
License: Free for personal and commercial usage
WinRAR File Includes: Free Logo Mockup PSD
Mock-up Resolution: 3200 x 2200 px
Note:
1. Free Wood Engraved Logo Mockup PSD is allowed to share online (A Must Linkback to designbolts.com)
2. Say thanks if you like or share/tweet with your friends. That means a lot to me.
3. And don't forget to subscribe to receive for more high quality premium freebies & awesome articles only.
Download Logo Mockup
More Free Logo Mockup PSD Files: