Hi there everyone! We hope that you all are doing great and are also taking care of yourselves during the quarantine. As we all are working from our homes these days, it really is a good news that we are getting the work done the way it is supposed to be done, timelines are being met efficiently too and we think that we all deserve appreciation on being the best team members considering the fact that, this pandemic did try to leave a bad impact on us.
And since we are working on our content and designing mock-up PSD files for you guys, we wanted to share that we have created this free kids t-shirt mock-up which is going to help you all create the best t-shirt designs for your own brands as well as for your clients'. This blog of ours will also cover effective and easy to follow design tips as well so, let us get started without any further delays!
To design a t-shirt, it is particularly important to know the sizes and body types of the audience you want to cater to. That information not only helps in knowing the space that you will need to work on but it also helps in understanding other important stuff as well for example; the material or the garment, the printing / finishing and other accessories that might be the demand of the design like buttons, stickers, tags, labels etc.
Okay so first things first, what is your objective of designing a t-shirt for a child? Is it going to be used formally for example, at schools' physical education classes or do you plan to design the t-shirt for casual wear for example at houses, for outdoor fun activities? Because knowing the design objective, you will be able to pick the colors and design elements accordingly.
Recommended: 50+ Free Best T-Shirt Mockups
Now, it is also important for any graphic designer / visualizer to know that the target audience might be the kids but the people who are actually going to pay for the t-shirts are the parents, school's administration bodies etc. so, you should get the colors that can attract the indirect audience / decision maker directly. Then comes the sizes. If you are someone who has not worked on a t-shirt design or any clothing material for that matter, then know that ages as well as body types must be kept in mind when you create the designs because in this way you and your brand will be able to cater to a larger audience which will result in more sales as well.
Knowing the garment before you start designing the t-shirt is also important or we should rather say crucial and here is why: You create a t-shirt design keeping in mind a generic material in mind – leaving spaces for all the cuts and bends and plackets and the design gets approved and then it gets printed on a material / garment that does not "support" that design and it gets pixelated or seems messy then that is going to result in a problem. And to avoid any such issues, you must know how to take things forward even before the design work gets started.
Since the design that we have created for today is of a short sleeves kids t-shirt mock-up PSD file, there is a whole lot of fun things that you can work on. To start the process, you first must know the gender that you are designing the t-shirts for. Here we would also like to mention that many people have now started to design and purchase gender neutral stuff but there are still a lot of brands & shoppers who prefer using blue color for boys and pink color for girls so, if you and your brand wants to cater to that group of people then you must choose the colors as per the requirements of your design brief.
The same thing goes for the design elements, characters & imagery as well for example; cars, planes and trains are mostly used on the t-shirts that are going to be used by boys where girls like to wear t-shirts that have dolls and / or princesses and that information can also help you in determining and finalizing your own t-shirt designs. Button plackets are also designed differently for boys and girls (boys' buttons are on the right side, while girls' buttons are on the left) and you might want to consider that rule as well.
And of course, once you have designed at least two to three different versions of the designs, you must have them all added to a nice mock-up presentation and after viewing it, the decision makers will be able to make an informed decision. This practice will also help you in briefing the third-party vendors for printing as well.
And that is all for today! We hope that you will be creating super amazing t-shirt designs using our kids t-shirt mock-up PSD. Do not forget to share your feedback with us in the comments section down below!
Free Short Sleeves Kids T-Shirt Mockup PSD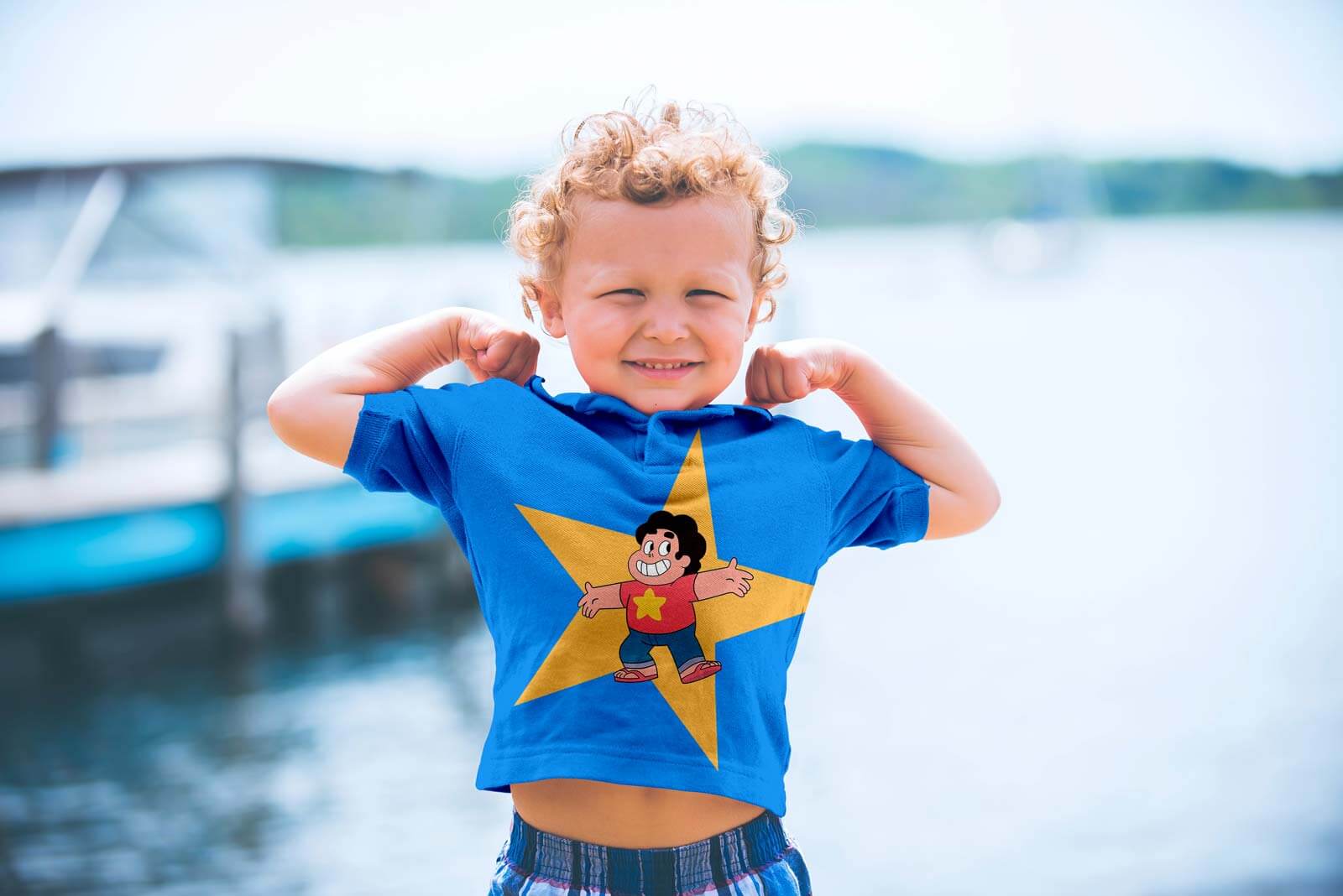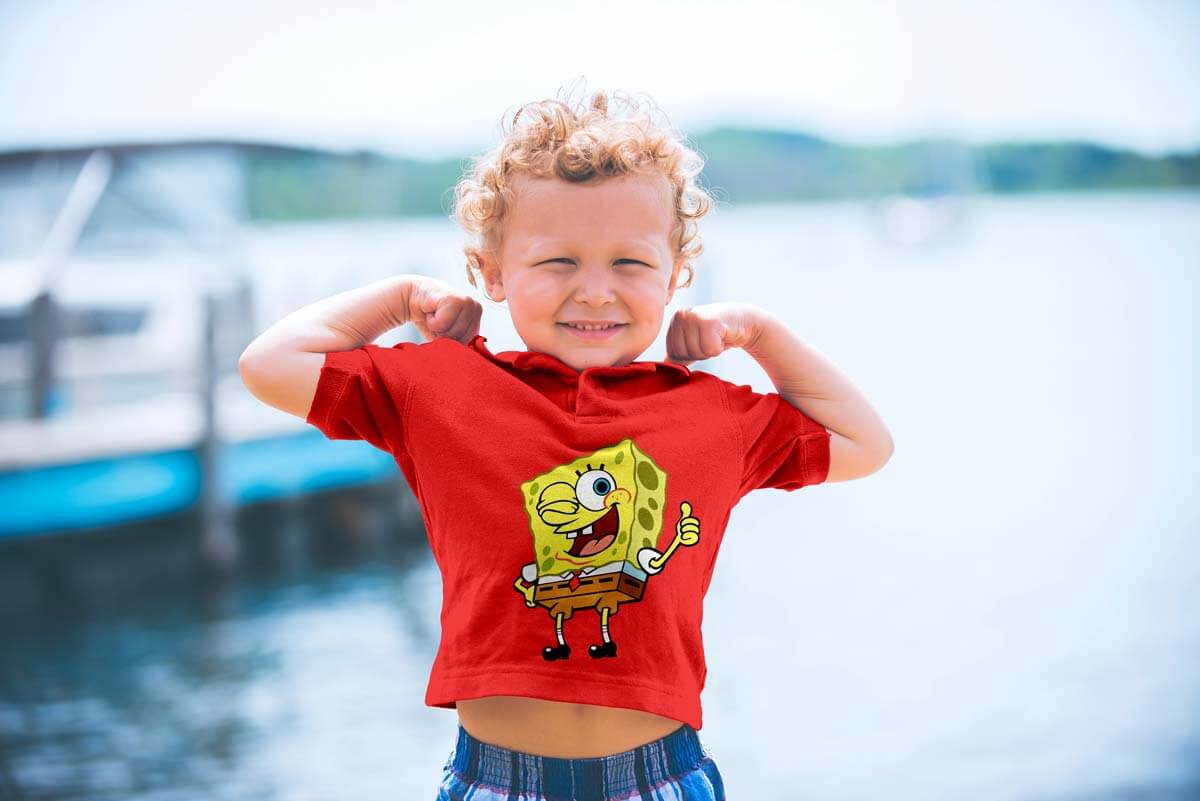 Available Format: Layered PSD with smart object insertion
License: Free for personal and commercial usage
Zip File Includes: Free T-Shirt Mockup PSD
Mock-up Resolution: 4000 x 2667 px 

Note:
1. Free Kids T-shirt Mockup PSD is allowed to share online (A Must Linkback to designbolts.com)
2. Say thanks if you like or share/tweet with your friends. That means a lot to me.
3. And don't forget to subscribe to receive for more high quality premium freebies & awesome articles only.
Download T-Shirt Mockup
More Free T-Shirt Mockups From Designbolts: