Hi there guys! We hope that you all are staying indoors and taking good care of yourselves while being self-quarantined. At first, it must have been felt extremely difficult to work from home and to literally stay inside the house (almost) 24/7 because well, we are not used to living like that, we have never seen a pandemic causing so much trouble to the world and we really did not know that we could still be productive and will be managing everything from our homes. And we think that, that should be applauded.
While we were trying our best to get acquainted with the new lifestyle, we also got to know the importance of so many things and activities like we sure miss playing table tennis with our friends whenever we would get free from our design projects and writing content. We also miss going to our favorite steak house with our best buddies and now it feels as if we never left our houses. But then again, we tell ourselves and our loved ones that as long as we are safe and not being exposed to the virus, it is all good and it should stay like that for a couple of more weeks so, that we can at least try to flatten the curve even more.
Since most of us got some extra time on hand – mainly because there is no travelling required when you are working from your home and you are asked to not leave the house unless it is absolutely necessary, we have observed that many people are trying to better themselves, in every sense of the word. From learning a new skill to trying to learn a new language or experimenting with a new pancakes' recipe, we think almost everyone is making the most of their quarantined days and we are doing great too.
Coronavirus happened to bring sad things with it but us being resilient enough to fight back, we knew how to tackle the situation. We are also glad the organizations and educational institutions agreed with their respective governments and came up with as many solutions as they could to make sure that the work and education does not stop.
Recommended: Free Sports Medal Mockup
Arranging home schools and online classes in a matter of days is kind of a big deal because one day, our kids were going to their schools and colleges and the next day, the parents were informed that there won't be any regular classes. And that everything was going to be shifted to digital mediums.
Things did not change for government employees or people who work at offices but brands and people all around the world had to move everything. Plans were changed and revised, and it was also made sure that finances were being taken care of so, that this pandemic does not weaken anybody money-wise but to think of the distant future, the show must go on, right? And keeping that in mind, we decided to work on a tennis ball mock-up PSD file for your guys.
A little bit of history here that the first ever tennis ball was made in the 15th century and leather and wool were used to make the ball. With the passage of time, the entire manufacturing of the tennis balls was modernized and now a days, air filled balls are created to play the game. We are sure that once we have the cure to this virus and the lockdown is over, all our postponed sports events will be arranged and while being in the quarantine, we can bet that the ones who love to play tennis must be purchasing the balls as well so, the need is there which means the supply should not stop and that's why we are here sharing our tennis ball mock-up PSD file with you guys.
As you all know that our mock-up PSDs are free to download and highly editable to work on, we are confident that you will have a great time designing your very own tennis balls so, we would like to share a few effective and easy to follow design tips with you guys!
First things first; it is important to know the reason of a yellow-green tennis ball as it will help you in understanding it better. Yellow-green tennis balls are created because these colors can match the spectral response of our eyes – making it easier for the individual to play the game well. This standard color tone is being used by all the manufacturers out there as well so, that is settled.
As long as your brand logo and tagline are concerned, you must pick a nice place to add those in the design and there you have it, a clean & nice, to the point sort of a tennis ball design. So, what are you waiting for? Get your hands on our tennis ball mock-up PSD and start creating your own designs right away!
Free Soft Tennis Ball Logo Mockup PSD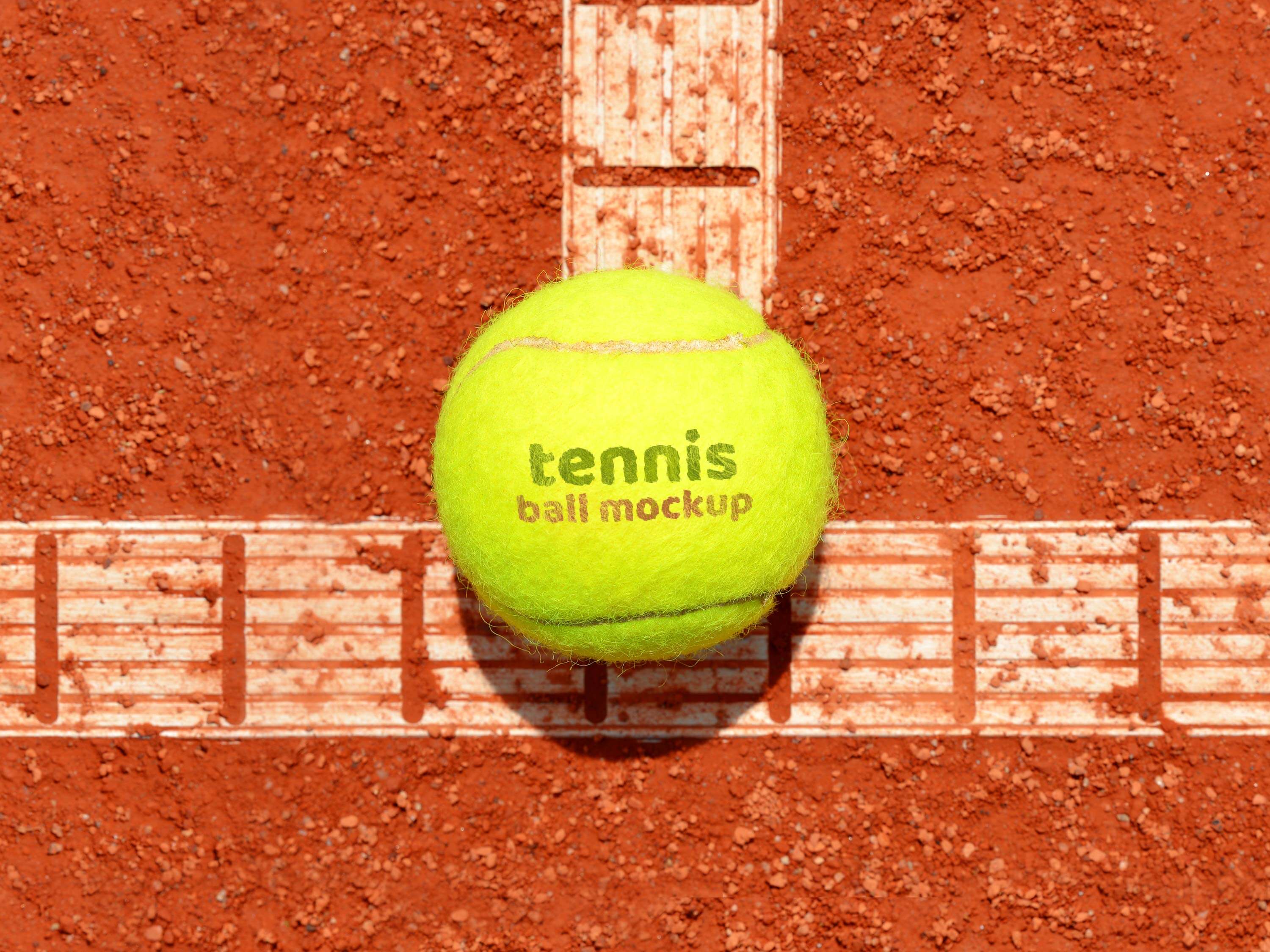 Available Format: Layered PSD with smart object insertion
License: Free for personal and commercial usage
RAR File Includes: Free Tennis Ball Mockup PSD
Mock-up Resolution: 3000 x 2250 px 

Note:
1. Free Tennis Ball Mockup PSD is allowed to share online (A Must Linkback to designbolts.com)
2. Say thanks if you like or share/tweet with your friends. That means a lot to me.
3. And don't forget to subscribe to receive for more high quality premium freebies & awesome articles only.
Download Tennis Ball Mockup
Recommended: