Hey there everyone! How are you guys doing while being in self-isolation? We hope that you all are making sure that you do not leave your houses unless it is absolutely necessary like you have to do groceries or you are an essential worker etc.
This happens to be a fact that we took all the time that we took to accept how life can change in a matter of days and hours (in some countries) and although, adjusting just like that felt super tough, we tried our best and we think that this is one of the achievements of several countries that they not only flattened the curve but they are also coming back to living their normal routine life.
In some other countries however, many people are still not taking the lockdown and the SOPs seriously hence, there is an increase in the number of positive COVID-19's cases which is alarming. Another thing that keeps on happening is that since the curve is not being flattened, governments also have to extend the lockdowns which are obviously having a really bad influence on businesses regardless of their scales.
And we can only hope that anyone who is being non serious about the situation, realizes that this is no joke and that we have to fight back by staying indoors and not by being out there.
One good thing that has happened due to the outbreak of Coronavirus is that organizations had to shift their business models to online platforms. All the businesses & its people that were already operating through digital mediums did not find it hard to start working from their houses but the ones that were partially "online" had to work really hard on their systems so, that they could allow their team members to not come to offices and sites etc.
Anyways, so because of the virus and its spread, you must have read and seen that every business has now gone digital – and for good! From apparel brands to brands that manufacture and sell shoes to stores that deal in computer systems & other gadgets to almost every city having their own grocery apps, everything is now fully digital and you really do not have to go out and get something because there are people who will bring your stuff at your door step and they guarantee that all the precautionary measures are being taken when they dispatch the orders.
This also gave artists and creative people around the world a chance to explore their opportunities and as soon as the governments and law & order enforcement departments announced that online orders can be taken and proceeded, brands & organizations around the globe started getting back to business. This includes restaurants and eateries as well which are making food and delivering the items to their customers by following extra safety measures.
And it means that the demand has started to (somewhat) increase and the restaurant and cafes' owners must ensure that none of their food items, drinks etc. go out of stock or not available. This applies on the containers that happen to hold your favorite pasta and coffee in place as well and to cater to that need, we have worked on this free hand holding coffee cup mock-up PSD file for you guys. As you know that our PSD files are free to download, we can bet that you all are going to enjoy working on creating your own coffee cups while being in quarantine. We have shown the cup in a hand so, that you can get a fair idea about the size of the coffee cup too.
This part of our blog contains all the effective and easy to follow design tips that will help you guys in making the most of our free hand holding coffee cup mock-up PSD. Let us have a look!
You would know what colors to pick for the coffee cups (if this is your own business or you will be asked by your client to follow a certain design brief) but no matter what, make sure that the colors of the cup help the logo and branding stand out. Pick the logo that you have already been using for your communication, but we would love to suggest that you must incorporate the logo that shows social distancing in the branding. It won't only look nice but that could be one of your design tricks to grab the attention of your existing & potential customers.
We are sure that you and your brand managers must have chalked out your strategies to work like donating an amount of funds to someone in need by utilizing the money that you get to receive upon your sales etc. and you can also add a one liner or two on the coffee cup or other containers as well so, that you can spread the message around.
And that is all for today! We hope that you will find our blog and free hand holding coffee cup mock-up PSD useful and will also create your own designs. Don't forget to share your design journey with us in the comments section down below!
Free Hand Holding Coffee Cup Mockup PSD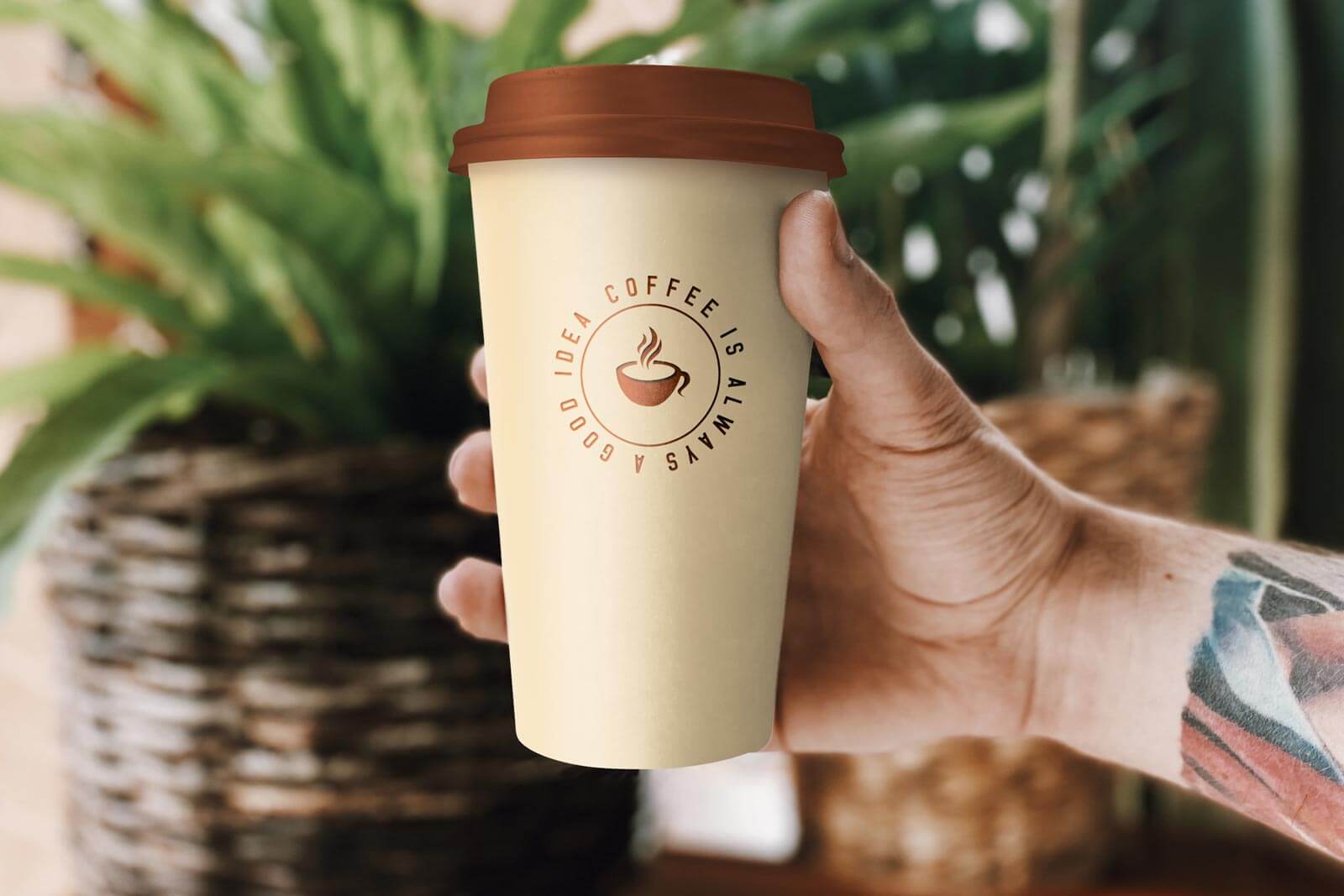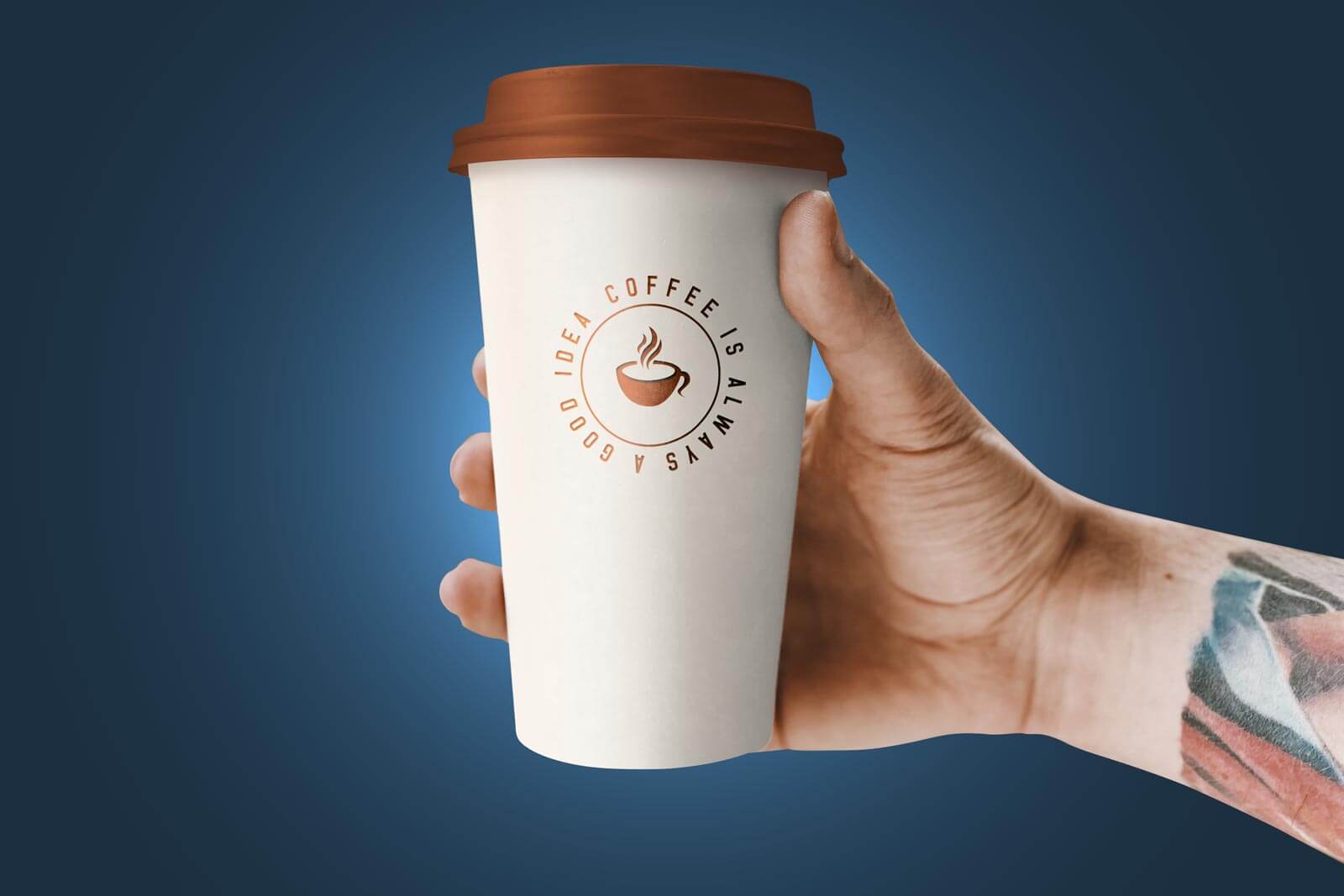 Available Format: Photoshop PSD
License: Free for personal and commercial usage
File Format: WinRAR
Mockup Resolution: 3000 x 2000 px
Note:
1. Free Coffee Cup Mockup is allowed to share online (A Must Linkback to this page)
2. Say thanks if you like or share/tweet with your friends. That means a lot to me.
3. And don't forget to follow or subscribe to receive more high quality premium freebies & awesome articles only.
Download Coffee Cup Mockup
More Free Mockup PSD files: