Hi there guys! Ever since we shared our blog on OnePlus 8 Pro's specs and what is so awesome that you must get one for yourself, we received many requests from you guys for sharing a mock-up of the device. And like the good people that we are, we went ahead and have created a free OnePlus 8 Pro mock-up in Ai and in PSD format for you guys so, that you can carry out your design projects without having to worry about anything.
As you all know that all our mock-up PSD files and design templates are free to download and we know that you guys have a lot of fun working on them, we will get straight to the point – the things that you can do by using our free OnePlus 8 Pro mock-up in Ai & PSD format. We make sure that through our blogs and easy to follow design tips & tricks, we also help in generating ideas for you next big task or may be a pitch presentation.
Like in this blog, we are going to be talking about how you can take full advantage of OnePlus 8 Pro's specs & stunning features to create your designs (for wallpapers and backgrounds, for mobile covers and phone cases) and to also develop games and mobile sites & apps to reach out to your audience at a bigger scale. So, let us get started!
OnePlus 8 Pro is 165.3 mm high and 74.3 mm wide and is also 8.5 mm thick and its weight is 199g whereas; the screen size is 6.78 (when measured diagonally – in the full rectangle) and 6.55 inches (when measured including the rounded corners). The features include adaptive display, vibrant color effect pro, motion graphics smoothing, reading mode as well as night mode.
We would also like to (re)share how brilliant the cameras of OnePlus 8 Pro are as one of the lenses is a color filter lens (5 megapixels, f/2.44 aperture) and the main camera has; Sony sensor (IMX689), 48 megapixels, pixel size: 1.12 µm/48M; 2.24 µm (4 in 1)/12M and f/1.78 aperture. And the lens quality is 7P. Then we have Telephoto and ultra-wide angle lens as well and we think that OnePlus 8 Pro becomes a powerful package with its amazing cameras and their features.
By taking into consideration the magnificent cameras of the smart phone, you can work on and come up with app ideas for photo editing, for social networking as well as for communicating with your loved ones – especially when you cannot really leave your house and go meet them in person.
OnePlus 8 Pro also comes with the 5G option which means that you can now launch your "heavy" mobile apps and online mobile games as the connectivity with the WiFi will be super smooth and the user won't have to reconnect or refresh their routers and internet devices time and again.
Then comes the mobile covers and phone cases and we think that as soon as the OnePlus fans will be able to get their hands on this amazing device, they would be in a desperate need to get the cover too so, you must be prepared as there will be an increase in demand and you will have to cater to that and we think that it will be only wise to start creating attractive covers and cases for the phone already.
In addition to games and mobile sites / apps and phone cases etc., we think that this is also a great time to discover more opportunities and avenues to work and operate with your stuff online. For example; like we are in self-quarantine for more than a month now, we would suggest you guys to work on the ideas of platforms that can be used for creating presentations and for also delivering lectures or conduct meetings online too.
Another great idea that we can think of right now is to create an app sharing things and activities that anyone can do / arrange while staying at home like DIY projects, baking and cooking using simplest of the ingredients, sewing and knitting tips etc. as well as painting or how to get started with calligraphy, typography and things like that.
We believe that by making the most of the quarantined routine, we can not only come up with effective ideas and projects to work on ourselves but we can also share the creative thoughts and tips, tricks & strategies with people who are sitting idly or really do not know what to do, you know.
And friends, that is all for today! We hope that you will have fun working on our free OnePlus 8 mock-up in Ai & PSD format and will also share it with your favorite colleagues as well. Do not forget to share your feedback with us in the comments section down below as we'd love to hear your thoughts & suggestions – until next time, stay indoors and take care!
Free OnePlus 8 Pro Mockup in Ai & PSD Format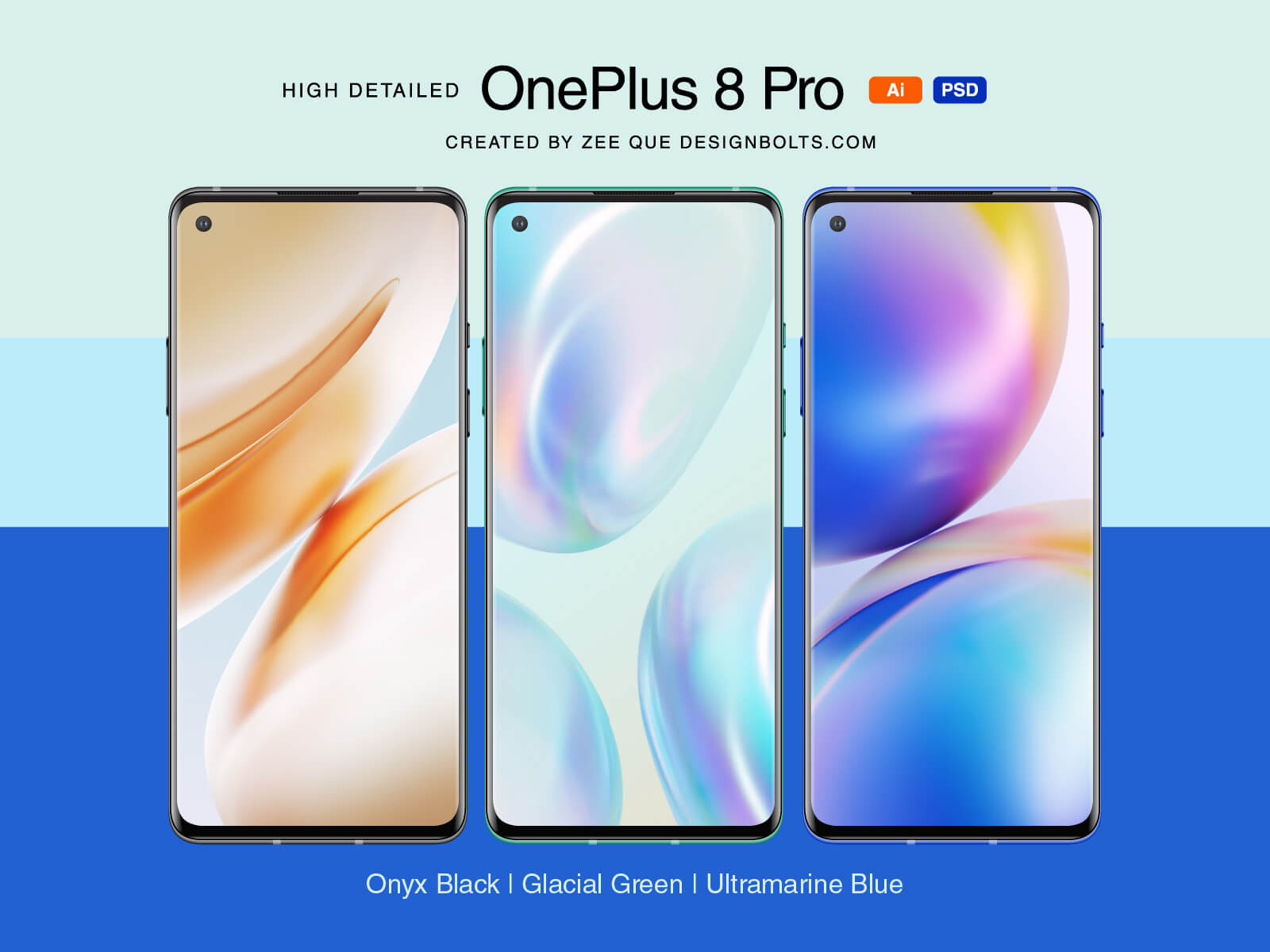 Available Format: Layered PSD with smart object insertion
License: Free for personal & commercial use
Zip File Includes: OnePlus 8 Pro PSD & Ai
Mockup PSD Resolution: 3000 x 2000 px (2x supported)
Note:
1. Free OnePlus 8 Pro Mockup PSD & Ai are allowed for sharing online (A Must Linkback to this page)
2. Designbolts signature is placed as first layer kindly hide and use the mockup
3. Say thanks if you like or share/tweet with your friends
Download OnePlus 8 Pro Ai
 Download OnePlus 8 Pro PSD
Recommended: