Hi there guys! Tell us, what is happening in your life these days? Is the work flow all smooth or are you still facing some challenges as many teams around the world were confused when they were asked to stay indoors until a certain period of time!? As you know that we have never seen any such thing happening in our lives, we definitely were a little shocked because it always takes time to get adjusted whenever something new happens and trust us when we say this, we get it!
We also know that you must have heard many people saying that work from home is not a thing and that going digital is just a waste of time when it comes to making a business work but now we know that anyone & everyone can manage working from home – given that they have the efficient team members who have resources to get things going.
Although, we got to know from many friends and acquaintances that their employers were not really considering the fact that working from home or knowing that we won't be able to leave our houses for an indefinite period of time could actually take a toll on their employees' mental health and even then all the people still continued working for long hours so, that they could distract themselves from scary thoughts. And we think that, that does deserve appreciation.
There are still many countries that are not being able to flatten the curve as the people won't abide by the rules or follow the SOPs and that is creating issues not just for the government but it is also going to make things super difficult for the health care workers as well. We hope that all the people who think that this virus is not something to be taken seriously try to evaluate the choices that they are making daily by leaving their house for no solid reasons.
During the self-isolation routine, we wanted to be there for each one of you who take out the time to read our interesting blogs and use our designed mock-up PSDs and design templates. Keeping that and your overwhelming response on our What is new in Mi 10 Pro That Everyone is Crazy About? Blog in mind, we are back with yet another amazing blog of ours and we can bet that you all are going to love it as we are about to share our free Mi 10 Pro mock-up PSD & Ai so, that everyone can use the designed material for their personal and professional projects.
Let us have a loot at what Mi 10 Pro has to offer to its users and what you can do to create magic out of our free mock-up PSD & Ai. We'll start from the screen size and display first so, that you can get an idea of how your mobile games and sites will look like on this very amazing smart phone. So, the display type is Super AMOLED capacitive touchscreen (16M colors) and the size is 6.67 inches (~8.98 percent screen to body ratio). Mi 10 Pro's resolution is 1080 x 2340 pixels with a protection of Corning Gorilla Glass 5.
You do not get a memory card slot in this phone but the memory is more than enough to store photos, videos, games and so much more without slowing down your device and we think that, that's one of the catches of this efficient phone. There are multiple options available for you to choose from as per the internal storage; 256GB 8GB RAM, 256GB 12GB RAM, 512GB 12GB RAM.
There are 4 rear cameras (108 MP, 12 MP, 8 MP and 20 MP) in Mi 10 Pro and each one of them is just perfect whereas the selfie camera is 20 MP for your studio perfect selfies and we know what you are thinking after reading about the cameras – that you would want to explore an opportunity for creating a photo editing app with stunning new features, right? Well, you must go for it as the app users could use exciting and innovative features to edit their photos and videos.
Mi 10 Pro's connectivity is also worth talking as it also supports 5G and that is one of the coolest features in every sense of the word. Also, whatever you will design or develop using our free Mi 10 Pro mock-up PSD & Ai will instantly load without making the user wait.
And of course, once you guys are done thinking and brainstorming the ideas of games, apps, and mobile sites, do not forget to create interesting mock-ups to display and discuss your workflow with your internal teams as well as with your clients. Also, make sure that you have mentioned the rationales behind your thoughts & ideas to connect in a better way with the audience.
That is all for today! We hope that you will find this blog of ours super helpful and will also create amazing designs with our free Mi 10 Pro mock-up PSD & Ai. Don't forget to share your feedback with us in the comments section down below!
Free Mi 10 Pro Mockup PSD & Ai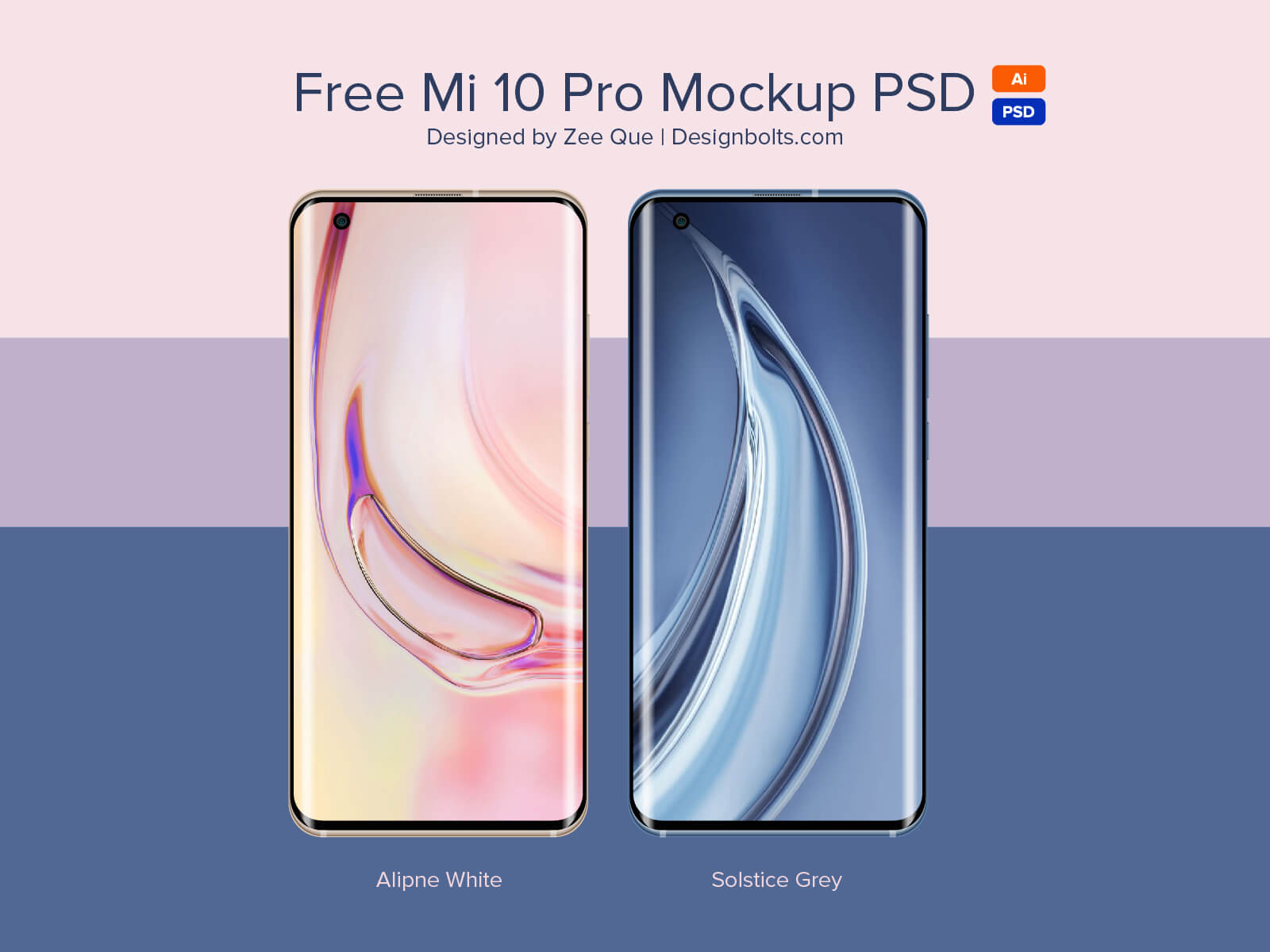 Available Format: Layered PSD with smart object insertion
License: Free for personal & commercial use
Zip File Includes: Mi 10 Pro PSD & Ai
Mockup PSD Resolution: 3000 x 2000 px (2x supported)
Note:
1. Free Mi 10 Pro Mockup PSD & Ai are allowed for sharing online (A Must Linkback to this page)
2. Designbolts signature is placed as first layer kindly hide and use the mockup
3. Say thanks if you like or share/tweet with your friends
Download Mi 10 Pro Ai
 Download Mi 10 Pro PSD
Recommended: