Hi there friends! We are back with yet another amazing blog of ours and we know that you all are going to love it as today, we are going to be talking about iPad Pro. And once we are done, you will be able to get your hands on our free close up iPad Pro mock-up PSD file. As you all know that all our mock-up PSDs are fun to work on, this very file is going to make your tasks a lot easier to manage too. So, let us get started!
iPad Pro was launched in March 2020 and ever since the launch, it has become one of the most favorite gadgets of all times – the reason is that it is Like a computer – Unlike any computer. And we think that, that is something worth your consideration and of course, money. There are many things that can be done on an iPad Pro which also opens new doors of creativity for many graphic designers, website designers, game designers & developers.
From creating animated wallpapers & backgrounds to applications that not only cover the gap and cater to the modern needs and demands of the users, but also have the ability to get you the recognition that you deserve is one of those things that you can do by keeping an iPad Pro in mind.
You must have seen many new applications that surfaced after the world went under a lockdown and those platforms were not only able bridge the gaps while the users were asked to work from their houses but these social networking apps also generated a revenue for their respective organizations as well and that is how powerful a great app idea is – easy to access, user friendly and helping the users getting things done in one way or the other.
Recommended: 20+ Free Awesome Mockup Websites
iPad Pro happens to have all the great things that you will ever need. Like we have mentioned by quoting Apple that it is like a computer unlike any computer, we mean that iPad Pro has a battery that can support you for a day, an entire day and you wouldn't feel to recharge it no matter for how long you were using it but that is not it. iPad Pro also has advanced Apple designed chips that transform your experience of how you would look at photos, augmented reality and of course, gaming.
It not only makes regular apps work in an awesome manner but you can also use pro apps on it too for example; Photoshop and Adobe CC and you would not, for a second think that you are not working on a computer. Oh, and did we tell you that it is super thin? Well, that means that you can always keep it with you and you won't feel a thing.
Another thing that we must mention here (and it made us happy too) that you can work on your iPad Pro by using multiple apps at a time. Interesting, isn't it? You can simply drag and drop the apps that you are currently using and working on or switch between apps with a single swipe. Do you know what that means? It means that you can work on apps that can perfectly fine even if they are being used in window sizes that are smaller than a usual window size. But you will have to make sure that your app is so fascinating that it makes a user want to use it even if they are watching their favorite season on Netflix.
We would also love to tell you guys that you can have a nice keyboard experience by using your iPad Pro in two ways; one is to use the virtual (onscreen) keyboard and you can even connect a physical keyboard with your iPad Pro if need be.
Do you want to know about another cool tool that you can use with the iPad Pro? It is the Apple Pencil which will allow you to take notes, draw doodles or sign important papers and do so much more like scanning a document or making the most of the AR experiences which are combined with digital objects and information with the real world.
And it is time to talk about the amazing cameras that iPad Pro has and by taking the efficiency of these cameras, you can create apps to help your users take, edit and share photographs and to call their loved ones or to save their photos in an app that is used for couples etc. Some of the brilliant camera features are:
Wide camera: 12MP, ƒ/1.8 aperture
Ultra-wide camera: 10MP, ƒ/2.4 aperture, and 125° field of view
2x optical zoom out; digital zoom up to 5x
Brighter True Tone flash
We believe that we have shared enough information and amazing specs that are going to help you create awesome designs for your mock-up presentation(s) featuring the iPad Pro. Also, we wanted to create something different for you this time around and that's why we have created a close up of the iPad Pro mockup PSD to help you guys with presenting your creative thoughts and ideas up close.
Free Top View iPad Pro 11 2020 Mockup PSD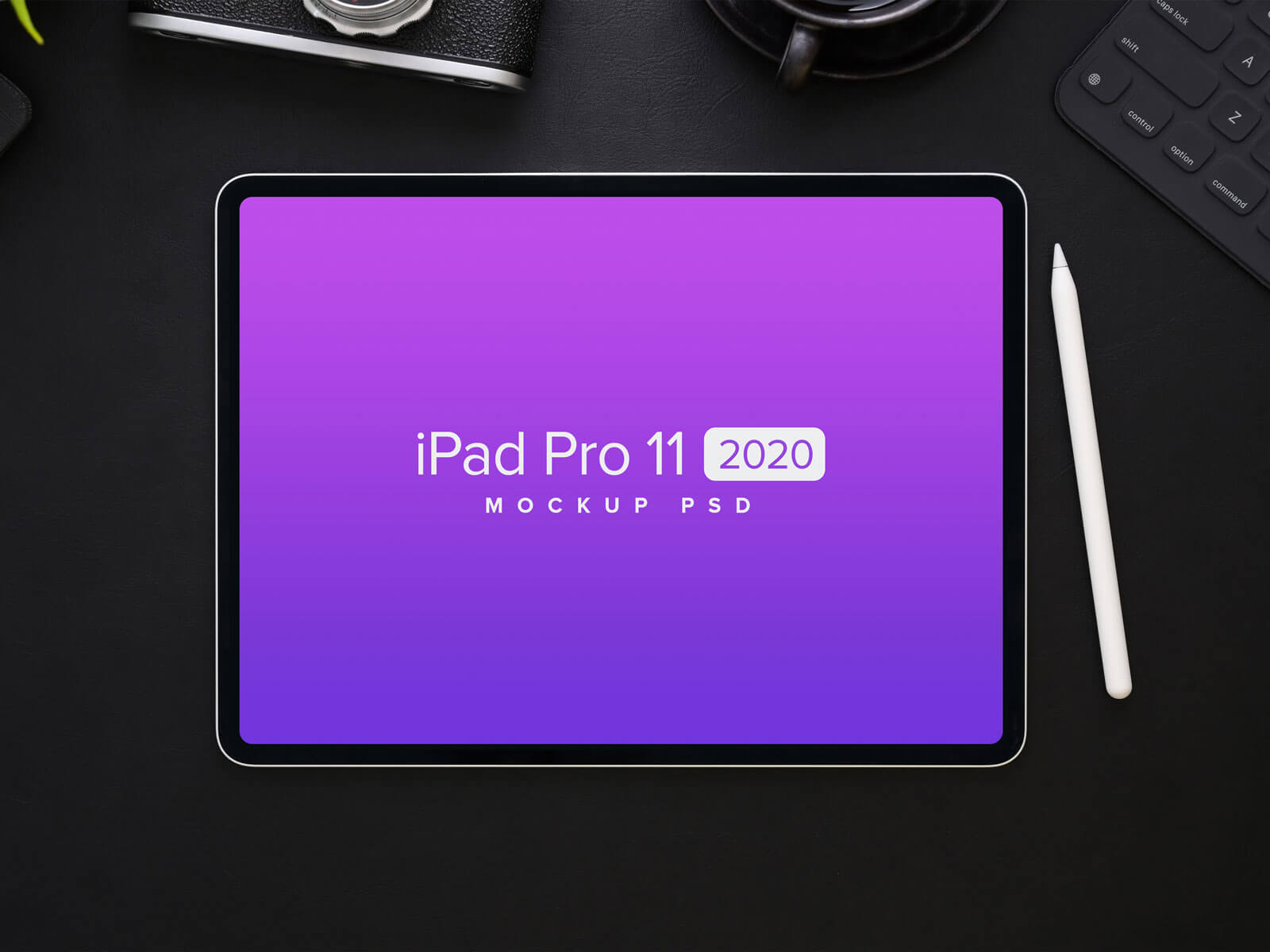 Available Format: Layered PSD with smart object insertion
License: Free for personal presentational use only
WinRAR File Includes: iPad Pro Mockup PSD
Note:
1. PSD iPad Pro 2020 Mock-Up is allowed for sharing online (A Must Linkback to this page)
2. Say thanks if you like or share/tweet with your friends.
Download iPad Pro Mockup
Recommended: