Hello there guys! We hope that you are enjoying our blogs and are also creating brilliant designs using our free designs templates and mock-up PSD files and we would like to thank each one of you for sharing your positive feedback and super interesting suggestions with us.
So, we were having an online video session with our friends earlier this week and we were discussing the way forward of whatever we do and are currently working on and during that call, we got an idea to work on a free meeting hall screen mock-up PSD (because how awesome would it be to communicate on a bigger screen with one of your clients or may be with your team mates who are residing in foreign countries?! It does sound amazing, right?).
To help you all create a great meeting hall screen, our free mock-up PSD is all set to provide you with nice opportunities. Be it for private meeting halls or for commercial ones, we are sure that you are going to do perfectly fine with our easy to follow and effective design tips by using the mock-up PSD file that we have created for you guys so, let's get started!
A meeting hall screen has many purposes to serve and like we have mentioned earlier as well, it is designed to give you an amazing experience – mainly because of the fact that it is bigger than the usual screens that we use for our personal and professional tasks. From sharing a pitch presentation online (and offline, with the members sitting inside the meeting hall) to displaying the mock-up designs that you have created for your next big design project, your meeting hall screen will showcase your creativity & skills in a clearer way, giving everybody a chance to view the presentations in detail which will help them in pinpointing if there are any changes to be made.
Recommended: 100+ All Time Best Free Mockups
We know that many people would like to close their business deals while talking to their business partners in person or over video calls and we think that a screen set in a meeting hall is one of the best options that could work for everyone's best interests. You can not only communicate well with the whole body of board members but being virtually available – that too on a big screen is a chance to discuss and deal with any questions, ambiguities, and final approvals.
Then there are advertisements and short films (and at times, movies) that need to be first seen within the meeting hall(s) by the concerned team members before they are approved to be screened for the general audience and we think that a meeting hall screen can serve as an open book (with everything up-front) that you can see what things are okay and what things need a revision and when you all are on the same page, you can finally share your approval with the ones who are supposed to launch the TV commercials, films and / or series etc.
And to achieve the target of being good on a big(ger) screen, we think that it is important to not only follow the exact dimensions of the meeting hall's wall where the screen is supposed to be set up but it is also very important for the design team to make sure that the screen is fulfilling the purpose of its design. It must also be neat & clean and all set to display everything that you upload on it.
You must be wondering what you will get once you get your hands on our free meeting hall screen mock-up PSD, right? Well, allow us to share it with you guys that we keep all our mock-ups highly editable (super easy to edit smart objects) and you can literally create anything that you would want your mock-up to show case for you in front of your internal team members as well as for your clients.
Also, and we know that we always say it that the best approach a graphic designer must follow when it comes to creating designs for things that are to be manufactured or produced, is to create multiple design versions, preferably 3 to 4 different options – given that you have got some extra time on your hands or at least 2 to 3 design options so, that you have more than one creative thoughts to share with the ones who are supposed to give you a final go-ahead.
Once you have created the mock-ups, make sure that you also work on a nice and well explained mock-up presentation too with the rationales before you engage with the team(s) to have your designs reviewed. By doing this, you will also be able to take everything into consideration by discussing what must and must not change before the designs are shared with a third party member for the purpose of manufacturing the meeting hall screen (or anything else for that matter!).
And this is all for today! We hope that you will also create stunning designs by using our free meeting hall screen mock-up PSD file and when you do, do not forget to share your comments with us under the blog.
Free Meeting Hall Screen Mockup PSD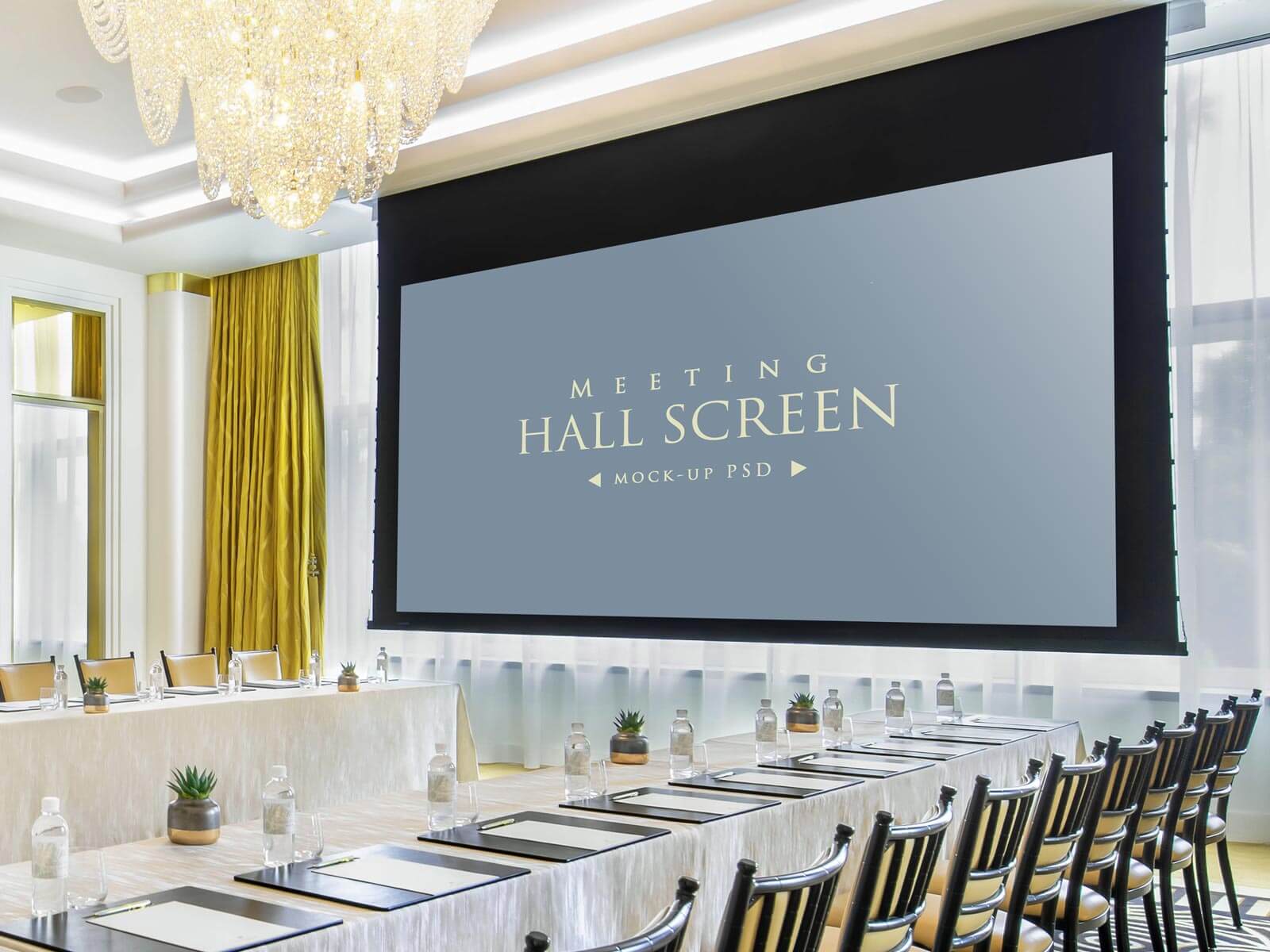 Available Format: Photoshop PSD
License: Free for personal and commercial usage
File Format: WinRAR
Mockup Resolution: 3000 x 2250 px
Note:
1. Free Meeting Hall Screen Mockup is allowed to share online (A Must Linkback to this page)
2. Say thanks if you like or share/tweet with your friends. That means a lot to me.
3. And don't forget to follow or subscribe to receive more high quality premium freebies & awesome articles only.
Download Presentation Screen Mockup
More Unique Mockup PSD Files You Would Love To Download: