Hello there friends! We are back with our interesting blog and a free mock-up PSD but before we start talking about it, we would like to start our today's blog with a question. Have you guys ever worked with a client who wanted you to create (an insane number of) sample designs so, that they could see how things will look like after being launched? And then you would have to create mock-ups for various platforms and screens like smartphone, tablet, and iPad as well as for the desktop and laptop.
We can tell that you must have spent hours in working on the most perfect mock-up designs and some clients are so finicky, they want you to present everything like it is the final product. It is a time taking process and we get that. The truth is that we can relate to it and that is why we decided to work on our free laptop mock-up PSD.
Keeping in mind the workload and routine of a graphic designer / visualizer, we know how things work. First comes in the design brief from the client or the internal team lead who does not forget to mention that the task is super urgent and that the teams which get assigned to work on the very task must come up with out of the box ideas. One can work on extraordinarily unique ideas if they are given a humanly possible timeline to work in and the clients also trust in the creative thoughts & ideas that must go live without anyone hearing things like, "Could you make that logo bigger?" or "Bring it to the center!" etc.
So, what is that, that you can do to start working on your next big design project? Well, you are here – reading our blog and once you will be done, you will also be getting your hands on our free laptop mock-up PSD and that pretty much covers everything. And of course, we are also going to be sharing our effective tips & tricks with you guys so, keep reading!
With our free laptop mock-up PSD file, you will be able to show case your designs of games, websites, web applications, flow charts of your technical projects and so much more. Since we keep all our mock-up PSDs highly editable, you can create anything you want to create and then display for a review meeting.
As you can see that for our mock-up PSD, we have placed our laptop on a table with accessories to give it a more professional look and to also help you guys in determining the size of the laptop itself and see how your designed ideas & thoughts will appear on the screen.
Also, we can bet that all you super creative people must have millions of ideas and plans that you want to execute and with our mock-up PSD file of MacBook Pro, you are going to do more than just great. You can drag and drop the relevant design elements to meet the requirements of your design brief and can let the mock-ups do their thing. But the condition is to be as creative as you can be so, that the ones who are looking at the mock-ups know that you are bringing innovative ideas to the table.
And here are a few things that we have in mind and we would like to share them with you guys! You can use our free laptop mock-up PSD to show case your stunning wallpapers and backgrounds that are specifically made for a laptop screen. Then you can share the workflow of your interesting web games, web applications as well as of websites to help the concerned team members understand how the design etc. will look like after being released.
We know that most of our readers happen to work at advertising & marketing agencies and there are days when a social media manager is asked to share how a Facebook carousel ad will appear when it is made live or how the Facebook Shop looks like and we can guarantee that on those days, you will find our free laptop mock-up PSD really useful. It will not only allow you to actually let your own manager view and approve the ad(s) etc. but you will also be able to help your clients (both existing and potential) understand how Facebook advertising works.
Then there are themed websites and online stores, UI designs and all of them can be placed on our free laptop mock-up PSD file and can be shared with the concerned teams and clients. You can also create mock-ups to display the products and items one by one as well – given that you have the time and it is required of you.
That is all for today! We hope that you will find our blog & free laptop mock-up PSD file useful and that you will also be creating brilliant mock-ups for your personal and commercial design projects.
Free Mug & Laptop Website Mockup PSD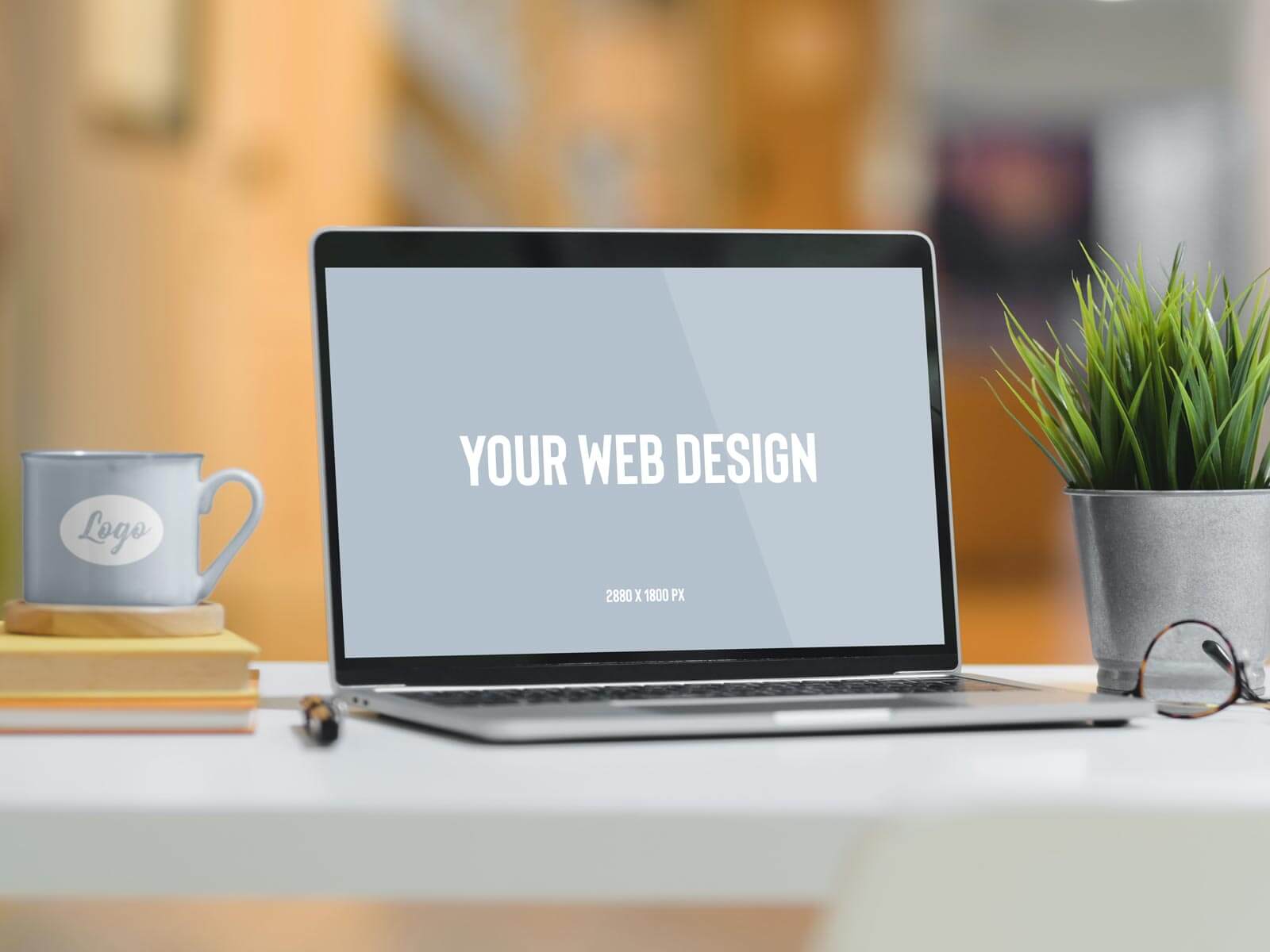 Available Format: Photoshop PSD
License: Free for personal and commercial usage
File Format: WinRAR
Mockup Resolution: 4000 x 3050 px
Note:
1. Free Laptop Mockup is allowed to share online (A Must Linkback to this page)
2. Say thanks if you like or share/tweet with your friends. That means a lot to me.
3. And don't forget to follow or subscribe to receive more high quality premium freebies & awesome articles only.
Download Laptop Mockup
Recommended: