Hello there lovely readers! We hope that you enjoyed reading our previous blog and the free mock-up PSD has also helped you in creating great designs for your personal and professional projects. And we would also like to thank each one of you for sharing your honest & positive feedback with us in the comments section. Keep your kind words coming in as we feel encouraged and it makes us love what we are doing for you guys.
Okay so, for our today's blog, we are going to be talking about the wall mounted signage and the many ways that can help you promote your business effectively by following some super easy steps. Let us get started without any delays!
Wall mounted signage is being preferred these days because of how they can be fixed right into the walls and you really do not want any added stuff to put the signage on display and we believe that it won't be wrong to say that a wall mounted signage is a compact sign that serves the purpose of marketing a business (or anything else for that matter) well.
If you are a regular reader of our blog, then you would definitely know that we have shared blogs and ideas before as well that cover how to create brilliant wall mounted signage for your company or business but this blog is different as we have created a nice & unique style for the signage and we can bet that you and your customers are going to love it and who doesn't love black, right?
Recommended: 60+ Best Free Signage Mockups
Keeping in mind the likeability of the color and how it looks when used for branding, we had to create something with a black background but of course, you are free to pick a color that complements your brand's identity as our free wall mounted signage mock-up PSD file is super editable and it will allow you to be as creative as you can to design your very own wall mounted signs. In addition to that, you can also (fully) customize the signage depending on your design briefs and what you really expect from your branding material. From your organization's initials to clean logo designs to logo typography, you can do whatever you think will look best as your wall mounted signage.
Now, there are many ways to design a signage but to make sure that yours is the perfect wall mounted sign, what you must follow is written down below so, keep reading this blog to know more!
First things first; if you are working a wall mounted signage for an organization that wants you to revamp the identity of their brand, then you must do your own research too. Things that need your attention are what the competitors (in the same category of business) are doing, the latest trends or techniques that can up the game of the very brand you are currently working on and what the audience is like.
Recommended: 50+ Vintage Hotel Signage Ideas
Always remember that you must cater to the age groups that the company wants to communicate with when it comes to branding and marketing because if you are not on the same page as of your existing & potential customers or clients then things can go in the wrong and we are sure that you would never want that to happen.
And if you are working on a wall mounted signage for a company that is about to go operational or a brand that is all ready to be launched, then along with the above mentioned things, you must also create something that no one has seen before. Go crazy with the colors, design elements and typography if you may (while obviously following the guidelines set by the brand) so, that you have an innovative thing to bring to the table.
Another option of bringing life to your wall mounted signage is to suggest a lighting system (preferably backlit) and we are sure that your client or team lead would love to consider that idea of yours.
Since design teams are always prepared for review meetings and discussions with their clients, we are going to suggest you to create multiple design mock-ups as options. You can pick the best ones that you and your colleagues have worked on and stack them in a well explained mock-up presentation so, that anyone who is in charge of giving final go-aheads can choose the best of the best. In this way, you will also be able to share the possibilities and limitations (if any) for a better understanding of your creative thoughts for the wall mounted signage.
That is all for today, you guys! We hope that you will find this blog and our free wall mounted signage mock-up PSD useful for your upcoming design tasks. Don't forget to share your feedback with us and while you are at it, do share our blog with your friends & favorite colleagues too.
Free Wall Mounted Dark Signage Mockup PSD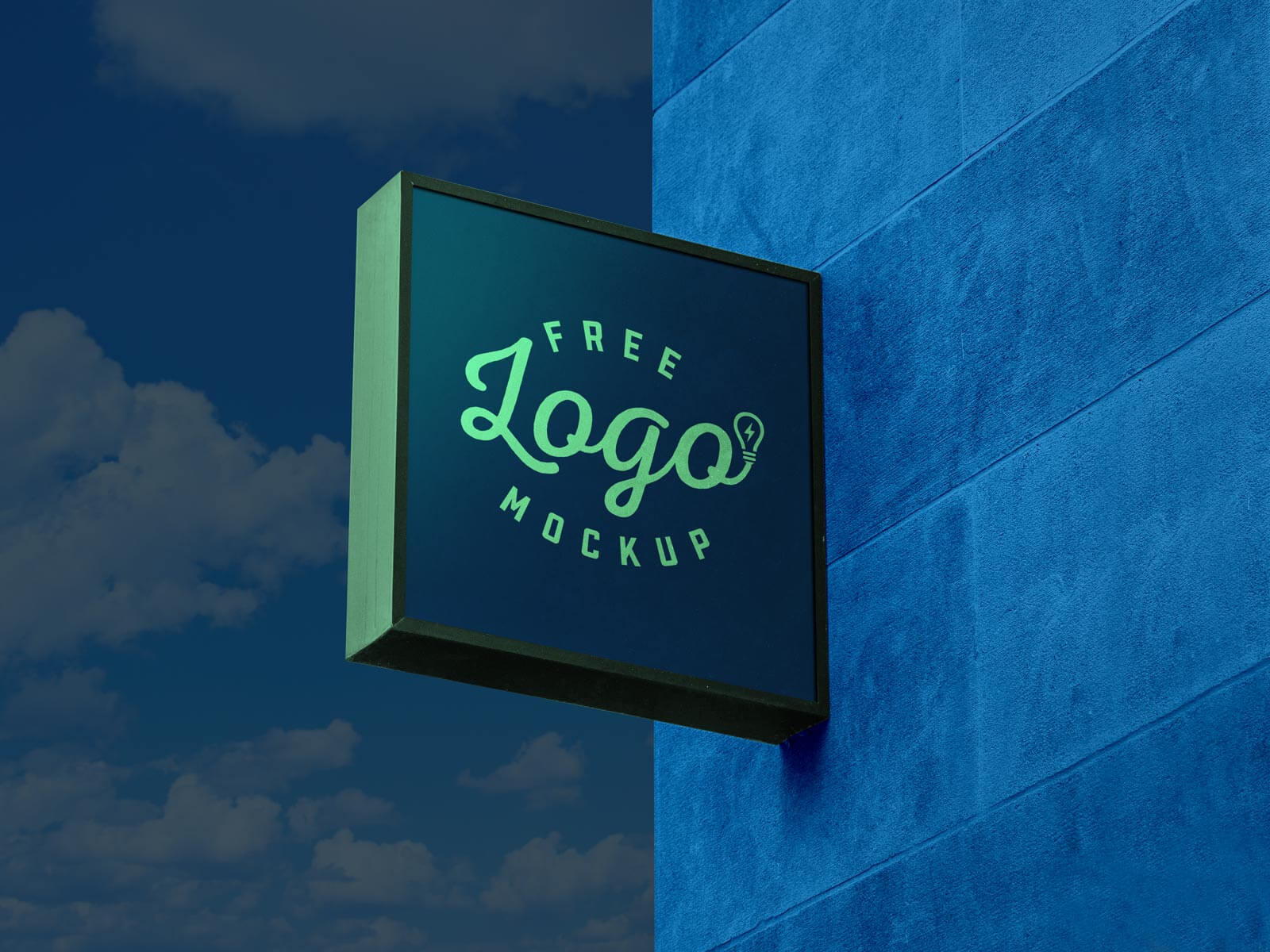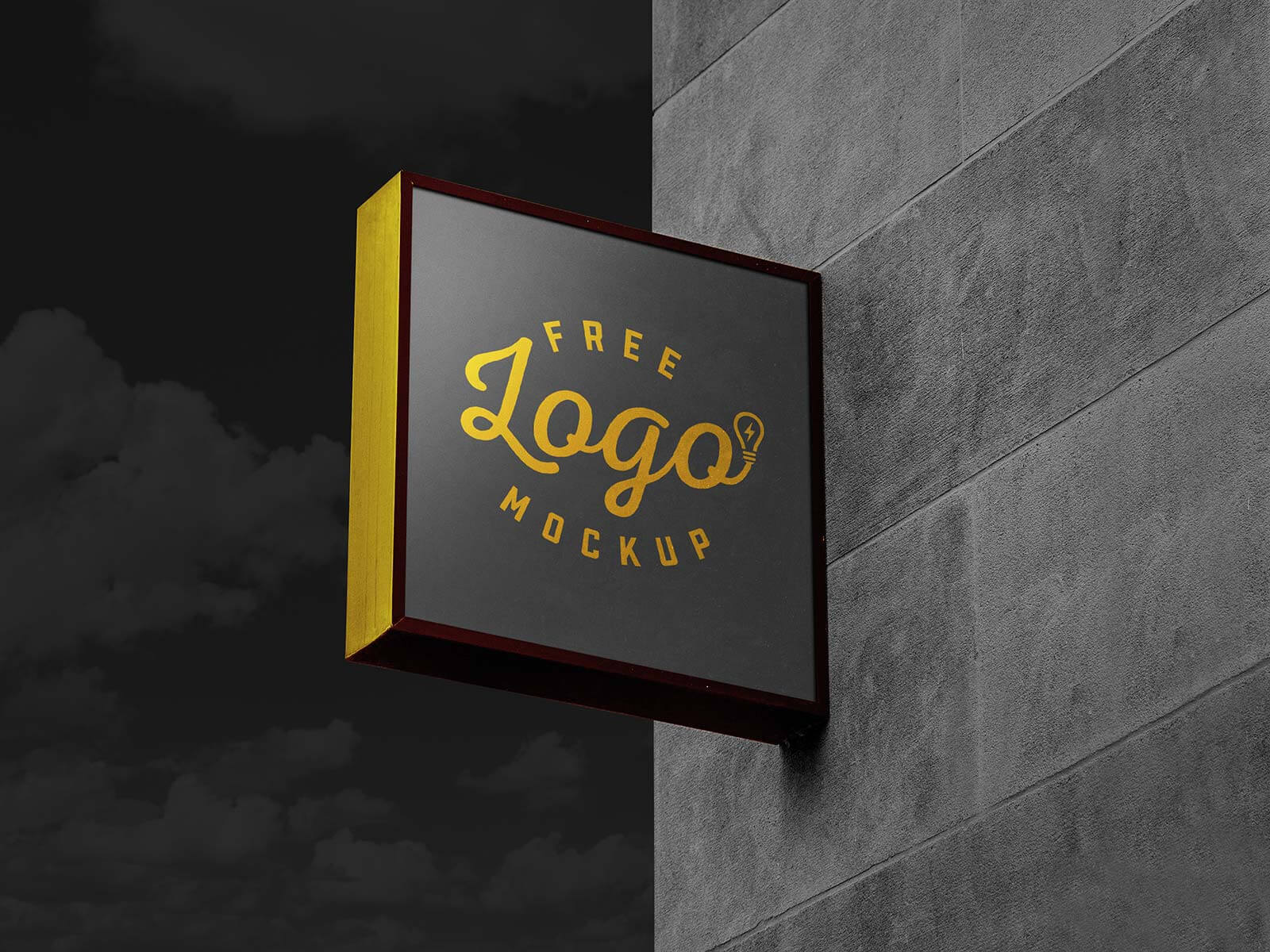 Available Format: Photoshop PSD
License: Free for personal and commercial usage
File Format: WinRAR
Mockup Resolution: 3000 x 2250 px
Note:
1. Free Square Signage Mockup is allowed to share online (A Must Linkback to this page)
2. Say thanks if you like or share/tweet with your friends. That means a lot to me.
3. And don't forget to follow or subscribe to receive more high quality premium freebies & awesome articles only.
Download Signage Mockup
More Free Sign Board Mockup PSD Files: