Hello there friends! How are your design projects treating you these days? Oh, and do not forget to tell us how are you using our mock-up PSDs and design templates for creating your presentations and for creating designs? We know that our free, yet highly editable files allow you to create whatever you want to create with a few clicks and of course, your brilliant thoughts and skills. So, here we are with yet another interesting blog of ours and a free mock-up PSD that includes three items: an exhibition standing banner, a kiosk, and a backdrop. Let us get started!
First things first – and this part is for beginner level graphic designers & visualizers, we would like to define what exhibition standing banner, kiosk and backdrop are before we start sharing our ideas and tips to create stunning designs for the said marketing materials. An exhibition standing banner, or a standee is a retractable banner that is used to promote various events like exhibitions of all types, job fairs, store openings, premieres of movies & seasons and events like meet the cast.
These banners can also be used for discount offers at stores etc. and you can talk about your new product (in detail) through a standing banner too. And you can also create designs for the standing banners in the form of life size cut out figures as well so, there are like a number of uses (and of course, benefits) of using exhibition standing banners to promote and advertise your business.
The standing banners come in handy as these are not only easy to move from one place to another – thanks to them being lightweight and because they can be drawn back and or back in seconds. Standing banners also look really nice when they are placed at appropriate spots (and when they are not coming in the way of the individuals who are there to check out your new store, your book that is being launched etc.). You can literally place your standing banner anywhere and if designed well then it is bound to get you eyeballs.
Recommended: 60+ Best Free Signage Mockups
A kiosk happens to be an open fronted cubicle sort of a branded area from where refreshments, tickets, newspapers etc. can be sold. You can also use the kiosk for promoting and talking about your business too, it not only looks a cute compact and professional hut but since it is one of those marketing "items" that can grab attention of many people, we thought of including it in our today's blog.
Then comes the backdrop – which can be made by using different types of fabrics. Before vinyl and other modern fabric came into existence and business, large pieces of cloth were used. Those were not only difficult to take care of as they would not leave a room for anything else to be stacked in a store etc. but let's get honest, who'd have the time to iron huge pieces of cloth to make them look neat!?
Recommended: 50+ Vintage Hotel Signage Ideas
A backdrop is used to serve the purpose of a background but instead of keeping it all blank, you can literally have it designed to spread a message or two about your exhibition, brand and anything else for that matter.
We would also like to share it with you guys that we have kept the exhibition standing banner, kiosk and the backdrop in the same mock-up PSD file so, that you guys don't have to wander from here and there to work on your next design task. Also, like we have mentioned earlier as well, our mock-up PSD file is packed with editable layers and it will let you create your own designs for the standing banner, kiosk as well as for the backdrop.
Since this is a complete package and it is also for free, we can bet that you all are going to enjoy working on this file and here are a few tips & tricks that will help you in making nothing but perfect designs – once you are done reading them, don't forget to pass the knowledge on:
To create the best design(s) for an exhibition standing banner, it is *super* important for you to keep in mind the pointers that you must keep your logo at the top of your banner, and design from top to bottom & left to right. You have got the space and you have the text, use both nicely to create a design that you think will work the best for you and your brand / event.
For the kiosk, you must know the purpose of creating the kiosk. Are you planning to serve hot food or accessories like mobile phone covers? After getting to know that, you will be able to create a purpose driven design. Another thing – keep your kiosk interactive to make it work!
Your backdrop is going to be BIG so, it must be impactful too. By using nice & relevant imagery, excellent design skills and a good material for the backdrop, we can bet that yours will be the best and the most amazing backdrop design(s).
For all the marketing materials, it is important for the design team to use high res. images otherwise, you will be indirectly asking your potential clients & customers to never consider your brand / business.
And that is all for today! We hope that you liked our blog and will also use our exhibition standing banner, kiosk & backdrop mock-up PSD file to create your own designs.
Free Exhibition Standing Banner, Kiosk & Backdrop Mockup PSD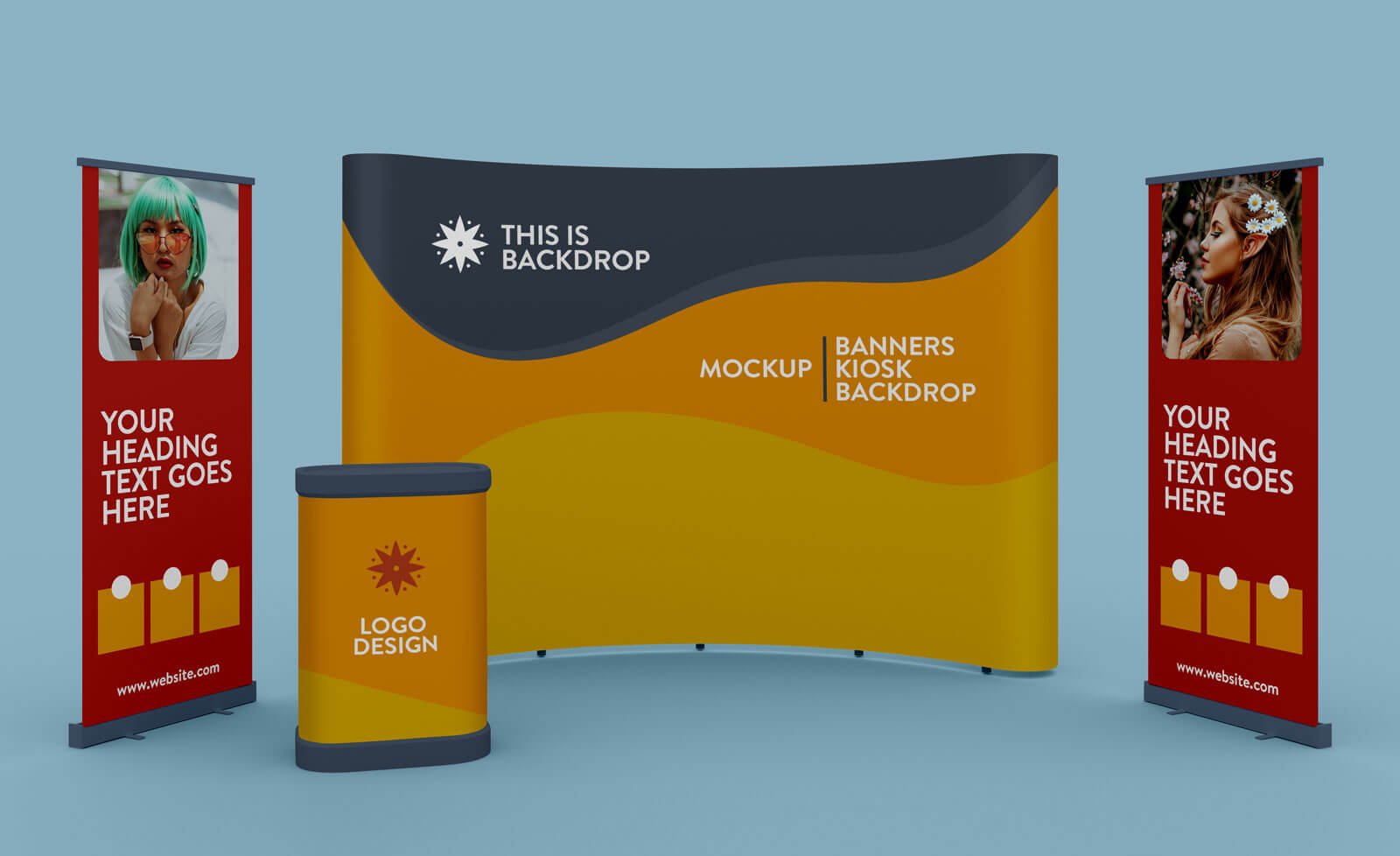 Available Format: Photoshop PSD
License: Free for personal and commercial usage
File Format: WinRAR
Mockup Resolution: 3600 x 2200 px
Note:
1. Free Mockup is allowed to share online (A Must Linkback to this page)
2. Say thanks if you like or share/tweet with your friends. That means a lot to me.
3. And don't forget to follow or subscribe to receive more high quality premium freebies & awesome articles only.
Download Exhibition Mockup
Recommended: