Hi there guys! We are back with yet another super interesting blog of ours and we know that you are going to love it as we are about to discuss what makes an Apple Watch so good that we have created a free mock-up PSD of that. Let's dive right into it!
Apple released their latest watch in September 2019 and although it has been months that the new series was made available for the customers, it is still the #1 smartwatch in the world – times two. There are many things that make this watch worth the price for example; it is the most advanced Apple Watch (yet) with an Always-On Retina display. It happens to have an ECG app and you can emergency call internationally too. It is packed with a fall detection feature as well as a built-in compass.
There is more – from keeping an eye on your heart rate and informing you about your heart rhythm, the Apple Watch (Series 5) is smart enough to keep a track of your monthly cycle too with its Cycle Tracking app. Oh, and did we tell you that this watch is also capable of telling you when things are getting a little loud? Well yes, you read that right as the Noise app instantly alerts you when the decibels rise to a level which can impact your hearing.
Then there is water resistance (to 50 meters), advanced workout metrics and GPS which are all put into one place so, that you can stay fit & healthy with the help of your Apple Watch. And even if you are one of those (lazy) people who want a push to start working out again, then know that this watch has Activity rings that not only track your progress, but they also motivate you to sit less, move more. You also have an option of competing with your friends in different health(y) challenges.
Recommended: 10 Best Accurate Smart Watches For 2020
We know that the features that we have mentioned above are too awesome to resist but there is so much more that we must share, and we just cannot wait. Allow us to tell you guys that 60 million songs can be streamed on the Apple Watch which means that the user has access to the entire Apple Music library and not only songs but podcasts and audiobooks can also be streamed with just a few taps.
And the next time you are afraid to take that route your friends are asking you to take because the last time you took it, you got lost – know that the Apple Watch has a brilliant compass and with its ground elevation, you will get where you are headed to, without losing the direction.
Another amazing thing about the Apple Watch is that it allows you to leave your phone behind, quite literally because you can still call and talk through text messages with your loved ones and colleagues and can also stream songs with nothing but your watch. How cool is that? In addition to that, you can also make safe payments with Apple Pay by using your Apple Watch. Yes, it is that efficient and probably a synonym for convenience!
Also, Apple allows you to have your watch customized by giving you options to choose any case and any band that you like to wear on your wrist.
So, you see where we are trying to go with all the information that we have just shared with you guys? Some of you must be thinking of all the things that you can create keeping in mind Apple latest smartwatch but for those who are still trying to figure it out, let us share what you can and must do to cater to the needs & demands of those individuals who happen to use the Apple Watch. Keep reading to know just that and more!
To start it off, you can customize bands and present them as corporate gifts that are sent to business partners on various occasions or you can create a rock star's upcoming concert even more happening by creating customized bands for the ones who are planning to attend that concert. You know, there are endless possibilities and you can play and experiment with your creative thoughts and skills to see what the end product will be.
Since the Apple Watch happens to be interestingly smart, you are free to come up with innovative app ideas too that can cater to the modern needs of the users and what would be the best way to show case your imagination in the form of images than to create mock-ups?!
And that is when our free Apple Watch mock-up PSD file comes in handy so, feel free to get extra creative and design whatever thoughts & ideas you have in mind and once you are done, put all of them together in a nice, detailed mock-up presentation and share it with the concerned team members for your review meeting. We wish you guys all the best for your next big project!
Free Apple Watch Series 5 Mockup PSD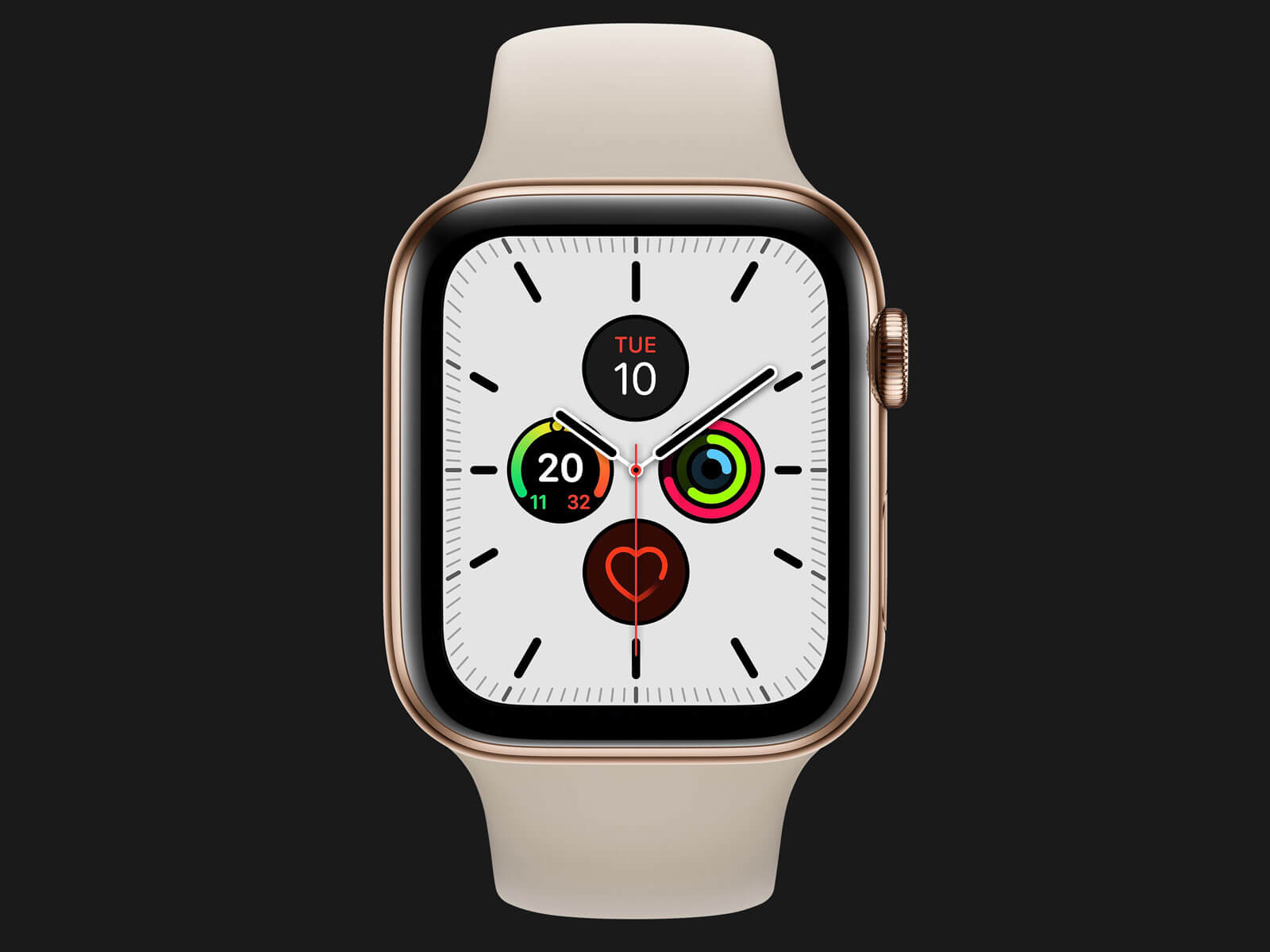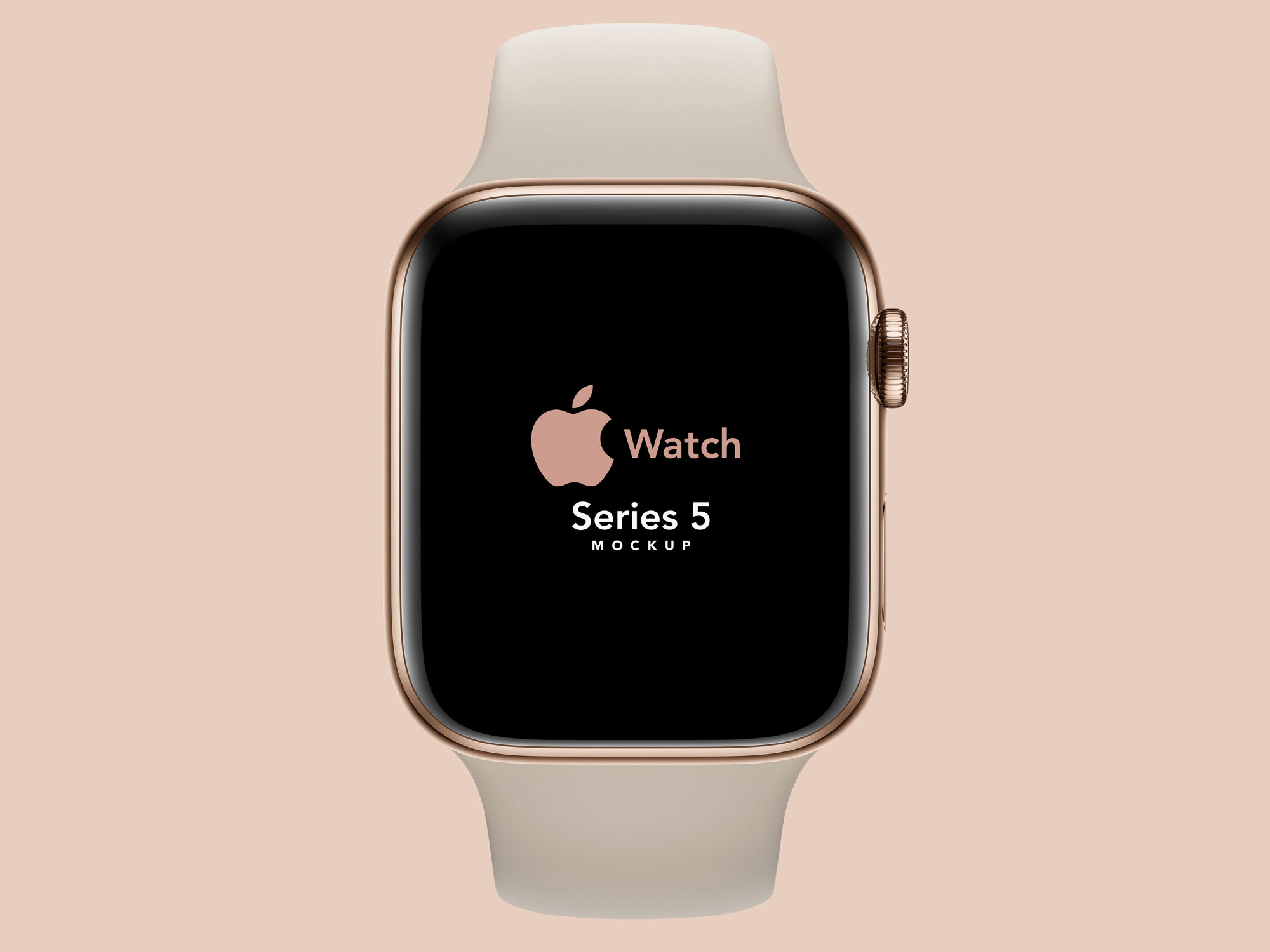 Available Format: Photoshop PSD
License: Free for personal and commercial usage
File Format: WinRAR
Mockup Resolution: 4000 x 3000 px
Apple Watch® and Apple Logo® are all registered trademarks of Apple Inc
Note:
1. Free Apple Watch Series 5 Mockup is allowed to share online (A Must Linkback to this page)
2. Say thanks if you like or share/tweet with your friends. That means a lot to me.
3. And don't forget to follow or subscribe to receive more high quality premium freebies & awesome articles only.
Download Apple Watch Mockup
Recommended: