Hello there friends! Before we share our today's blog with you guys, we would like to thank each one of you for your constant support & positive feedback that you leave in the comments section. Those are the very things that keep us motivated and encourage us to design better and more.
As you know that temperature is rising and everyone loves to upgrade their wardrobe whenever the weather starts to change and to make the most of the summer season, we decided to work on a white t-shirt mock-up for you guys. Keep reading this blog as we are going to be sharing how you can create stunning t-shirt designs using our free man wearing white t-shirt mock-up PSD!
So, what do you guys actually look for when you go make a purchase for a new t-shirt or too? Do you like really to spend a lot of time in getting a few perfect new designs for yourself (or for a friend) or is it like a quick shopping session – both online and at a physical store? If we were to share how we (used to) get t-shirts from any stores etc. then we would love to tell you guys that we would definitely look for summer colors like lemon yellow, beige, white (of course), and light purple.
Then we would select a few designs for the first round and then we would just shortlist the best of them to get for ourselves. Those designs would vary from quotes depicting light humor or sketches and at times, we would love to get plain t-shirts too – which by the way, serve as great undershirts. Quality matters for anything that you are going to wear, and we would also suggest you pick that fabric that is not weather relevant, but it is also good for your skin.
Recommended: 50+ Best T-Shirt Mockups
Moving forward – and now that you have got your hands on our free man wearing white t-shirt mock-up PSD file, there are a few tips & tricks to create the best t-shirt designs. Let us a have a look at those:
Creating a t-shirt design must be as much fun as it is to wear a nice breezy t-shirt when you are leaving to meet your friends and there are many ways of doing it. For example; pick themes and this suggestion is for the ones who own online shopping stores, who work at creative agencies that have to create branded t-shirt designs as well as for those super creative graphic designers who like to wear their own designs.
By picking themes, you are actually doing yourself a favor. Allow us to explain how! You would know that many things are always happening at a time in the world and that includes; hit Netflix seasons, upcoming movies and music concerts, then there are things like some celebrity said a thing during a live interview and it gets so viral that the fans would want to have that printed on t-shirts, mobile phone cases etc.
Then there are the regular things like you love the forces of your country and you would want to spread that love by creating a t-shirt design for that. Your country or city is famous for a fruit, accessories and you would want to have that designed and printed on t-shirts and there are so many other things that can inspire your imagination and thinking to help you come up with ideas that no one would have thought about.
You can also create a story and have that printed on the t-shirts – one design per t-shirt and that also looks nice when worn by a couple of people like a t-shirt for a father would say something like, "My daughter is a princess!" and the daughter would wear a t-shirt that would go like, "My dad is my hero!", your favorite superhero logo or character and things like that.
Then there come branded t-shirts that are used by ushers, brand managers, staff members and also by sales representatives and those are created by following brand guidelines and design brief like there is a specific place for the logo on the front and back sides of the t-shirt. Normally brands prefer one liners at the back of the t-shirt while the front stays plain with a nicely places logo on the left side of the t-shirt.
So, to start it off, you are going to be needing our free man white t-shirt mock-up PSD file and then put on your best creative thoughts, quotes and what not. Play with colors, pick some really nice design elements to initiate the designs and create whatever you think will be loved (and eventually bought by your potential customers). And we know that you know that you must create multiple design options for your clients as they'd be happy to review your mock-up presentation(s).
That is all for today! We hope that you will find this blog and our free man wearing white t-shirt mock-up PSD file useful and will also create amazing t-shirt designs for yourself as well as for your customers. We will see you guys next time with another interesting blog of ours.
Free Man Wearing White T-Shirt Mockup PSD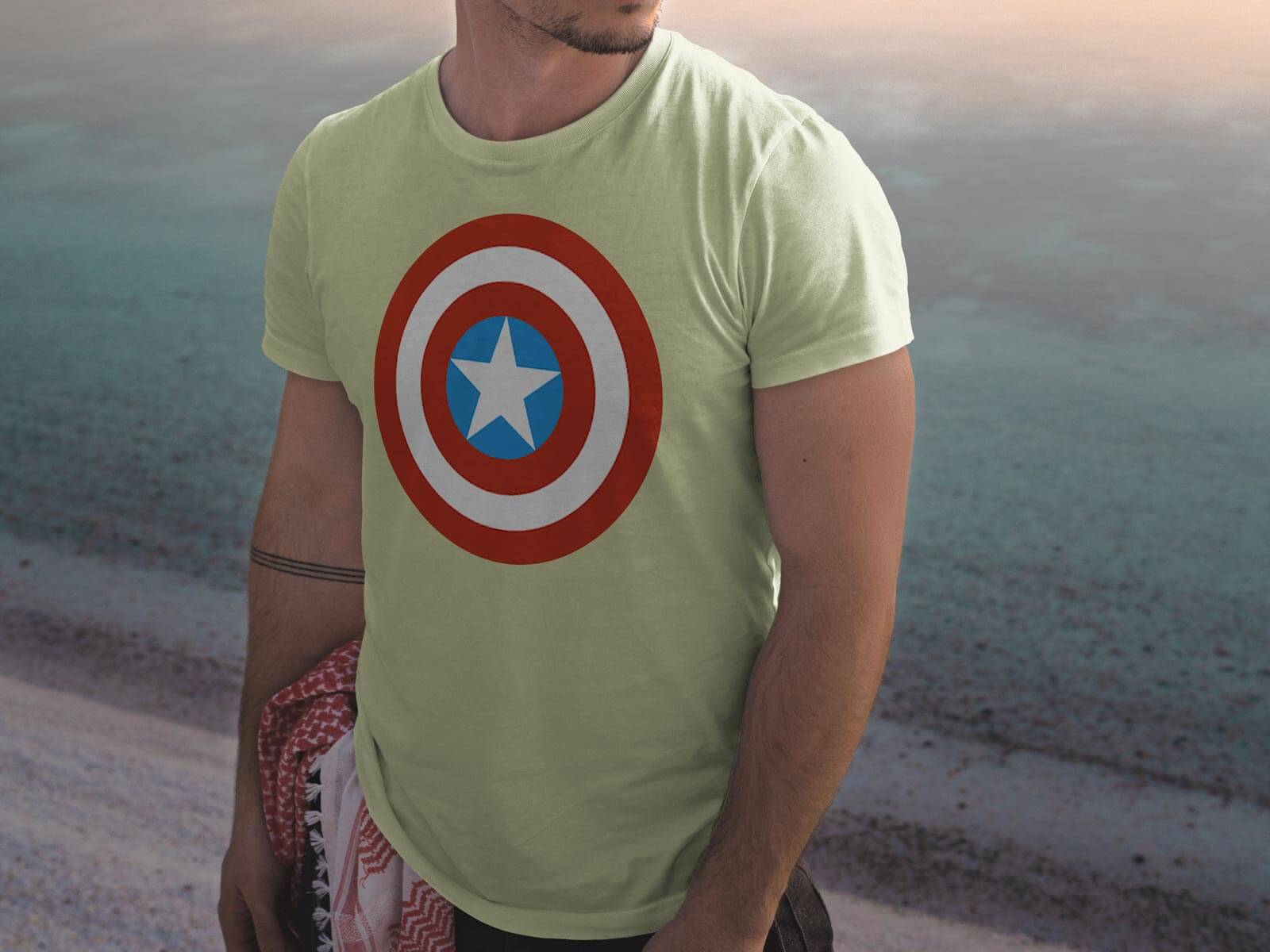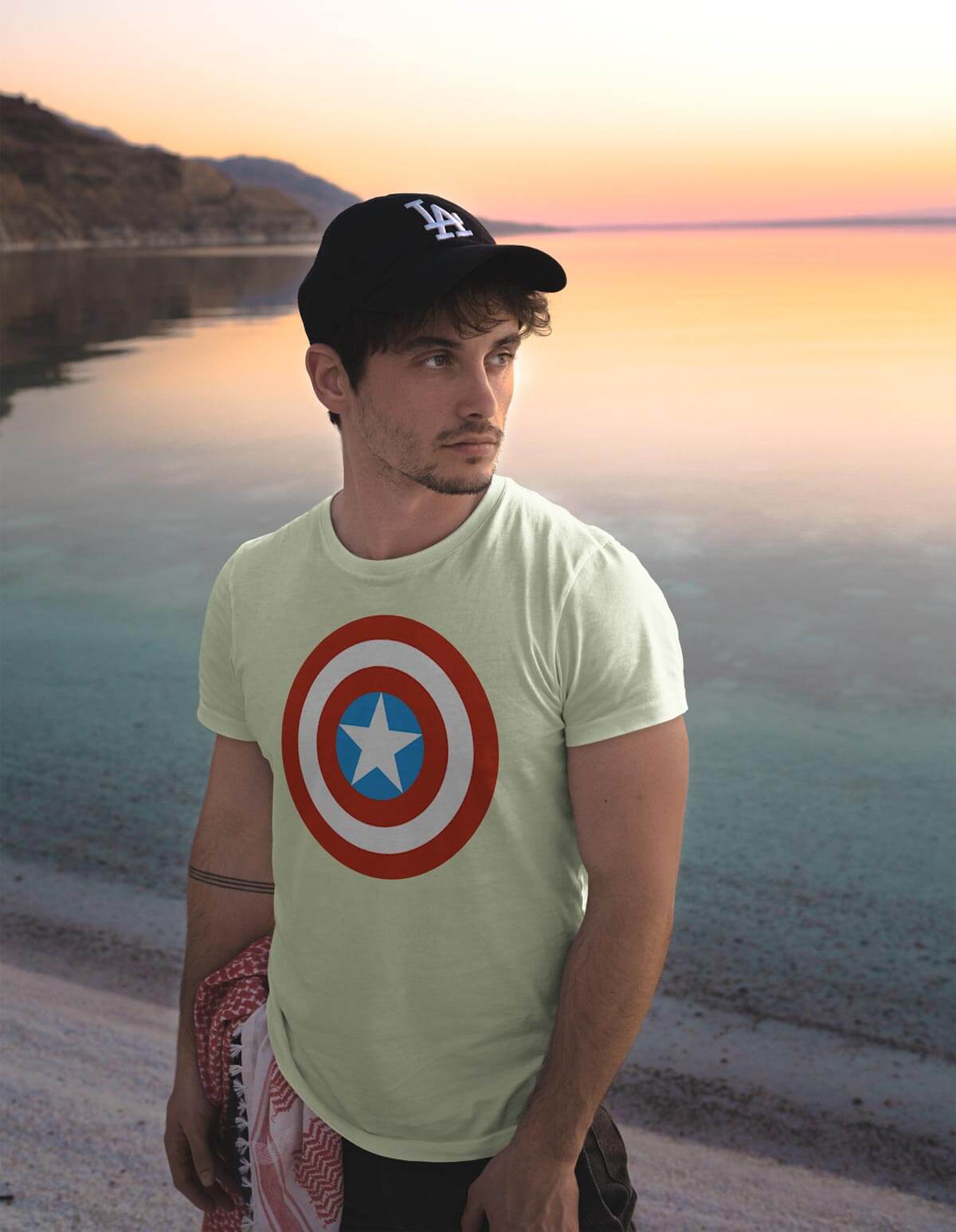 Available Format: Layered PSD with smart object insertion
License: Free for personal and commercial usage
Zip File Includes: Free T-Shirt Mockup PSD
Mock-up Resolution: 3000 x 2250 px Approx

Note:
1. Free T-shirt Mockup PSD is allowed to share online (A Must Linkback to designbolts.com)
2. Say thanks if you like or share/tweet with your friends. That means a lot to me.
3. And don't forget to subscribe to receive for more high quality premium freebies & awesome articles only.
Download T-Shirt Mockup
Recommended: