Hey there guys! We hope that you all are doing great time reading our blogs and are also working on some really nice designs using our mock-up PSD files. We were just going through our comments section and got to know that you guys wanted us to work on a workspace iMac mock-up PSD so, here we are with an absolutely free yet highly editable PSD file. Let us get started!
We believe that with our free workspace iMac mock-up PSD file, you are all covered and should be ready to display your creative thoughts & skills in front of your team lead and clients. So, if you are an application, website or UI designer then know that, that we know that you guys have to put in a lot of efforts and spend (really) long hours to design the work flow of an app or a website etc.
But we also know that there are a handful of clients almost everywhere in the world (and no offence to anyone!) who come up with changes that are just for the sake of making changes. No consolidated feedbacks whatsoever, no defined timelines and unnecessary pressure on the teams to get the work done are also a part of the jobs that you are doing.
This process of going back & forth with updated versions of the workflow and revised designs can be tiring (for a number of people) and there also comes a time when the person does not really feel like working on that very thing. It is understandable and it also makes a lot of sense because we know how tough it can be to come up with "out of the box" ideas on a daily basis, work on them only to hear that, that thing needs to be changed or maybe the designer could come up with something else – with an entirely different design approach, you know!?
Recommended: Ultra Wide Monitor & MacBook Mockup
So, first things first: workspace mock-ups are just great when it comes to show casing designs & templates that are being created for soon to be launched games, applications and websites. Workspace mock-ups not only save time, but you can also save your extra efforts and money in some cases as well. And of course, using such mock-ups will also help the designers in creating stunning mock-up presentations that can impress your boss and your clients in minutes.
Here is what you can do by using our free workspace iMac mock-up PSD file: If you are working on a game idea that has not been launched for the common smart phone user yet then you can have the entire plan designed and put together in one place (mock-up presentation) and share it with the concerned team members who, then will be able to see how you are planning to execute your game. Your mock-ups can show stage by stage / levels as well to give a clear idea of how things will look like after being launched on the online stores from where the game can be installed.
We are sure that you must have seen a disruptive change in the shopping behavior ever since the stores and shops were closed down due to the outbreak of the COVID-19 and (almost) every brand and organization shifted their business model to their online shopping platforms. Ecommerce websites were created in days and were launched so, that the customers do not have to wait for the shops to be reopened and all.
We think that you can also use this time to best of your use and start creating online presence for your brand – if you still have not done that already. This is an opportunity which you must not ignore as such timely actions will determine the sustainability of your business and trust us when we say this; it will be more than just great. You have already gotten your hands on our free workspace iMac mock-up PSD file and we are sure that with your interesting ideas for an e-shop, you will be good to go!
And do you know that you can also use our free workspace iMac mockup PSD file to display your cool wallpapers and backgrounds as well? Yeah, that can happen too, and you can sell those designs or create customized images for your future customers with just a few clicks. Since we keep our PSD files amazingly easy to edit, you will have a great time working on this one as well.
We would also like to mention that, that to give this all a more professional look, we decided to create our free workspace iMac mock-up PSD in an office environment. It is neat and we can guarantee that whatever you are going to show case through our PSD file is going to look awesome so, what are you waiting for? Start creating mock-ups of your next (successful) design projects.
Free Workspace Silver iMac Mockup PSD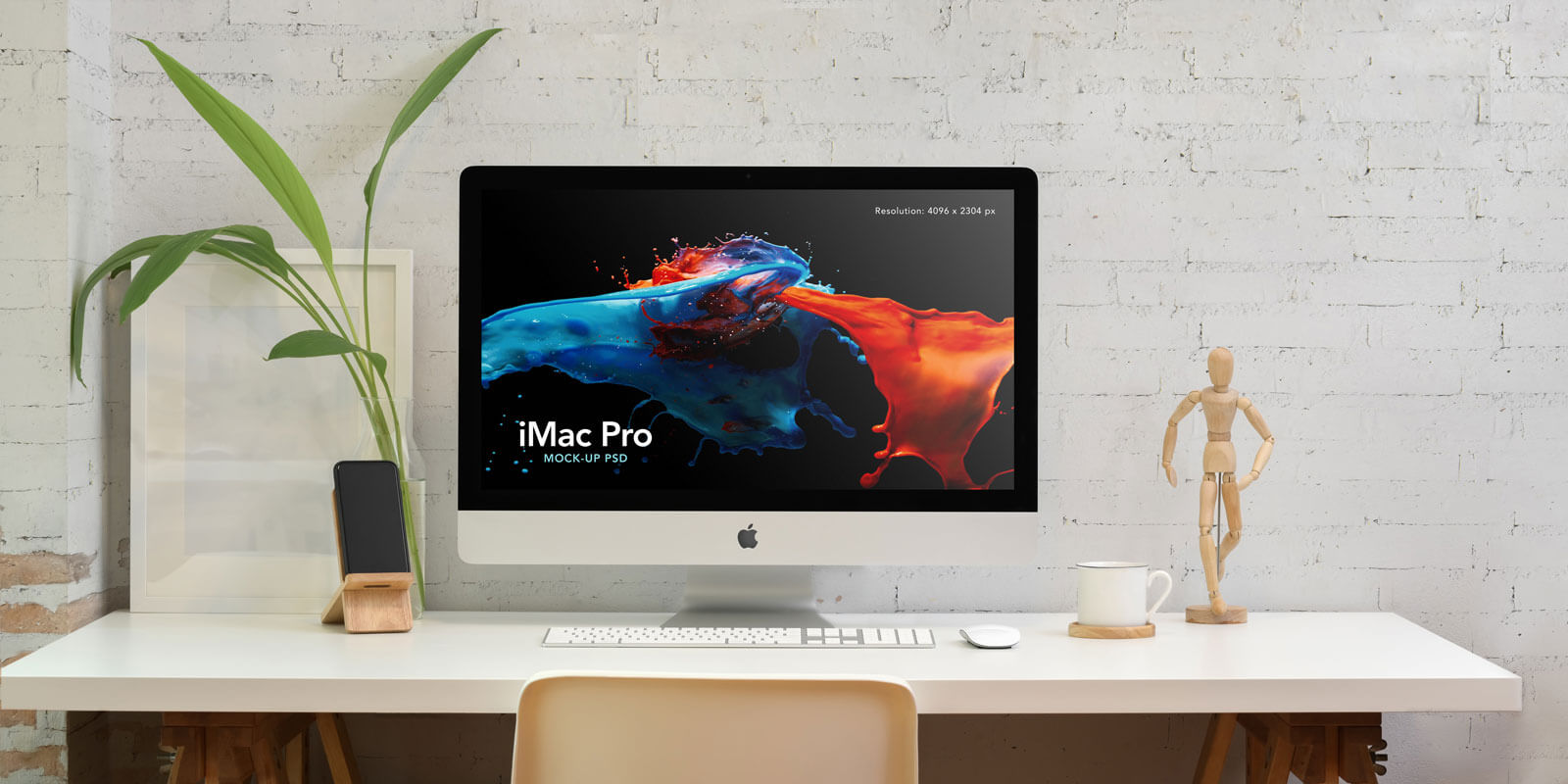 Available Format: Photoshop PSD
License: Free for personal and commercial usage
File Format: WinRAR
Mockup Resolution: 4000 x 2000 px
Note:
1. Free iMac Mockup is allowed to share online (A Must Linkback to this page)
2. Say thanks if you like or share/tweet with your friends. That means a lot to me.
3. And don't forget to follow or subscribe to receive more high quality premium freebies & awesome articles only.
Download iMac Website Mockup
More Awesome Free Website Mockups: