Hi there lovely readers! Thank you so much for always sharing your positive feedback and interesting suggestions with us on our blogs, we are overwhelmed and excited to share yet another amazing blog today. So, let us get started!
As soon as we got done with our Huawei P40 Pro+ | The Best 5G Phone of 2020 blog, we knew that you guys must have started waiting for its mock-up PSD and Ai and how could we not create that, right? There are many great things about Huawei's P40 Pro+ that make this phone the best phone and you must consider this one if you want to get a new device this year so, we are going to be telling how you can use our Huawei P40 Pro+ Mockup PSD & Ai files but before we do that, how about we talk about the oh so great features and specs. of P40 Pro+ first!? Keep reading to know more!
First things first; Huawei P40 Pro+ is built to offer visionary photography and we are sure that you guys would know how much we appreciate great cameras. There are not just one or two but five main cameras: 50MP Ultra Vision Camera (Wide Angle, f/1.9 aperture, OIS), 40MP Cine Camera (Ultra-Wide Angle, f/1.8 aperture), 8MP SuperZoom Camera (10X Optical Zoom, f/4.4 aperture, OIS), 8MP Telephoto Camera (3X Optical Zoom, f/2.4 aperture, OIS) and 3D Depth Sensing Camera.
The Zoom Mode has three options: Digital Zoom, Optical Zoom and Hybrid Zoom and you also get Autofocus Mode too which is a great thing especially when you have to click photos using one hand. About the Front Camera, it is 32 MP Selfie Camera (f/2.2 aperture) + Depth Camera which supports face unlock with IR. Again, you get to enjoy the Autofocus Mode. This phone supports 4K (3840 x 2160 pixels) 60fps video recording for all rear and front cameras.
Recommended: Free Mi 10 Pro Mockup PSD & Ai
Huawei P40 Pro+ happens to have many different sensors like: Gesture Sensor, Gravity Sensor, Infrared Sensor, Fingerprint Sensor, Hall Sensor, Gyroscope, Compass, Ambient Light Sensor, Proximity Sensor as well as Color Temperature Sensor.
The display is great too as it is 6.58 inches in size and offers 16.7 million colors. Display type is OLED – up to 90 Hz frame refresh rate which is designed to offer 2640 x 1200 Pixels. Also, and this one our favorite thing about Huawei P40 Pro+ is splash, water, and dust resistant. That rate is IP68 and this is based on the standards described by the international standard IEC 60529. But we would also like to mention this here that with the passage of time, there are chances that water, dust proofing resistance can wear off.
We like the processor of this great smart phone as well because one, it is HUAWEI Kirin 990 5G.
And the CPU is Octa-core – 2 x Cortex-A76 Based 2.86 GHz + 2 x Cortex-A76 Based 2.36 GHz + 4 x Cortex-A55 1.95 GHz, whereas the GPU is 16-Core Mali-G76 and NPU is Dual Big Core + Tiny Core NPUs (Neural-network Processing Unit). And the Operating System is EMUI 10.1 (Based on Android 10).
Let us talk about the space / memory of Huawei P40 Pro+! It is 8 GB RAM + 512 GB ROM and the external memory support being offered is NM SD Card, up to 256 GB which is sold separately.
The specification which makes Huawei P40 Pro+ the best of the best phones of 2020 is that it has 5G and the world can get to experience that in a reasonable price which, we think is a smart move by Huawei. So, you get multiple network options depending on the SIM card that you are using as this phone has two options: Primary SIM card and Secondary SIM card with 5G, 4G FDD LTE, 4G TDD LTE, 3G WCDMA, 2G GSM and 4G FDD LTE, 4G TDD LTE, 3G WCDMA and 2G GSM respectively.
All the features and specifications that we have mentioned above are more than enough for any game, application and website designer & developer to work on their ideas that can be unique and have the "ability" to bring innovation to the table. You can think of as many better ideas and versions based on the gap that must be filled when it comes to meeting the demands of the audiences.
Then there are many other opportunities available for graphic designers like creating wallpapers, backgrounds, mobile covers and cases and customized accessories for Huawei P40 Pro+. You can then use the designs etc. to upgrade your online accessories stores but you can be among the first ones to offer things that others are not even thinking about.
So, you have our free Huawei P40 Pro+ mock-up PSD & Ai and you have your brilliant ideas to initiate the process, now what are you waiting for? Start creating stunning designs today!
Free Huawei P40 Pro+ Mockup PSD & Ai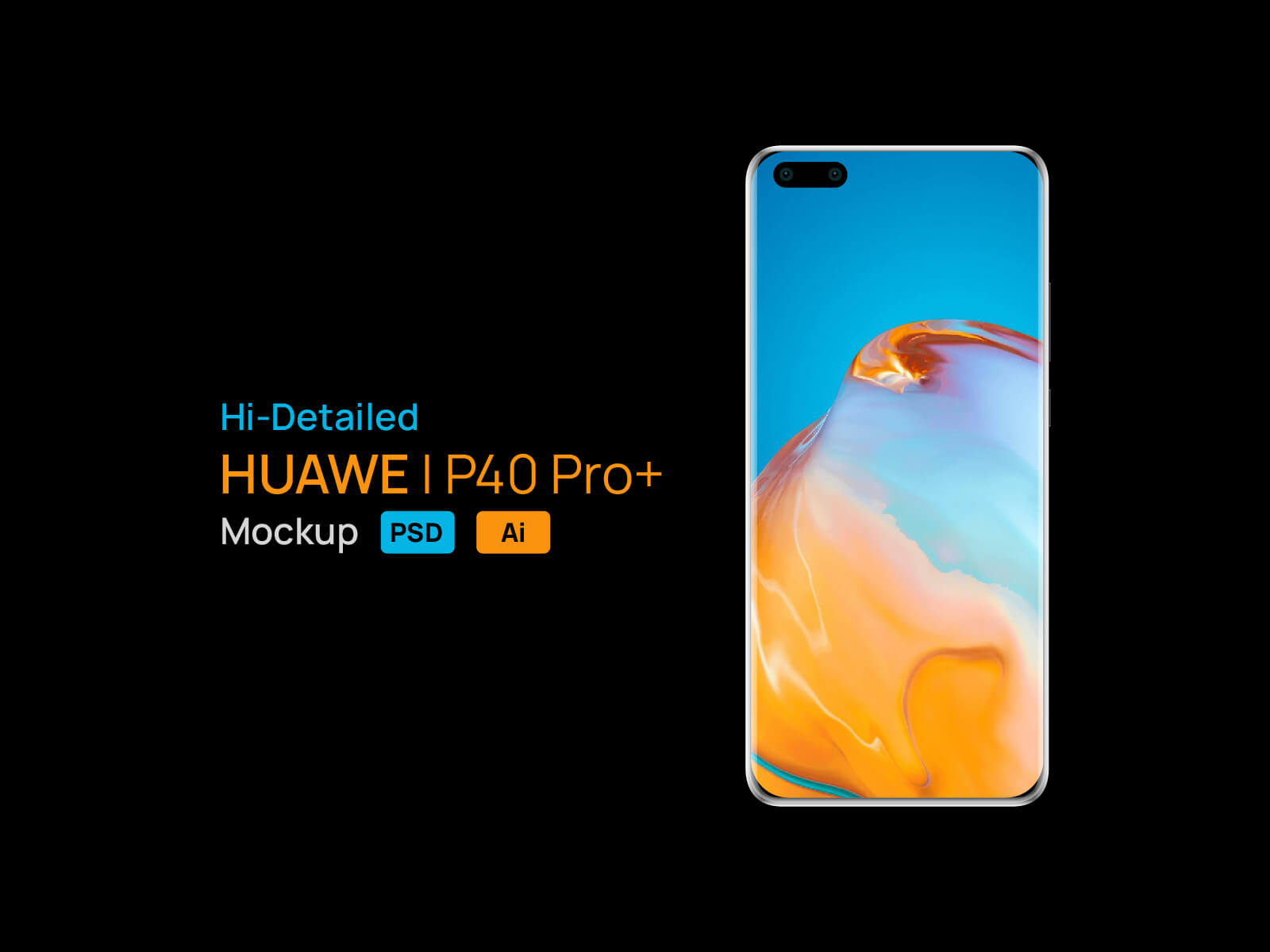 Available Format: Layered PSD with smart object insertion
License: Free for personal & commercial use
Zip File Includes: Huawei P40 Plus
Mockup PSD Resolution: 3000 x 2000 px (2x supported)
Note:
1. Free Huawei P40 Pro Plus Mockup PSD & Ai are allowed for sharing online (A Must Linkback to this page)
2. Designbolts signature is placed as first layer kindly hide and use the mockup
3. Say thanks if you like or share/tweet with your friends
Download P40 Pro Plus Ai
 Download P40 Pro Plus PSD
More Smartphone Mockup PSD & Ai Files: