Hello there friends! We hope that you guys are having a great time reading our blogs and are also working on some amazing designs with the help of our design templates, mock-up PSDs and super creative ideas. Today, we do not have a free mock-up PSD file to share with you guys but we do have is going to make you like us even more as we are going to be sharing outdoor Halloween home decorations to buy early this year so, let us get started!
But – before we start sharing the amazing outdoor Halloween decorations to buy in 2020, we would also love to share how you can have all the fun when the night comes, without even leaving your house this time. Since, we still have got to be careful ever since the outbreak of the COVID-19 that it only seems wise to follow all the standard operating procedures. And trust us when we say this: it can be even more fun when you will be decorating your house with the ones you love.
Oh, and did we tell you that once you are done with the decorations, you can arrange online hangout parties with your friends and extended family members too? Well, it does sound like a plan! Anyways, like we always mention this in our Halloween's décor related blogs that you must start your action plan by making a list – of the things that you need to decorate your house with. Do not spend money (or energy) on items that you want and that might not be used either.
Making a list of items and other related stuff is important as you can also divide your budget on things that are necessary for example, you must have pumpkins and carving kits to carve your favorite characters etc. on the pumpkins, then you should also get a bunch of (scary) candles and cauldrons to light them up on the shelves and corners of your house.
Recommended: 100+ Halloween Decorations
Oh, and just by the way, if you think that you do not have the energy to operate the candles manually then we have a surprise for you! In our outdoor Halloween decorations 2020 to buy early, you can view battery operated flameless candles too. Aha yes, things are about to get better from here! Also, you must not forget to get yourself some artificial bats to hang here and there as they can help you in setting the mood well.
These are the items that must always be there but then there is more like a table runner as you sure are going to throw a nice lunch or dinner party for your immediate family members or super close friends, right? And we can bet that this Halloween table runner with spider web lace is going to steal the show. It is beautiful and delicate, and we know that you and your guests (if there would be any) will fall in love with the aesthetics.
Recommended: 300+ Halloween Pumpkin Stencils
There are chances of you getting tired after decorating the house and some of the exteriors and we know that you would love a pair of pillows to place behind your back so, that you can relax a little. But how about vintage styled Halloween pillows? Sounds interesting, right? We have included some nice pillows and throw cushions for you guys in our outdoor Halloween home decorations 2020 to buy early so, do not forget to check them out!
If you have a thing for removable 3D stickers then know that, that you can view a variety of scary yet attractive packs of stickers here in our blog and while you are at it, do add at least one pack of stickers in the list of items that you must buy for this year's Halloween party of yours!
We are not going to lie; we just love to decorate fireplace mantels. In fact, this is one of the very first spots that we happen to check out in every house for inspiration. So, how could we forget to include something for you in our blog, yeah? We are glad to share that you can have a look at this express Halloween fireplace mantel scarf which is over 6 feet long. It is so pretty; we can never get enough of it.
Keep on reading this blog as we have something grand to share here; if you plan on going a little too extra for this year's Halloween, then you must check out the original gypsy chandelier in black metal frame with black acrylic crystals. It can be the perfect décor item that you must buy early because we know that you have already fallen in love with this one.
And that is all for today! We hope that you will find our Outdoor Halloween Home Decorations 2020 To Buy Early useful and will also share it with the ones you love.
– – – – – – – – – – – – – – – – – – – – – – – – – – – – – – – – – – – – – – – – –
Don't miss out these cool Halloween freebies:
– – – – – – – – – – – – – – – – – – – – – – – – – – – – – – – – – – – – – – – – –
50+ Scary Outdoor Halloween Home Decorations 2020 To Buy Early
1. Warning Tin Signs For Halloween Outdoor Decoration 2020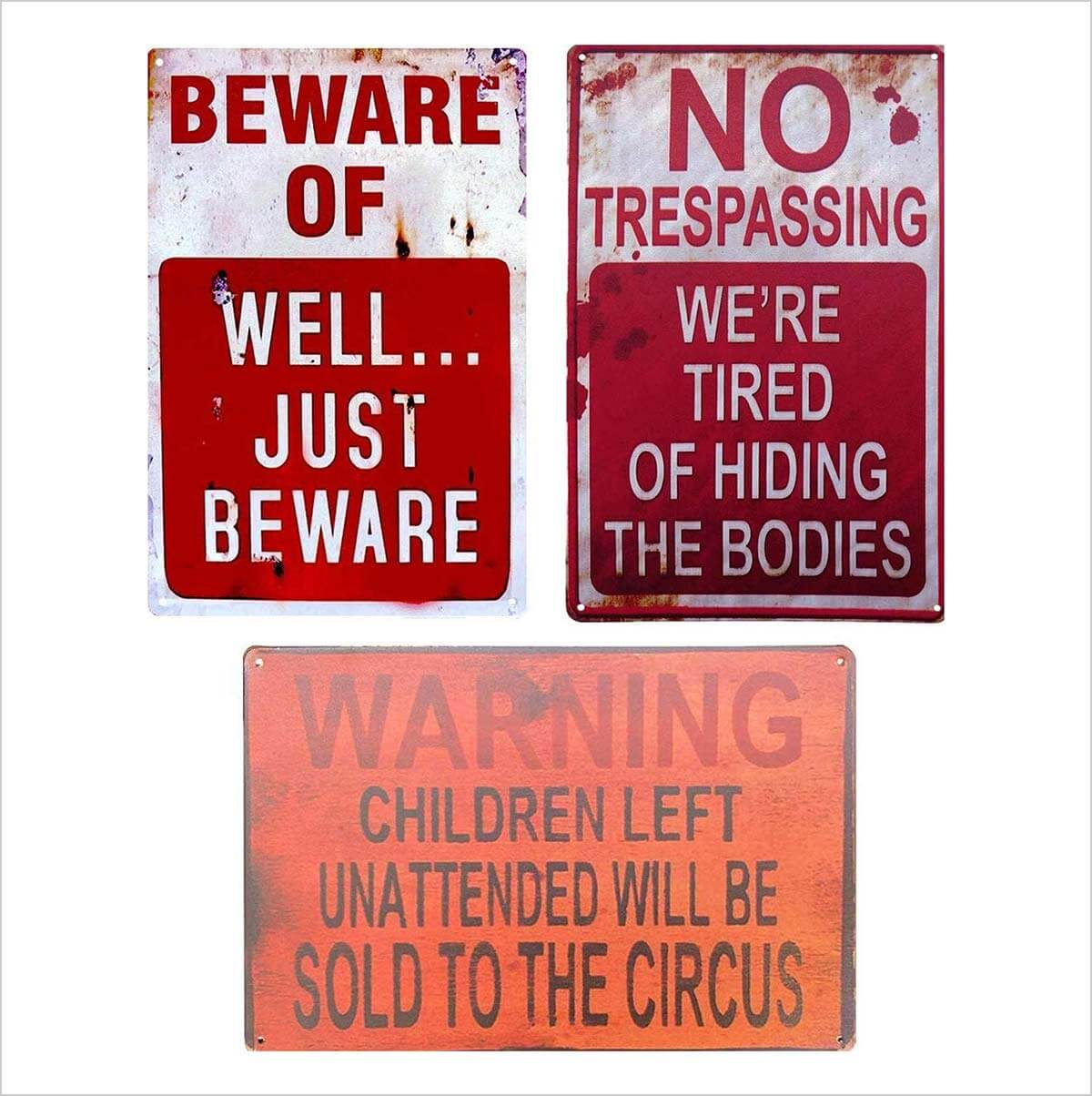 2. Led Skeleton Groundbreaker for Halloween
3. 8 Foot Long Lighted Halloween Inflatable White Ghosts with Orange Banner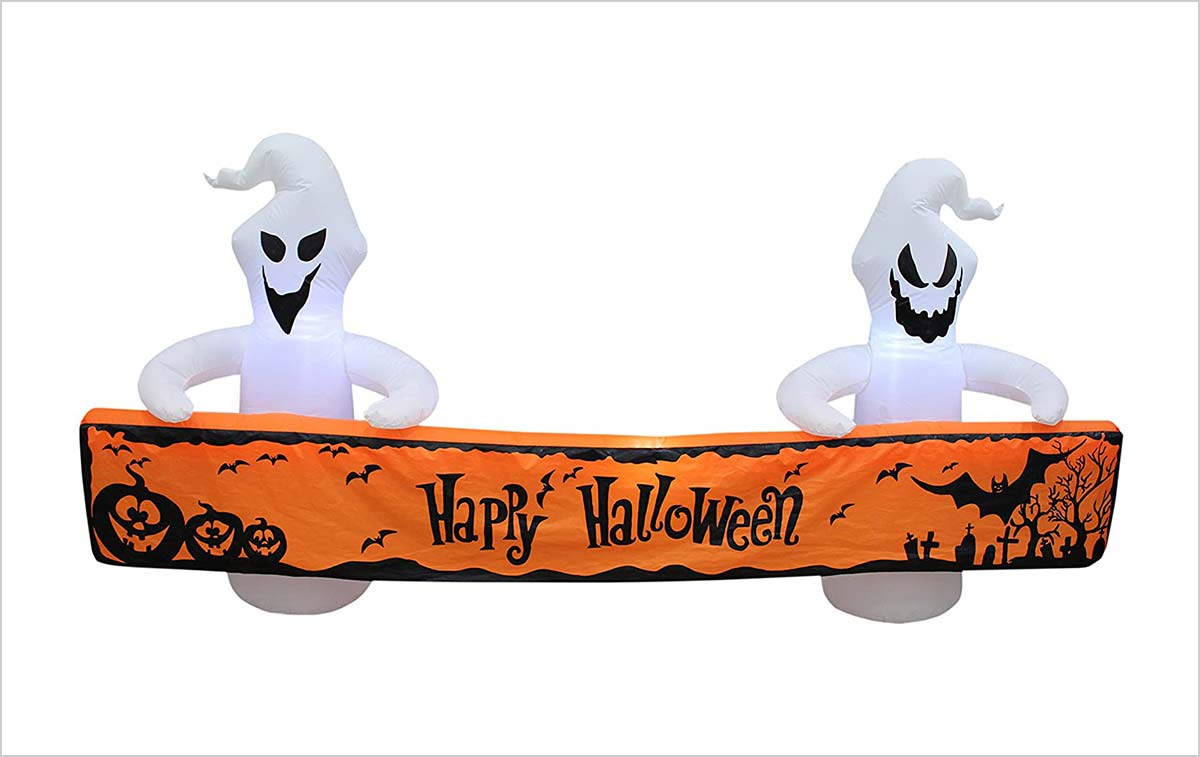 4. LED Flameless Votive Candles, Realistic Look of Melted Wax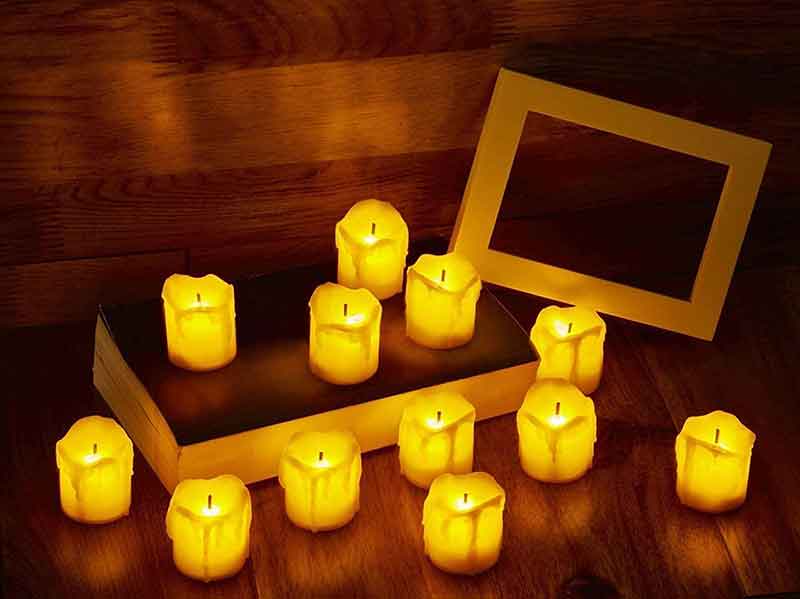 5. Battery Operated Jack O Lantern Spooky Halloween Outdoor Decoration 2020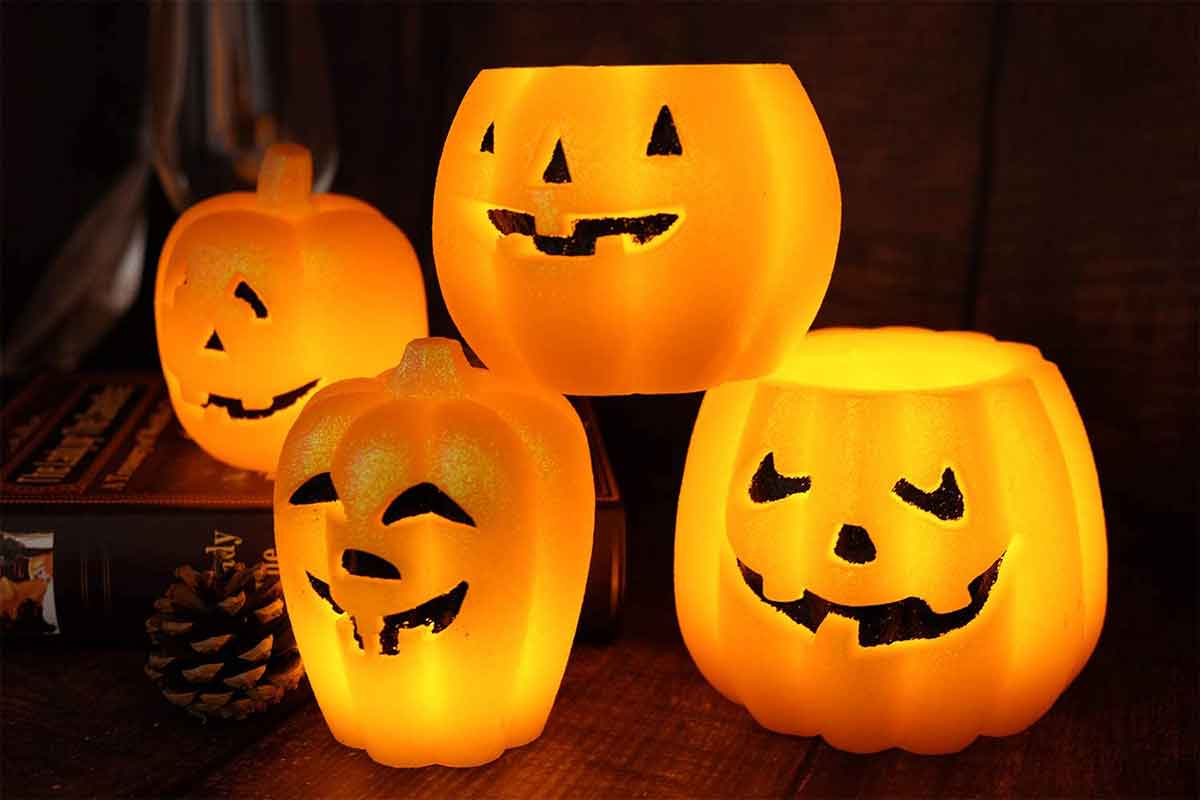 6. Wooden Decorative Home Signs with Letters, Pumpkin, Turkey, Snowflake All occasions
7. Solar Lantern Lights Dancing Flame Waterproof Outdoor Hanging Lantern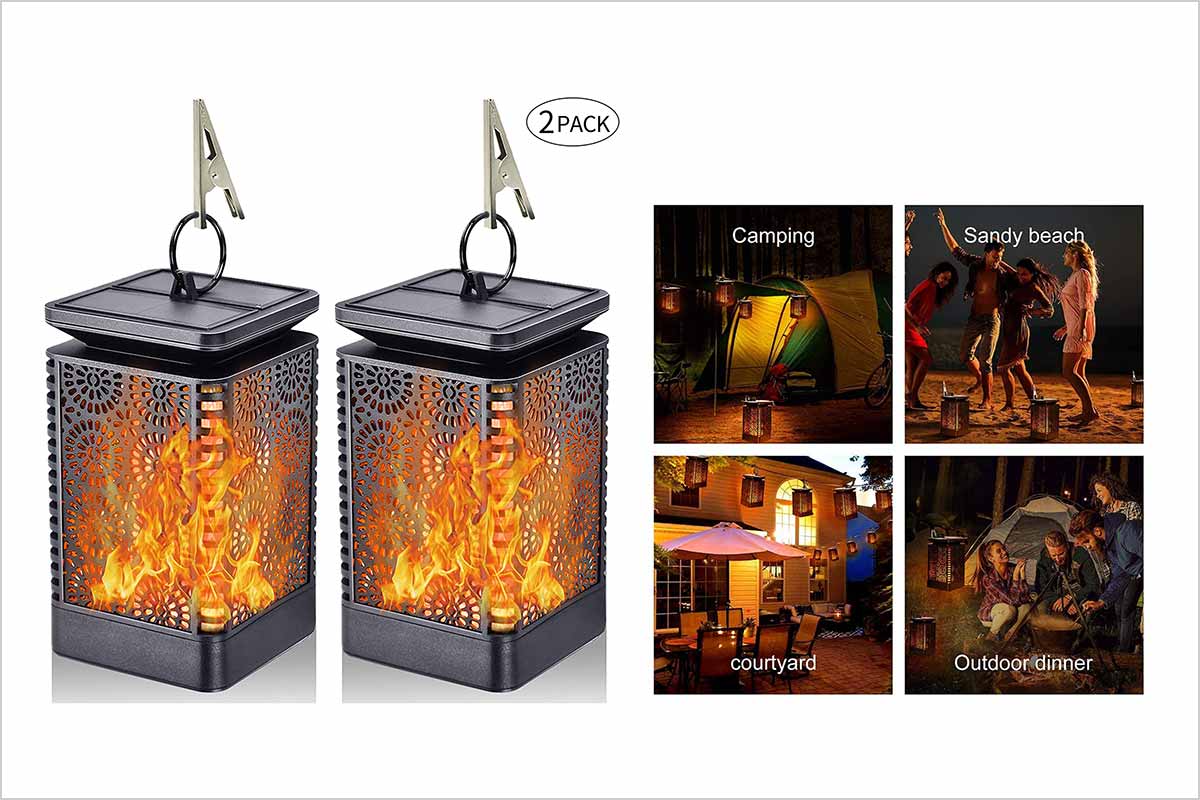 8. PVC 3D Decorative Scary Bats Outdoor Wall Decorations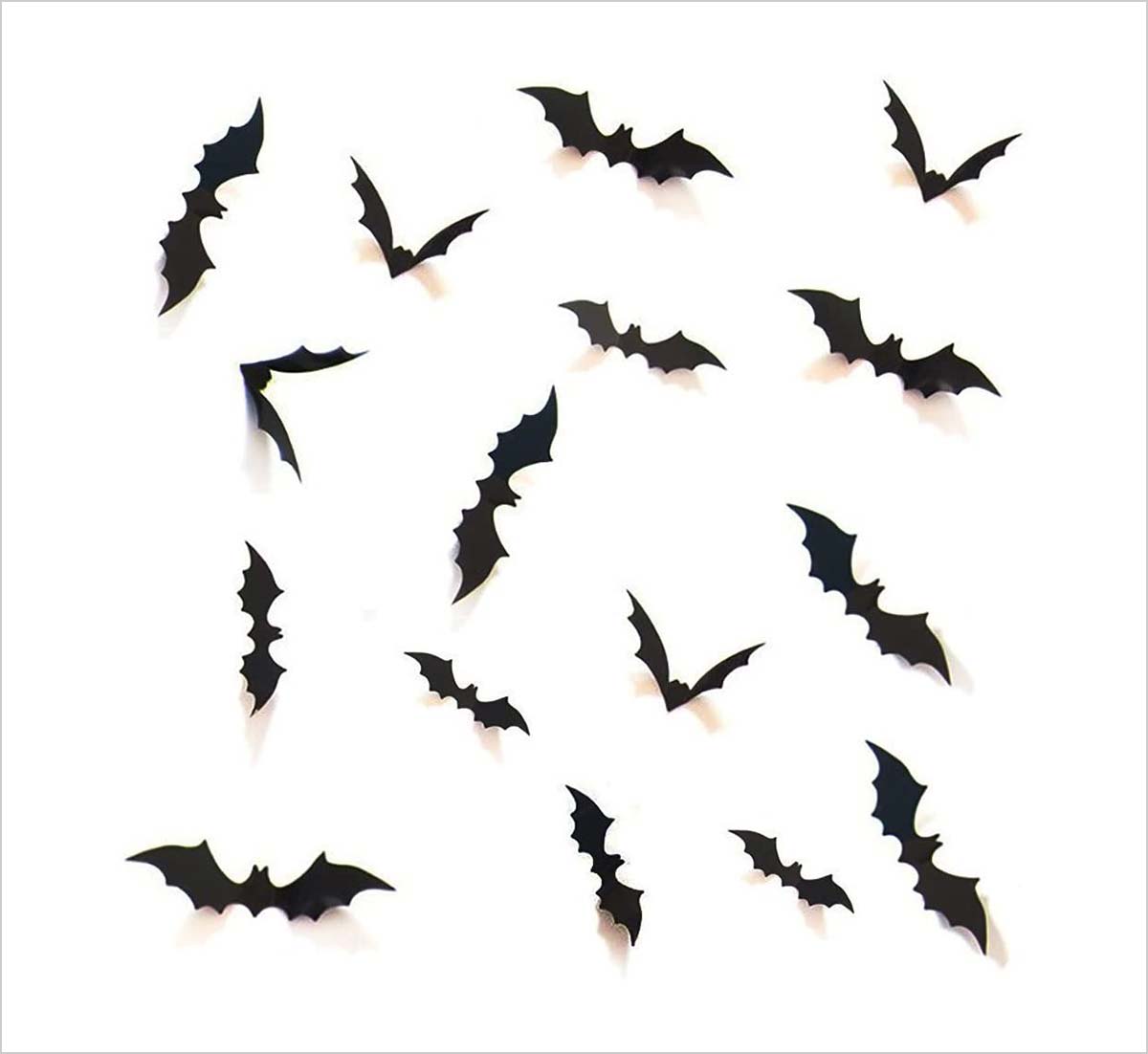 9. 300 LED Window String Lights with 8 Modes Remote Controller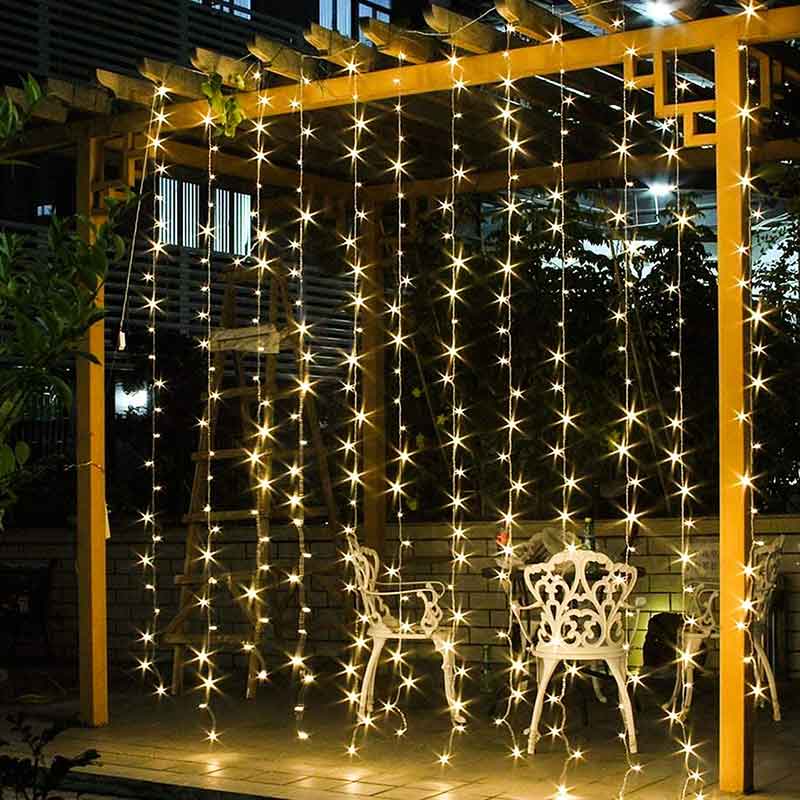 10. LED Outdoor Waterproof Simulation Honey Bees Decor for Garden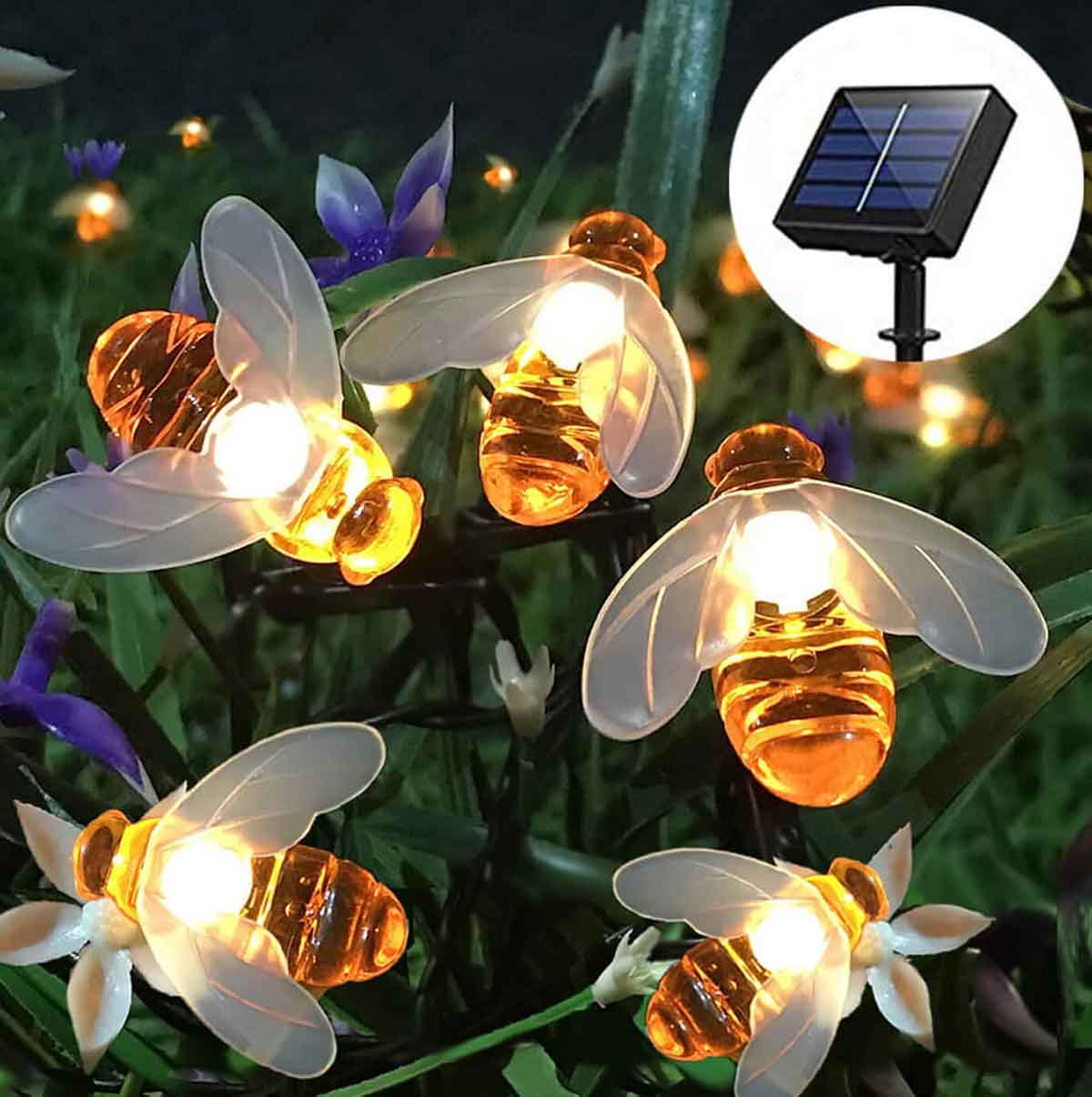 11. Foot Long Halloween Inflatable Skeleton on Train With LED Lights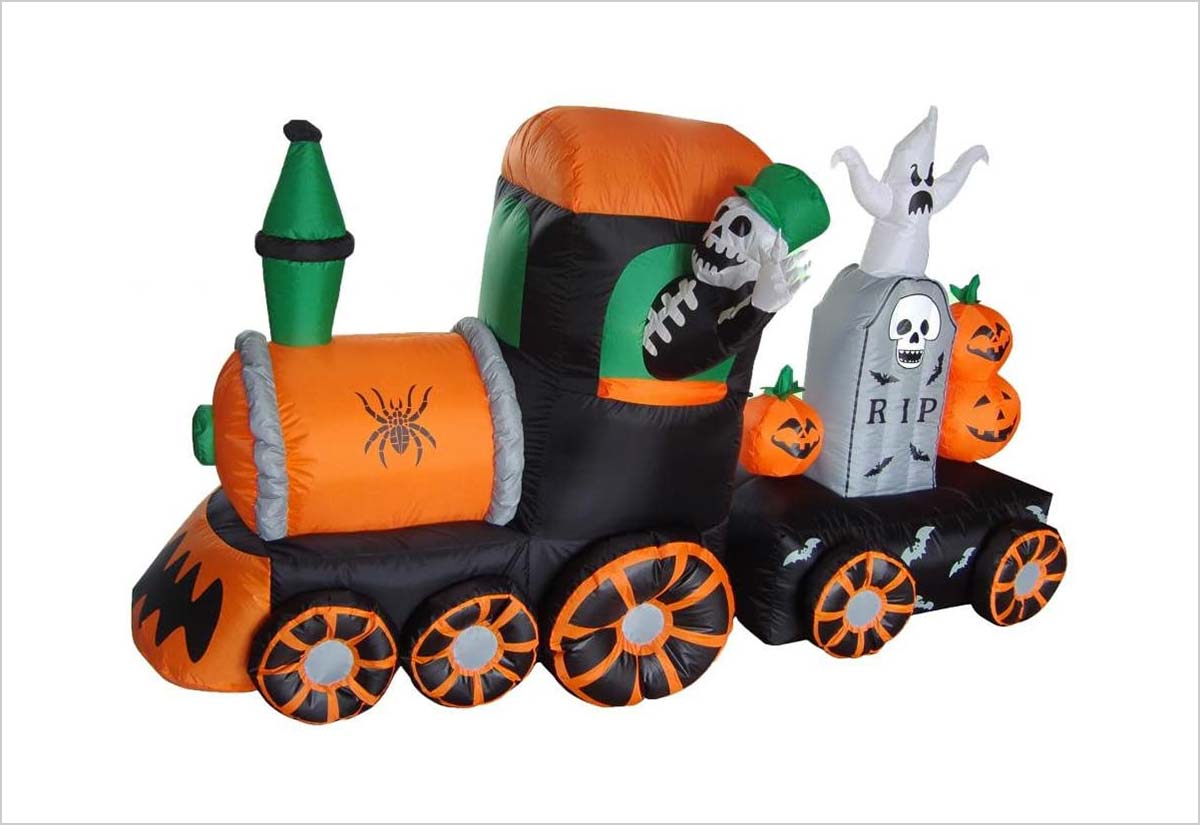 12. Waterproof Flickering Flames Torches Lights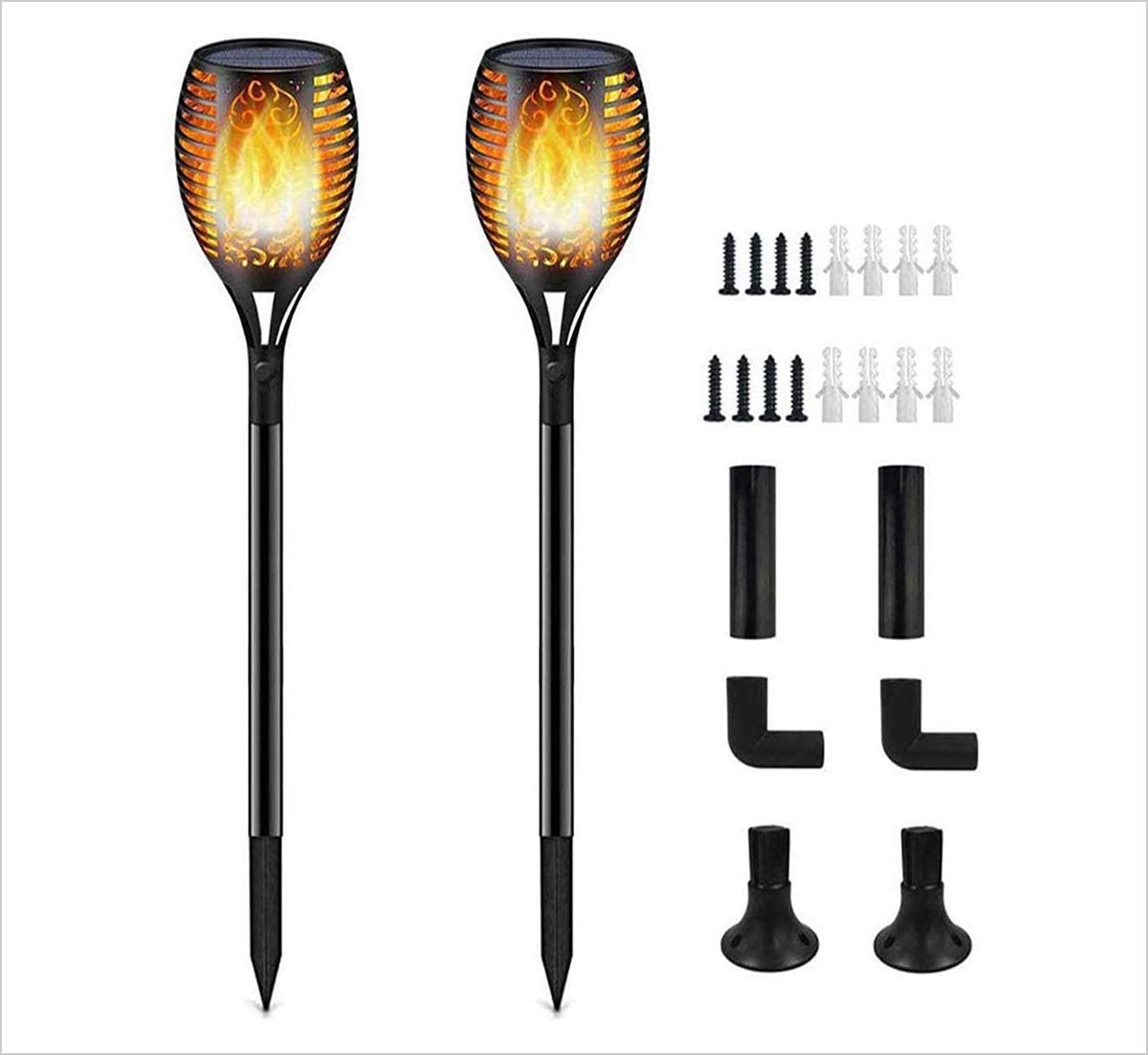 13. Airblown Inflatable Halloween Skull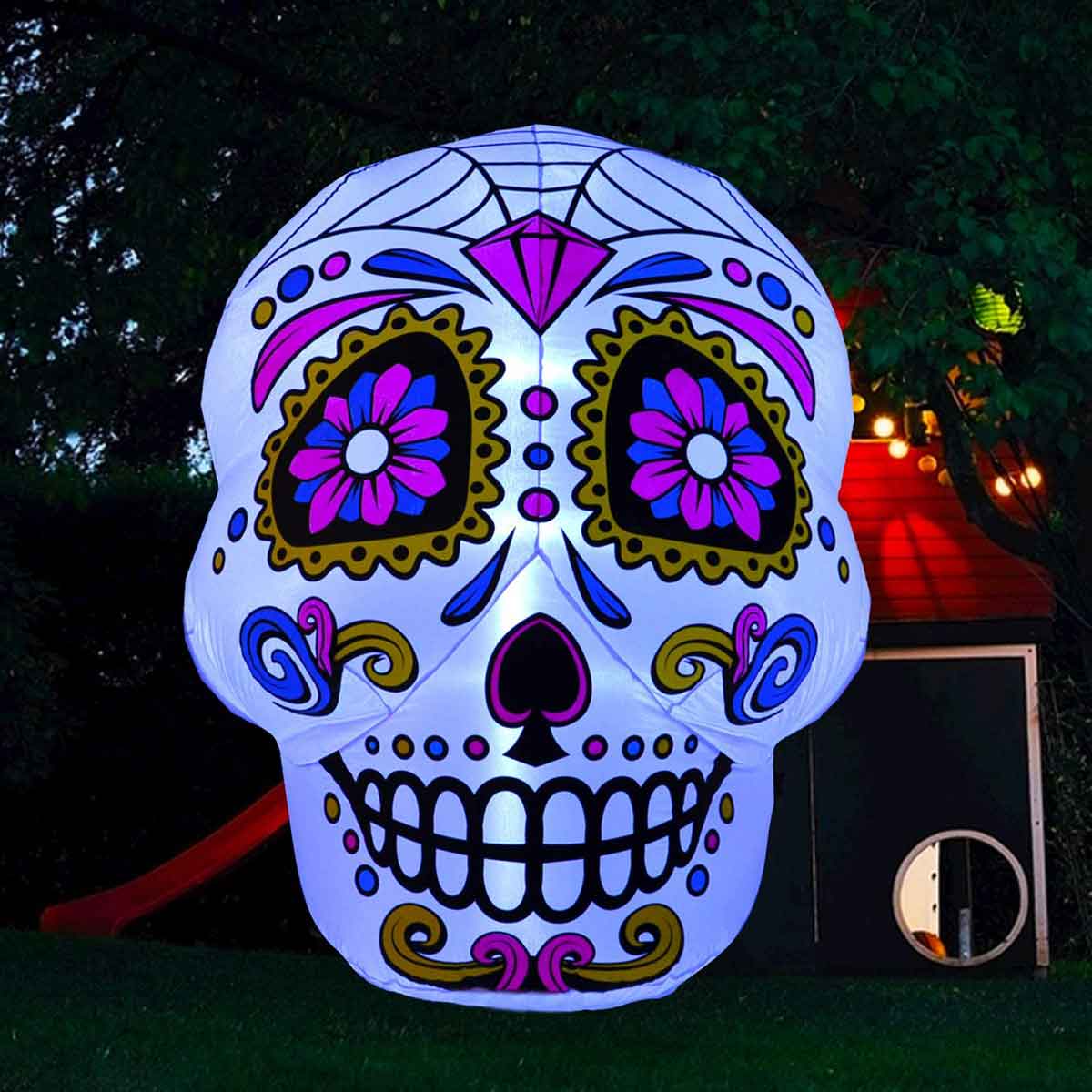 14. 8 Foot Huge Halloween Inflatable Frankenstein Monster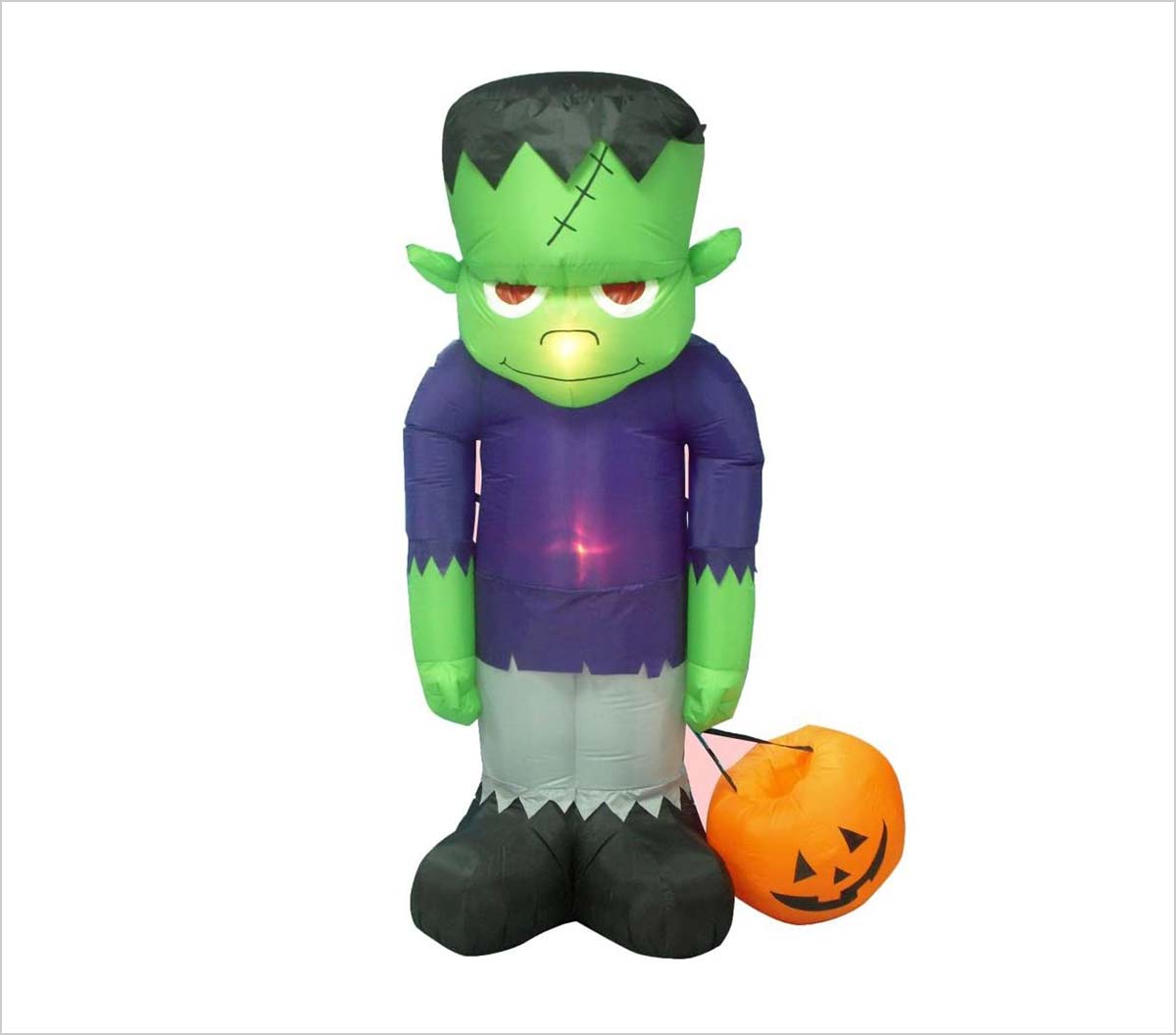 15. 4 Foot Tall Halloween Inflatable Witch Legs in Cauldron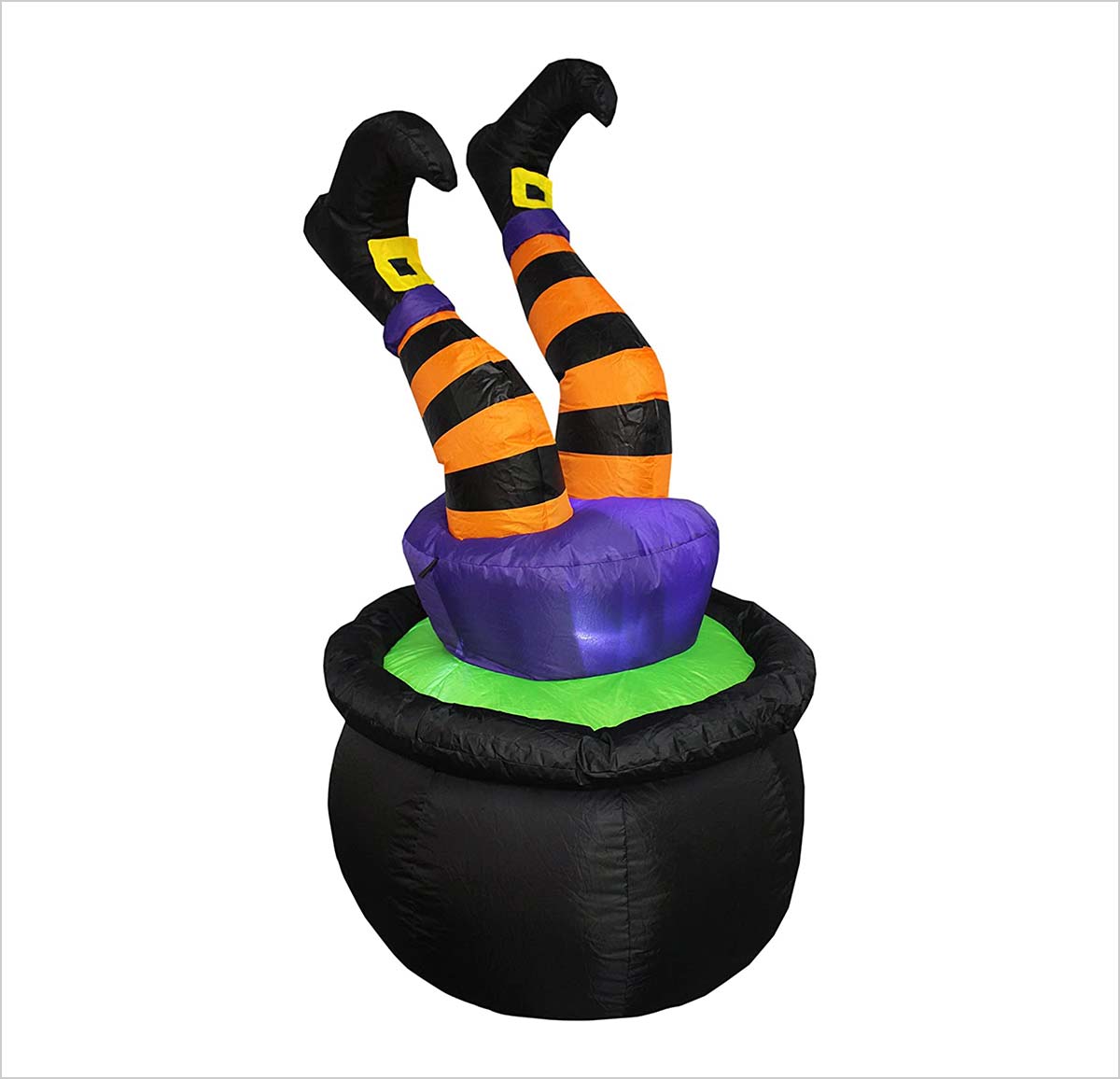 16. Meteor Shower Rain Drop Lights For Trees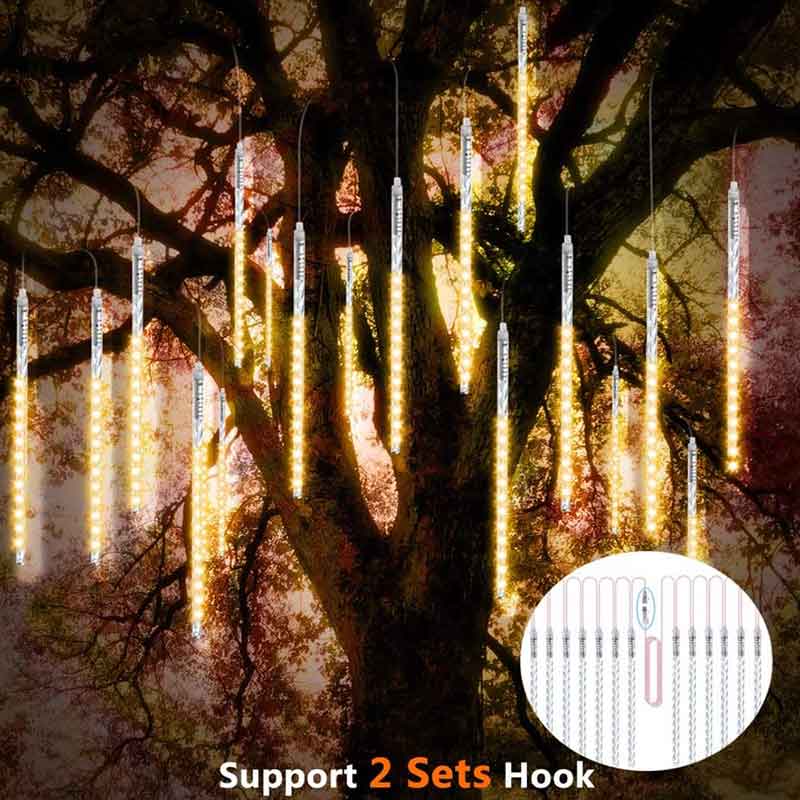 17. 12 Foot Long Halloween Inflatable Carriage with Skeleton Ghost Skull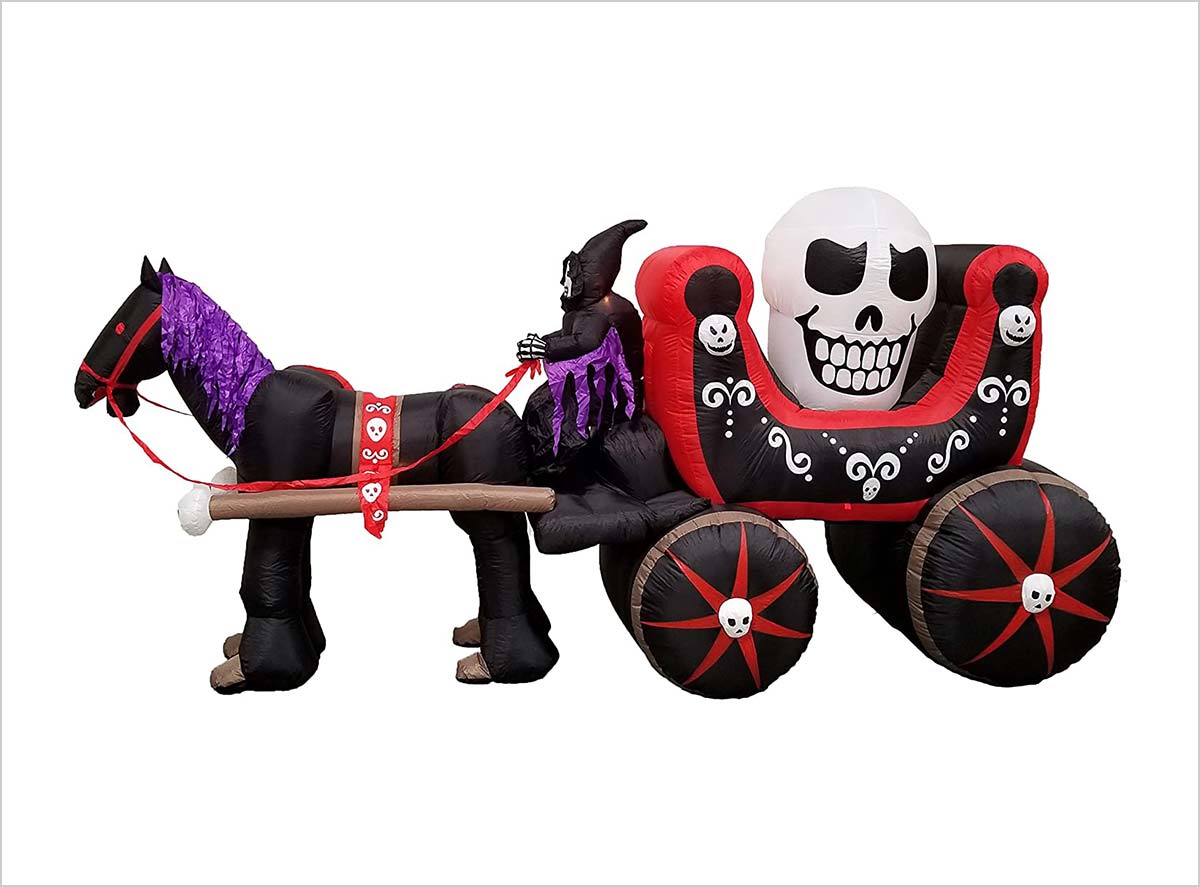 18. 8 Foot Long Halloween Inflatable Black Purple Spider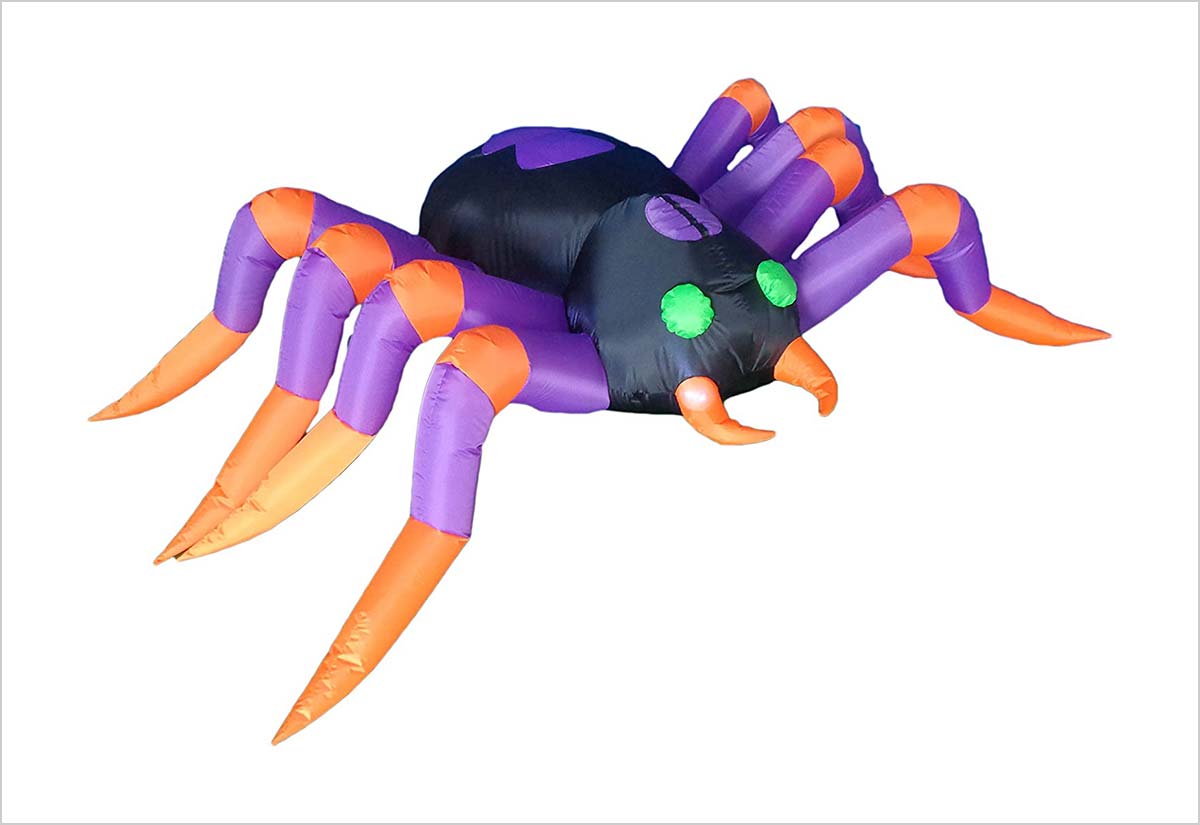 19. Halloween Spooky Boo Banner Set for Front Door Home Decor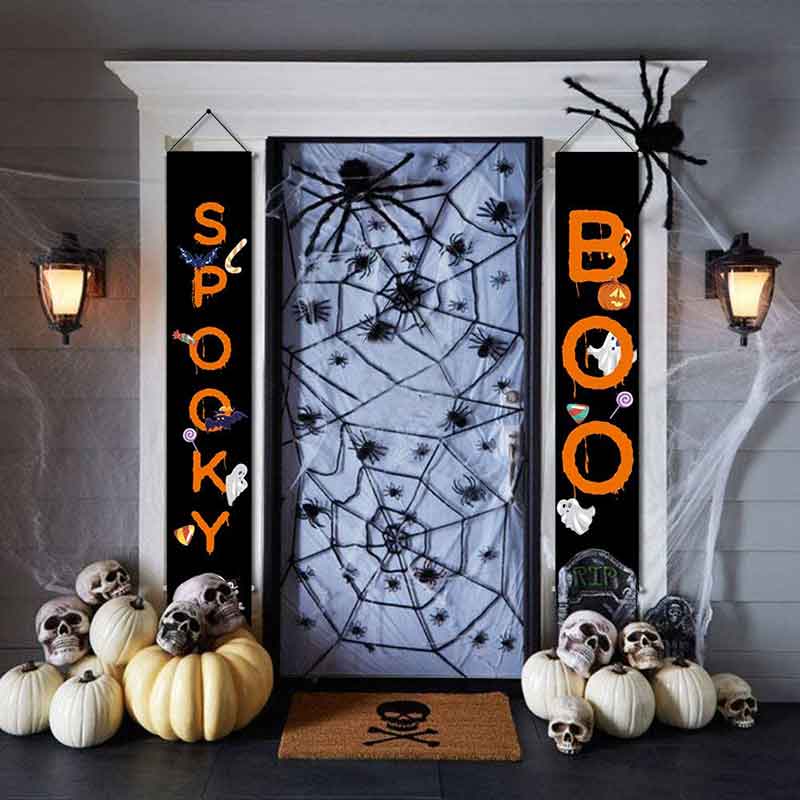 20. Halloween Beware Signs For Yards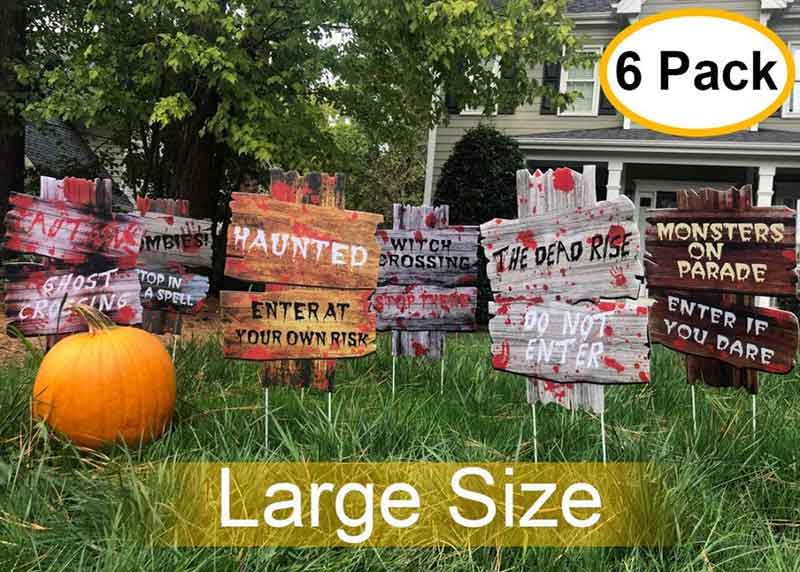 21. Sign-Vampire Welcome Wall Sculpture-Bat Figure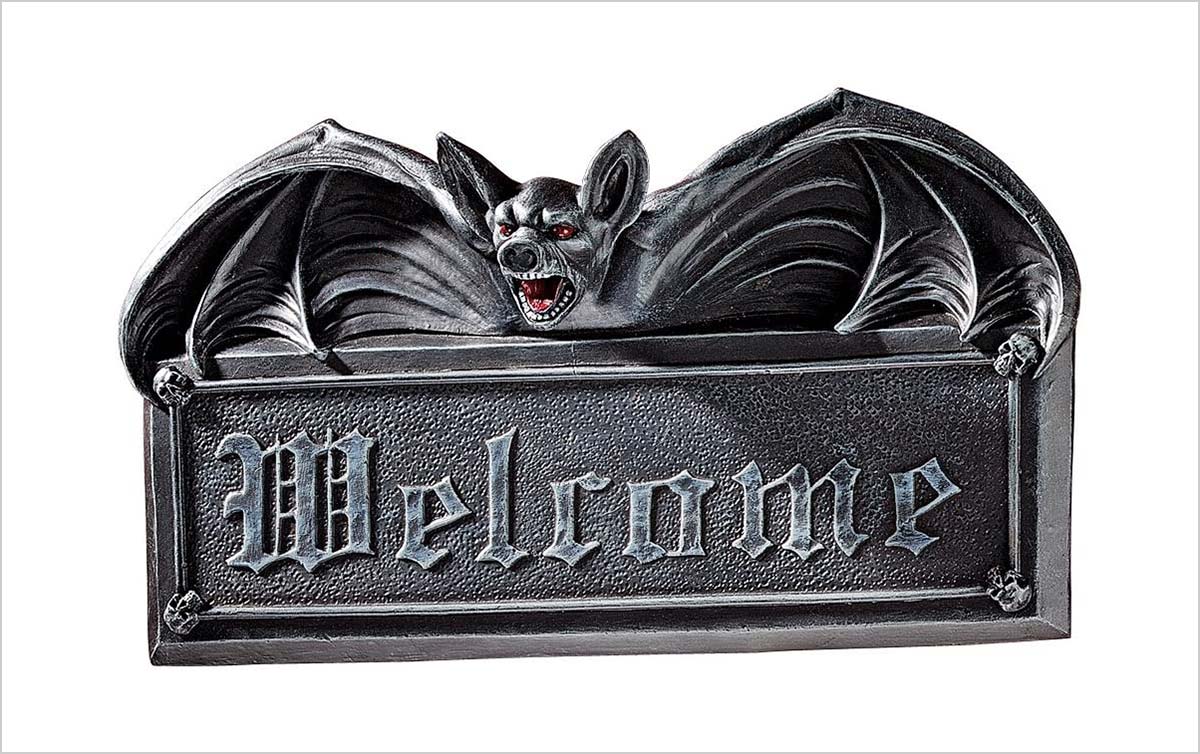 22. Halloween Monster Face Decorations – Outdoor Garage Archway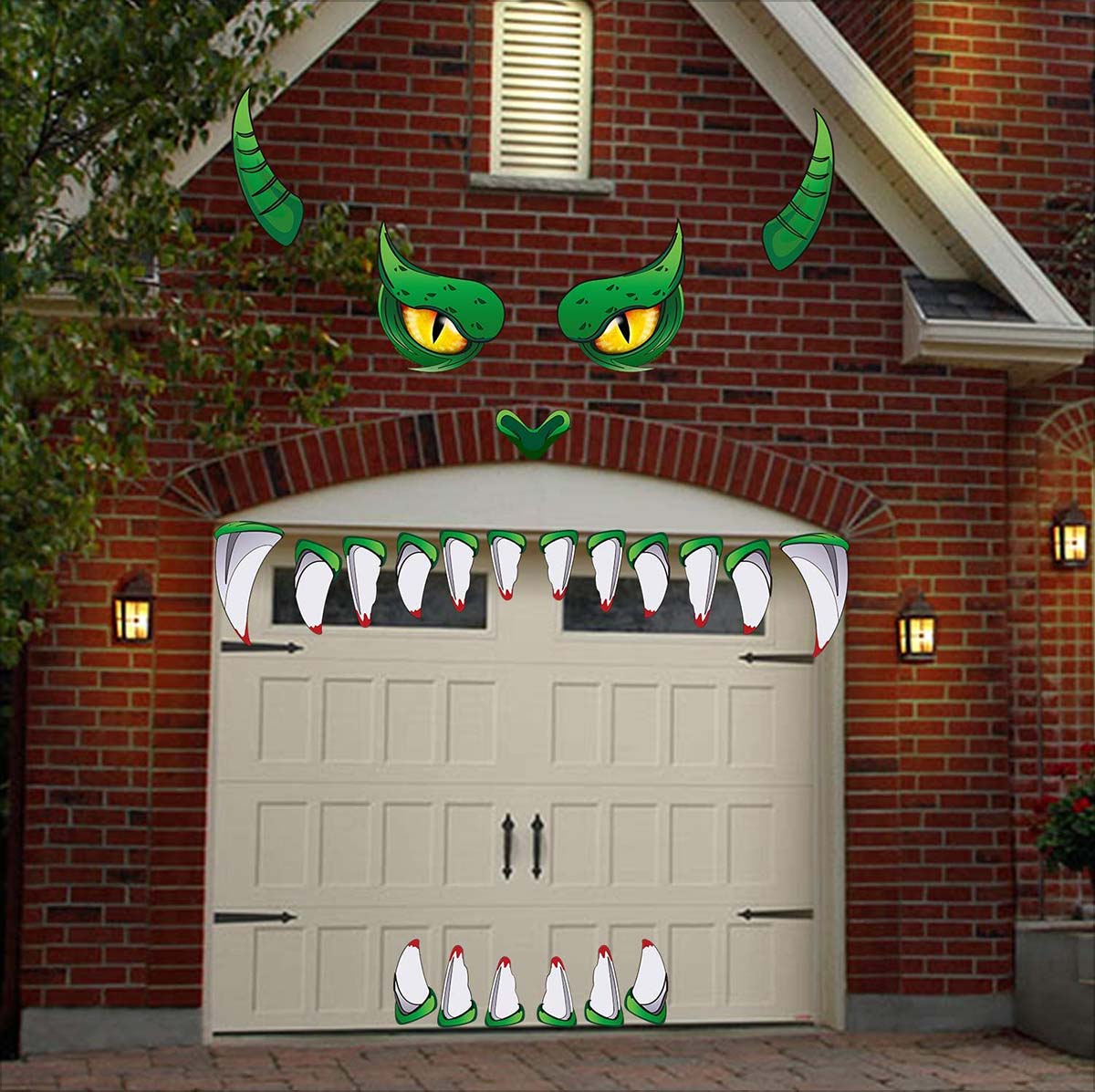 23. Halloween Giant Spider 6.6 FT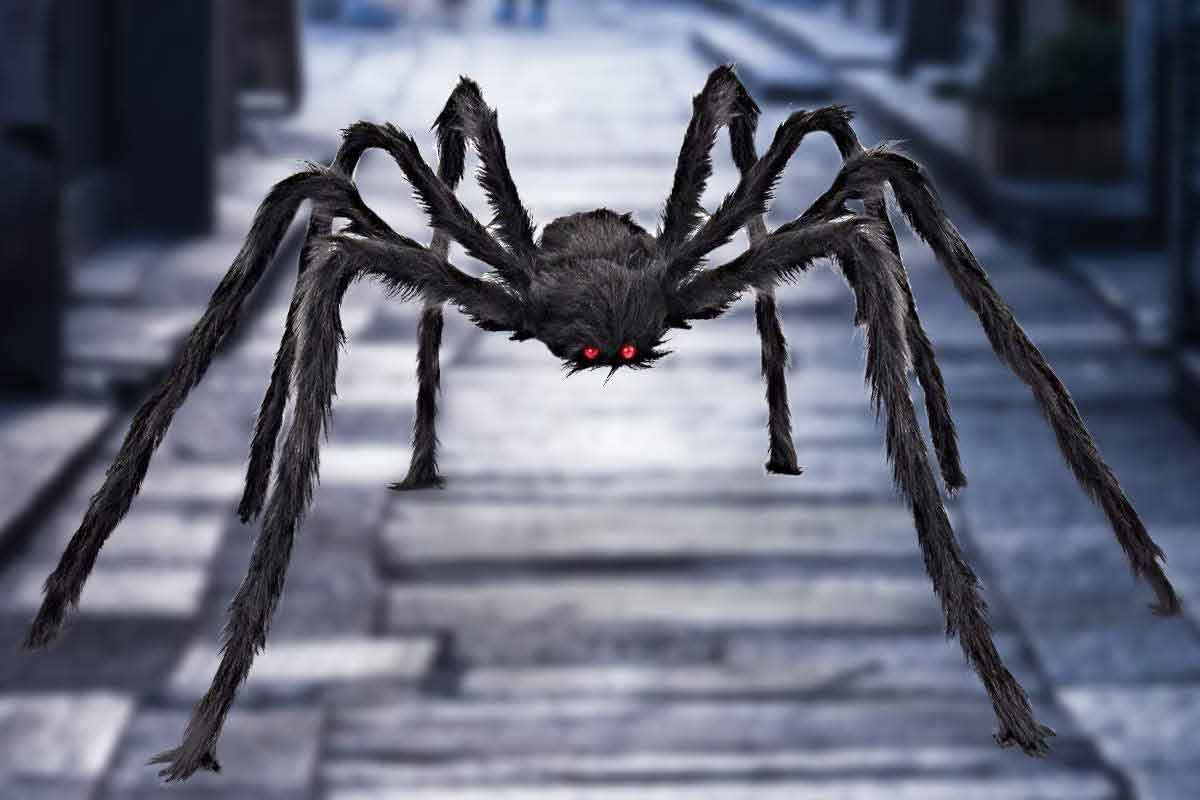 24. 5 Foot Wide Halloween Inflatable Funny Cute Pumpkins Patch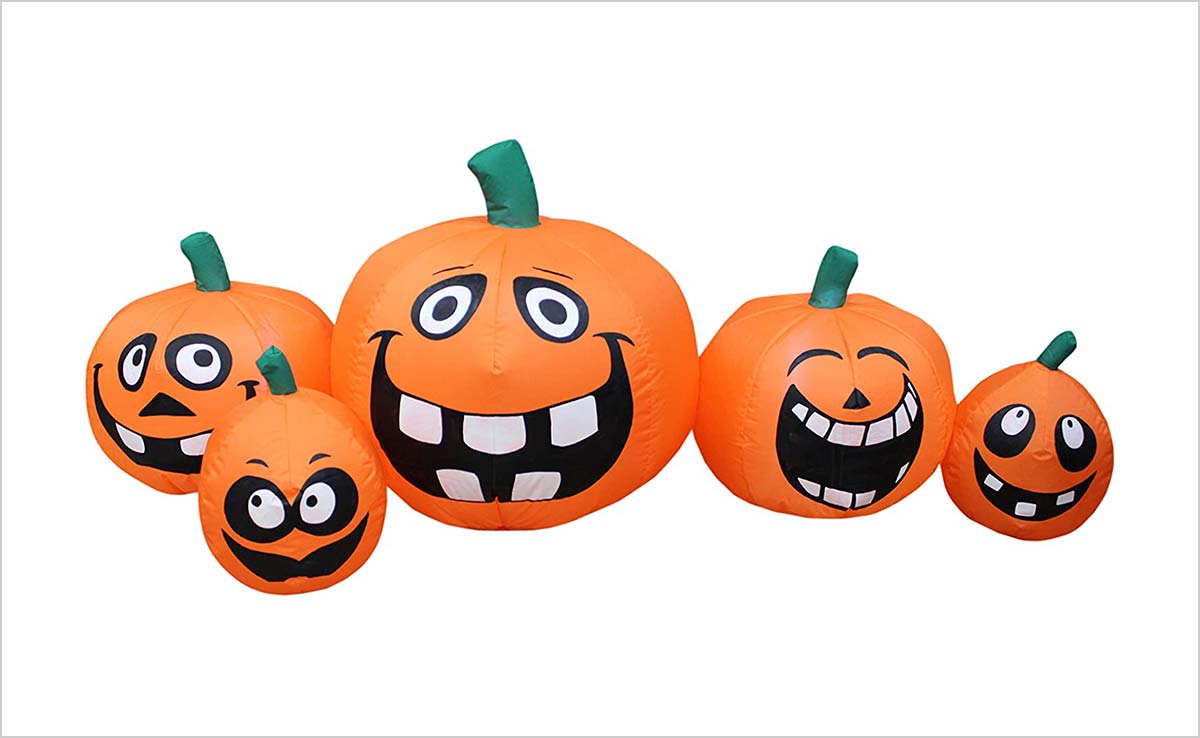 25. Happy Halloween Burlap Banner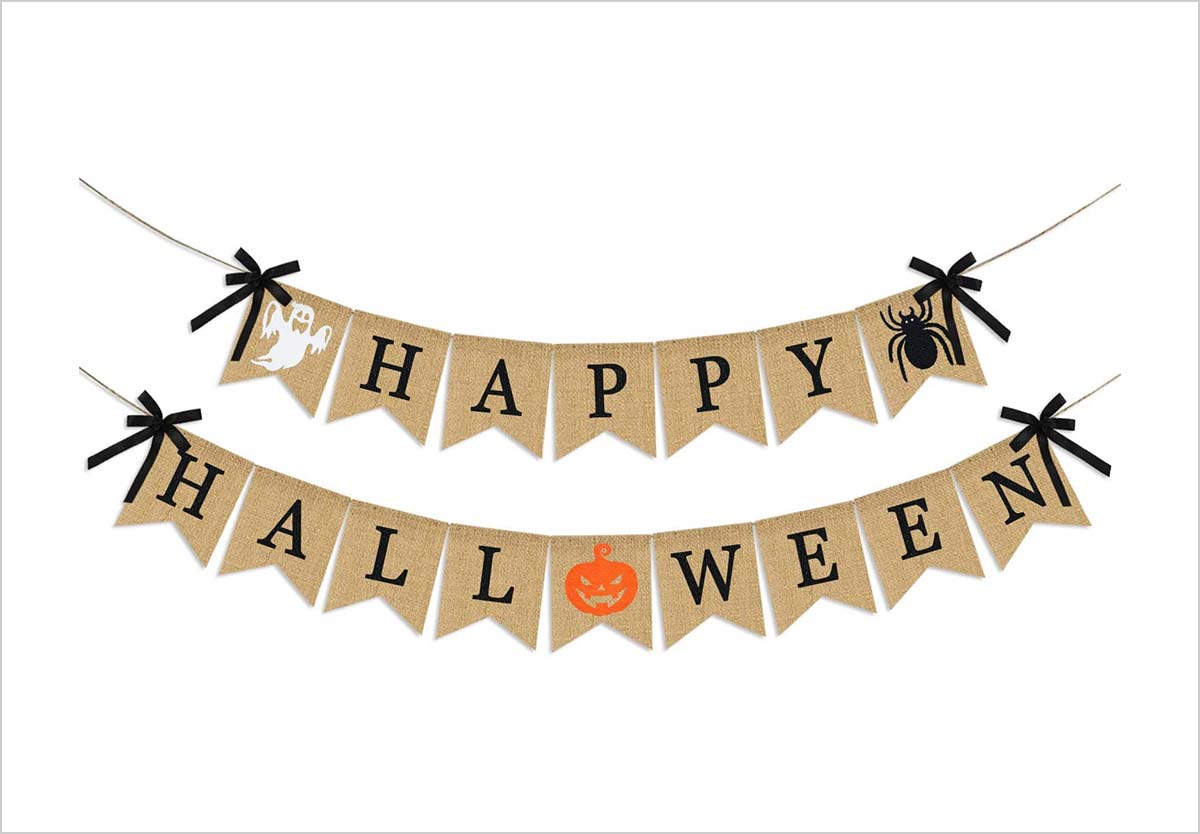 26. 11 Foot Long Halloween Inflatable Dragon Pirate Ship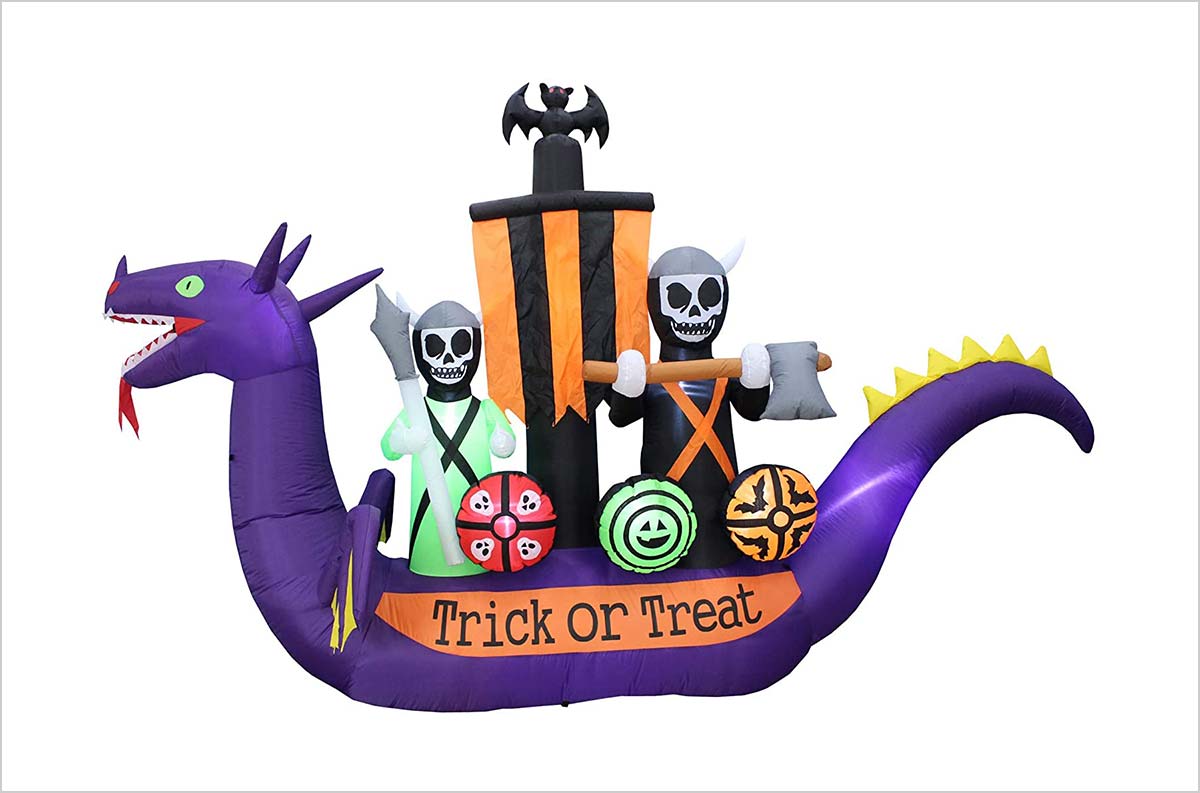 27. Outdoor Wood Fall Halloween Hanging Door Decorations and Wall Signs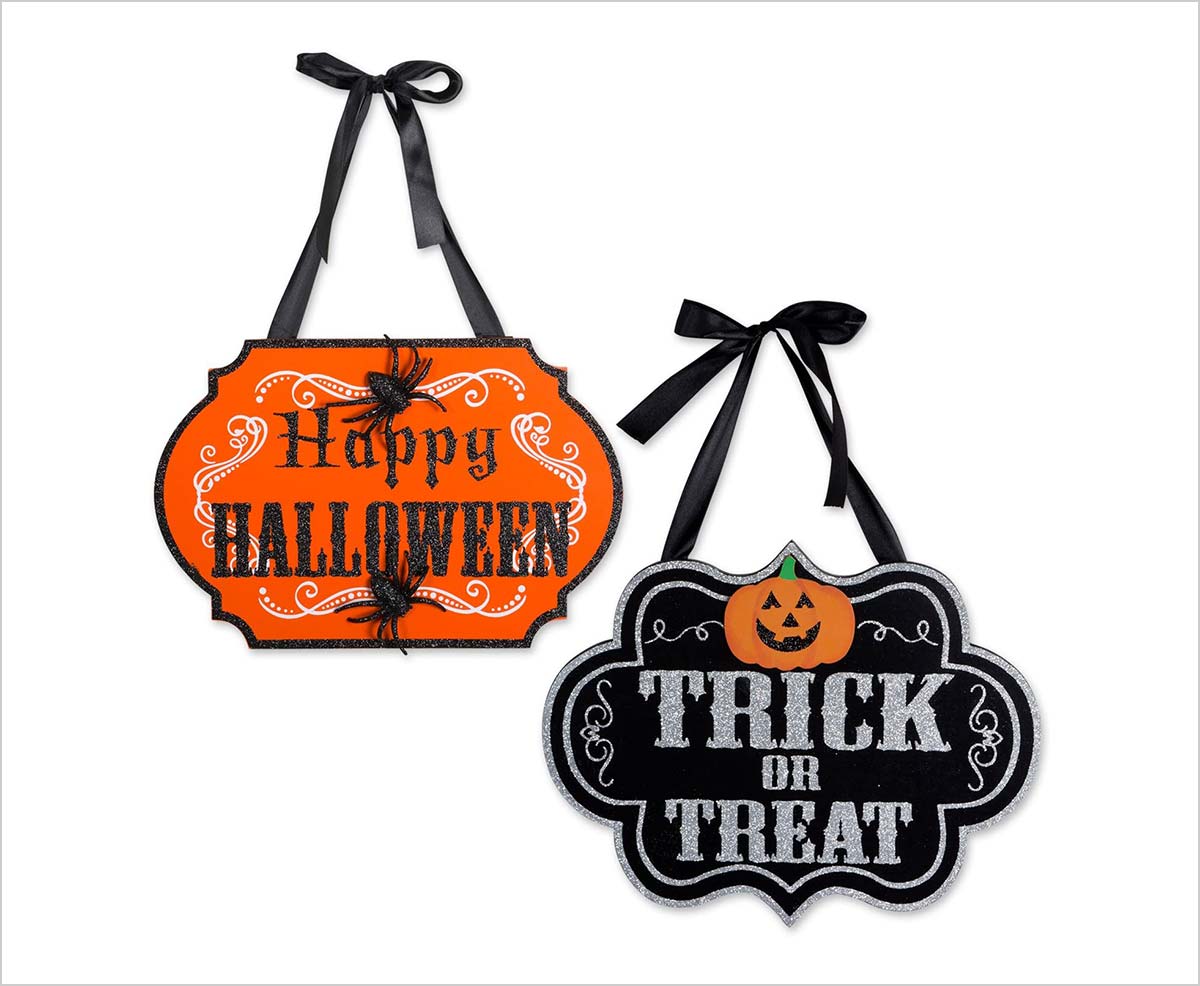 27. Rotten Jack-O-Lantern For Halloween Outdoor Decor 2020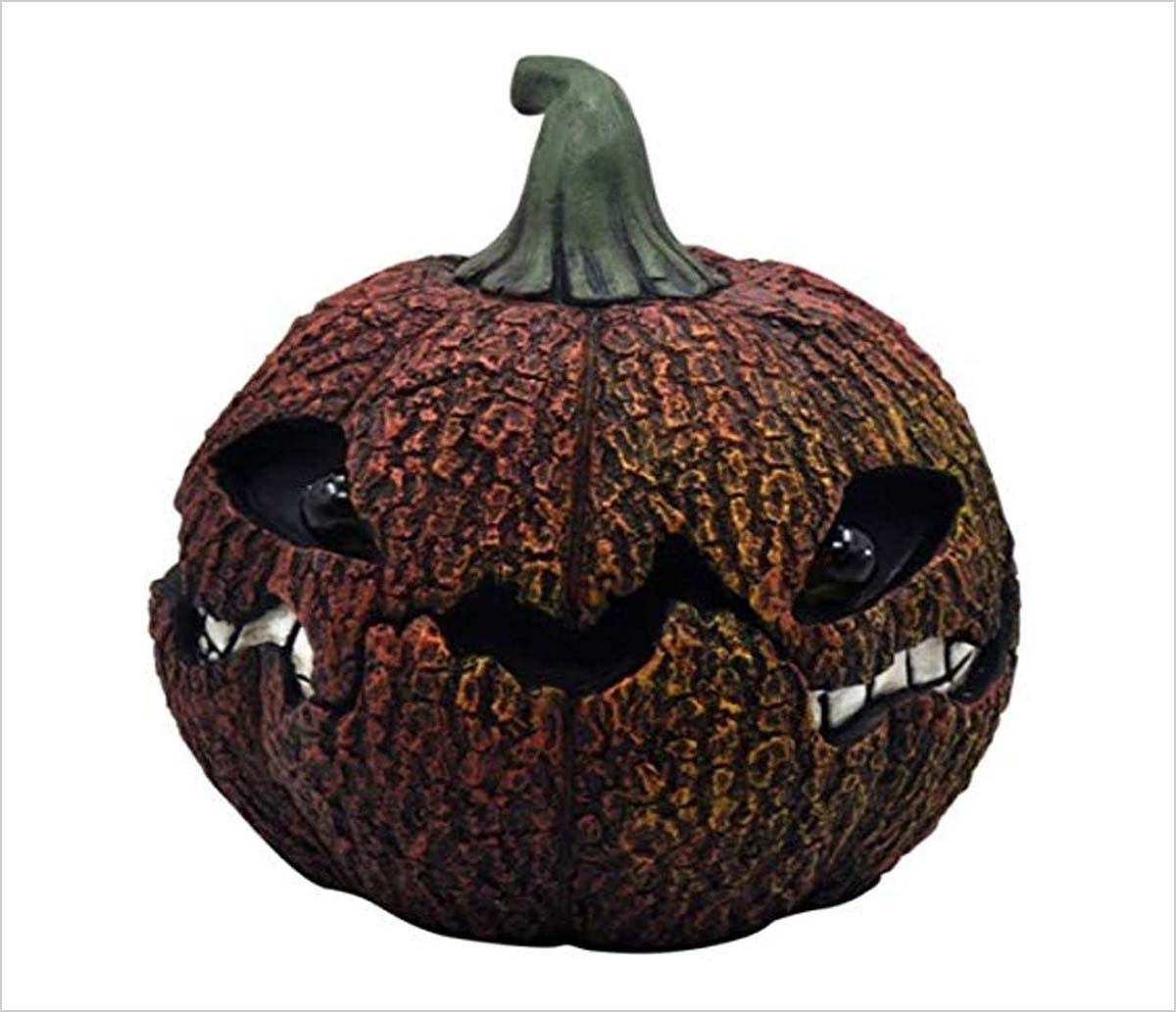 28. 12 Foot Long Halloween Inflatable Black Pumpkins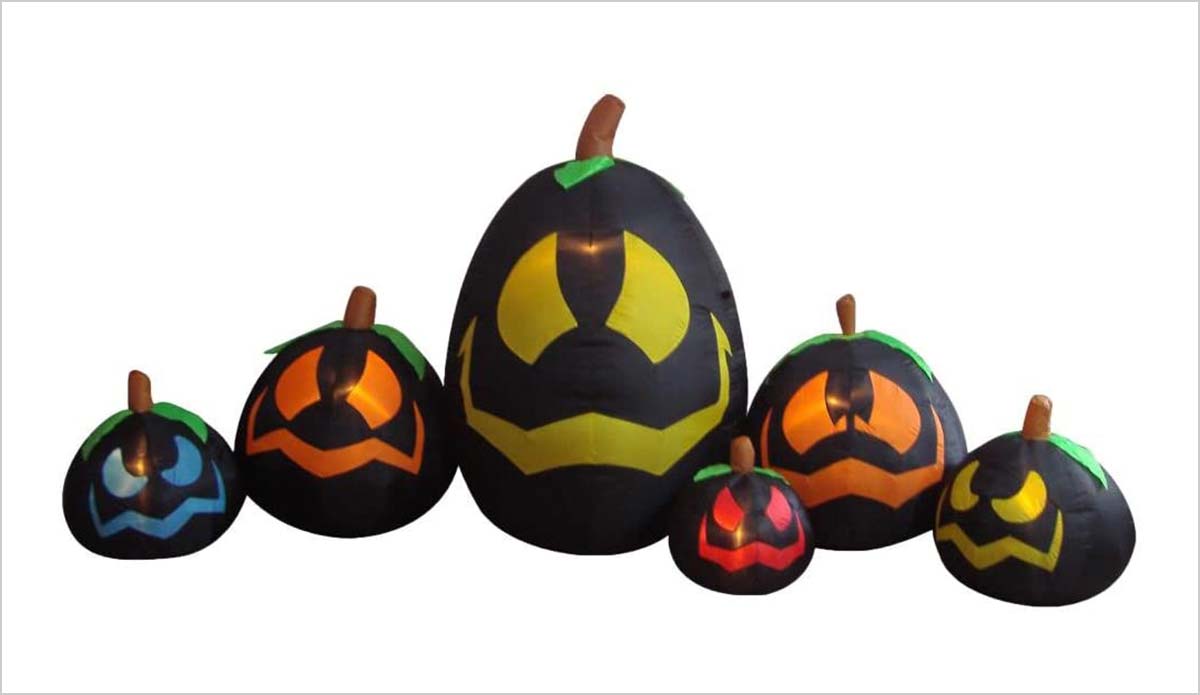 29. 6 Foot Long Halloween Inflatable Black Green Spider with LED Lights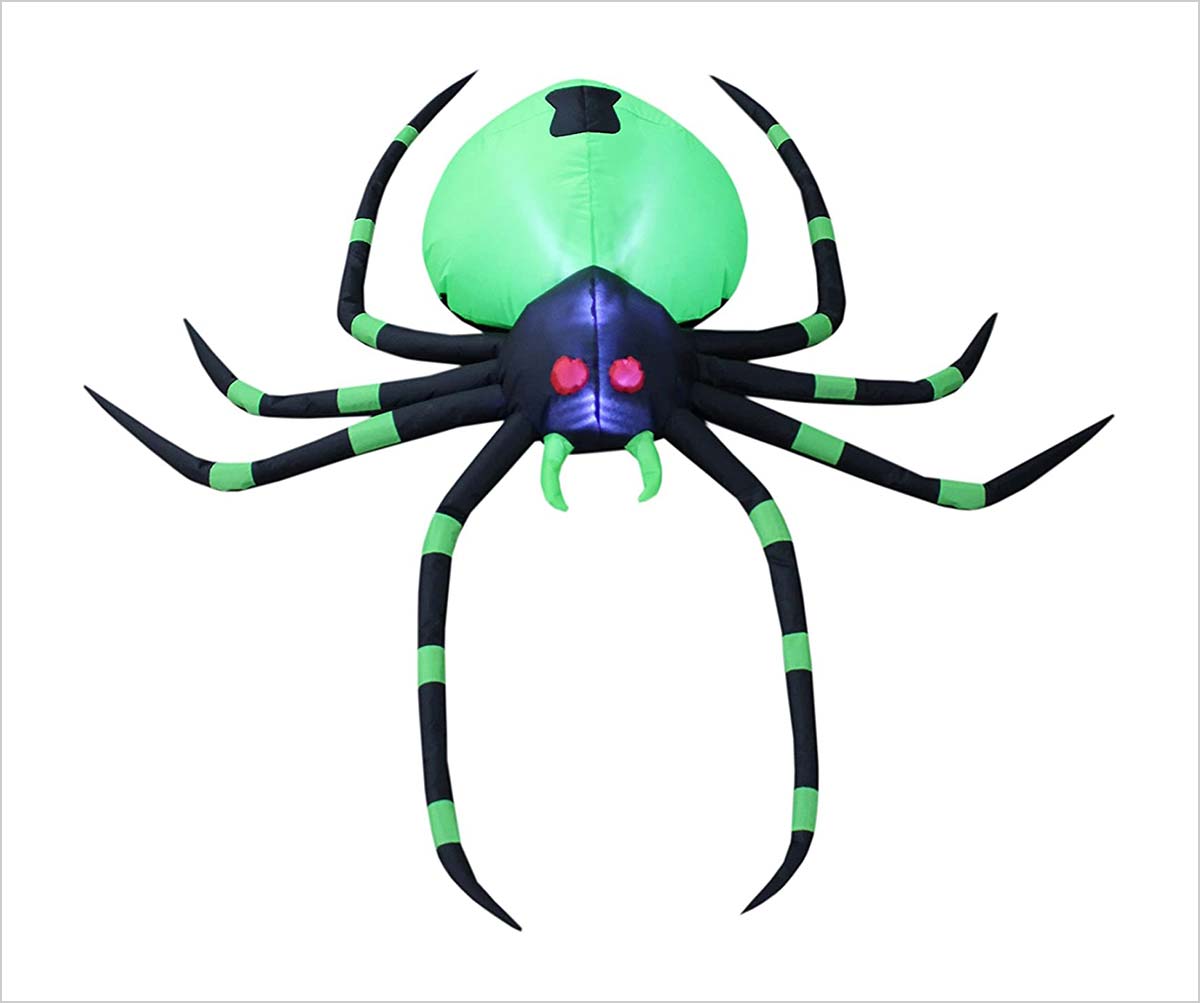 30. 8 Foot Tall Halloween Inflatable Witch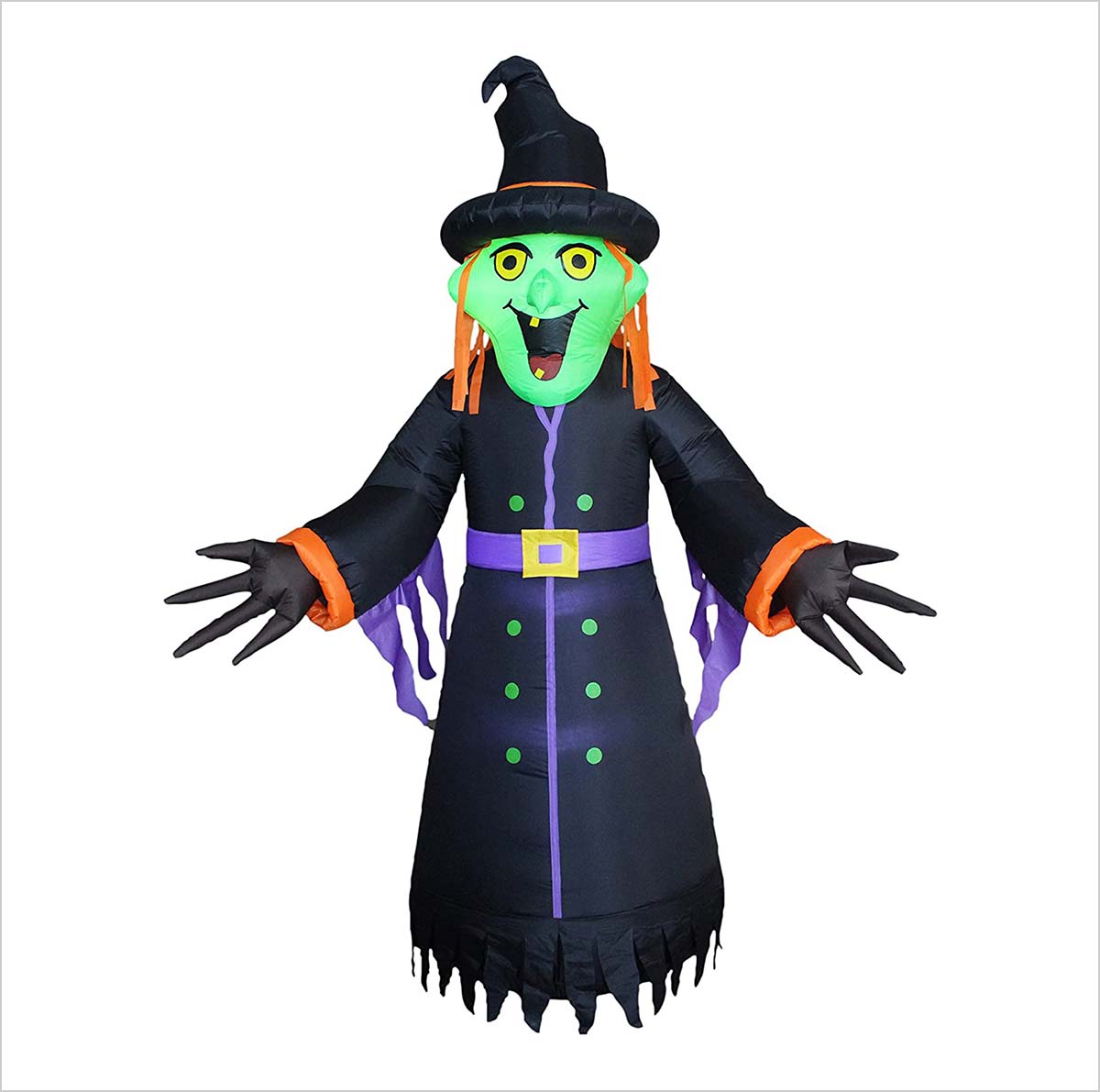 31. Peep n' Peepers Flashing Eyes Halloween Lights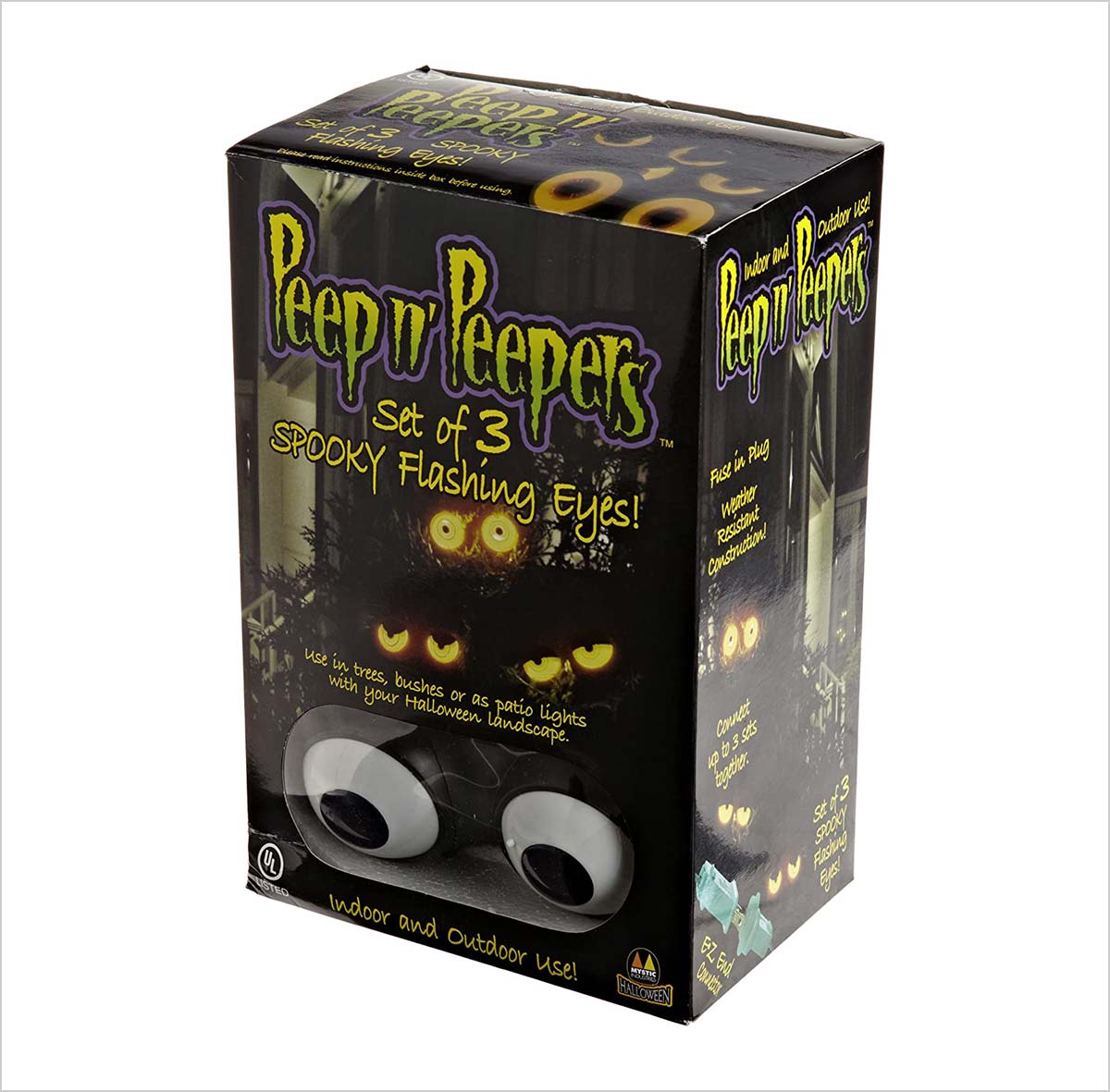 32. Moonrays 97027 Solar Hungry Rotten Jack-O-Lantern, Weathered Orange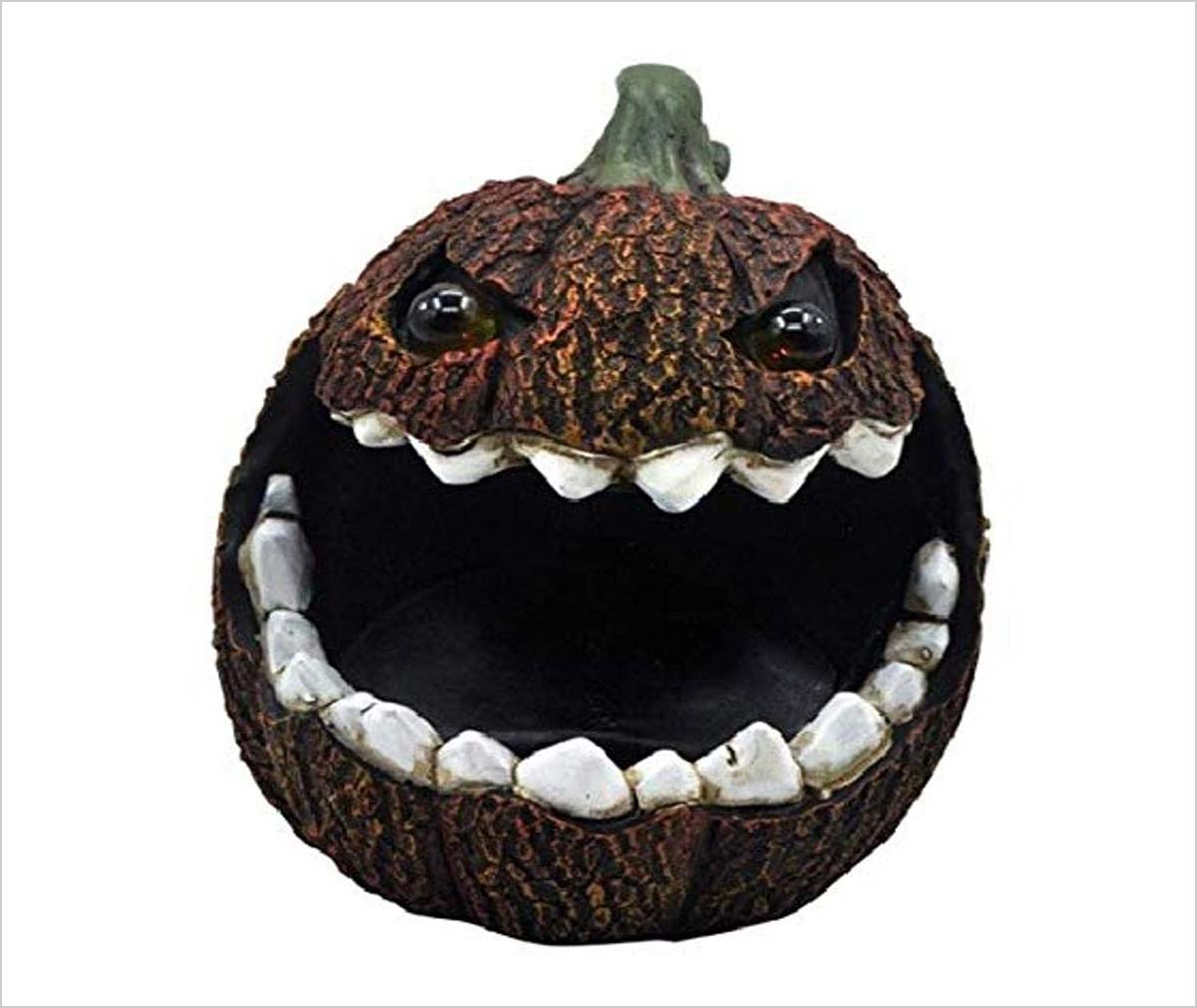 33. Pumpkin Vine Arms and Legs Indoor Outdoor Halloween Decoration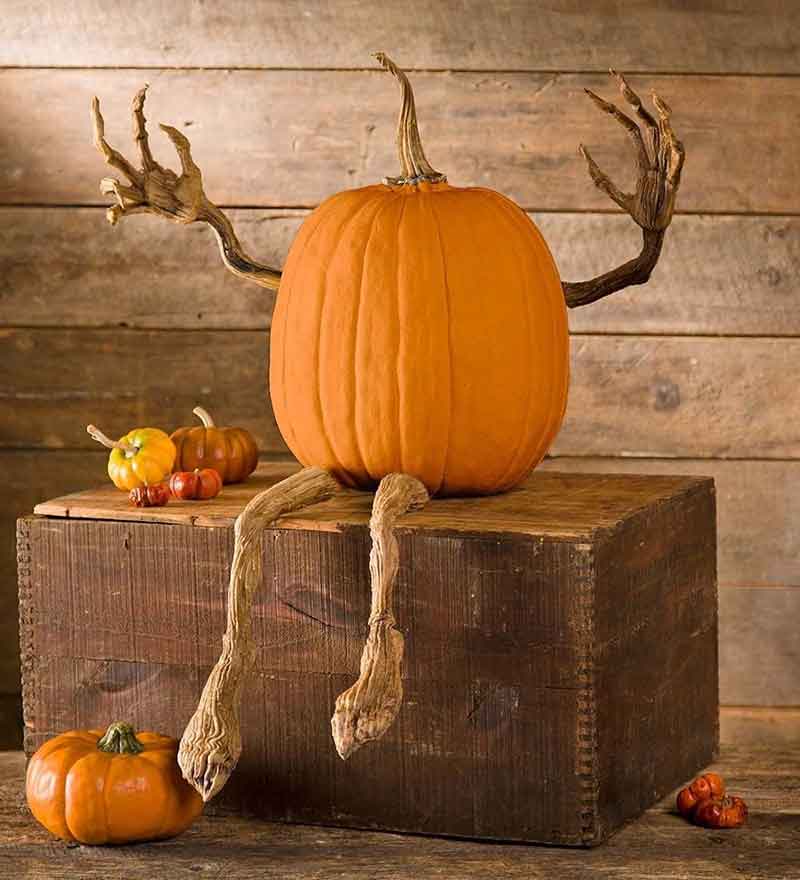 34. 11 Foot Long Inflatable Grim Reaper Driving Pumpkin Carriage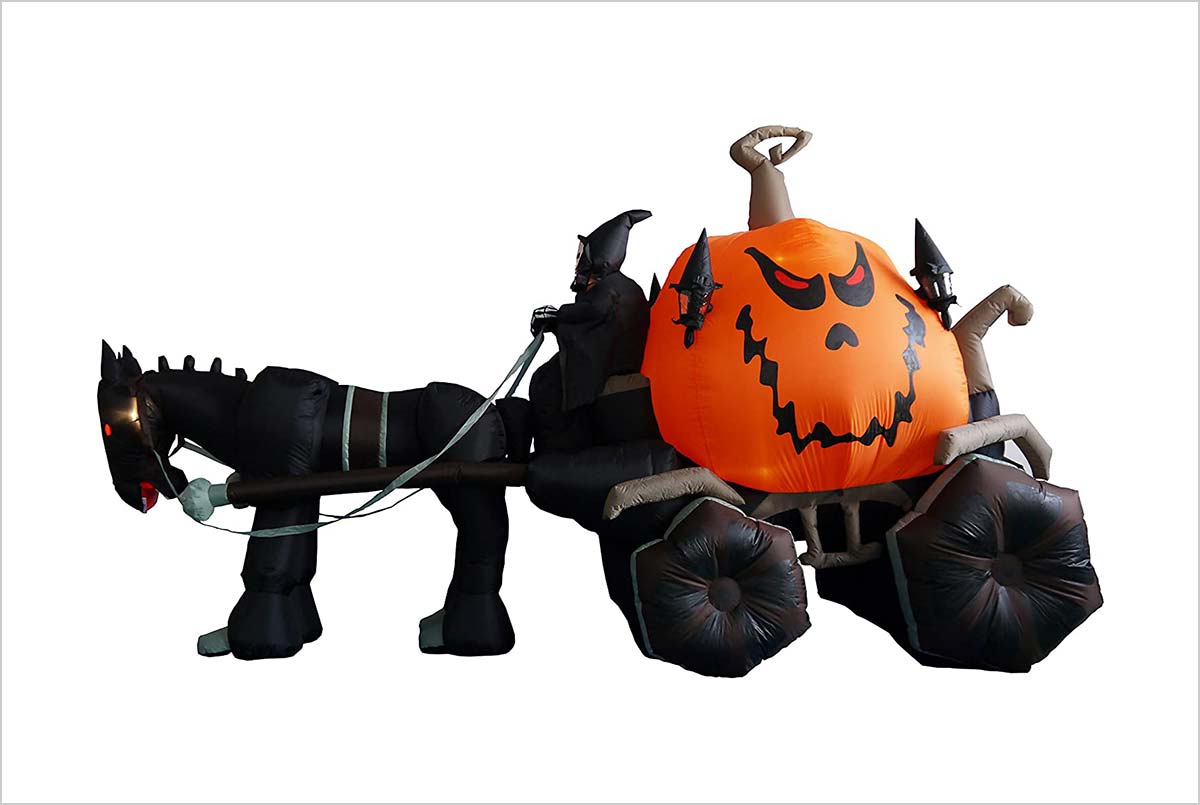 35. Halloween Outdoor Party Spooky Lights Decorations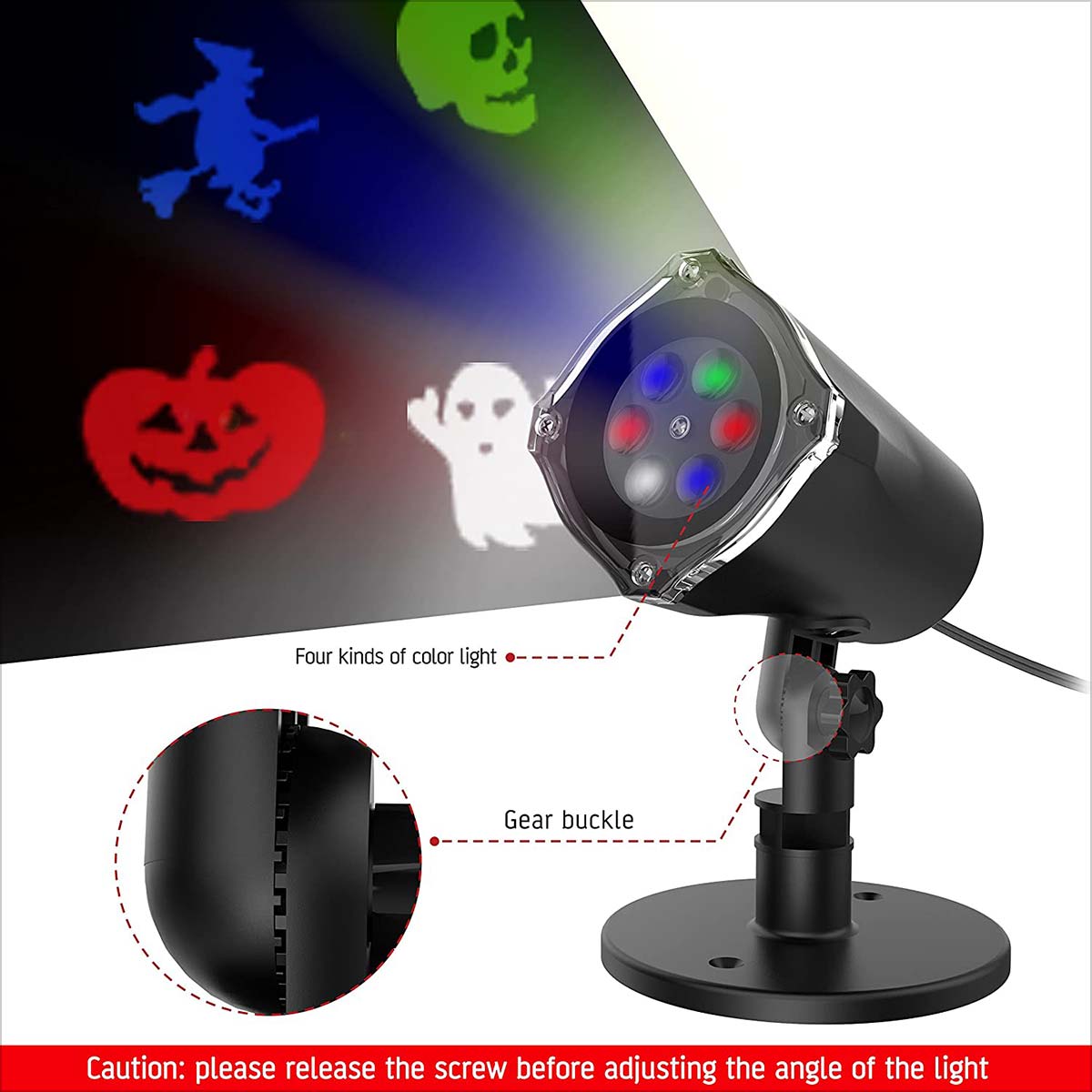 36. 6 Foot Inflatable Skeleton Reaper Riding a Motorcycle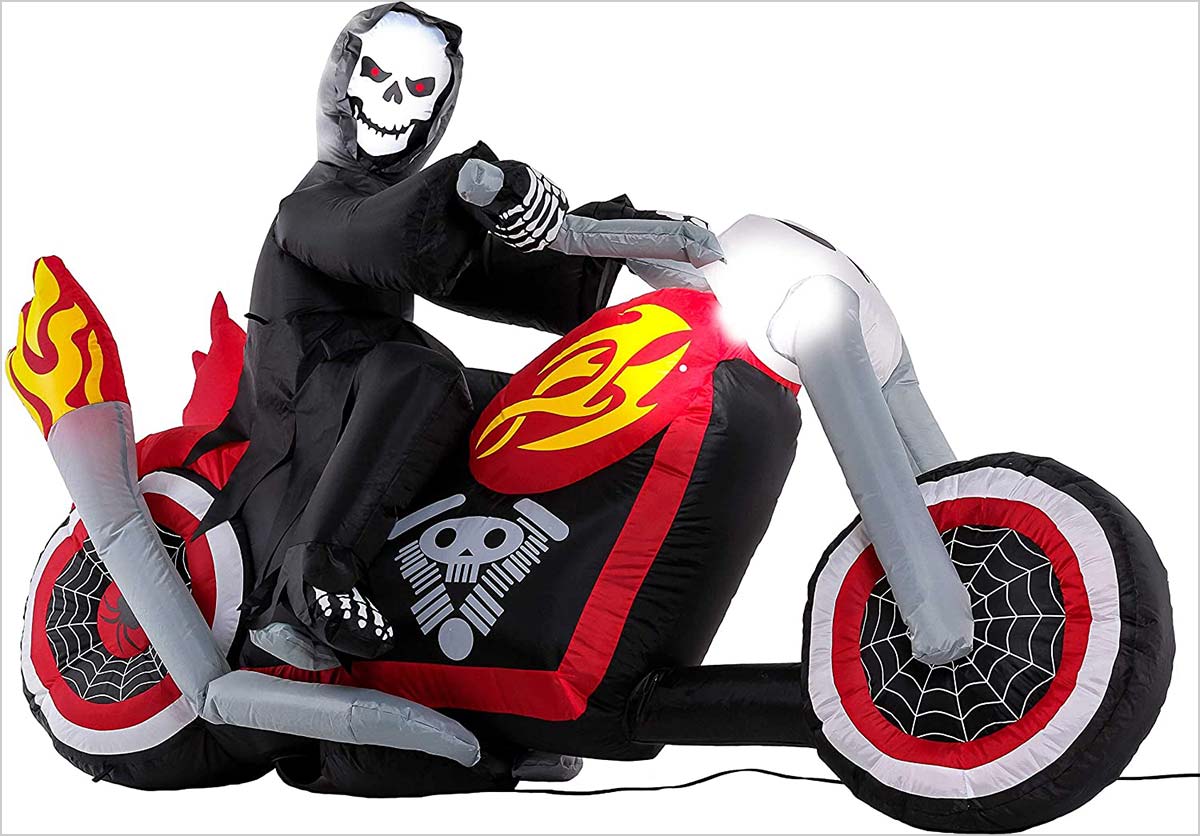 37. 6 Pack Halloween Decorations with 30 inches Giant Spider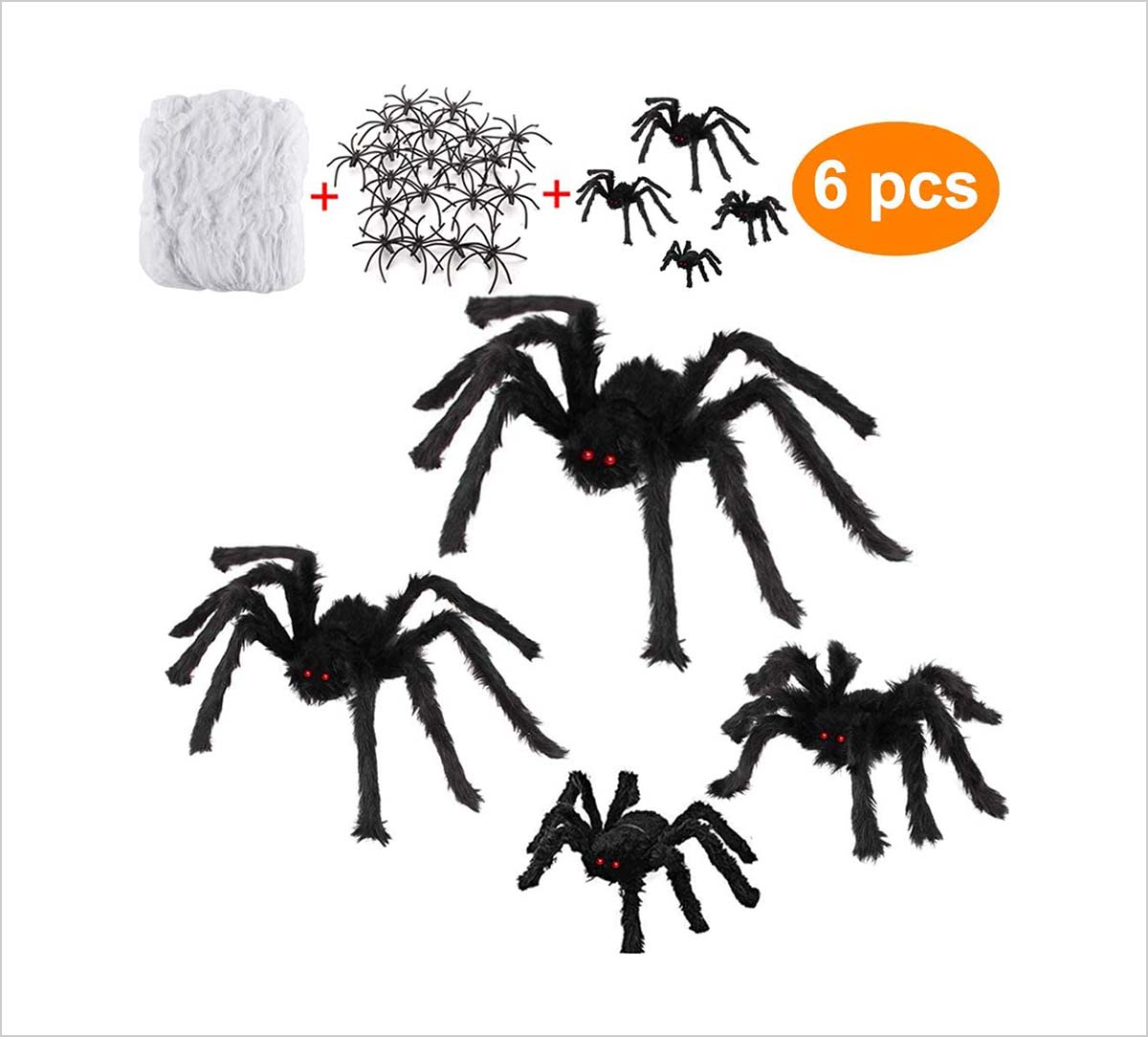 38. Ghost Prop Hanging Skeleton Flying Ghost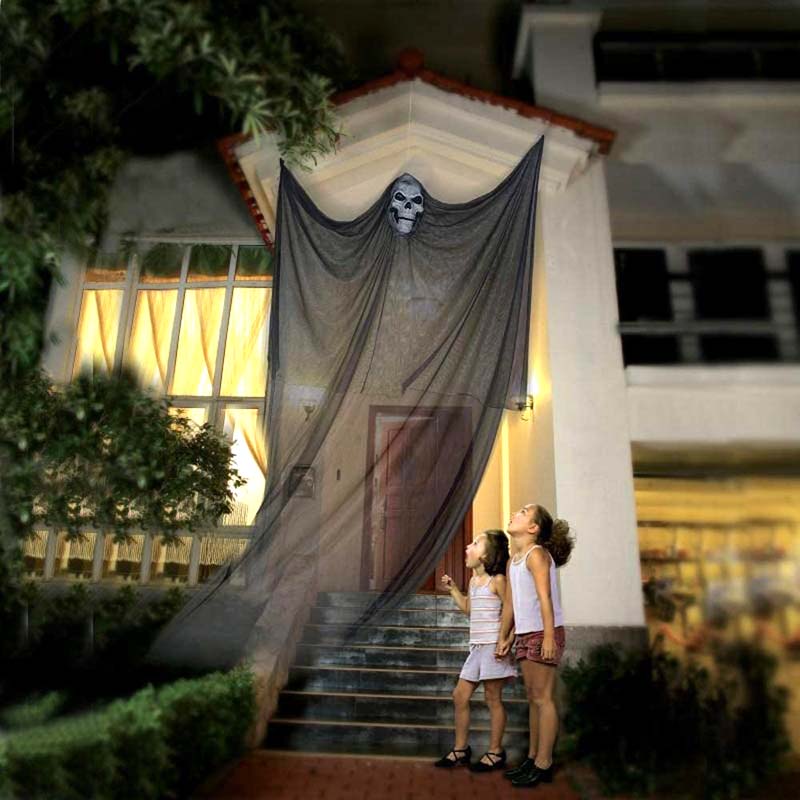 39. 6 Foot Animated Standing Speaking Scary Evil Wicked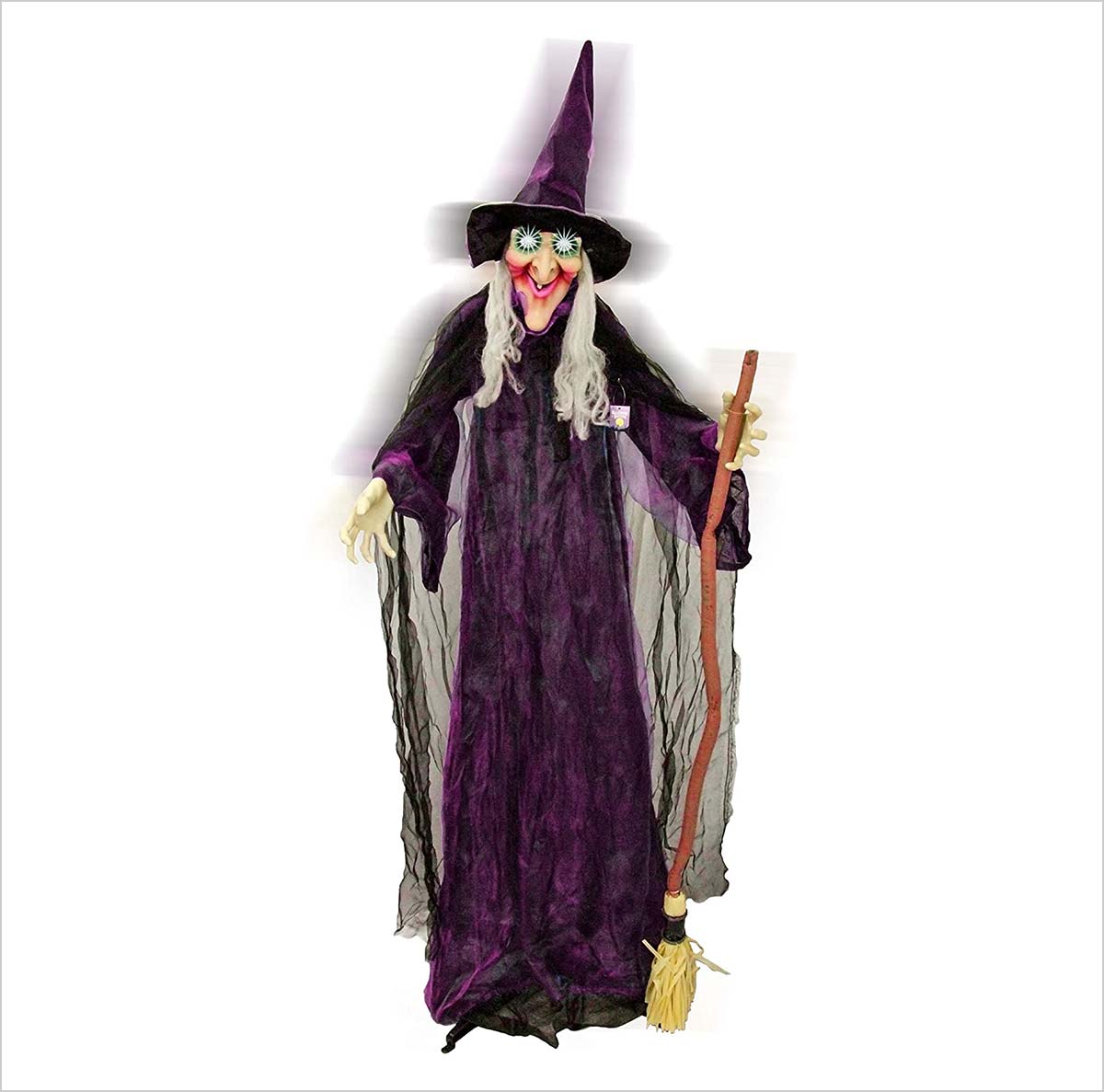 40. Halloween Pumpkin String Lights – 40 LED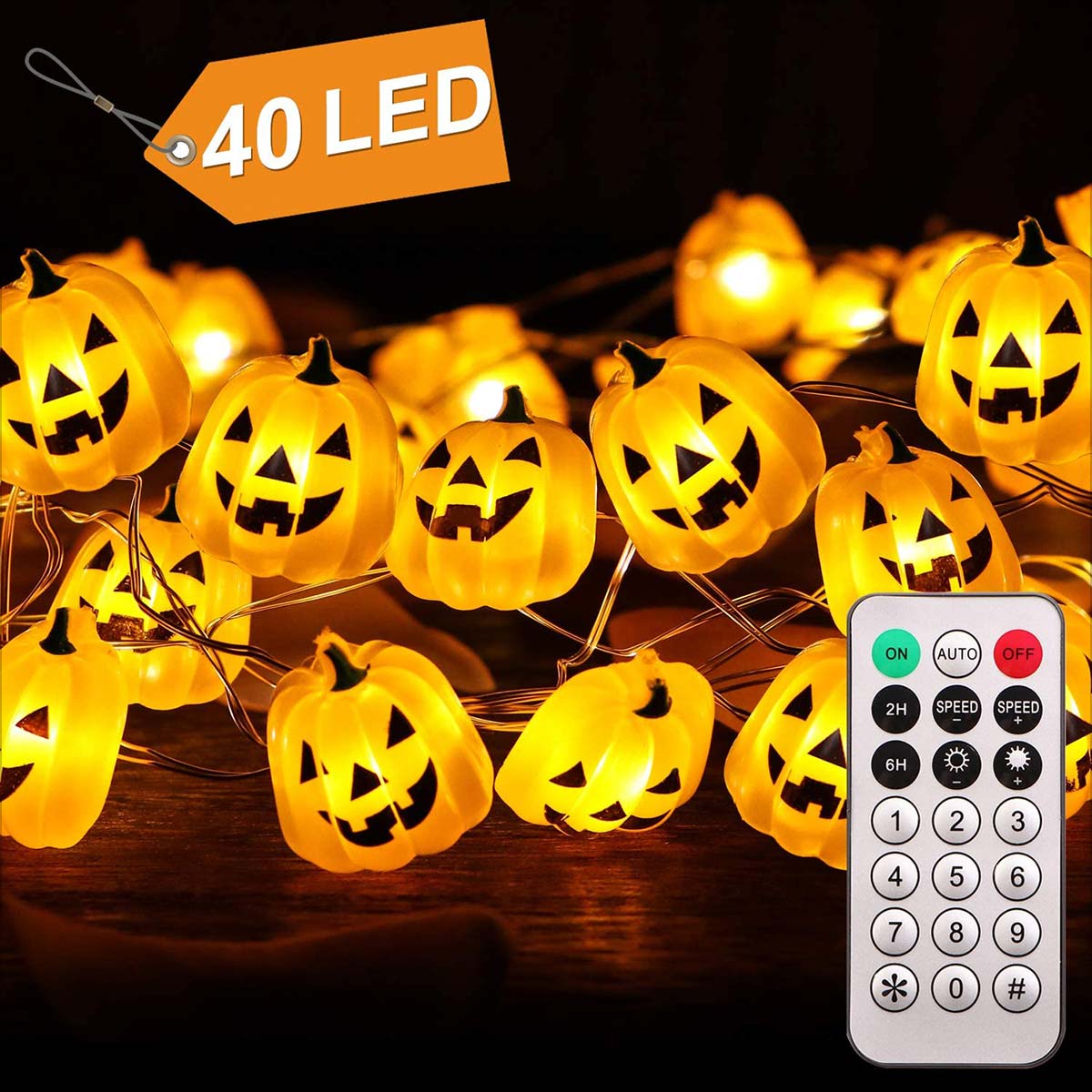 41. Halloween Haunters Animated 6 Foot Long Inflatable Black Coffin with a Rising Dracula Vampire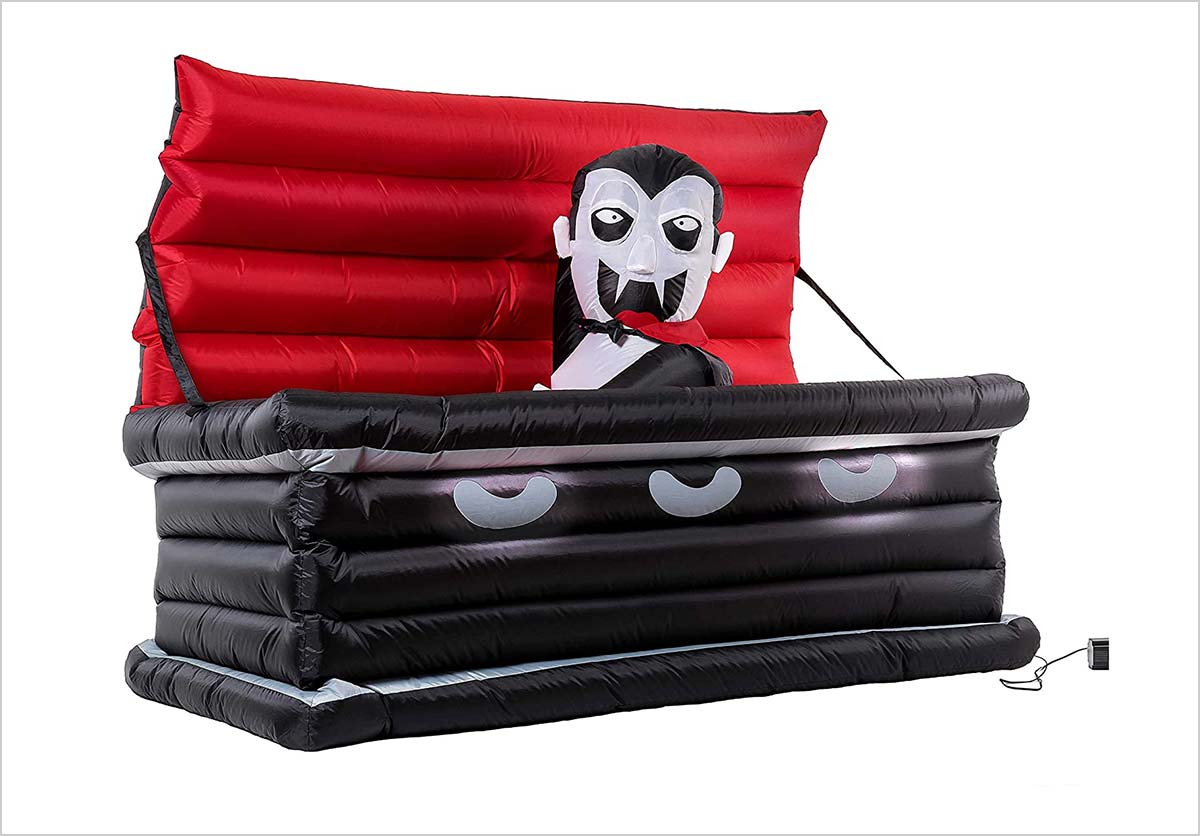 42. Halloween Scary Clown Door Cover – 30 x 72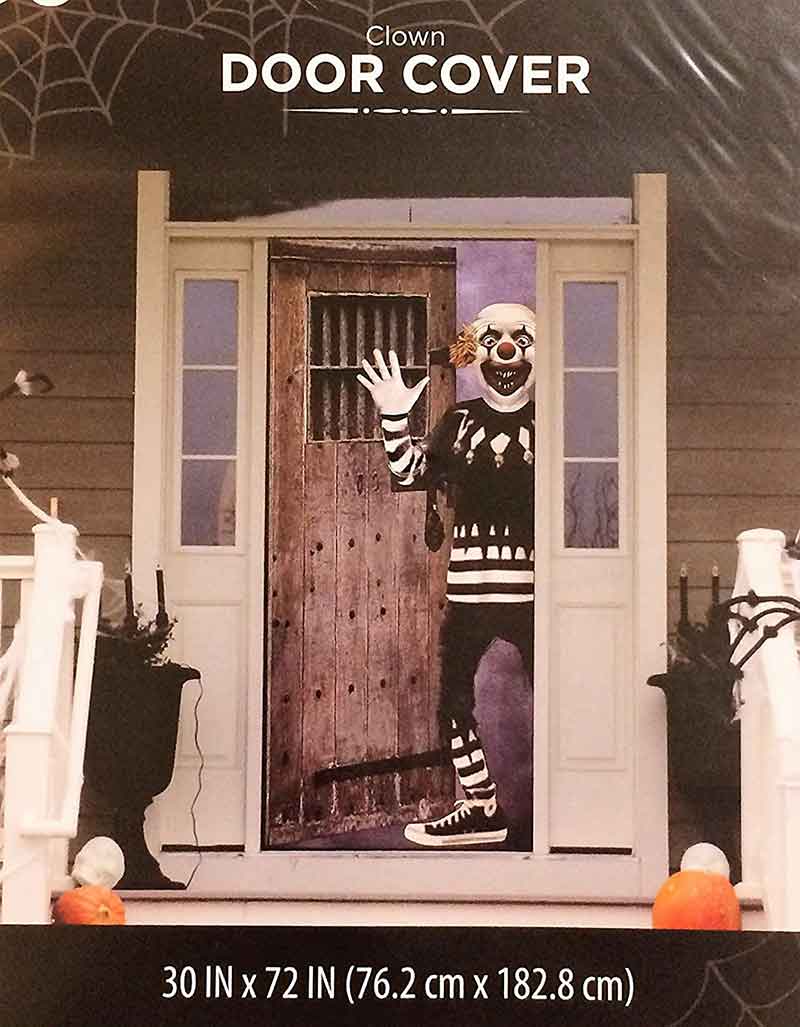 43. Climbing Zombie Groundbreaker with Sound and Flashing Eyes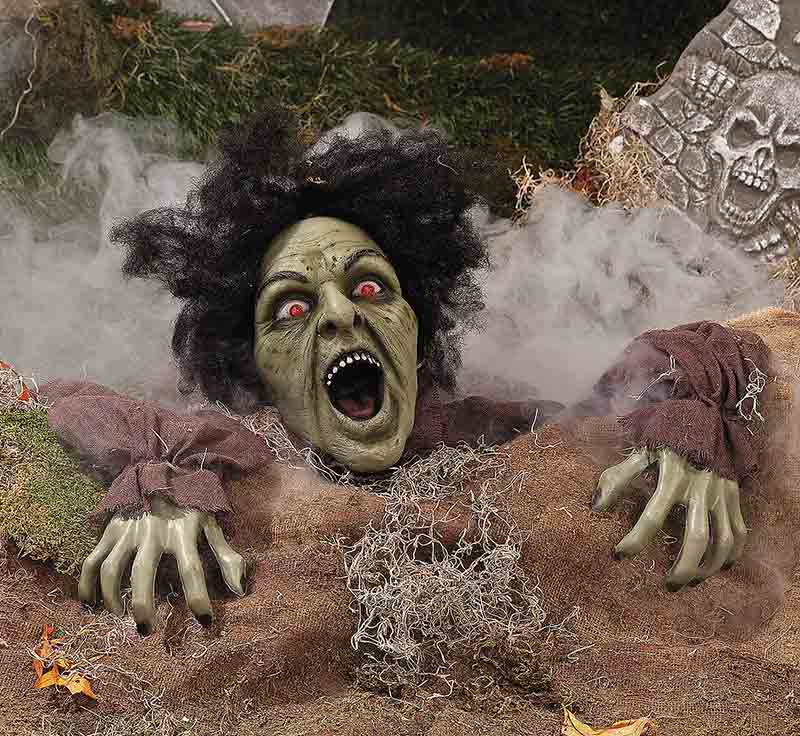 44. 72 inch Cocoon Corpse Decoration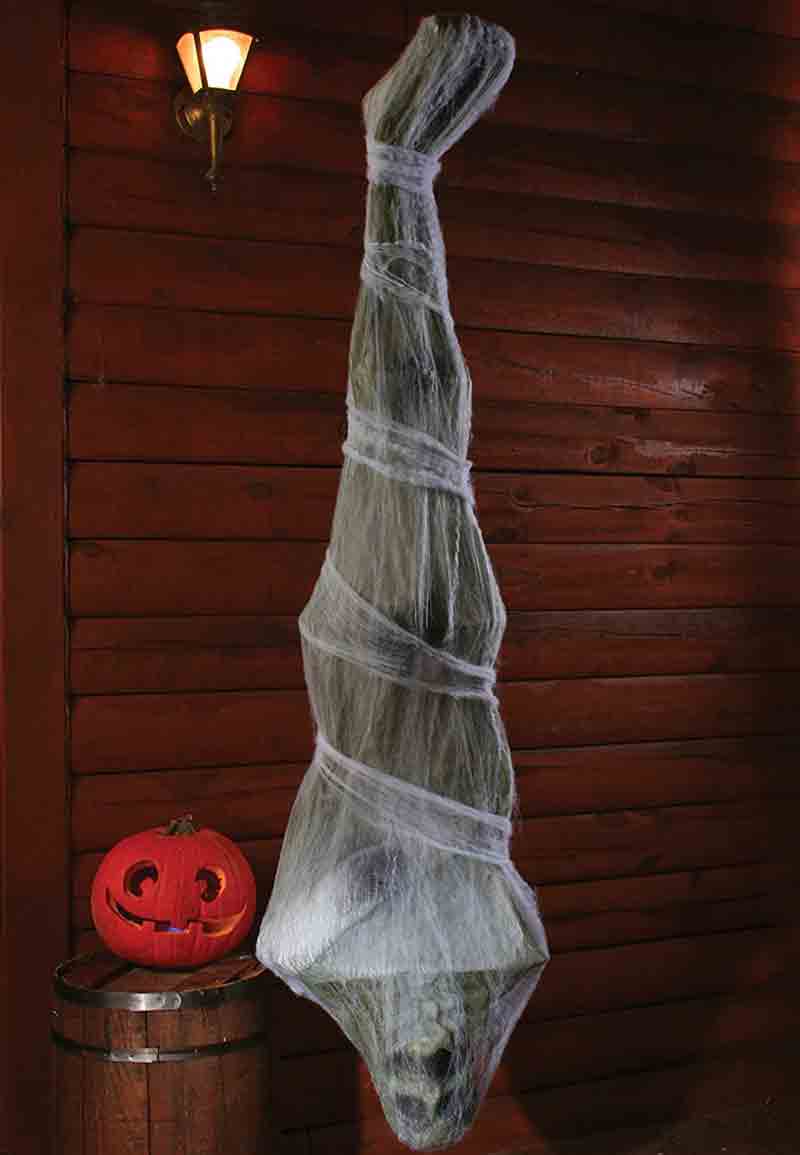 45. Halloween Real Looking Skull and Skeleton Arms by Spooktacular Creations for Halloween Yard Decorations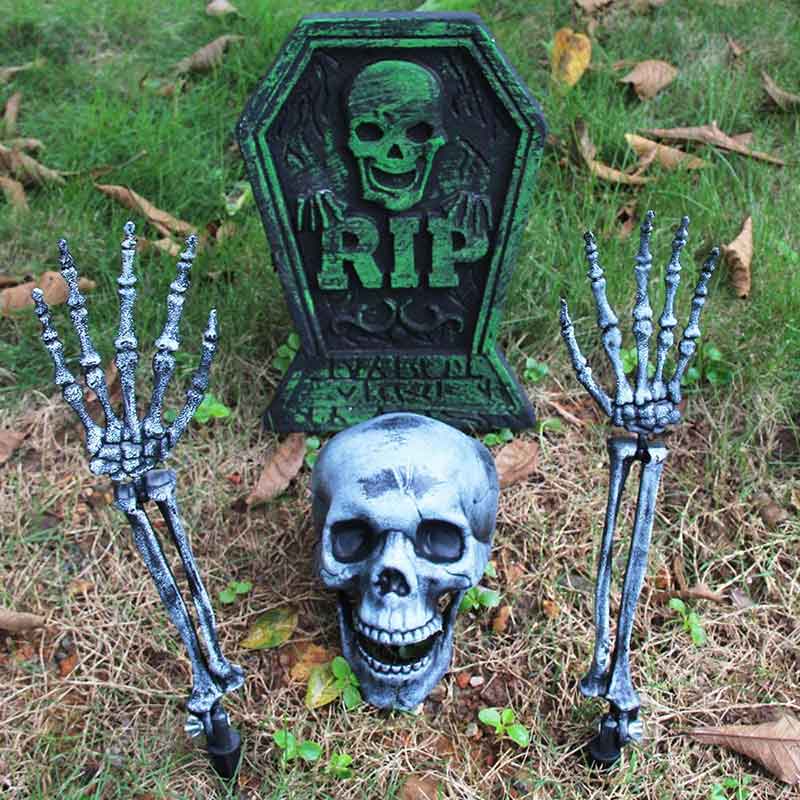 46. 142 Inches Halloween Spider Web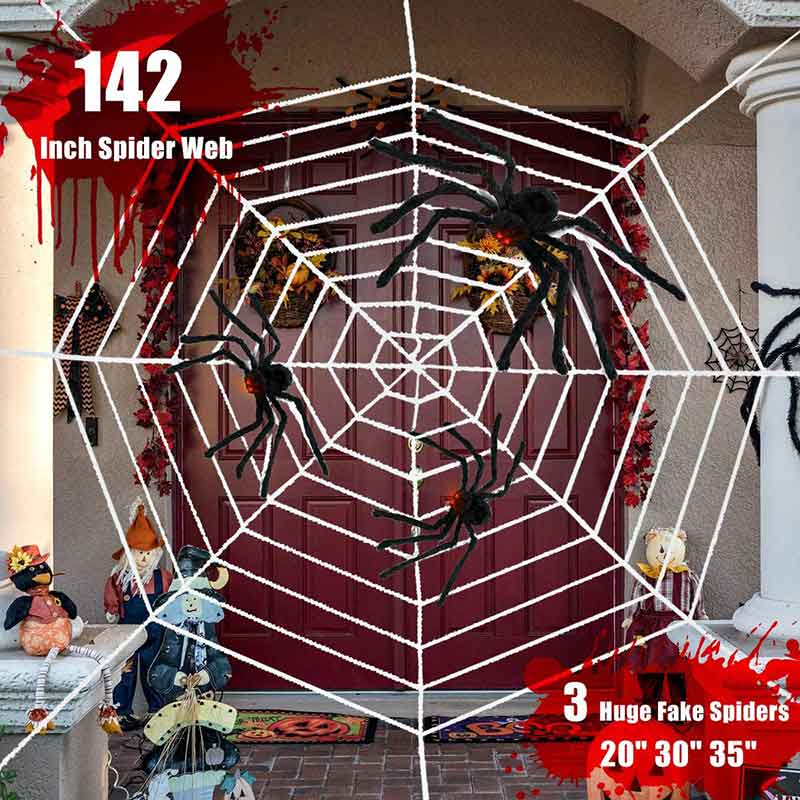 47. Floating Skeleton Halloween Animatronic – Sound and Touch Activated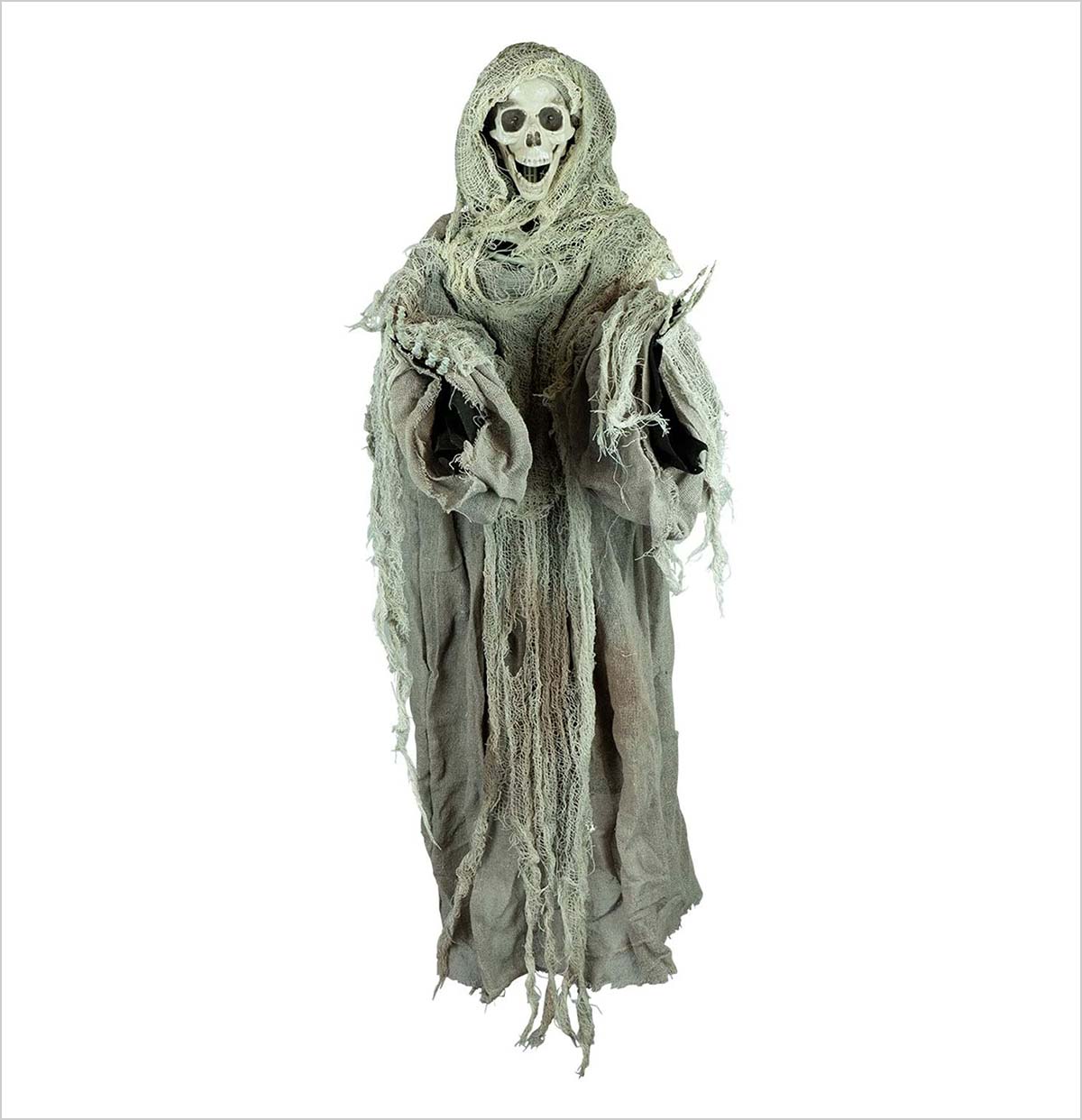 48. Halloween Haunters Animated Standing Life Size Skeleton Death Reaper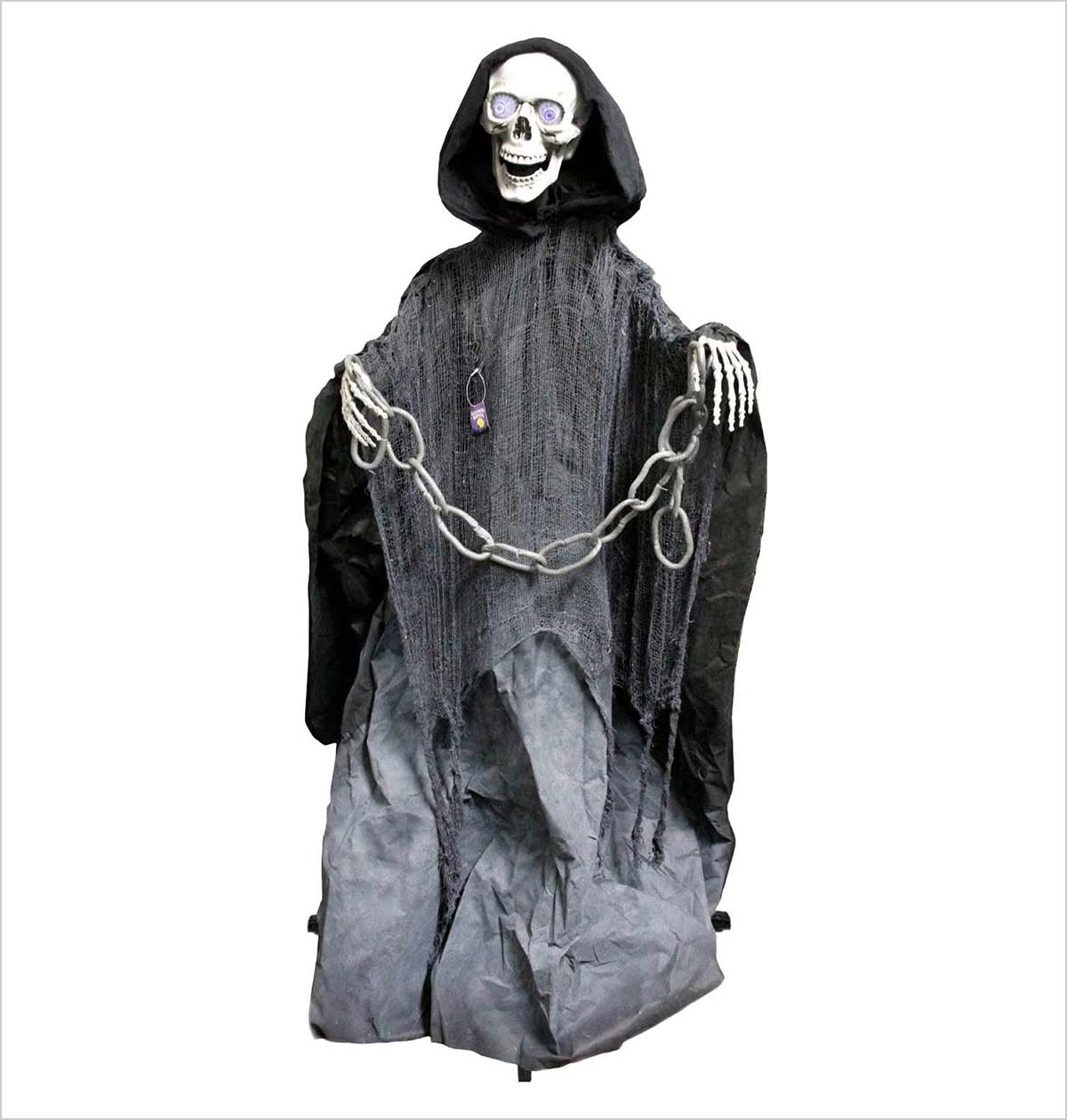 49. Seasonal Visions – Crouching Clown RED Animated – Standard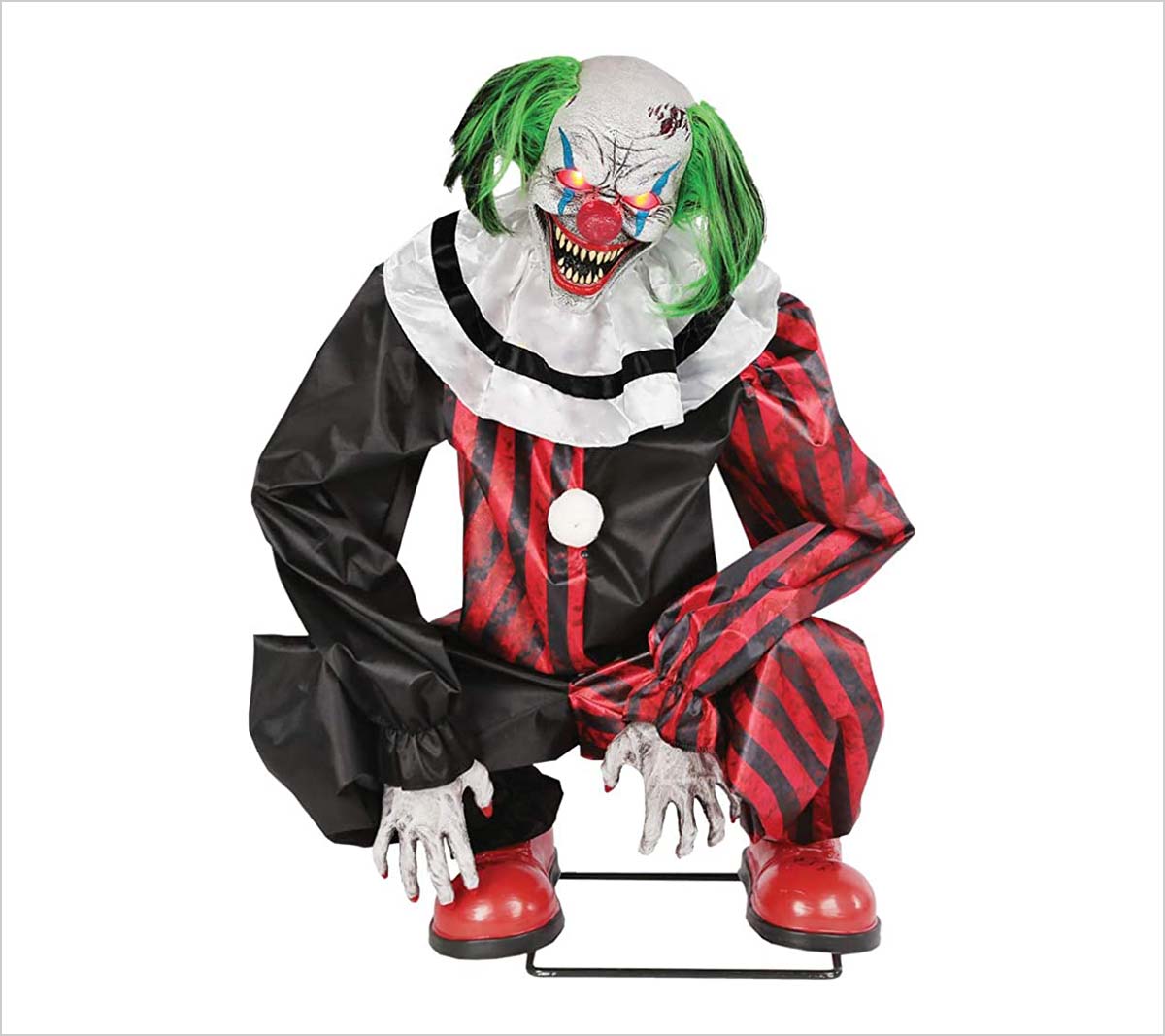 50. 4 Foot Tall Halloween Inflatable Black Cat with Witch Hat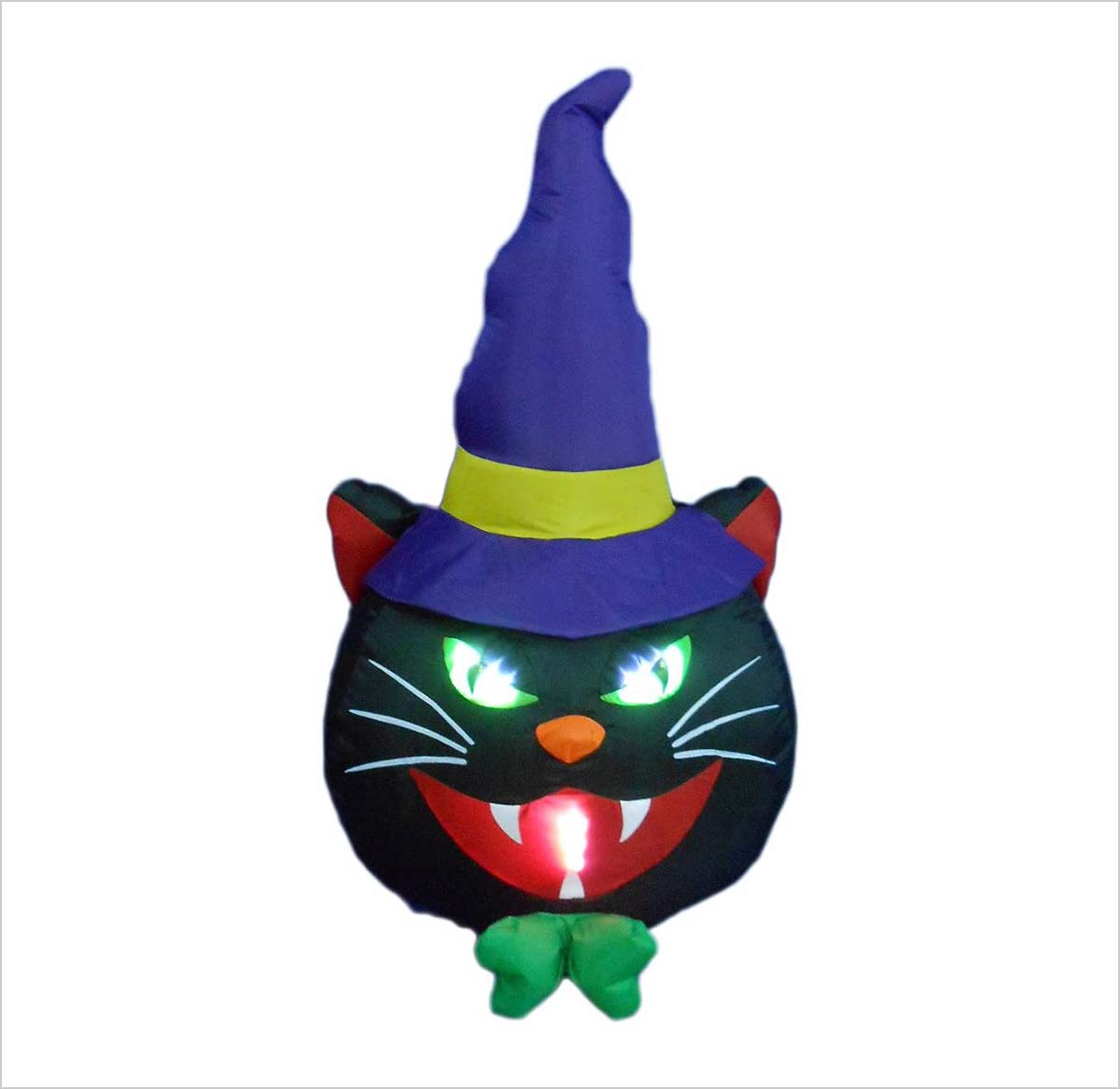 51. Flying Demon Halloween Animatronic – Sound and Touch Activated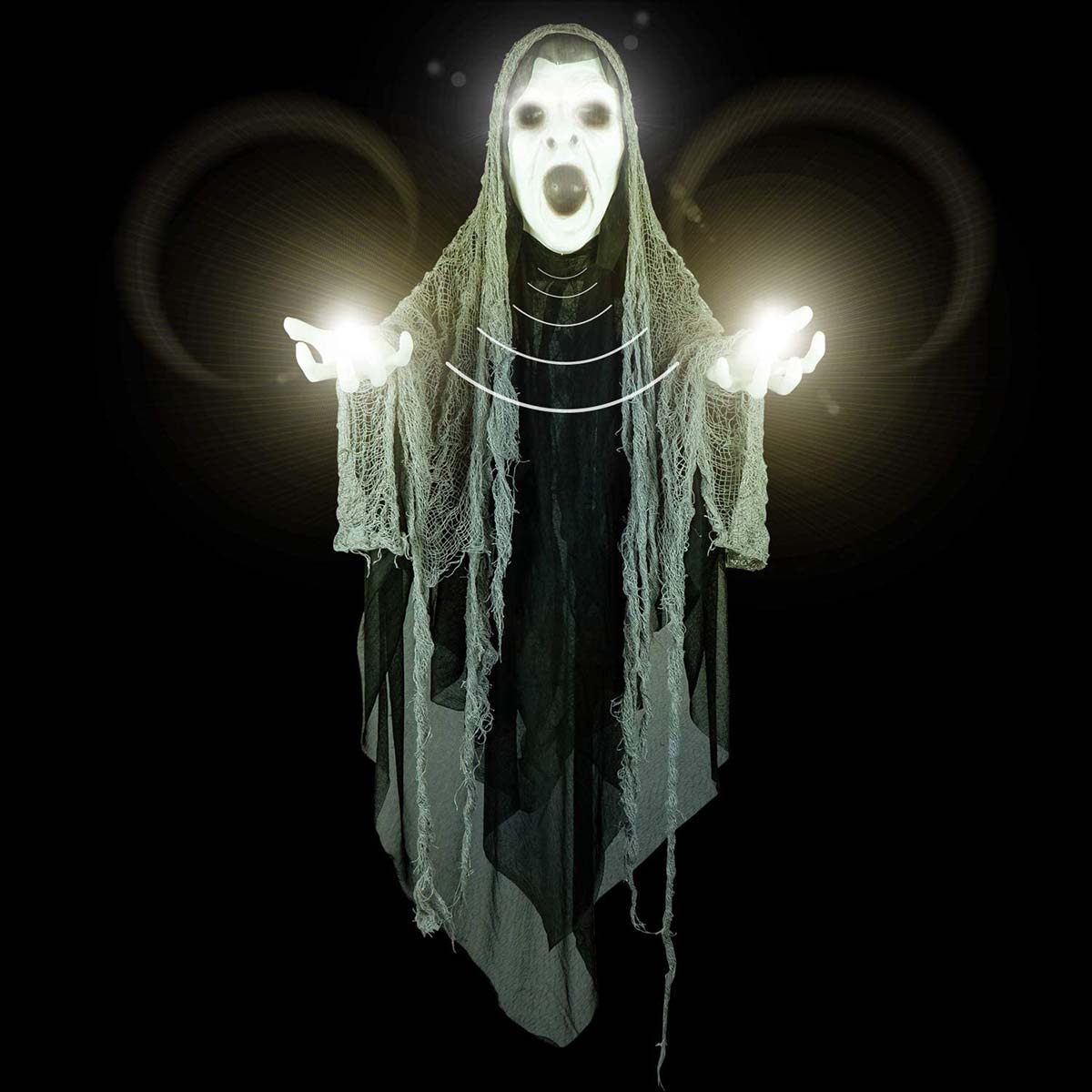 Recommended: