Hello there friends! First things first; we would like to thank you for sharing your positive feedback with us on our previous blog, we are overwhelmed to say the least and we appreciate your efforts of encouraging us to keep designing & writing better. However, our today's blog is not paired with a mock-up PSD file and it does not feature a brilliant artist but what we have is something that you absolutely love so, continue reading to know more!
Recommended:
– – – – – – – – – – – – – – – – – – – – – – – – – – – – – – – – – – – – – – – – –
400+ Free Printable Halloween Pumpkin Carving Stencils, Patterns, Designs, Faces & Ideas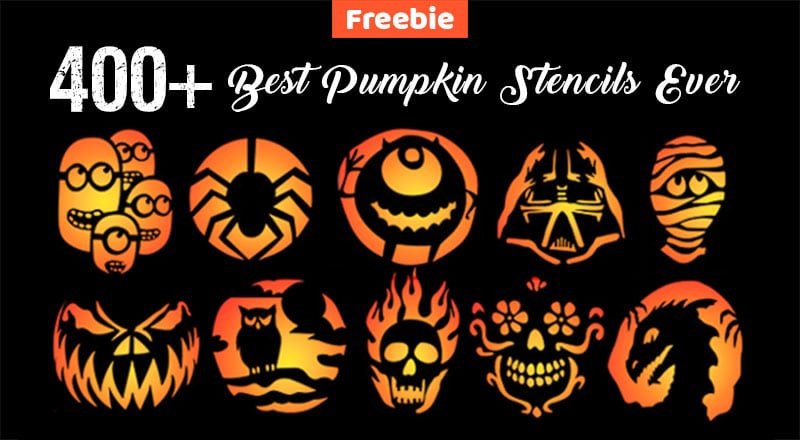 – – – – – – – – – – – – – – – – – – – – – – – – – – – – – – – – – – – – – – – – –
How many of you love to carve your pumpkins? We can bet that most of you do and that is why we are here with our free scary Halloween pumpkin carving stencils of 2020 collection for you guys. Oh, and if you think that this pumpkin carving is too much work, then feel free to share with your friends who enjoy doing it every Halloween.
Okay so, we have got some exciting new stencils to share with you and we cannot wait no more! Pumpkin carving is one of those Halloween related activities that an entire family can involve in and have a great time. It is not just for bonding, but you will also be creating masterpieces for your Halloween themed party and that is what all of us want, right?
Allow us to share what you must have so, that you can start working on carving your pumpkins using our free scary Halloween pumpkin carving stencils of 2020:
Fresh pumpkins (of course)
Waste bins
Pencils and markers
Tissue paper sheets & cleaning cloths
A pair of scissors
Scoops or large spoons
Spray bottles (having the water & bleach solution)
Now, it is important for you (and for your family members) to know that pumpkin carving comes may seem an easy thing to do but it requires patience and at times, practice too so, you all must be physically & mentally prepared to carve out the pumpkins.
Also, always remember that you clear out your schedule on the day of pumpkin carving as you would not want to leave it in the middle to attend a call from a loved one or to respond to an important email – because the moment you will allow the air enter the interior of the pumpkins, the process of oxidation will start resulting in bacteria and mushy pumpkins.
It is also important for you to decide on a theme as well before you even start carving the pumpkins for example; you can pick an adorable yet scary theme so, that whoever happens to look at the preparations & decorations does not get super scary vibes or you can go for a very scary theme in which you are not planning on to add anything cute, you know!? It is up to you to decide but make sure that all the décor items as well as the carvings depict the same theme.
We have a variety of stencils and you can choose from them to make your Halloween party the best party in the neighborhood (seriously, you can arrange an online décor competition revolving around this idea where your circle of friends will be able to vote for the best decorations and stuff like that!).
We will start with the spooky ones first. The classic carving idea is to create Jack-o'-lanterns and your first pick must be our spooky halloween pumpkin face Ideas for 2020. It is just the right amount of scary and we know that you will have a great time carving it.
Second one which is scary halloween pumpkin face is one of our favorite stencils and we have kept the eyes big to give out the perfect light once the lanterns are created. If you want to create something that is scary as well as angry then we know what you need: our 4th one Angry Halloween Pumpkin Printable Template for 2020.
We have included 400+ stencil set that has few cute ones and for Minion lovers out there too with our Minion Pumpkin Stencil and we can bet that this is going to be your favorite as it has a modern day touch attached to it and we love it. And once you are done carving your favorite characters by using our list of free scary Halloween pumpkin carving stencils, do not forget to spray them time to time so, that the pumpkins stay fresh for at least three to four days.
Our stencils are free and all you will have to do is to take the print outs and draw them onto the pumpkins with a help of a pencil, knife or may be with a pair of toothpicks. We hope that you will find all the stencils super fun to work with. Oh, and do not forget to share the blog post & stencils with your favorite people. Until next time, take care & happy pumpkin carving!
– – – – – – – – – – – – – – – – – – – – – – – – – – – – – – – – – – – – – – – – –
Don't miss out these cool Halloween freebies:
– – – – – – – – – – – – – – – – – – – – – – – – – – – – – – – – – – – – – – – – –
10 Free Scary Halloween Pumpkin Carving Stencils, Printable Patterns & Ideas 2020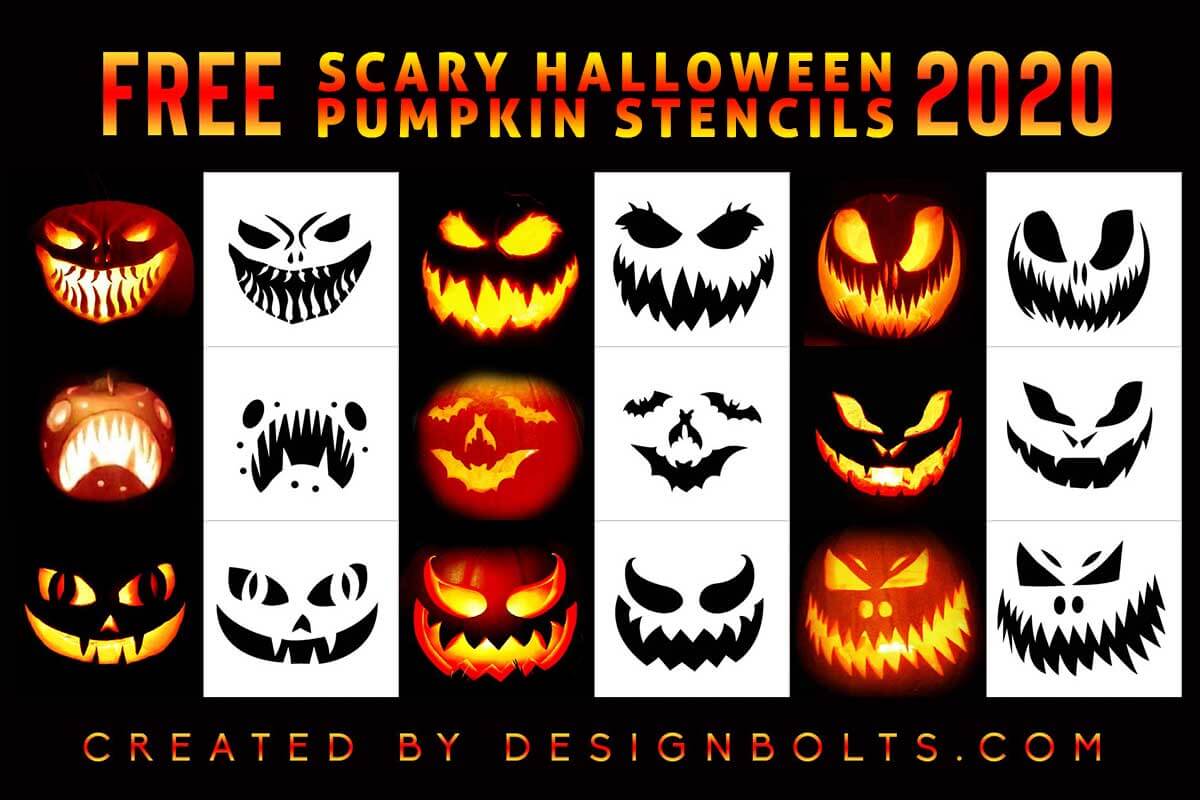 1. Spooky Pumpkin Carving Stencil 2020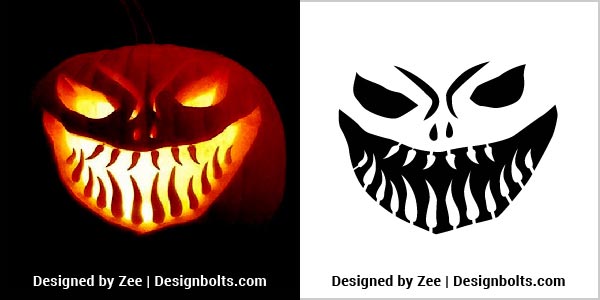 Download Stencil 1
2. Scary Pumpkin Carving Stencil 2020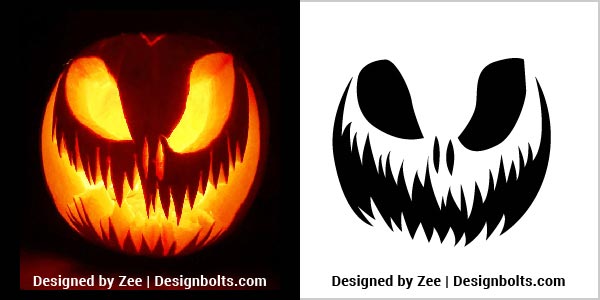 Download Stencil 2
3. Scary Pumpkin Carving Template 2020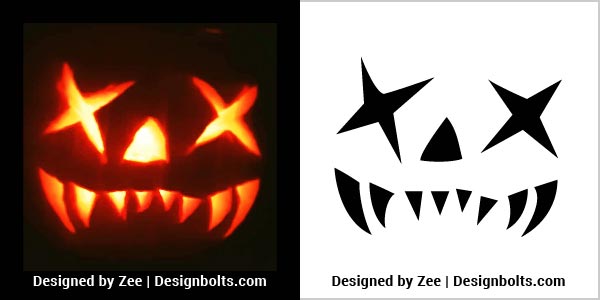 Download Stencil 3
4. Angry Pumpkin Carving Printing Template 2020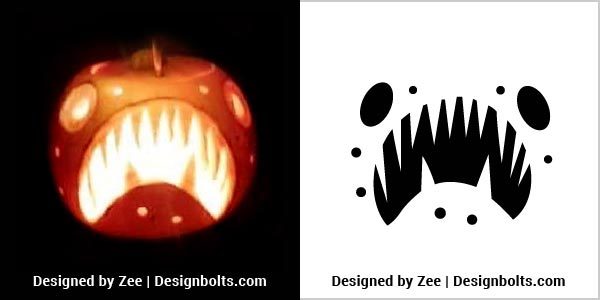 Download Stencil 4
5. Bat Pumpkin Carving Stencils 2020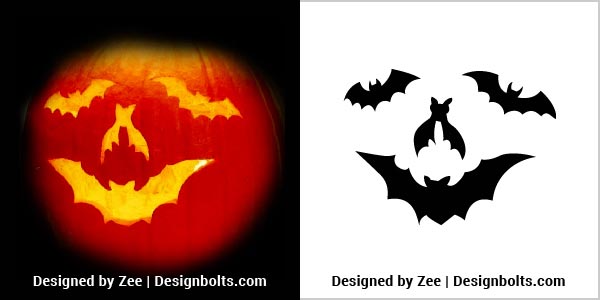 Download Stencil 5
6. Scary Pumpkin Carving Printing Template 2020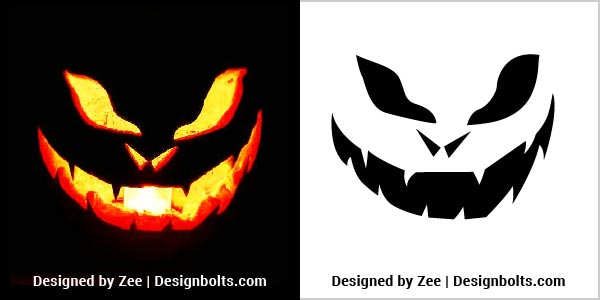 Download Stencil 6
7. Cat Pumpkin Carving Stencil 2020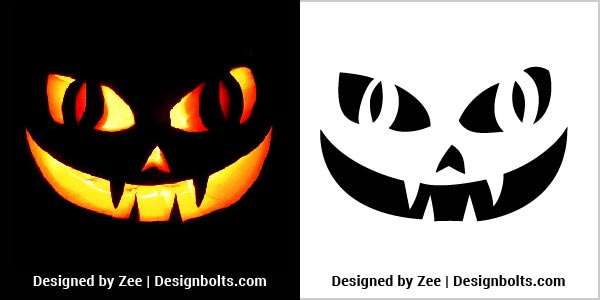 Download Stencil 7
8. Scary Pumpkin Carving Stencil 2020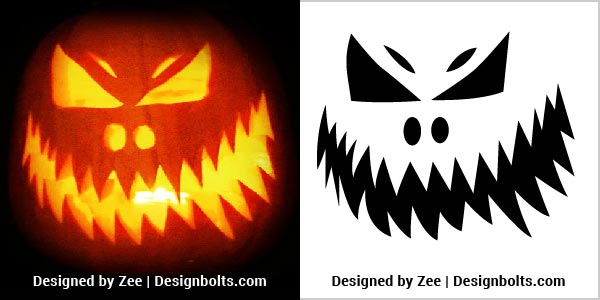 Download Stencil 8
9. Venom Pumpkin Carving Stencil 2020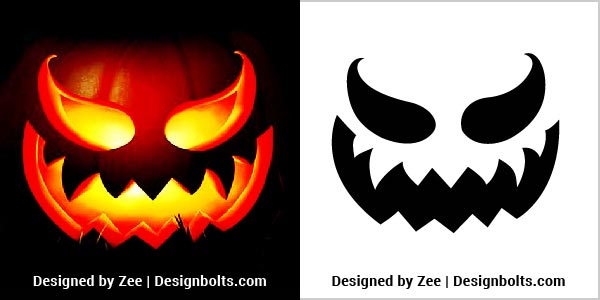 Download Stencil 9
10. Venom Pumpkin Carving Stencil 2020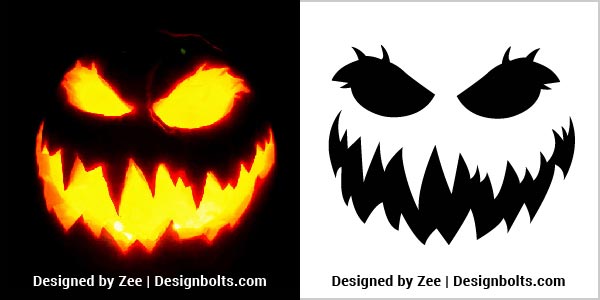 Download Stencil 10
More 2019 Halloween Pumpkin Faces to Carve: