Hi there everyone! We hope that you and your quarantined days are getting on the track as for many countries, it has been months that the people could go out to study, work or shop for that matter and now, that they are only leaving their houses when absolutely necessary, it is becoming a part of our lives. And we are glad that at least, we are safe and not being exposed to this Coronavirus.
Recommended:
– – – – – – – – – – – – – – – – – – – – – – – – – – – – – – – – – – – – – – – – –
400+ Free Printable Halloween Pumpkin Carving Stencils, Patterns, Designs, Faces & Ideas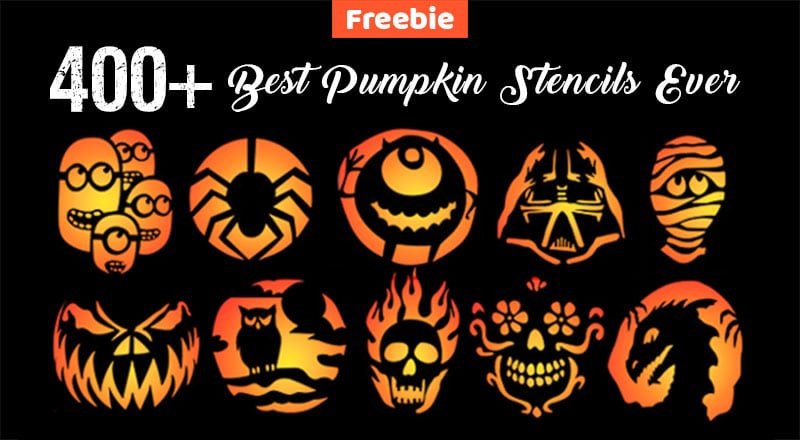 – – – – – – – – – – – – – – – – – – – – – – – – – – – – – – – – – – – – – – – – –
We also know that most of you guys have started to learn new things and skills like a new language or a new tool and I hope that you are using our ideas and mock-up PSD files to design amazing things for your personal & professional projects. But more than work and being productive these days, what's more important is that we all need to take care of ourselves and of our thoughts because we know our minds and worries are all over the place and because we still don't know what's going to happen in the near future, the fear is taking a toll on us and we think that unwinding is something that we should do so, that we can stay sane.
There are many things that we can do (that are not work related) in order to stay productive but not for earning money or meeting deadlines but to make sure that we are putting our heads in something that can distract us from the fears of the unknown and uncertainty. Engaging in healthy activities can literally give us all the break that we need right now so, that we can go back to our home offices all charged up. And earlier this week when we were discussing with our friends that what they are doing to make their self isolation days bearable, we had already decided to share a few tips & activities with you.
For starters; we have seen that many people around the world are spending their extra time in trying out new recipes that they are following from the internet. Similarly, many people are baking stuff from cute little tarts to big brownie cakes and we have also seen innovative recipes of eggless cakes, sugar free cookies too and we think that if you want to learn anything related to cooking or baking then, this is the right time to do that.
You can also learn to create paintings and drawings as well to bring out the inner artist in you or how about renovating your house on a smaller scale by following DIY projects? We think that, that does sound doable and will also be fun too. So, if there is any corner of your house or room that needs an upgrade, then you should get things out from your storage room and get started!
There is another thing which you can do to not only keep yourself busy but everything that you will do is going to help you for the upcoming Halloween parties as well. What? Does that sound like we are rushing into things? Well, as we all know that time flies, we will be celebrating Halloween very soon and it is better to be prepared, right? So, what we have for today to share with you guys is pumpkin carving activities but there is a twist and you need to keep reading the blog to know about it.
As we all know that the Coronavirus is scary enough to make us all stay indoors then we think that we can feature it on our pumpkins. Isn't it an interesting idea? If you think that it is then we can bet that you will love what we are about to share with you now. Yes, you guessed it right. We have 10 free Coronavirus scary pumpkin carving stencils 2020 so, all you have to do is to learn how to carve using our stencils and you will be good to go.
From mask faces ghosts and characters to the virus itself shaped as monsters, we think that you all are going to love carving on these interesting carving stencils. Oh, and do not forget to gather the kids in your family too as this activity is another healthy family activity and to create something scary out of the stencils will be super fun too. If you have some extra time on your hand then we would suggest you all to practice writing or carving witty statements on your pumpkins as well.
And we are sure that you do know how to carve on the pumpkins using your carving knives and tricks that we have shared in our previous blogs as well so, all you have to do is to get your hands on our 10 free Coronavirus scary pumpkin carving stencils for 2020 and start doing things in your own way because you gotta be prepared for all the carving before the night is here.
– – – – – – – – – – – – – – – – – – – – – – – – – – – – – – – – – – – – – – – – –
Don't miss out these cool Halloween freebies:
– – – – – – – – – – – – – – – – – – – – – – – – – – – – – – – – – – – – – – – – –
10 Free Scary & Funny Coronavirus Halloween Pumpkin Carving Stencils 2020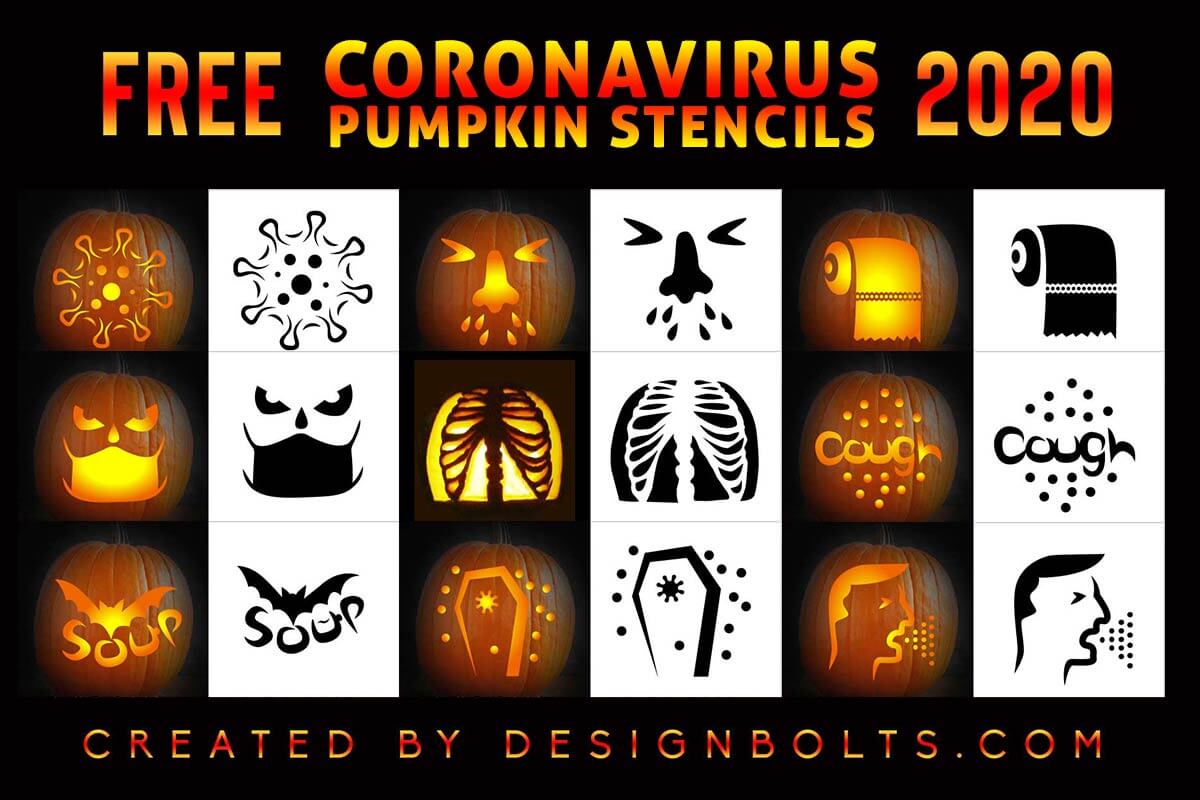 1. Free Coronavirus Pumpkin Carving Stencil 2020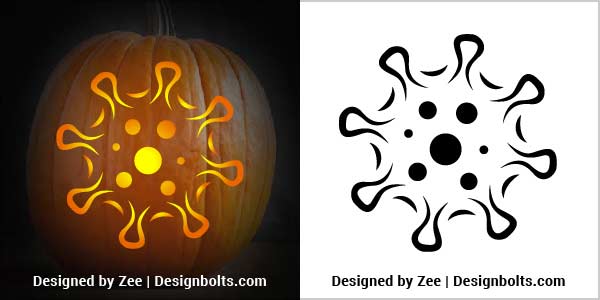 Download Stencil 1
2. Free Coronavirus Pneumonia Pumpkin Carving Stencil 2020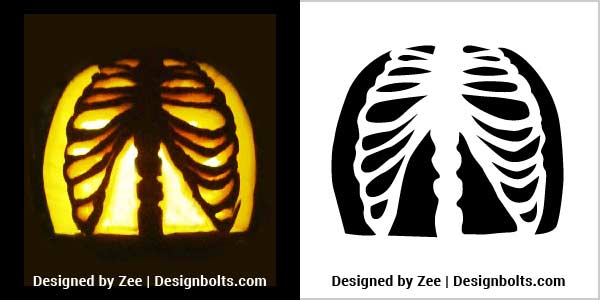 Download Stencil 2
3. Free Coronavirus Toilet Paper Pumpkin Carving Printable Pattern 2020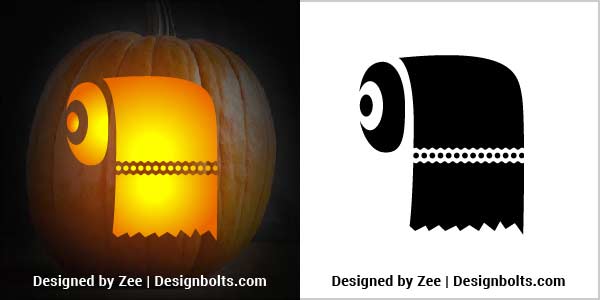 Download Stencil 3
4. Free Covid-19 Cough Pumpkin Carving Pattern 2020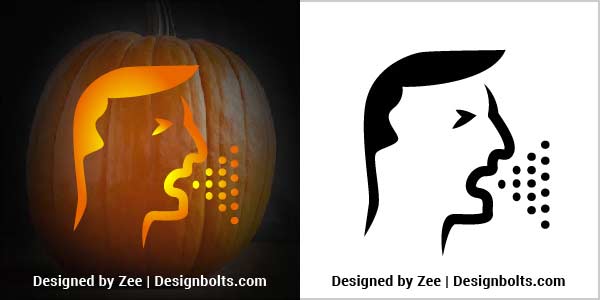 Download Stencil 4
5. Free Covid-19 Pumpkin Carving Stencil 2020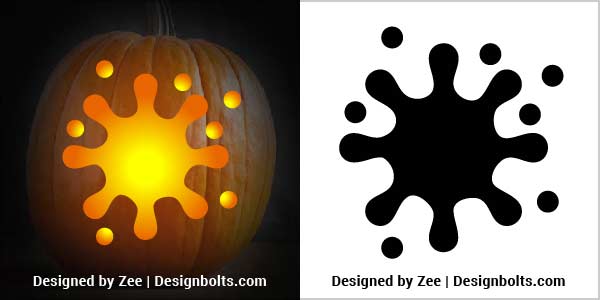 Download Stencil 5
6. Free Coronavirus Jack O'Lantern Carving Stencil 2020
Download Stencil 6
7. Free Coronavirus Bat Soup Pumpkin Stencil 2020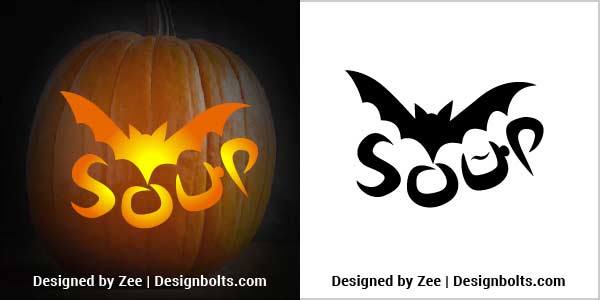 Download Stencil 7
8. Free Coronavirus Symptom Cough Pumpkin Carving Template 2020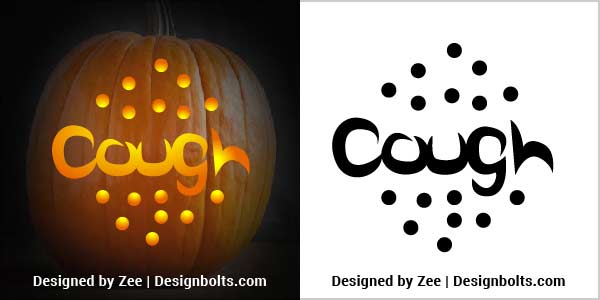 Download Stencil 8
9. Free Coronavirus Coffin Pumpkin Stencil 2020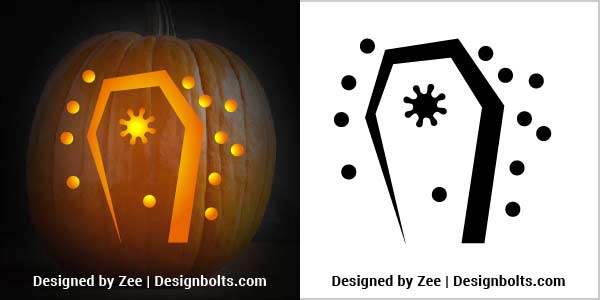 Download Stencil 9
10. Free Covid-19 Symptom Sneeze Pumpkin Stencil 2020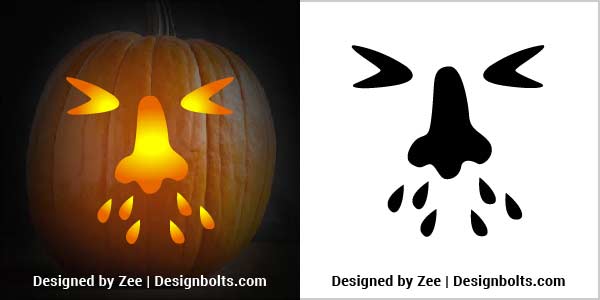 Download Stencil 10
More 2019 Halloween Pumpkin Faces to Carve: