Hello there friends! Thank so much for sharing your feedback with us on our previous blog, we hope that you will also make the most of it. For our today's blog, we have a very interesting and of course, free mock-up PSD to share with you guys so, let us get started!
As you all know that the weather is getting hot day by day and for those who have to go out to their work places and to get done with chores, it is becoming quite difficult to ignore the heat and sweat. Wearing a P-Cap can solve the problem and we also feel that P-Caps are still among the cool things that add to our fashion statement and to cater to two things at a time, we decided to create a free P-Cap logo mock-up PSD for you guys.
Since we always keep our mock-up PSD files highly editable so that you can create whatever you want to create with them, this mock-up PSD of a free P-Cap will also help you for your commercial & personal projects. Oh, and if you run an online store then you can easily create mock-ups and put them on display to know what exactly your audience wants to purchase for themselves and for their friends etc.
Creating a P-Cap design is one of the most fun job to do and you can create as many design options as you want to create following the brief that was shared with you by your client or team lead. In this part of the blog, we are going to be sharing a few tips with you to help you guys designs the best P-Caps in no time. Keep reading the blog to know more!
Recommended: Free Men's P-Cap/ Hat Mockup PSD with Woven Text Logo
Starting off with the color(s) of the P-Cap, it is important to choose those color palettes that are also suitable to wear during the existing weather conditions. For example; dark colors happen to absorb more light energy which results in making the object hot and you would not want to design or wear anything of the sorts for summers especially if that particular item is used to cover your head. Always remember that light colors reflect all wavelengths of light and do not heat up the object.
So, what design ideas come to your mind when you think of working on some of them for a P-Cap? Playful, "serious" or a mix of both? If we were to give you guys a few suggestions (which we are about to do), we would definitely want you guys to be open to try out creating something unique, something that has a meaning to it and whoever would want to purchase the P-Cap for themselves or for their friends, that stuff has some sentimental value attached to it too.
We all know how much we love customized items, right? From coffee mugs to t-shirts to mobile covers to almost everything that can be customized and personalized, we like the idea of our favorite things depicting our personality in one way or the other. So why not a customized P-Cap, right? It will look just great and it will also keep our head safe from the heat too.
Recommended: Free Construction Safety Helmet / Cap Mockup PSD
Like we have mentioned this earlier as well that our free P-Cap logo mock-up PSD can be used for both personal & professional purposes, we will start from the ideas that can be created at a personal level for example; you can create a P-Cap for yourself or for your friend's birthday or you can literally present it as a gift for someone you care about. We really like colors, design elements, movie or anime characters, quotes etc. that a person can relate with on anything that can be worn so, you might want to know the likes and dislikes of your friends and loved ones.
You can also go for patterns or keep the P-Cap design plain & simple with a mixture of colors to see what looks best. For your online store, you can dig in the social media trends that are being liked by the audience you happen to cater to because this will help you in creating the designs that will liked and loved by your own existing and potential customers. As far as the P-Cap designs for corporate offices are concerned, you would want to keep them subtle and to the point for example; main logo of the organization with or without the tag line and that will look great as it is.
And that is all for today, you guys! We hope that you will enjoy working on your own designs using our free P-Cap logo mock-up PSD file and will also share it with your designer friends & favorite colleagues too. Don't forget to send in your queries and suggestions and we would love to get back to you – until then, take care and happy designing!
Free Polyester Mesh Breathable Baseball P-Cap Mockup PSD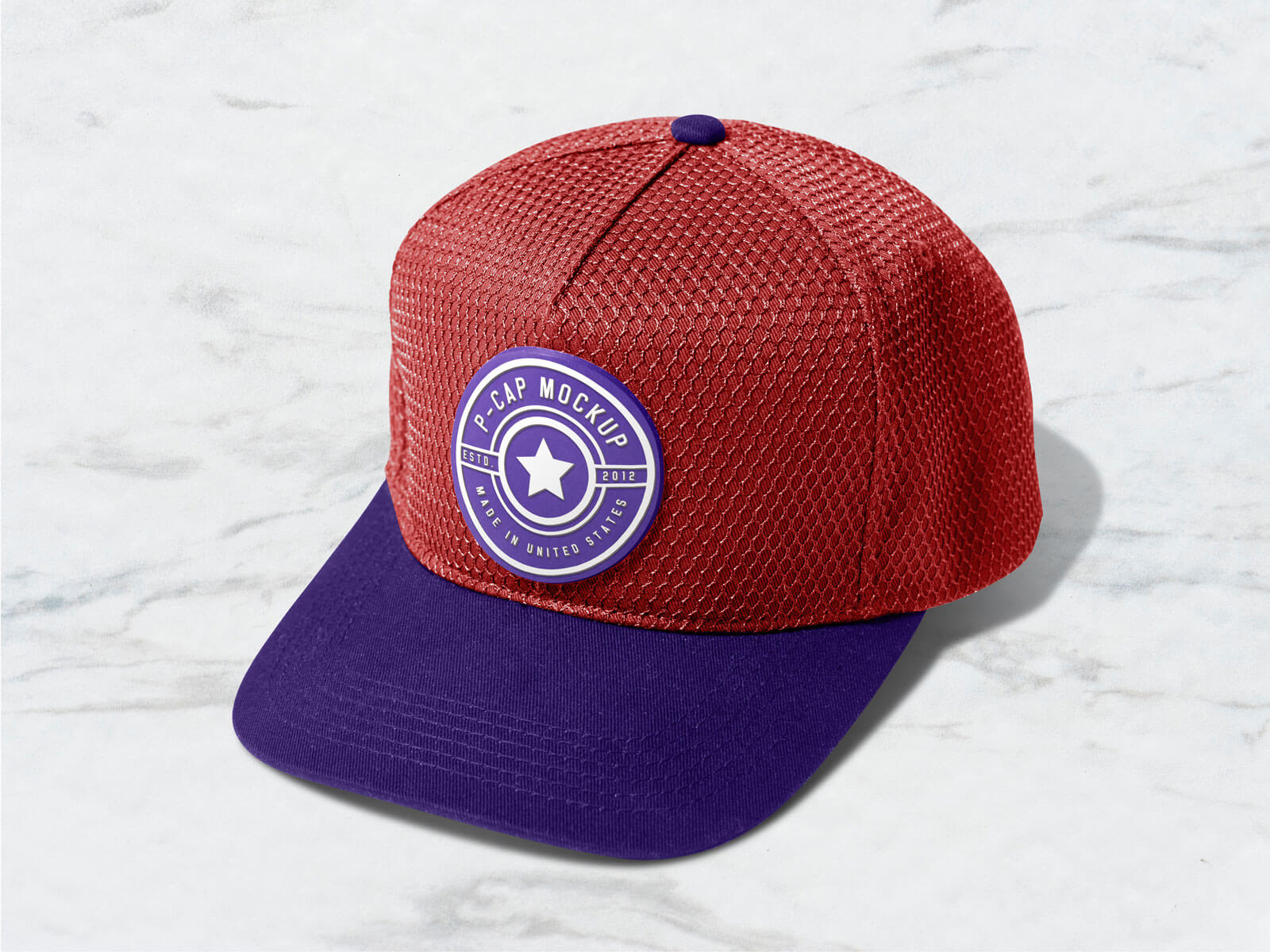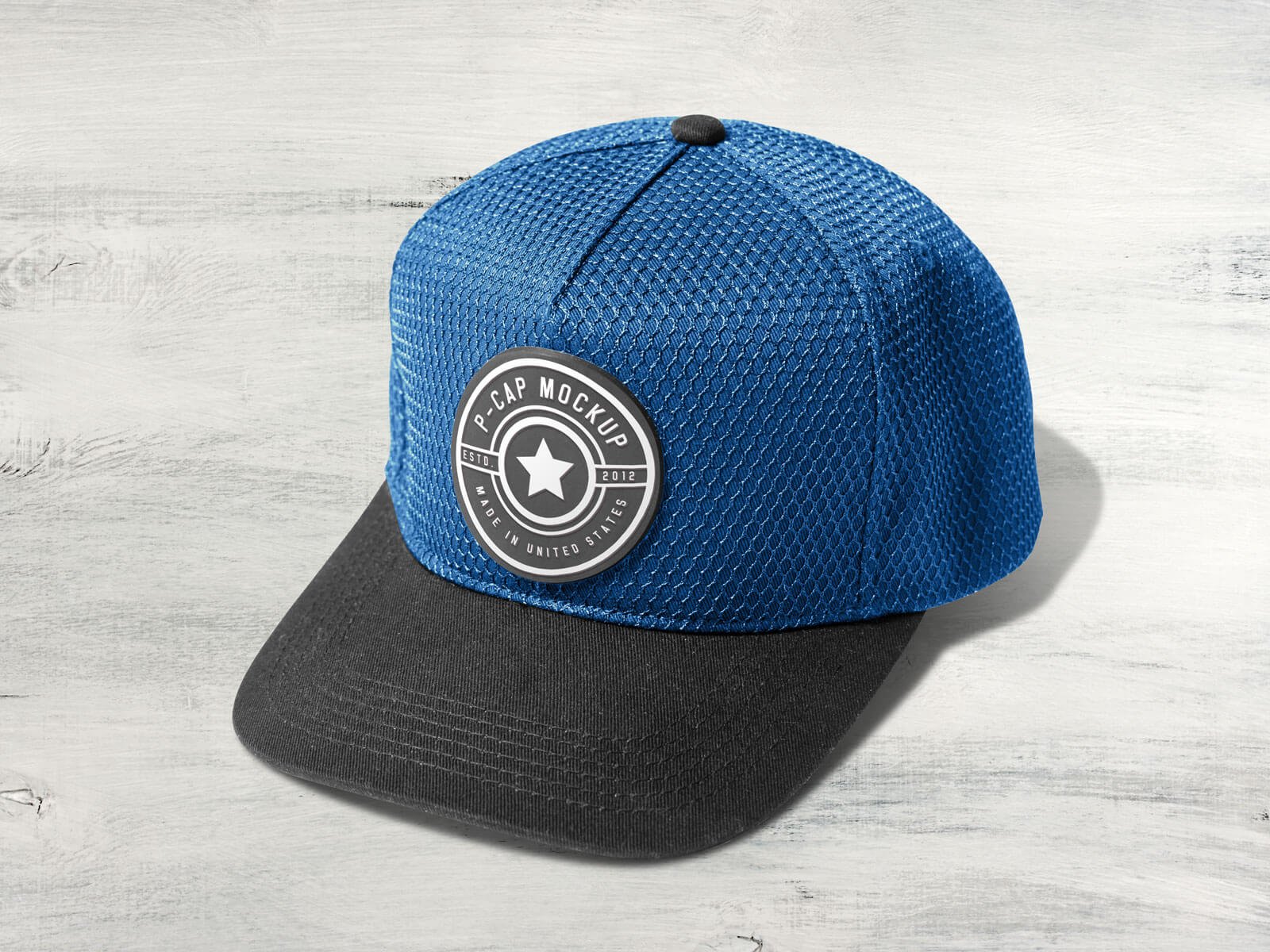 Available Format: Layered PSD with smart object insertion
License: Free for personal and commercial usage
RAR File Includes: Free Baseball P-Cap Mockup PSD
Note:
1. Free Baseball Hat Mockup is allowed to share online (A Must Linkback to this post)
2. Say thanks if you like or share/tweet with your friends. That means a lot to us.
3. And don't forget to subscribe to receive for more high quality premium freebies & awesome articles only.
Download P-Cap Mockup
More High Quality Mockups For Free: