Hello there friends! Do you guys like perfumes and do you purchase at least one perfume every two months – not because you need it but because you have no self-control? If yes, then know that we do it too. What are perfumes for? To hoard, right? And normally what happens is that we go to our favorite perfume shop, test the new perfumes that are there and we get one for ourselves because of classy the odor is and more importantly how attractive the packaging is. We can bet that the same thing happened with you guys as well and well, that's the beauty of it.
As you all must have read the title of our today's blog, we are about to share a free perfume bottle on stand mock-up PSD file with you guys with the help of which, you will be able to design stunning perfume bottles for your own brand or for your client's business so, let us get started!
Getting your product out in the market is one thing but the way you present and market it is another and that's the most crucial one. You have to make sure that whatever you are doing with the product is secondary because the first thing you and your customer get in touch through is the marketing and then it's the packaging.
Allow us to share one example here to help you understand this in a better way: whenever you come across a TV commercial or an ad on your Facebook, Instagram etc. with your favorite celebrity, how do you react? Do you instantly go to the main Facebook Page or Instagram account to check out the services / product or do you scroll past it? If you feel the need to read more about the product ad, then there are chances that you will see it being stocked in a store near you. And then you'd want to try it out – honestly, it could be anything from a food item to a pair of shoes or maybe even a perfume for that matter.
So, what comes to your mind when you think of a perfume bottle? Something extremely beautiful and so attractive that you won't be able to resist it, right? It must be unique and not something you come across while you window shop and it must also speak to you so that it can complement your personality. And how do you make such a thing? Well, your first step was to read this blog of ours and secondly, get your hands on our free perfume bottle mock-up PSD file and continue reading as we are going to be sharing a few design tips with you to help you design the best perfume bottles ever.
Perfume bottles must be created by keeping in mind the notes of the perfume, the "personality" of the perfume as well as the brand and the audience that it was made for. You must have seen some really cool perfume bottles in the shape of heels, dumbbells, hand bags and they are only picked by customers who are intrigued to get a "different" perfume bottle this time around.
What we have done here is that we have created this free perfume bottle mock-up PSD for you guys by placing it on a stand so, when you create your design options, you can share those with the clients in style. The stand is as appealing as the perfume bottle itself and that is what we love about our free mock-up PSD file.
You can start off your design project by also reading up on what your competition is doing, check out their latest ads, TV commercials, the product itself and everything for that matter to find the gap and make things work at your end but also, create something classy that no one could resist. Keep the bottle transparent as it looks ethereal and well, the glass itself sparkles in light and that's literally everything you would want to look at.
For the cap of your perfume bottle, consider the color of the liquid and experiment with different colors and finishes to see what will look good. The copy has to be minimal and choose font families to complement the overall look of the perfume bottle. Oh, and proofread whatever is going to go on the bottle to avoid any grammatical errors.
Once you are done with creating multiple design options of the perfume bottle, do not forget to compile them all in a nice mock-up presentation to share with your team members as well as with your clients.
And that's all for today! We hope that you will find this blog really helpful and will also create stunning designs by using our free perfume bottle on stand mock-up PSD. Until next time, take care!
Free Perfume Bottle on Stand Mockup PSD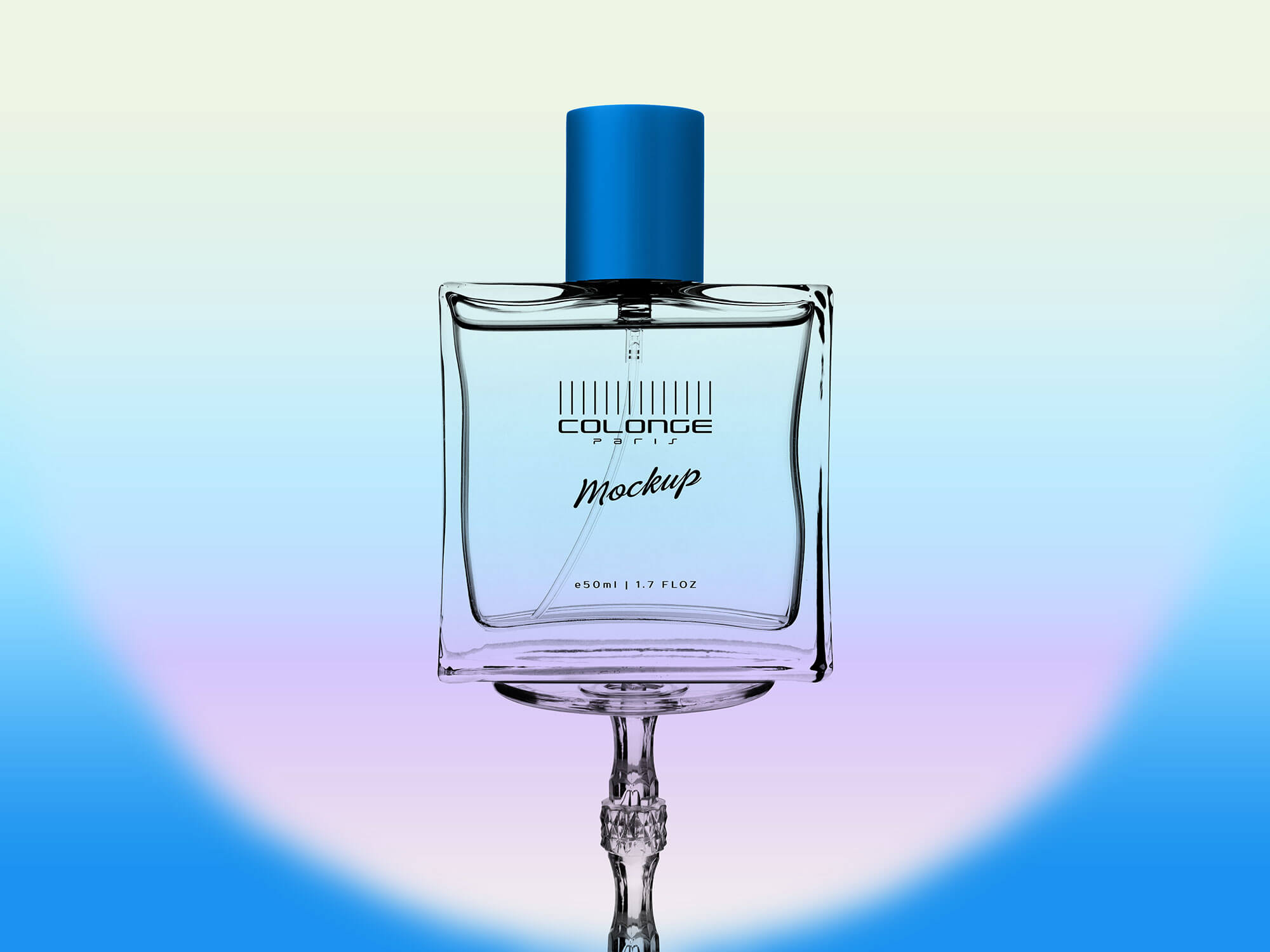 Available Format: Layered PSD with smart object insertion
License: Free for personal and commercial usage
Zip File Includes: Free Perfume Mockup PSD
Mock-up Resolution: 6667 x 5000 px

Note:
1. Free Perfume Mockup is allowed to share online (A Must Linkback to designbolts.com)
2. Say thanks if you like or share/tweet with your friends. That means a lot to me.
3. And don't forget to follow or subscribe to receive for more high quality premium freebies & awesome articles only.
Download Perfume Mockup
More Free Latest Bottle Mockup PSD Files: