Hi there friends! We hope that you enjoyed reading our previous blog and are also going to create something amazing out of it. If you have any questions or suggestions that you want to share with us, then do not hesitate to drop in a comment and we will respond to the queries as soon as we can.
As you guys know that we have creating design & content for our readers around the world and that includes businesses of all sorts, marketing & advertising gurus, and most importantly graphic designers and artists. So, while we were working on our list of design ideas and topics that we need to work on, we decided to add the free shipping container mock-up PSD to it and we think that now, is the right time to start talking about it.
Intermodal freight containers or shipping containers are reusable and strong containers that are used to move raw materials, products and packages between countries and within one same country too. The best thing about these shipping containers is that they actually make it possible for organizations to move their stuff from one place to another.
Everything that goes in the containers stay safe from crucial weather conditions, they are stuffed in safe too and the companies that are actually taking care of the moving process also ensure that the packages are labeled correctly in case there are fragile items. Another good thing about using shipping containers is that they can carry large number of goods so, that you do not have to have them packed in small boxes and bear the costing every time you are trying to deliver online packages or goods.
And did you know that shipping containers that are supposed to carry food items are also lined with appropriate materials? Well, that's because the shipping organizations have to make sure that the food and other edibles do not go bad considering it could take up to several days, weeks and at times, months for the containers to actually reach at their designated countries and cities.
Our purpose of creating this free shipping container mock-up PSD is to help business people and their marketing organizations to design unique containers for the businesses. But there is something more that you guys must know for example the colors of the shipping containers and what do they indicate!? So, a shipping container in white or orange color (normally) indicates that this one right there is a brand new container and is only being used for shipping in one direction. Such containers are labeled as general purpose storage containers.
Blue, red and green colored containers are basically owned by organizations and they keep their shipping containers in those colors so, that they can be recognized and distinguished easily whereas, a shipping container that is either brown or maroon indicates that these containers are owned by leasing companies. Such companies also mark their containers will logos too but it is made sure that those logos are small / not too noticeable so, that their safety can be ensured.
Okay so, coming back to our free shipping container mock-up PSD file: as you guys know that we keep all our PSD files highly editable and photorealistic to make sure that once you are ready with the mock-up designs, you can actually present your creative thoughts in a way that the decision making bodies are able to visualize how things will look like in real life. And then of course, you get to add and remove the smart objects too so, it the ball stays in your court all the time.
Now, what is important here is that since shipping containers are too expensive, there are many other factors and costs are involved that determine if the containers are good to perform the tasks. From colors to design elements to unique numbers that are assigned to the containers, everything plays a crucial role and it is better to have the designs approved before you release the art works.
And like we always say, making a detailed and self-explained mock-up presentation is something that will always help you in the process. Not only does it help you and your team leads / clients etc. see the actual thing right there in front of your eyes even before it has been manufactured or produced, you can also revise the designs, bring in advanced approaches then and there in the designs to make things work in a better way.
So, get your hands on our free shipping container mock-up PSD file today and start creating the designs for your shipping containers. Don't forget to create a nice mock-up presentation too so, that you and your client(s) can have a review meeting in order to finalize the designs. Oh, and do share our blog with your favorite colleagues too!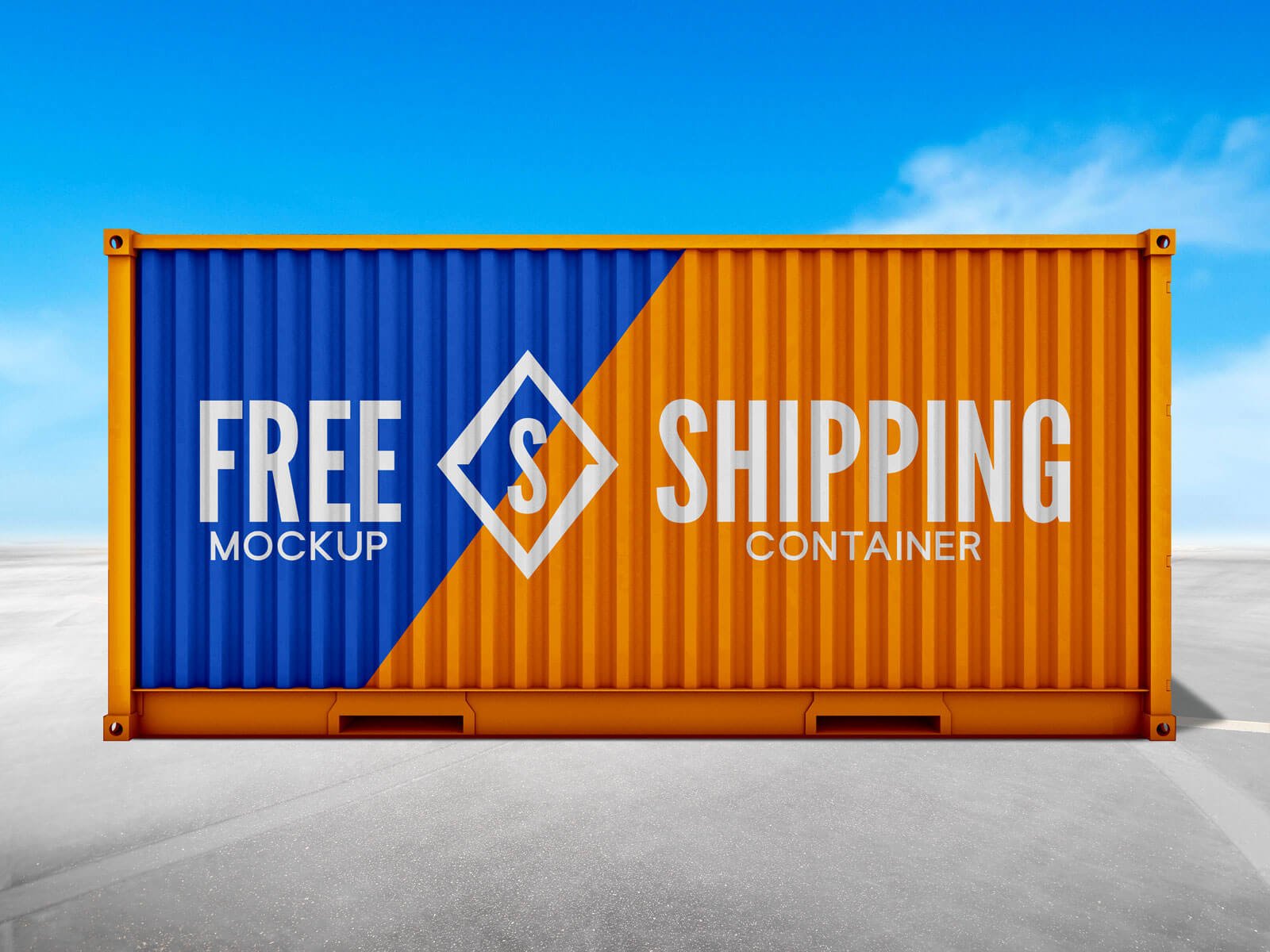 Available Format: Layered PSD with smart object insertion
License: Free for personal and commercial usage
RAR File Includes: Free Shipping Container Mockup PSD
Note:
1. Free Cargo Container Mockup is allowed to share online (A Must Linkback to this post)
2. Say thanks if you like or share/tweet with your friends. That means a lot to us.
3. And don't forget to subscribe to receive for more high quality premium freebies & awesome articles only.
Download Container Mockup
Recommended: