Hello there everyone! We were going through our comments section earlier this week and came across your suggestions and requests. Most of the requests were for the cosmetics packaging and we are here with yet another interesting blog and of course, a free mock-up PSD. We are starting off with a rectangle shape dropper bottle first and in our upcoming blogs, we shall be sharing more bottle designs with you guys.
Okay so, how many of you here love to try out beauty items to deal with your skin problems or just to pamper yourself? We know that we do and since the organic beauty items are the talk of every town these days, we think that there is no harm in testing out a new product or formula to feel fresh, to remove acne scars and bruises etc. and to spend your money on something that makes you feel great.
We have seen many new brands that have launched their products depending on the needs of their audience. For example; to treat acne and its scars, you must choose the products that are relevant to the issue so you do not end up making things worse for your skin. Also, it is super important to know the skin problem first before you treat it as we happen to know a friend of ours who was treating their skin on their own thinking it was acne but then it turned out to be an entirely different skin condition known as Rosacea. So, always consult a professional to identify the problem first and then get the products that you might need to deal with it.
Moving on, any medicine or product that is made to treat external and internal problems must be packaged in a container that cannot absorb light or air for that matter. Glass bottles are used as glass is inert and happens to have great barrier properties. You must be wondering about the strength of the bottle and we would like to mention it here that a stronger than usual glass is used for the packaging of medicine or a beauty product.
For our bottle, we wanted to create a unique shape as it will also allow the manufacturer to store more product because of how spacious a rectangle shaped is and the bottle being a dropper makes it so much easier for anyone to use just the right amount of product without spilling it. It is like you have got everything under control and another good thing about the dropper is that product application is non messy too so you can have a really nice experience of applying your favorite skin care product or consuming your medicines as well.
In this part of our blog, we are going to be sharing a few design tips that will help you guys in creating the best designs for your rectangle shape dropper bottles. Continue reading to know more!
Let's start with the label design first – as you can see that we have followed the minimalist approach to design it. It is plain & simple yet attractive that you would want to give it a try. There are a few color palettes that you can choose for to design the packaging for example; blue is the colors that instills trust and calmness and if you are about to launch a product to help your potential customers relax, then we think this can be the best color. Then comes the color green and since it is typically associated with well-being, health and nature, you can experiment to see how it will look.
Lemon yellow and white also work best for a beauty product and we think that you must play with any color that you think will look great as the packaging or create combinations and we are sure that everything will fall into its right place. It is totally up to you to pick a different color for the dropper other than black. Here is a tip from us that will help you with that – pick a color keeping in mind the usage of the product for example; if it is something that has to be used/applied on alternate days of the week then keep the color black or dark brown and if the product does not have to be used frequently then you can definitely choose a lighter color to complement the overall look.
As we are sharing ideas for multiple businesses with a range of products, we would love to share the different approaches that you can follow for different types of products like for skin care products, keep the fonts stylish (Maison Neue, Drury Lane, Muli, Noto Sans etc.) and for medicines, you would want to work around Sans Serif, Arial and Verdana.
Once you have created multiple design options, do compile them in a nice & self-explanatory mock-up presentation so, that you can have the mock-ups approved by your clients.
And that's all for today! We hope that our blog and free rectangle shape dropper bottle mock-up PSD file will help you in creating stunning designs for your personal and commercial projects.
Free Rectangle Shape Dropper Bottle Mockup PSD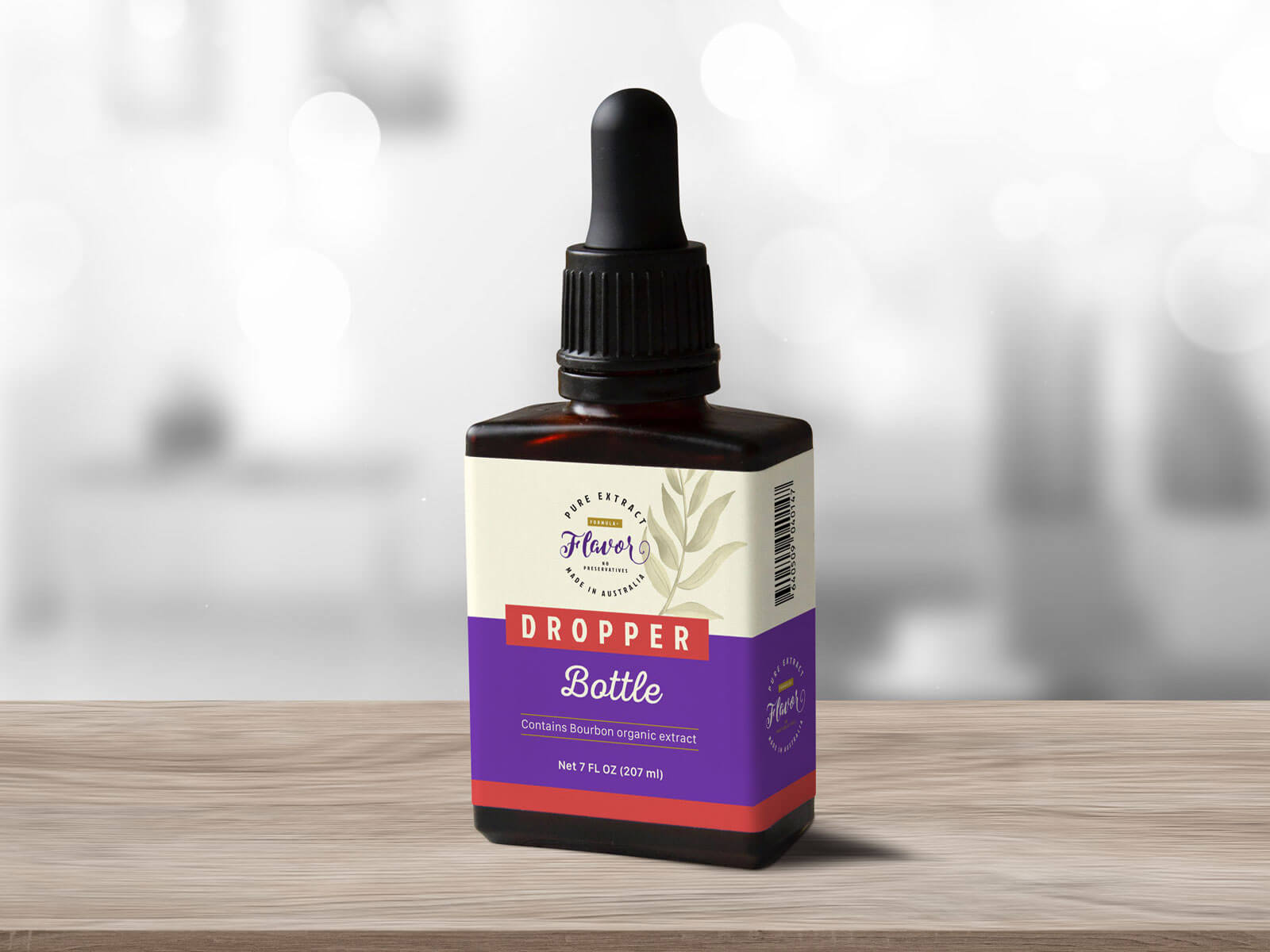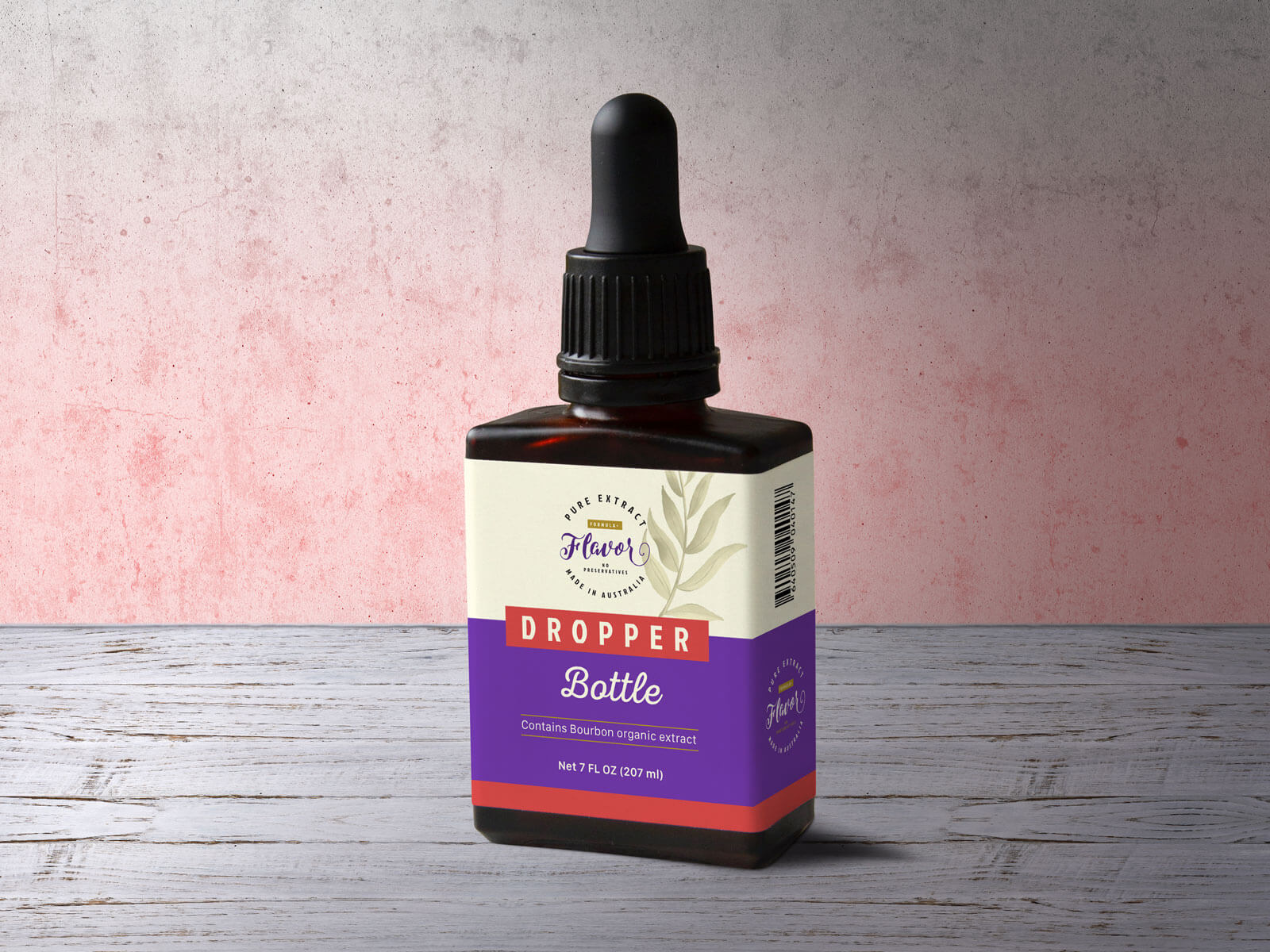 Available Format: Photoshop PSD
License: Free for personal and commercial usage
File Format: WinRAR
Mockup Resolution: 3500 x 2625 px
Note:
1. Free Dropper Bottle Mockup is allowed to share online (A Must Linkback to this page)
2. Say thanks if you like or share/tweet with your friends. That means a lot to me.
3. And don't forget to follow or subscribe to receive more high quality premium freebies & awesome articles only.
Download Dropper Bottle Mockup
More Latest Free High Quality Bottle Mockups: