Hi there everyone! We hope that our blogs and content ideas are helping you achieve your marketing & advertising goals well and that you are also sharing the wisdom with that ones you love. It feels nice to know that we have readers and supporters like you guys who are always here to encourage and motivate us to keep doing what we are great at.
In our blog today, we are going to be talking about how road signs work and after that, we will share our free car parking signage mock-up PSD file with you guys. You must have seen (or maybe you yourself had to go through this incident where) someone you know who got a parking ticket for parking your vehicle at the wrong spot.
There are many people who get fined for parking their cars etc. in front of the exact area that mentions that parking is not allowed here. This normally happens when either the signs are not installed properly, maybe a tree is covering them and another reason could be that almost everyone is in a rush and upon not finding a proper parking spot, they just park their vehicle anywhere, try to get done with their work as soon as they can and then they just drive away.
Believe it or not but road signs are important than anything else – while you are on the road that is. These sings not only stop you from getting any physical damage but you can also save your time, energy and money too by understanding and respecting that is expected from you. Also, it is not just you and your vehicle but hundreds of other people and their vehicles as well.
Recommended: 60+ Free Signage Mockups For Logo Presentation
In addition to guiding you about your way like when to take a turn and when to slow down, road signs also provide information regarding an under construction road, a dangerous turn and pretty much everything that can communicate the information to the drivers, walkers and other road users in one way or the other.
To help you guys create something for the humanity, we got an idea to design a free car parking signage mock-up PSD for you. As you know that all our mock-up PSD files are highly editable, we also make these files super fun to work on and you can literally create anything that you have in mind or as per the design brief that you are supposed to follow.
Allow us to share how you can create a car parking signage for your next design project! First things first: you need to make sure that the colors that you are going to use will work regardless the time of the day and during unfavorable weather conditions too because that's when we need the road signs the most. Yellow color as the background color and black color for text and signs is considered to be the best color combination for the road signs.
You can also use red, white and black colors in one signage to communicate the message and then there are more colors like green, grey, blue which grab the attention instantly – ensuring that anyone who is on the road can see, comprehend and follow the signage the way it is supposed to be followed.
As far as the copy is concerned, always keep in mind that the lesser, the better. You would really not want anyone to spend more than ten seconds especially when they are driving. Three to four words are enough and can serve the purpose really well. Also, if your city is more of a tourist attraction or a busy city, then you must consider designing and putting up road signage that is self-explanatory and can also deliver the message even if the people looking at it are not familiar with the local language. Continue reading to know more about the images / signs etc. that you can incorporate into the design.
For the design elements, always know that pictorial signs are paid more attention to – by every age group and that is the main reason why you will notice a vehicle on our free car parking signage mock-up PSD as well.
And that is all for today, you guys! We hope that you will find our blog super useful and will also get your hands on our free car parking signage mock-up PSD file to start making your own designs. You would know that we always mention to work on multiple designs so that you can present different design approaches and creative thoughts to the decision-making parties.
Feel free to share your feedback and suggestions with us in the comments section down below and also share our blog with your favorite colleagues as well and we will see you guys next time with another interesting blog of ours. Until next time, happy reading & creating stunning designs.
Free Car Parking Signage Mockup PSD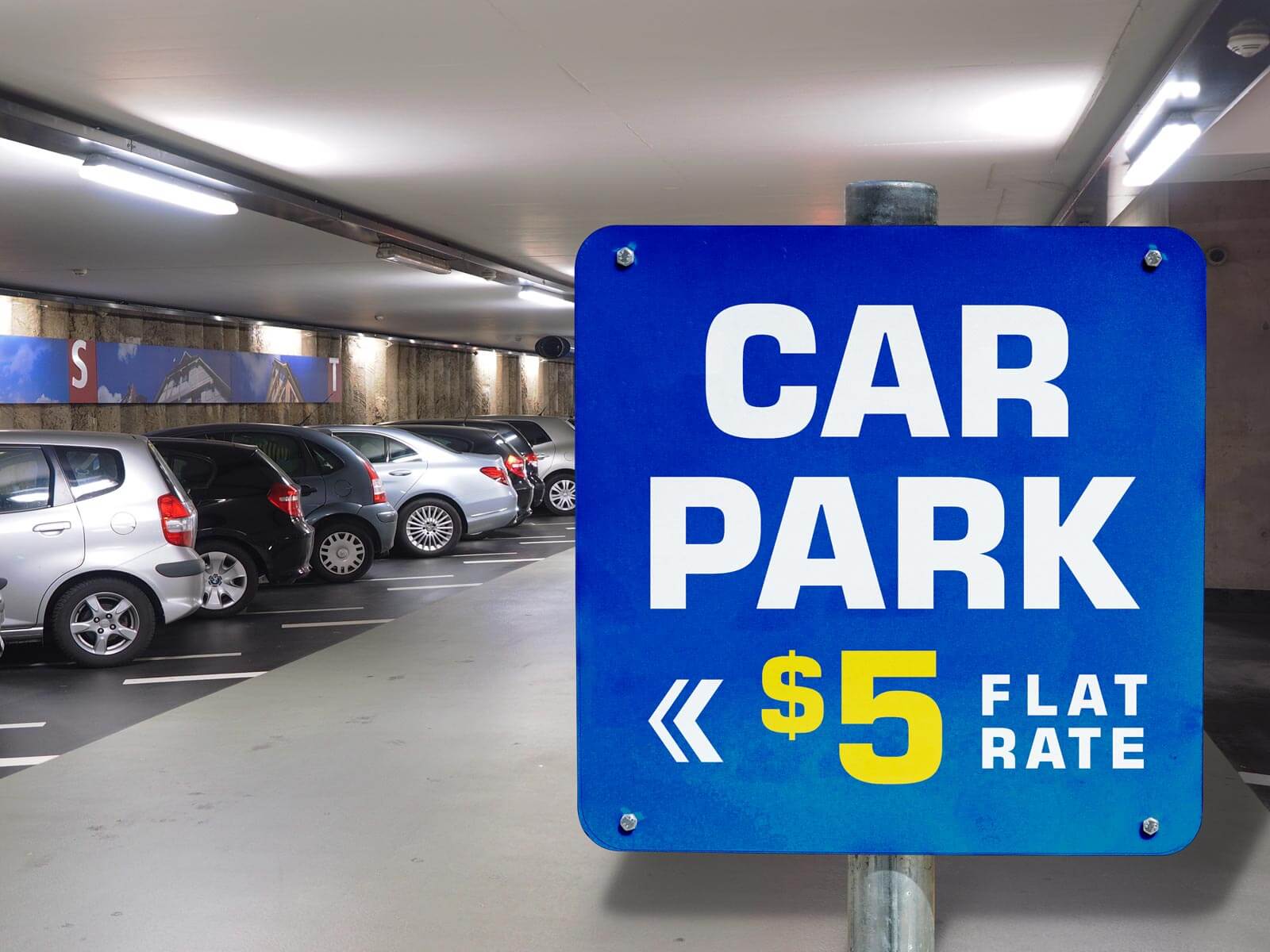 Available Format: Photoshop PSD
License: Free for personal and commercial usage
File Format: WinRAR
Mockup Resolution: 4000 x 3000 px
Note:
1. Free Parking Signage Mockup is allowed to share online (A Must Linkback to this page)
2. Say thanks if you like or share/tweet with your friends. That means a lot to me.
3. And don't forget to follow or subscribe to receive more high quality premium freebies & awesome articles only.
Download Car Park Mockup
More Latest Free High Quality Mockups: