Hi there friends! How is your personal & work life treating you? We hope that you guys are taking care of yourselves and are also making the most of our blogs as well. So, earlier this week while we were working on the list of mock-up PSD files, we thought of including items for the new normal too and it feels good to mention that not only many countries have flattened the curve but everyone has started to live the regular life as well.
Since we will be leaving our houses for excursion trips, to play games etc. other than work now, we believe that it is time to get back in shape. We know most of you must be super happy to rejoin your gym & other fitness centers too but what we are going to share covers both the fun and staying fit part as we have created this free baseball mock-up PSD for you guys so, let's get started!
You must have an idea that Americans love playing baseball but did you guys know that this game goes back to early 1800s? Well yes, Abner Doubleday was the man who came up with the idea of this game in 1839 and it is interesting that parents and schools still encourage the kids to become a part of their local baseball game clubs. In addition to helping a person becoming competitive, playing baseball has many health benefits too for example:
It improves the cardiovascular health.
It boosts the hand-eye coordination.
It also strengthens arms & legs.
It helps in observing the situations well.
And of course, by playing baseball you also happen to get Vitamin D which means it is safe to say that this game is a complete package and everyone must be encouraged to play it. Let us have a look at the ball of the baseball game now and once you are done reading some interesting facts about the ball itself, you will be able to get your hands on our absolutely free baseball mock-up PSD file.
A baseball ball is typically white and red although in some cases, a white and black ball is also designed and used for the game. The purpose of keeping the ball white is to ensure that it can be seen easily as there are chances that a dark colored ball is a little too hard to notice. Oh, and did you know that there are 108 stitches on a baseball that are hand stitched? Well, the idea behind that many stitches is to keep the ball safe from the "soft spots". We would also like to mention yet another fact about these balls here that they are stitched and stored at temperature controlled facilities so that they are always in good shape.
As you guys know that we keep all our mock-up PSD files free and highly editable so that you can easily make designs and create various options by incorporating the design brief and thoughts. Our free baseball mock-up PSD file will allow you to make baseball design options that you are supposed to create in minutes. But there is something else that you guys must also do in order to bag your new design project and that's creating a mock-up presentation.
We can bet that you guys know how much we encourage everyone here for always showcasing the designs in a nice and detailed mock-up presentation and we do that because we know how impressive that can be even if it is for a one time design task. You, as a graphic designer or visualizer must always make a mock-up presentation with all the rationales and important stuff so, that you and your clients can review the creative thought process in a better way.
Another great thing about creating a mock-up presentation and sharing ideas through it is that it allows the viewers and decision makers a chance to visualize how the designed items will look like in real life and if they are worth spending huge amounts of money or not.
This practice also gives the design team a fair chance to show case their work and defend it, if need be and we think that it also helps them in confidence building as well. Make it a habit that you will always share your creative ideas and artworks with a client through a mock-up presentation, be it a personal project or a commercial one.
And that is all for today, you guys! We hope that with our blog and free baseball mock-up PSD file, you will be able to work on a great design project. If you liked reading what we have shared here, then feel free to drop in your comments and suggestions under the blog and do not forget to share it with your friends and favorite colleagues too.
Free Baseball Logo Mockup PSD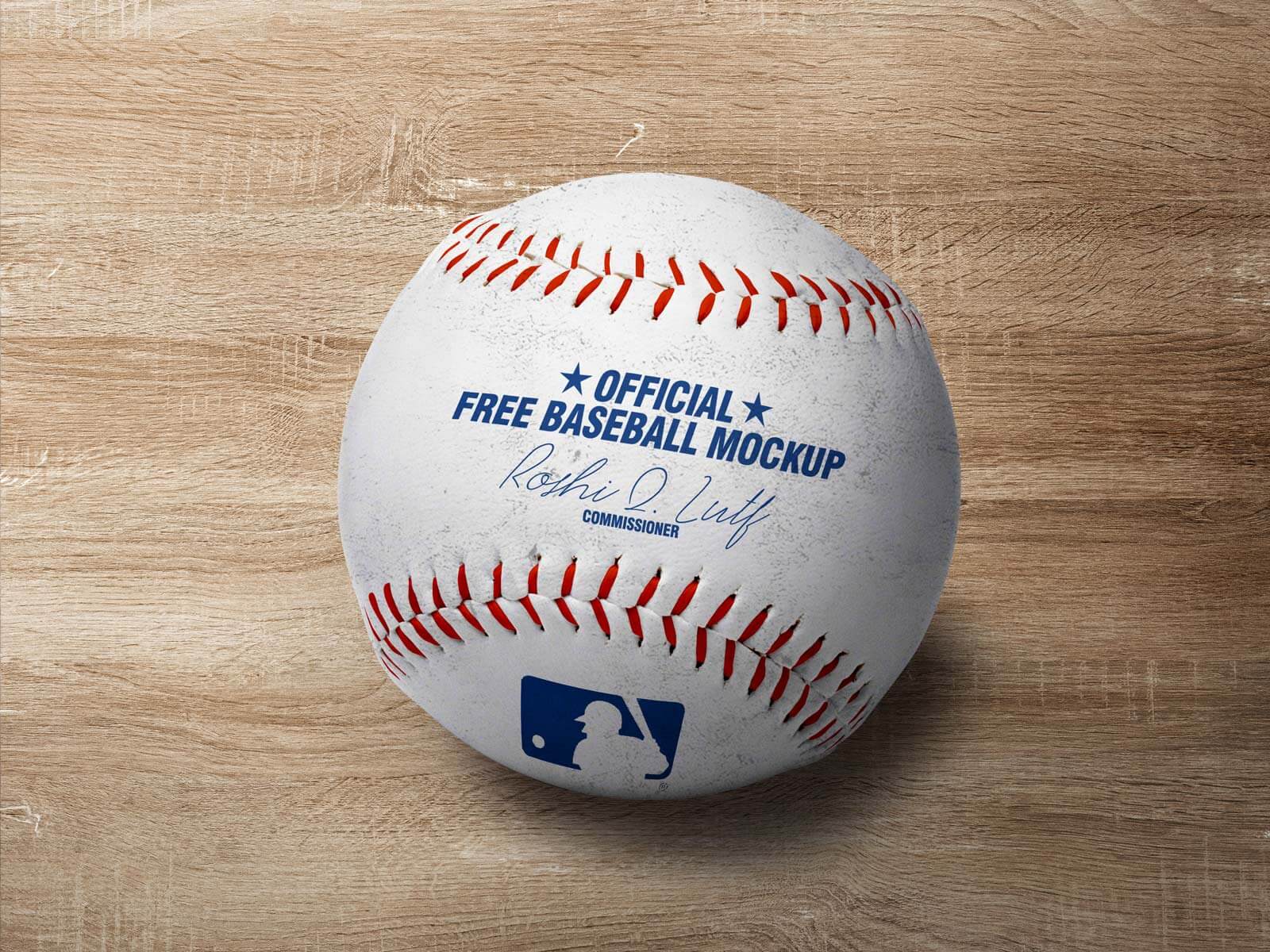 Available Format: Photoshop PSD
License: Free for personal and commercial usage
File Format: WinRAR
Mockup Resolution: 4000 x 3000 px
Note:
1. Free Baseball Mockup is allowed to share online (A Must Linkback to this page)
2. Say thanks if you like or share/tweet with your friends. That means a lot to me.
3. And don't forget to follow or subscribe to receive more high quality premium freebies & awesome articles only.
Download Baseball Mockup
More Latest Free High Quality Mockups: