Hello there friends! We hope that you all are doing more than just great and that our blogs and designs are being super helpful for your personal & commercial projects. Earlier this week, we received a couple of requests in which you guys wanted us to create logo templates in vector Ai format and we decided to make a bunch of professional logos that are not only free but these logos will help you & your business achieve your branding goals in no time. So, let us get started!
Have you guys ever wondered how important a logo is for any business or brand? Well, no matter how big you are in the market, you have to have a logo – a nice logo that can represent your business in the best ways possible. It is also important to know and understand that your logo is much more than just an image so, you must ensure that your point of recognition is to the point, that it is effective enough to bring you clients & customers and that it keeps you stay ahead in the game too.
You must have seen that logos have seen a lot of improvements and trends in the past years and we think that, that is one of the best things that can happen when it comes to branding your business and how to market it successfully. From plain and simple logos with just the name and the tagline (and in some cases businesses would use the logo only) were thought to be enough for any kind of business.
Now, we can see many modern things happening that can make a business grab the right attention and with businesses finally accepting the importance of being on digital and social media, we can now see animated logos as well. Anything that is designed after putting in a unique thought is not only considered to be different, but it also allows the spread of positive sentiments. For example; you create a brilliant animated logo for a brand, and you put it out there for the audience to look at it. When the targeted audience happens to see that you have brought something extraordinary to the table, they would feel more attracted towards your services or products.
Creating a logo is one of those tasks that are considered to be crucial – because you are literally like on your toes to see how effective the logo is. On your social media platforms, you can have a real time response about literally anything & everything and that feedback will also help you in making informed decisions – be it about rebranding the business, recreating the logo, revisiting the campaign or anything of the sorts to make it work for your business etc.
We know that we talk about this stuff on a regular basis in our blogs but for those readers who are new here and those who want to know more about creating best logos for their personal business or for their clients, we would like to share the basics of creating a professional logo first. Continue reading the blog for a few easy to follow logo design tips!
Start the process with some sketches first as that will give you control over the results and you'll also be able to improve your initial drafts.
Creating balance in the logo is important as all the logos that depict harmony and balance are the ones that please and appeal the audience.
Make sure that you keep the size of your logo right – too small or too big a logo is not effective at all.
Choose the colors wisely, don't go too bright but never pick dull colors either.
The logo design must also suit the style of the organization. You can learn a lot about an organization by going through their company profile and by also understanding their business.
When it comes to using fonts for a professional logo, avoid using fonts that are used commonly. Your goal is to impress the audience by creating something unique so how about using Serif fonts or Sans-Serif fonts?
You have to make sure that you are going to be different. Now, the definition of different varies from person to person and to help you decide your route, we suggest experimenting with styles, fonts, colors etc. to get to know the possibilities. Remember that sky is the limit!
You can achieve rest of your business goals by using our free professional logo templates in vector Ai format so, what are you guys waiting for? Check out our free templates and pick the ones that you think will up your professional logo game. Feel free to share which ones of these professional logo templates you guys liked the most in the comments section down below!
Free Professional Editable Logo Templates With Fonts in Vector Ai Format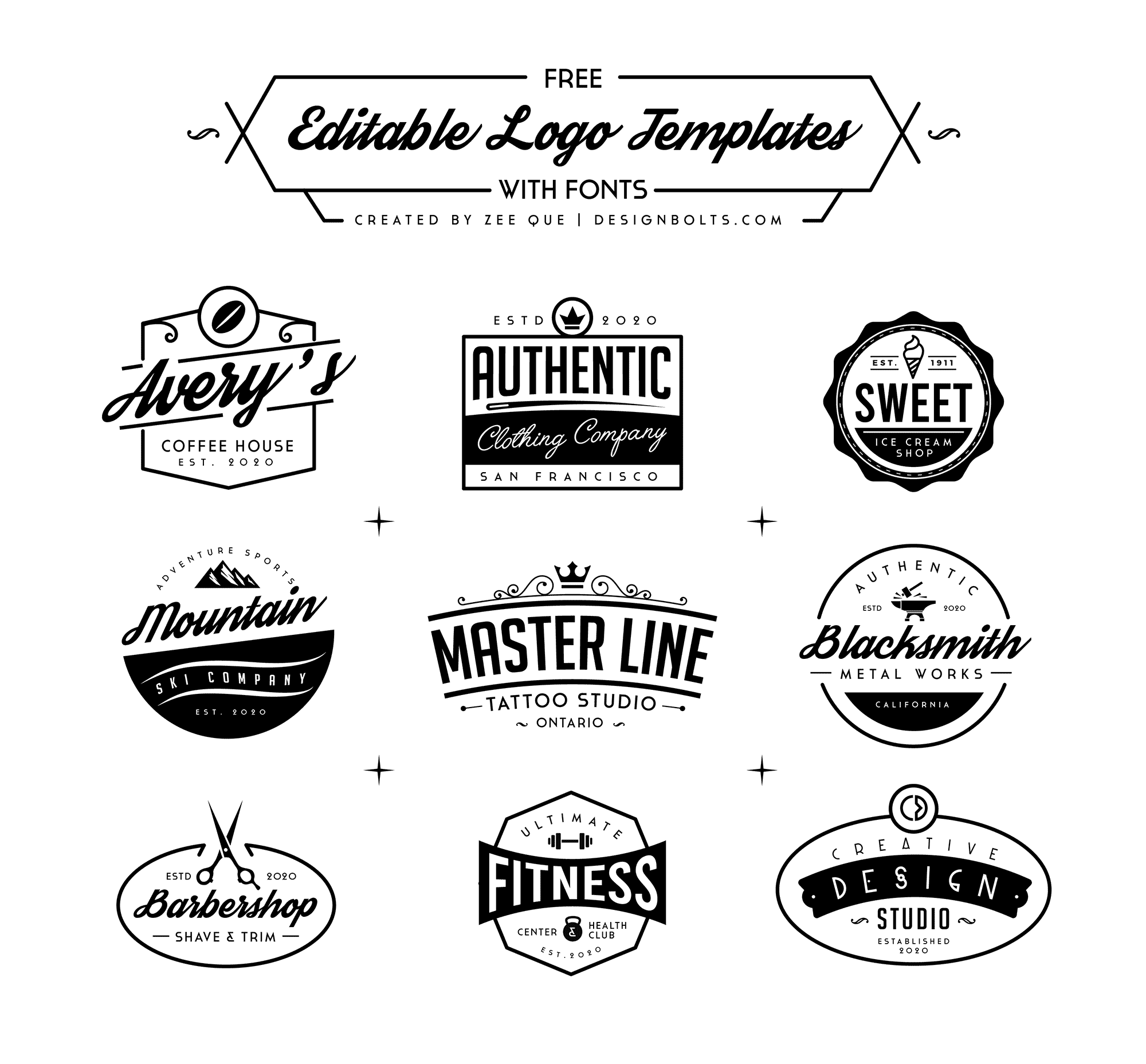 Available Format: Illustrator Ai
License: Free for personal and commercial usage
File Includes: Ai file & Fonts
File Format: Zip
Note:
1. Free Logo Templates Ai is allowed to share online (A Must Linkback to this page)
2. Say thanks if you like or share/tweet with your friends. That means a lot to me.
3. And don't forget to follow or subscribe to receive for more high quality premium freebies & awesome articles only.
Free Awesome Logo Templates
More High Quality Freebies: