Hi there everybody! We hope that you are having a great time working on new designs and creating amazing marketing campaigns for your personal & commercial projects. Since we all know that everyone and everything is coming back to the way we used to live our life before the virus, we have been receiving a number of requests in which you guys have asked us to create and share modern billboard designs so, here we are with something new and attractive and we know that you and your clients are going to love it.
We grew up passing by huge billboards that would grab our attention and we would either get excited or we would ignore the visual if it was of no interest but with the passage of time, marketers and advertisers worked on incorporating newer and interesting techniques and technologies to the way they promote their businesses and we cannot resist but to say that each one of them deserves a big round of applause.
And you know whenever a new advertising model is introduced or a technology is introduced, it also opens many doors of opportunities for a lot of professionals too. New teams are formed, tasks are assigned, and goals are set so that everyone can be as creative and productive as they can be while being on one page to help a business grow and succeed in one way or the other. We are glad that individuals keep working hard to improve the standards of almost everything and this strategy has also proved to be a good one especially when it comes to marketing and advertising and promoting services and products.
Like always, we try to keep up with your expectations and create designs and mock-ups that will help you stay ahead in the game and keeping that in mind, we decided to work on this free triangular billboard mock-up PSD for you guys and if reading the name of this type of billboard is fascinating then imagine the eyeballs it will force to look at it.
Do you want to create stunning designs of triangular billboards for your business or do you want to pitch this new big thing to your client? If you are game, so are we and we want you to keep reading the blog as we are about to share clever and easy to follow design tips with you guys which will help you stand apart in the crowd in every sense of the phrase!
To create the mock-up designs for your triangular billboard, we will suggest you to first create a story and have it designed like a series. For example; if your brand message is about announcing a new service, then go with the teasers first, roll them out artistically and once you are done with that, you will be able to reveal the service in detail.
If you are planning to launch new stores or products, put them on the billboards as per the audience for example, the three sides will face three different locations of the city so, you might want to announce the store launch in a way that the people who are living in a specific area know that you are coming to a location nearby. Another option is to add the element of curiosity so that your potential audience will be intrigued to check your business out through your website or on social media platforms. This can be done by not giving the entire message on any of the billboards and indirectly asking people to find more about you on their own.
And like every promotional campaign, the strategy will remain the same as you must ask for a detailed brief from the client or your team that mentions clear cut objectives and also the guidelines that you are supposed to follow while working on the triangular billboards. Chalk out the ideas with the team members of your creative department and once the brainstorming sessions have ended, you know that you are free to experiment with anything & everything to make things work for you as well as for the business.
Colors, fonts and font styles, design elements will be used as per the brand guidelines and how you would want to complement the campaign in a way that it looks different and appeals the audience but make sure that you are using high resolution imagery for your billboards to enhance the look & feel too.
If this is your first time with the triangular billboards then we would love to suggest you guys to also identify the spots that will be ideal to demonstrate your brand messages within the city by creating mock-ups so that you and your clients can take informed decisions. So, what are you waiting for? Get your hands on our free triangular 3-sided unipole billboard mock-up PSD file right here, right now and start making your own designs. Oh, and don't forget to share the blog with your designer friends & favorite colleagues too!
Free Triangle / 3-Sided Unipole Billboard Mockup PSD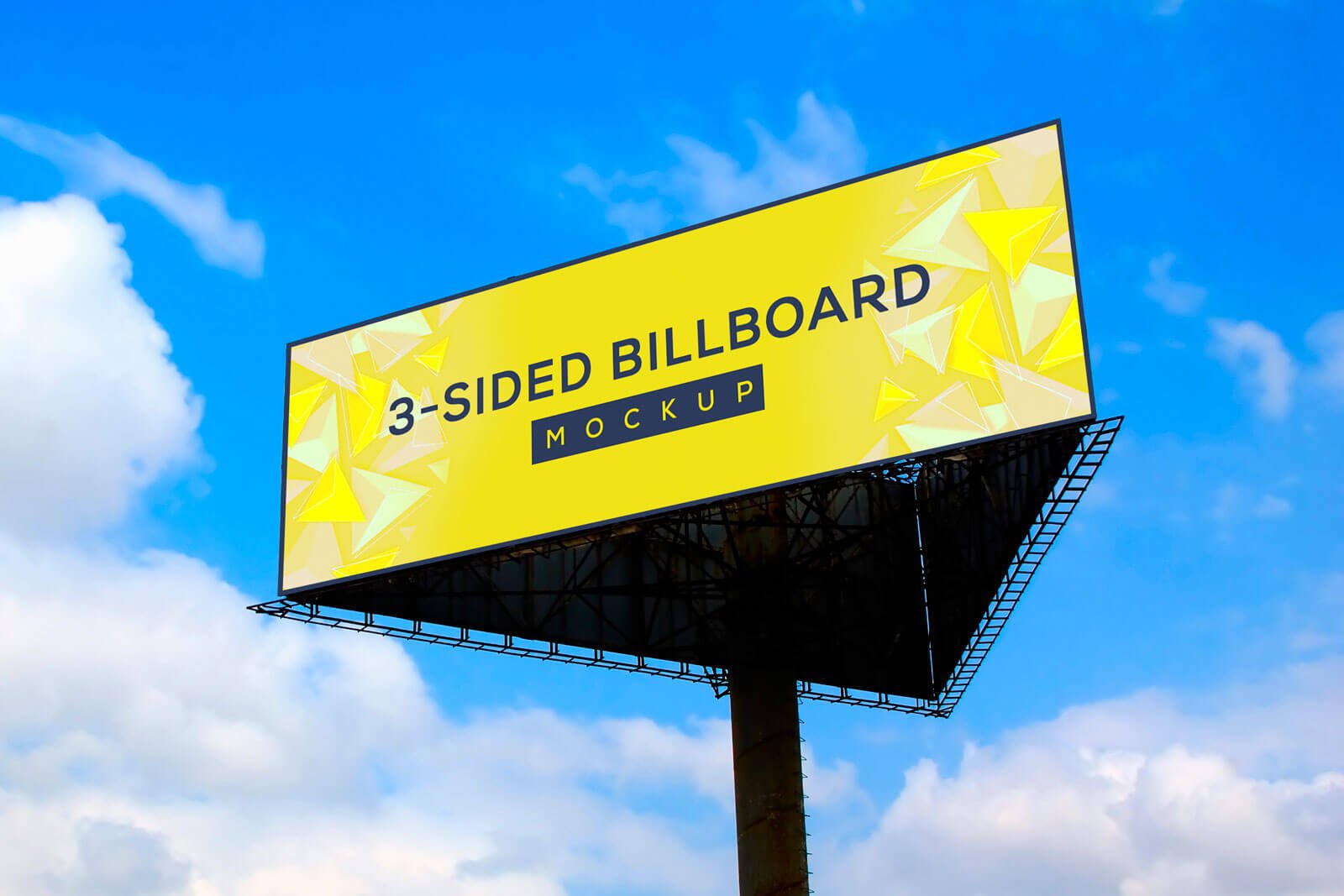 Available Format: Layered PSD with smart object insertion
License: Free for personal presentational use only
Zip File Includes: Outdoor Billboard Mockup PSD
Note:
1. PSD Outdoor Billboard Mockup is allowed for sharing online (A Must Linkback to this page)
2. Layers are hidden to decrease the size of file kindly unhide and place your design on red colored layer.
3. Say thanks if you like or share/tweet with your friends.
Download Billboard Mockup
More Free PSD Hoarding Mockups you would love to download: