Hello there friends! We hope that everything is going great at your end and that you are making stunning designs with our mock-up PSD files & design templates. While going through the comments section earlier this week, we got to read a few requests for the laptop mock-ups as some of you are planning to pitch new machine ideas to your senior management and we sat down right away to create this free laptop / notebook in darkness mock-up PSD file for you guys.
One of the best things about laptop mock-ups and mock-ups in general is that you can make as many changes as you want to make before you actually develop, launch, produce or manufacture something and of course, you and your team members can decide whether or not it would be a good idea to invest into that stuff after going through the mock-ups and design versions. And we are glad that through our tips and free yet highly editable mock-up PSD files, we can guide and assist a number of professionals – no matter what their job is about.
In addition to the above mentioned uses, our laptop / notebook in darkness mock-up PSD can also be used to demonstrate your soon to be launched e-commerce website, web application or a Facebook ad by incorporating a new feature introduced by the platform. So, let's get started!
First things first; you must make a plan on what you want to create and share with your boss, client or to your vendor. Strategizing from the start will help you control the design flow and only then you will be able to focus on what's important and what's not. We have been in many different discussions with our friends and acquaintances who shared this with us that due to not so proper planning of the work flow, they happened to waste so much of their precious time in creating designs that were not even required.
Recommended: Best Travel Laptop Backpacks for Men
Next step is to get hold of and collect the data that you will require while creating the mock-ups. It could be a deck of images, videos, copy and creative thought processes as well as basic information of the budget, calculated or estimated results for showing ads for Facebook, Google Display Network, and YouTube etc. Every tine details matter regardless of the fact that you have got a finicky client or not so, you better be prepared with the best when you do meet them for a review meeting.
As you know that all gadgets including smartphones, laptops and notebooks come in different sizes and if we were to cater to the latest designs, then we would like to mention it here that now we have edge to edge screens too and that means you need to cover almost the entire screen space to show a design from a specific web page etc.
Recommended: Best MacBook Stands 2020
Also, mock-ups are literally created to help people understand and visualize how things will look like after they are developed (websites, applications) or produced so, it is always a good idea to keep that objective in mind at all times. That also requires aesthetically pleasing content decks and keeping that in mind, we decided to work on a mock-up by choosing a dark setting and to be very honest, we were amazed to see the results and we know that your designs will also impress your internal team members as well as clients in minutes.
Although, we have mentioned it earlier too that you are free to use our laptop, notebook in darkness mock-up PSD file for many different uses but the most important of them all is the one where an IT person or the department feels the need to pitch an idea to the management and request new laptops and machines for the team members. You can explain the benefits of switching to new systems by also reading up on the specs. and then incorporating them into your mock-up slides.
For demonstrating the work flow of any web game, web app or a website in general, you can literally show a step by step and page by page design flow to help them fully understand the creative process as in how the game(s) will move forward completing the stages, how the checkout and payments processes will appear if it's an online shopping platform and so on and so forth. And interestingly, you will get to show & share your design options on two different screen sizes with our free laptop / notebook in darkness mock-up PSD file.
And that's all for today! We hope that you will enjoy working on your creative thought process and creating mock-ups of them with our free laptop / notebook in darkness PSD file and if you do, feel free to share the blog with your designer friends as well and we will see you all next time with another masterpiece of ours!
– – – – – – – – – – – – – – – – – – – – – – – – – – – – – – – – – – – – – –
Recommended:
– – – – – – – – – – – – – – – – – – – – – – – – – – – – – – – – – – – – – –
Free Laptop / Notebook in Darkness Mockup PSD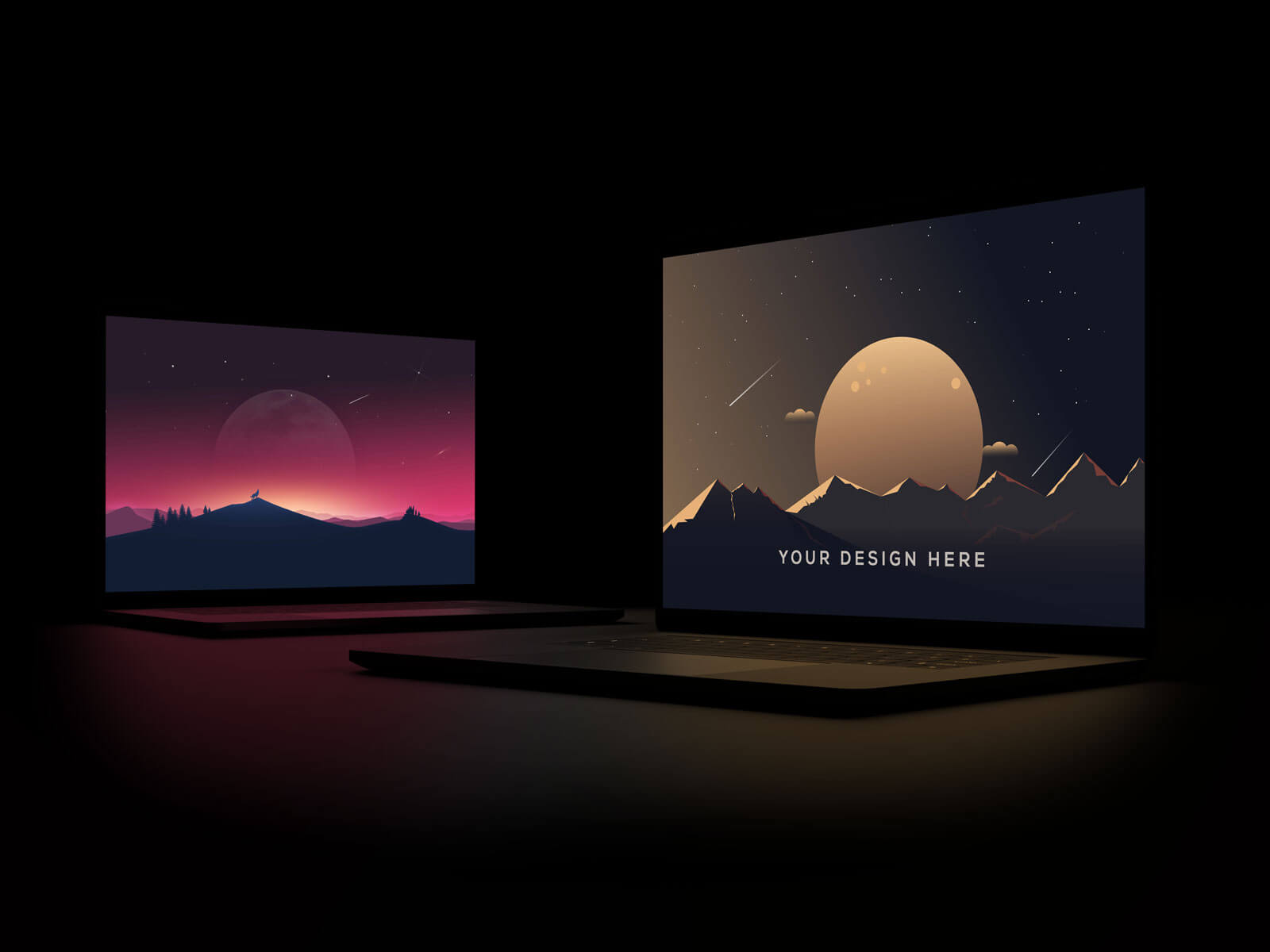 Available Format: Photoshop PSD
License: Free for personal and commercial usage
File Format: WinRAR
Mockup Resolution: 3800 x 2850 px
Note:
1. Free Laptop Mockup is allowed to share online (A Must Linkback to this page)
2. Say thanks if you like or share/tweet with your friends. That means a lot to me.
3. And don't forget to follow or subscribe to receive more high quality premium freebies & awesome articles only.
Download Laptop Mockup
More Laptop Mockups: