Hello there everyone! How is life treating you guys – especially your work life? We hope that you are slowly coming back to the track and we would love to tell you guys that you've got this so, let's accept the new normal and continue making magical stuff for ourselves as well as for the businesses we are associated with.
You guys must have an idea about how we love going through our comments section to read your positive feedback and interesting suggestions that you share with us. And we also make sure that we create designs of (almost) everything that you request for so that you can impress your team leads as well as your clients with your awesome art works. For our today's blog, we have created this free readymade food bottle mock-up PSD file for those of you who wanted us to share a food packaging design. Let us get started!
We are sure that you have bottles, tins and containers in which food items come in for one reason or the other. Our reason of keeping such containers is that we are hoarders and we are not going to hide that from you. Secondly, we feel that we can / must reuse such containers to store and keep some other edibles, our tiny jewelry items or may be even pens & pencils etc. as well. But when you guys do go for grocery shopping, what is that one thing that attracts you? Know that this question is for those brands that you have never tried.
It is a fact that any shopper's first instinct is to get and pay for the product that is packaged beautifully. Price, taste, quantity come after all of that which means that you, as a designer need to present the product in such a way that your potential customers cannot ignore it.
Recommended: 30+ Premium Quality Product Mockups
You must be thinking about all the mind blowing, out of the box ideas to create your very own packaging design, right? Well, you would be delighted to know that we have done more than half of the work for you guys by creating this free readymade food bottle mock-up PSD and we are taking care of the rest of the project design too as we are about to share a few most effective and easy to follow design tips with you guys. Keep reading to know more!
Designing food packaging is a tricky business. No, we are not trying to scare you anything. But what we are saying here is that for any packaging design, it is super important for the entire creative & design team to know everything about the color psychology, how it works and what colors happen to attract the audience without little or no efforts. For starters, we would love to share a few colors here to help you guys understand the basics.
Recommended: 80+ Best Packaging Mockups
The color red is accepted universally and that means that you can incorporate this color into your packaging design and your product will be sold out within minutes. Why is that so, you ask? It is simple. This color represents energy, passion, strength and also love. Green color is the depiction of health, freshness, energy and positive vibes and also growth or renewal of life. This is another widely accepted color that gives out lifelike vibes.
The color white happens to represent purity and new beginnings. It is also used to depict wholeness and when a color combination and green & white is created for food packaging, then you only end up with great designs. For the color blue, it can be said that it is one of the neutral colors that exist and because of this quality, it is liked by a great number of people.
Yellow color is one of our personal favorite colors for many reasons for example; it is the color of happiness and since this color is the lightest hue on the color spectrum, it also depicts hope, cheerfulness and it uplifts the mood too. Normally, yellow color is used for food products that are rich with serotonin.
You might want to use orange in your food packaging design if the food items are filling, nutritious and of course, healthy. We have kept the bottle transparent and have created a glass bottle mock-up as food packed in glass bottles looks aesthetically beautiful. But there is one more thing that you must know before you pick & choose your color palette for the readymade food bottle designs and that's to know how exactly the product looks like (after being cooked, that is). It will help you choose contrasting colors for the lid and for the label because you would not want to end up with one same color from top to bottom.
So, there is that! We hope that you had a great time reading our blog and that you will create some stunning and great designs with our free readymade food bottle mock-up PSD file. Oh, and don't forget to share the blog with your favorite colleagues as well!
Free Ready Made Meal / Pickle Bottle Mockup PSD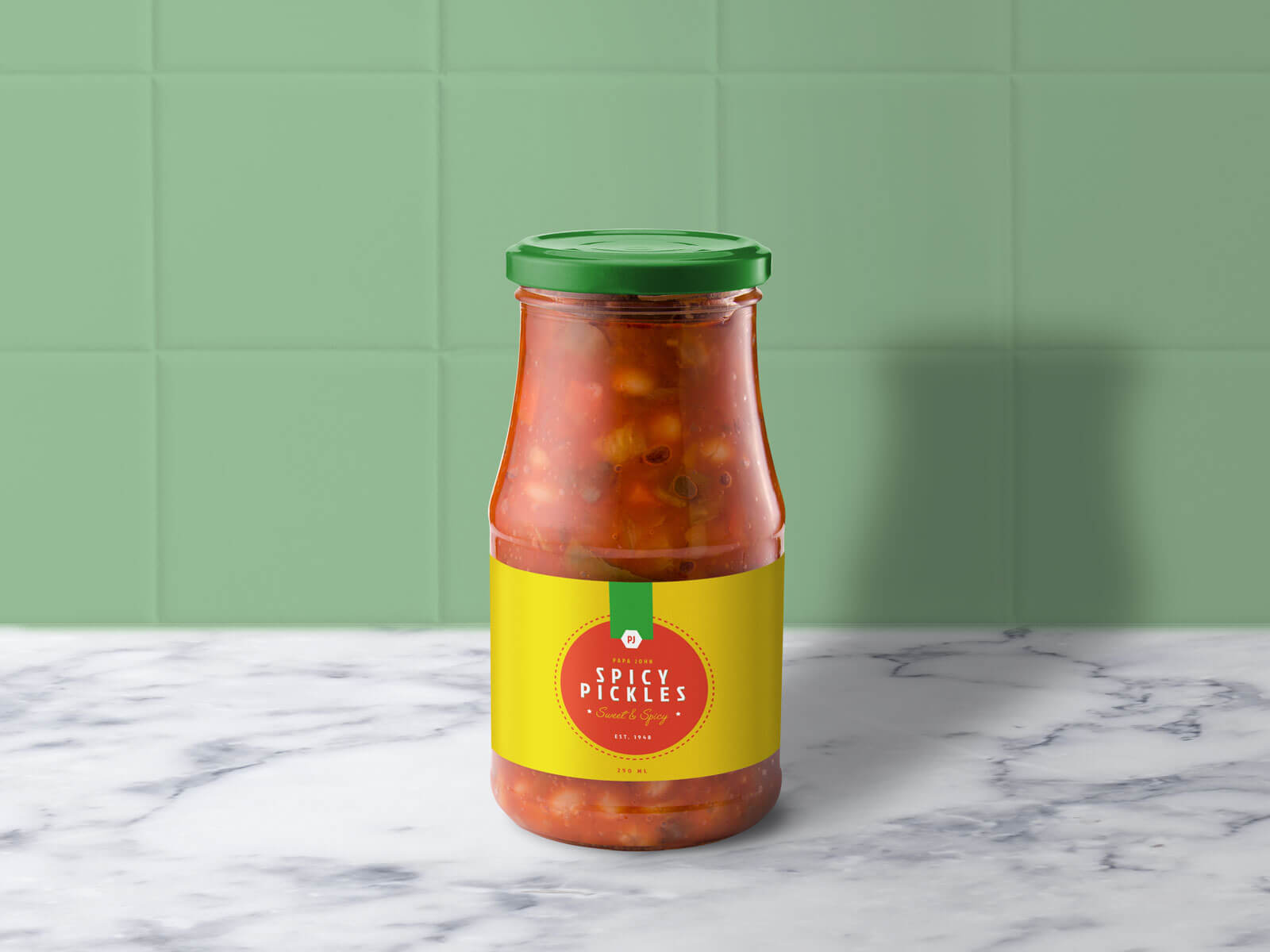 Available Format: Layered PSD with smart object insertion
License: Free for personal and commercial usage
RAR File Includes: Free Mockup PSD
Mock-up Resolution: 4000 x 3000 px

Note:
1. Free Pickle Bottle Mockup PSD is allowed to share online (A Must Linkback to this post)
2. Say thanks if you like or share/tweet with your friends. That means a lot to us.
3. And don't forget to subscribe to receive for more high quality premium freebies & awesome articles only.
Download Pickle Mockup
More Bottle Mockups: