Hi everybody! Before we share what we have created for you guys, we would like to thank each on of you for your overwhelming response on our previous blog. It's your constant support and constructive feedback that help us in creating amazing content & brilliant designs.
Let's come to the point now! We have been receiving a couple of interesting requests lately and it is a treat for us to go through our comments section to read what you guys want to see next. Since almost eight months of 2020 have passed, we can bet that we will be getting ready for the holiday season too in just the blink of an eye.
So, what are your plans for this year's holidays when you'd be visiting your loved ones? And why do we have a feeling that you have nothing planned – for yourself nor for your online shopping store? Well, it's okay. You do not have to worry about realizing that you forgot (this time again) because we have got your covered. Any gift has a special sentimental value attached to it and it really does not matter how big or small, expensive or inexpensive a gift is. It's the thought that counts and the effort that shows.
Are you wondering about how to make it obvious that you put in your thoughts before you went to shop for it? If yes, then we'd be happy to tell you that we have created this free gift packaging box mock-up PSD for you guys, and we can bet that even the packaging will win the heart of your loved one. So, let's have a look at the way forward!
Creating gift packaging is a fun thing to do as you can be super creative, there are no guidelines, really and your main focus is to make something that'd be just pretty and nothing else. Although, we have kept the gift packaging box plain (and in white) but you can make whatever you want to make keeping in mind the person you are getting a gift for. You can also create a couple of design options for your online customers as well or if you have a design brief from a specific business, then for that, you might have to follow certain pointers. Allow us to share tips for all three design approaches:
We know that when we have someone special in our life, we do not mind going an extra mile for them. It just feels okay, and we want to do everything for them just to see them smile. Creating a personalized gift packaging box could be your way of expressing your love for that special person who lights up your world like nobody else and for achieve your goal, you can start from the basics like the box can be in their most favorite color and that'd be literally it. We are not kidding but it is that simple and we love how easy going most people are. But of course, if you want to go into the details, you can beautify it more by adding a pattern to the box design and you will be good to go.
As far as your online gift packaging stuff / store is concerned, you would really have to create a short survey to know what your audience wants to see and purchase. There are so many themes that will always remain relevant for example; a holiday season theme, a theme from the hit Netflix season, song of the year or anything for that matter. You just need to put your finger on those things and everything else will fall into the right place. For the corporate gift packaging designs, the rules are not so hard to follow but like we usually suggest is that any design that you make must complement the business. Brand it subtly that it does not look forced, but the branding must be prominent enough for everyone to recognize it easily.
Also, always remember that accessorizing the gift packaging boxes is a must. You can either include the bows and ribbons within the packaging deal or you can keep them as add-ons but do not forget them. They look beautiful and the entire process of opening a gift packaging box gets even more exciting and we know that you would want to keep it that way.
And that is all for today, you guys! We hope that you will find our blog super useful and will also create stunning designs using our free gift packaging box mock-up PSD file. Oh, and before we say goodbye, we would love to remind you all to do create a nice mock-up presentation in order to present a variety of options to your clients / customers. And feel free to share your feedback with us down below!
Free Gift Packaging Box Mockup PSD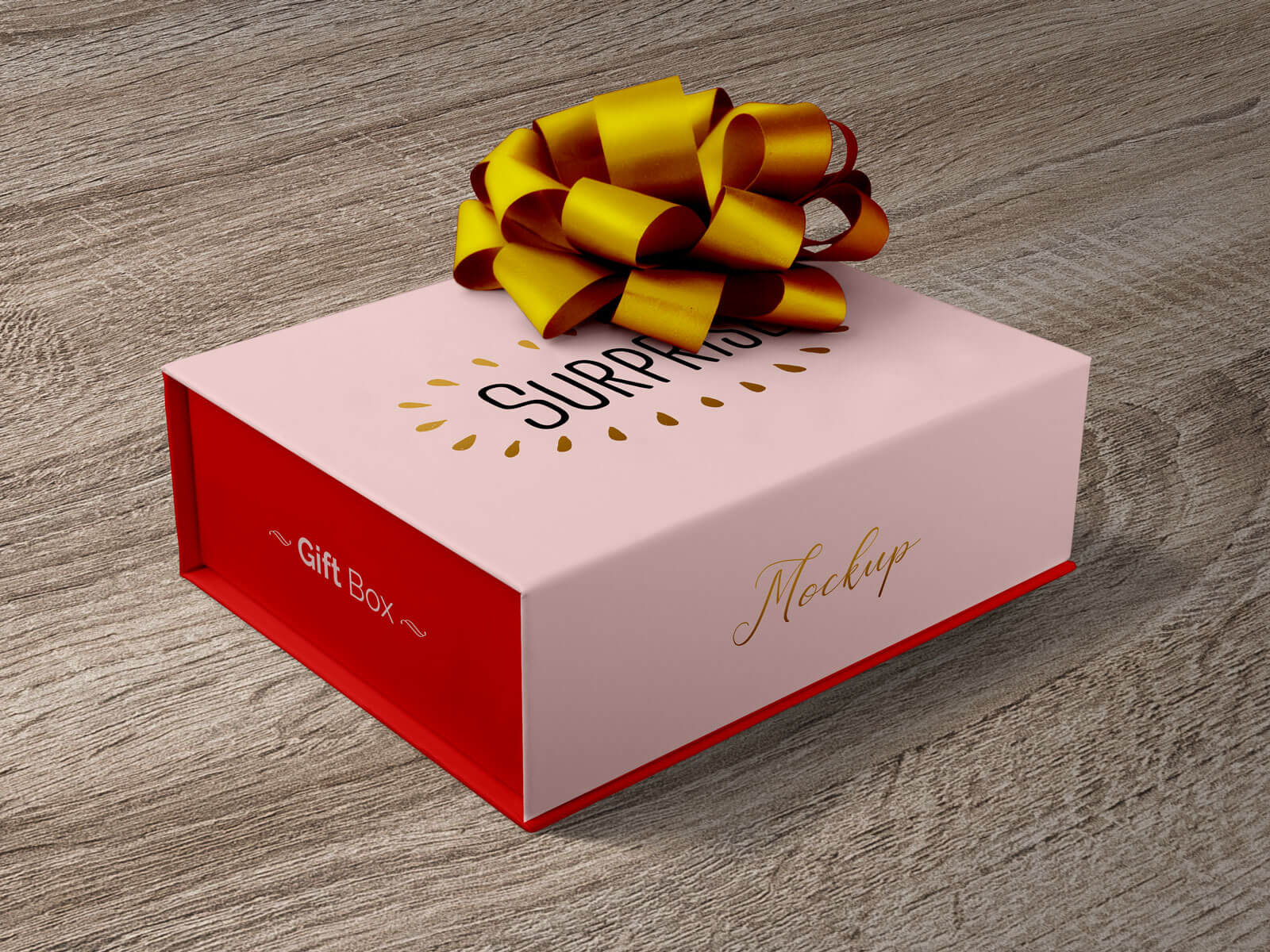 Available Format: Layered PSD with smart object insertion
License: Free for personal and commercial usage
RAR File Includes: Free Mockup PSD
Mock-up Resolution: 4000 x 3000 px

Note:
1. Free Gift Packaging Mockup PSD is allowed to share online (A Must Linkback to this post)
2. Say thanks if you like or share/tweet with your friends. That means a lot to us.
3. And don't forget to subscribe to receive for more high quality premium freebies & awesome articles only.
Download Gift Mockup
More Free Packaging Mockups: