Hello there friends! We are back with yet another interesting blog and of course a free medicine / tablet strip packaging mockup of ours that you are going to love. So, let's get started!
In the past a few months, we are sure that you must have read about a dozen of medicines on a daily basis – mainly because many people were asking questions like whether or not the deadly virus can be cured with this medicine or things like side effects of using a particular medicine for something it cannot cure. And you know when you are social media, you need to be careful as half of the news is not based on facts nor is it backed by any researches whatsoever.
In order to be making informed decisions about something as sensitive as taking a medicine, one must check out the health groups – if there are any or consult a doctor right away instead of believing information that has been shared by someone in your friend circle. It is important and you would never want to end up in a hospital because self-treating yourself only seemed right at that time.
Although, there are a few medicines that do not react vigorously but then there are some that do and there is only one way to know it and that's through the packaging and the dosage leaflet. It is also important for everyone to go through the literature they find through credible sources to fully understand a thing or two – especially if they are having any confusions regarding the intake, side effects etc. Another interesting thing that have become a part of a medicine leaflets is that the pharmaceutical companies also debunk myths in a subtle way to help you understand almost everything about that medicine.
We plan on sharing designs that are related to medicine and health care in our upcoming blogs however, for our today's blog, we have created this free medicine / tablet strip packaging mock-up PSD. Allow us to share how you can use it for your commercial design projects!
Medicine packaging is a crucial business because one must know all the details in detail to make sure that the medicines etc. are safe, used the way they are supposed to be used, etc. From following the safety guidelines to making sure that the literature is delivering the right message and no extra, unnecessary information, it is super important for the design team to thoroughly go through the data that you receive from the client's end. You would not want to overlook a tiny mistake in the overall design as well as in the copy at any cost.
With our free medicine, tablet strip packaging design, you can easily create whatever you want to create and we can bet that not only will you enjoy working on your designs, but you will also be sell your creative thoughts to your team lead & clients in a matter of a few minutes. That being said, here are some useful and easy to follow design tips to get things going:
For any medicine, tablet strip packaging design, you must know that your design is a visual depiction of a soothing effect. Want to know why? It is because you do not want anyone to be scared of taking that medicine. Everyone takes a medicine or two to be healed from an ailment and they would like to feel & believe that this medicine will help them in getting better. Your packaging is the first thing your customer gets in touch with applies here too – which means that you must incorporate the feeling (of getting better) into the design.
As you would know that different medicines are prescribed depending on the age of the patients which means that we must keep the medicine packaging designs relevant to the age group. For example; all the medicines that are to be used by the kids must have that fun factor there. Like you can add cute animal characters in the design and keep the overall vibe happy and fun. Pictorial packaging designs for kids' medicines work the best and you can try it to see it.
As far as the medicine packaging for the adults is concerned, keep it elegant. You can complement the features of the medicine by adding them in the design too but remember the keyword here is sophistication. Keep it real and subtle and you will end up with beautiful medicine packaging designs for adults.
Colors play a vital role in every packaging design and for medicine packaging, we suggest you use delicate colors to provide a more persuasive look to the design. Avoid using dark colors as they do not go with the product and always pick soft colors for your medicine packaging designs. Another important thing to keep in mind is that your content must be written in legible fonts so, that it can be read by anyone & everyone without any difficulties.
And that's all for today! We hope that our blog and free medicine / tablet strip packaging mock-up PSD file will help you design great stuff. Don't forget to share your feedback and suggestions in the comments section down below!
Free Pharmaceutical Medicine / Tablet Box Packaging Mockup PSD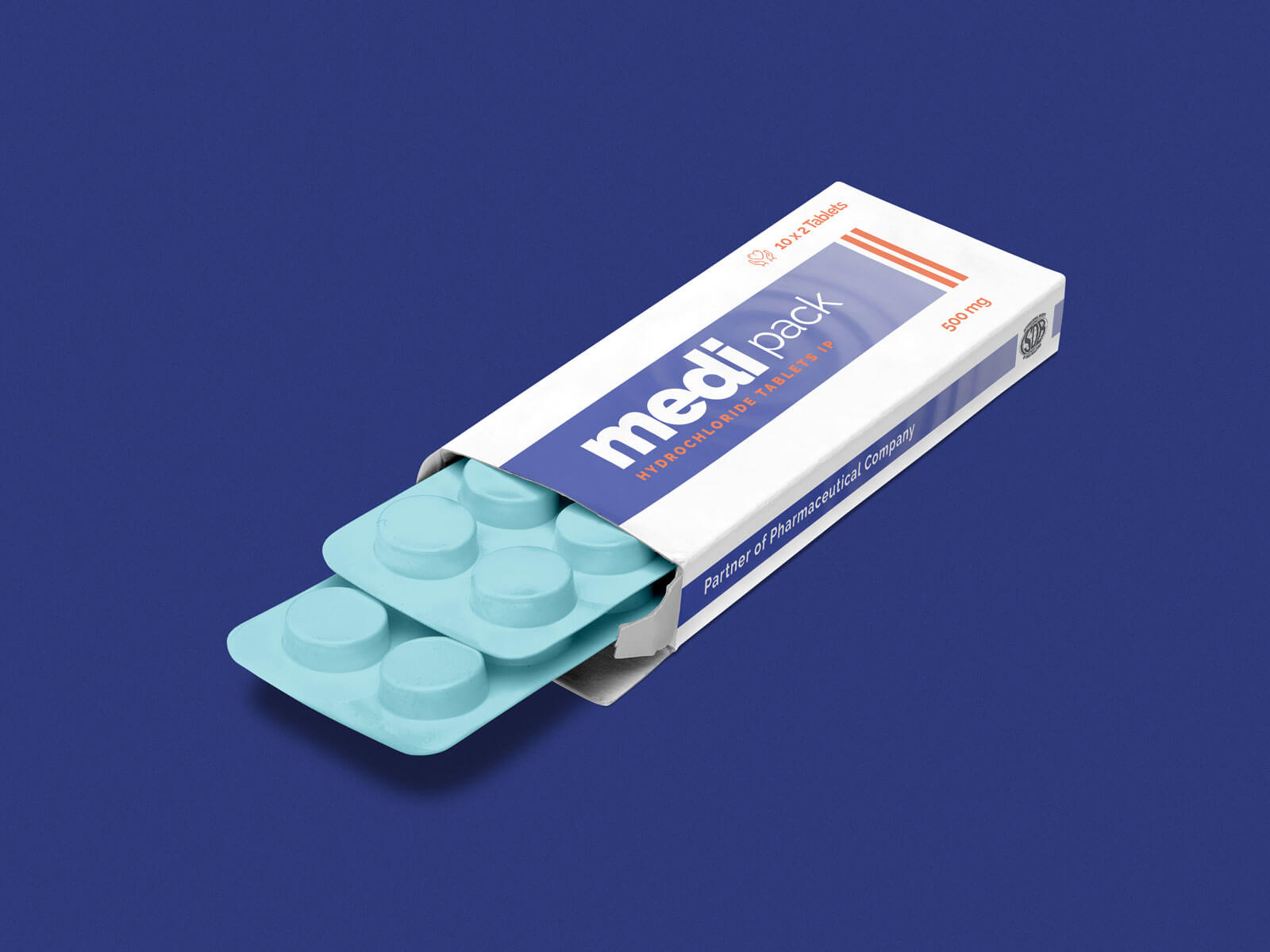 Available Format: Layered PSD with smart object insertion
License: Free for personal and commercial usage
RAR File Includes: Free Mockup PSD
Mock-up Resolution: 4000 x 3000 px

Note:
1. Free Medicine Box Packaging Mockup PSD is allowed to share online (A Must Linkback to this post)
2. Say thanks if you like or share/tweet with your friends. That means a lot to us.
3. And don't forget to subscribe to receive for more high quality premium freebies & awesome articles only.
Download Pill Box Mockup
More Free Box packaging Mockups: