Hi there friends! We know that now we have got Netflix, Amazon Prime and other streaming platforms that allow us to watch our favorite seasons, movies and documentaries in reasonable prices but there are still many people who like watching the TV with (or without) their family members sitting right there. We think that it is a nice thing to do every now and then as it also gives us a chance to spend some time off of work and maybe we can also have a chat with our parents, siblings, spouse or even friends too and that brings us to our free mock-up PSD that we have created for you – of a TV screen.
As you would know that tech companies around the world are always experimenting with new stuff and technologies that can be added to everyday electronics. The reason of doing that is to bring something innovative on the table by finding a gap in the already existing brands, businesses and their strategies. For example; ten years ago, we did not have TV screens that would allow us to use USBs, right? But now we have got so much more – it probably wasn't needed in the first place but it has become a need to watch for TV screens that are easy on the eyes, that can do much more than just being a TV screen and stuff like that.
So, what would a tech company need to pitch a new and brilliant TV idea to their team leads or clients? A TV screen mock-up PSD, right? Well, consider that done but there are more things that the designers will require to present the ideas in a way that the only feedback they get is to practically work on them. For example; you are all about aesthetics and beauty and you want to give a superb experience to the customers, what will be your first basic idea to go about it? Designing a TV screen that cannot be ignored.
Sleek design, stunning colors – it looks like art and we can bet that no one will be able to walk past in the store. Feel free to use our free TV screen mock-up PSD file to create your designs and share them with the concerned team members for the final approvals.
If you and your tech company is all about bringing something new to the table by finding out the gap and presenting it in a way that they customers feel inclined towards the product, then this free TV screen mock-up PSD file is for you too. You can demonstrate the stunning new features that you would want to incorporate into your new product line by simply showing them through the mock-up designs.
Also, if you feel that a TV screen can be in colors that are not black then you have our permission to experiment with that as well. This will be a new thing too because well, there are many people who would want to complement the interiors with their TV screen and although black is one of the best colors that exist on the spectrum but how about a matte royal blue TV set? Or a subtle red color? Oh, we can tell that it will look so beautiful. By picking up the non-conventional colors for the TV sets, we think that you can at least start the conversation and who knows, we will be able to get a classier TV set in years to come!?
And you know it could be anything – from allowing the direct connection between the TV screen and wireless headphone to a flat screen design making it a more compact TV experience to soothing colors powered by the OLED (organic light emitting diode) technology.
Then there are other things that can be done on a TV screen like your office work. We will share an interesting incident with you guys to give you ideas on how to take your business pitch to the next level. This one day, one of our laptops started acting up. It just won't work at all so, we decided to plug it with the TV screen of ours and guess what? That worked and we could also get done with our job too. You see, TV screens can be more than just a TV and if you have something different to offer in this regard, our free mock-up PSD will help you do that in a less than thirty minutes.
That is all for today, you guys! We hope that you had a great time reading this blog and will also enjoy working on the free TV screen mock-up PSD. Do share both of them with your friends and favorite colleagues too and let us know if you would like us to share something that we haven't shared here already.
Free UHD TV LCD Screen Mockup PSD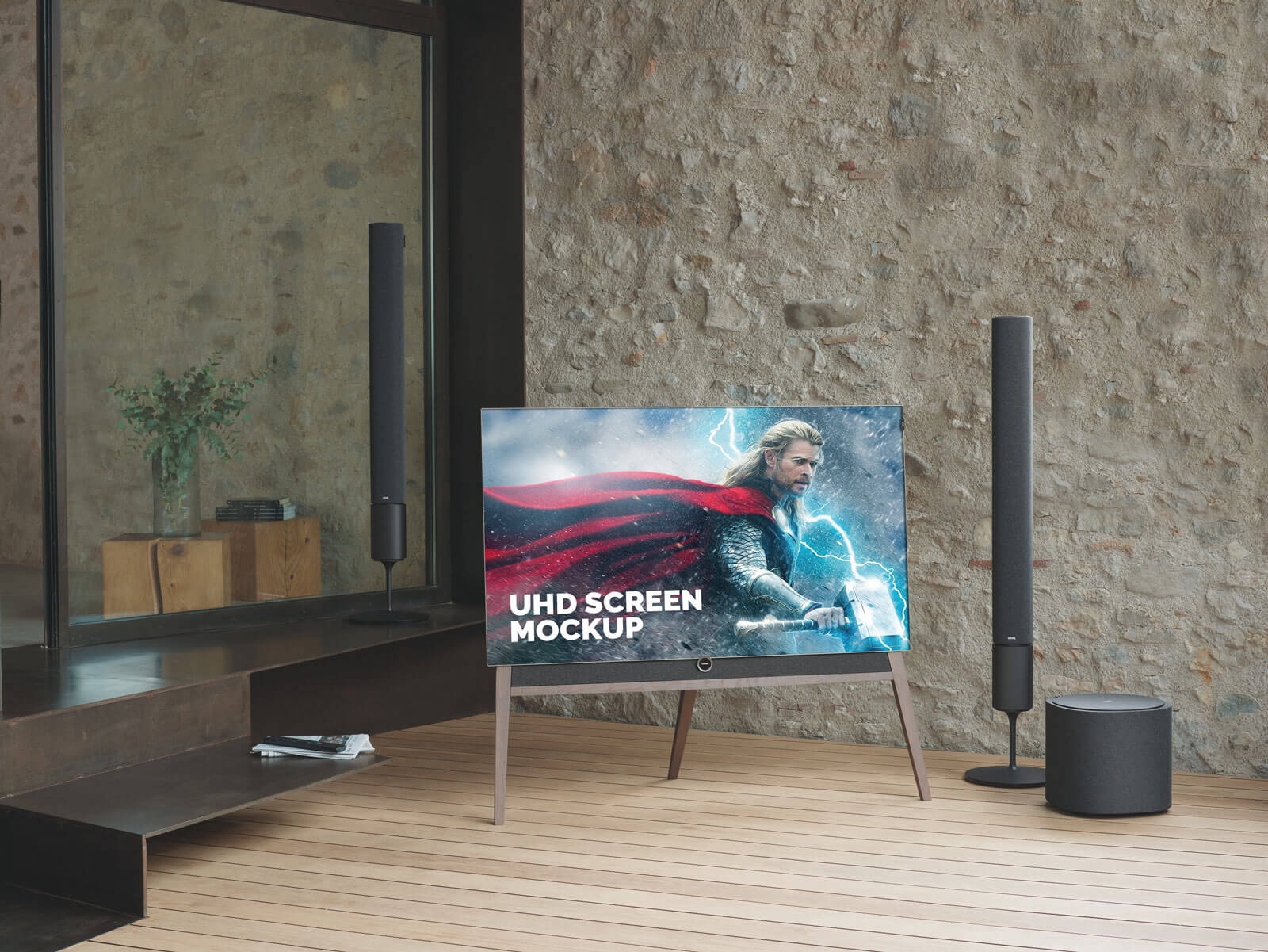 Available Format: Layered PSD with smart object insertion
License: Free for personal and commercial usage
RAR File Includes: Free Mockup PSD
Mock-up Resolution: 3543 x 2659 px

Note:
1. Free UHD Screen LCD Mockup PSD is allowed to share online (A Must Linkback to this post)
2. Say thanks if you like or share/tweet with your friends. That means a lot to us.
3. And don't forget to subscribe to receive for more high quality premium freebies & awesome articles only.
Download UHD Screen Mockup
More Free Mockups: