Hi there everybody! We hope that you are being successful in accepting the new normal and that your work life is also treating you well. Since, major marketing and advertising activities were on a hold for quite some time, we believe that this is the right time to start putting up new street billboards here and there and be finally back to work. To help you and your design team create the best billboards, we are here with our free street billboard mock-up PSD so, let's get started!
Billboards play a vital role when it comes to promoting a business. Their magnitude does the thing most of the times but if done correctly, you can achieve your business goals without having to put in a lot of efforts. We have been sharing designs and easy to follow tips here for you guys and we are happy to mention it here that everything that goes up through us has always been a success. For our today's blog however, we decided to change the perspective a little to allow you to be even more creative.
In this modern and technology driven world where almost everyone has got a smart device to browse and do everything else, it can become difficult to attract them. The only way to grab your audience in today's fast world is to create something so unique and different that they cannot help but notice and then eventually get in touch with your business. Don't worry if you are experiencing a creative block at the moment, but here are a few things that you can do to make your campaigns successful. For example;
Do a market research, again. Go through all the channels that are being used by your business competitors in order to see what's happening. From digital and social media platforms to the way they are talking about their products / services conventionally.
Then collect data through surveys and assessments regarding the behaviors of the customers. Shopping patterns have changed so much that it is important to get to know what the new ones are and that can only be done by figuring it out by conducting in depth studies, surveys etc.
By keeping in mind whatever is happening in your city / country / world, you can also get to know and then strategize your marketing and advertising plans. This could mean anything – you want to introduce a new product that got delayed due to the pandemic, now is the time to start talking about it. You feel the need to create more brand recall, do it to see the results and continue doing it if need be.
And you can also make a plan by taking the non-sale route. That is going to be helpful in the longer run too, because there are chances that your existing and potential customers are not even looking at the services or the products that you are offering.
Talk about how you or your audience can come together for each other. Work towards the ways that your marketing campaign turn into a CSR campaign and see how you can deliver the message by creating short stories and putting them on the billboards.
So much can be done – if you are ready to prioritize your marketing and advertising goals. To start it off, you have our free street billboard mockup PSD to work on. But before you initiate the design project, what you must do is to arrange as many brainstorming sessions as possible to bring the change – in your communication.
Recommended: Best 100+ Outdoor Mockups
We agree that putting your business as something secondary could be a hard decision but right now, the community needs your business for the greater good. If you are a marketing enthusiast, then we are sure that you have seen multinational companies changing the narrative. From allocating the budgets for the community that makes the businesses what they are today to making sure that the message of humanity, patience and resilience is delivered properly, everyone is ready to play an active role.
Maybe that is what your community and audience want to see from your end too so, what do you think will you do to make things work? Allow us to share a few ideas with you guys! As a customer, we love how we can connect dots when one of our favorite brands put up stories (on billboards, screens etc.). The element of curiosity makes us check out the details and if we are truly interested, we would not only invest in that product, but we will also share a positive review with our loved ones too.
Recommended: 60+ Best Signage Mockups
By doing this, the campaign will result in nothing but success and if we are to look at the bigger picture, then we would know how such campaign ideas work for both the business as well as for the audiences.
So, what are you guys waiting for? Get your creative team members on board and start working on creating stunning street billboard designs. Don't think of anything else at the moment and go creative because we know that you will end up with brilliant story boards and amazing designs in no time.
Free Outdoor Advertising Street Billboard Mockup PSD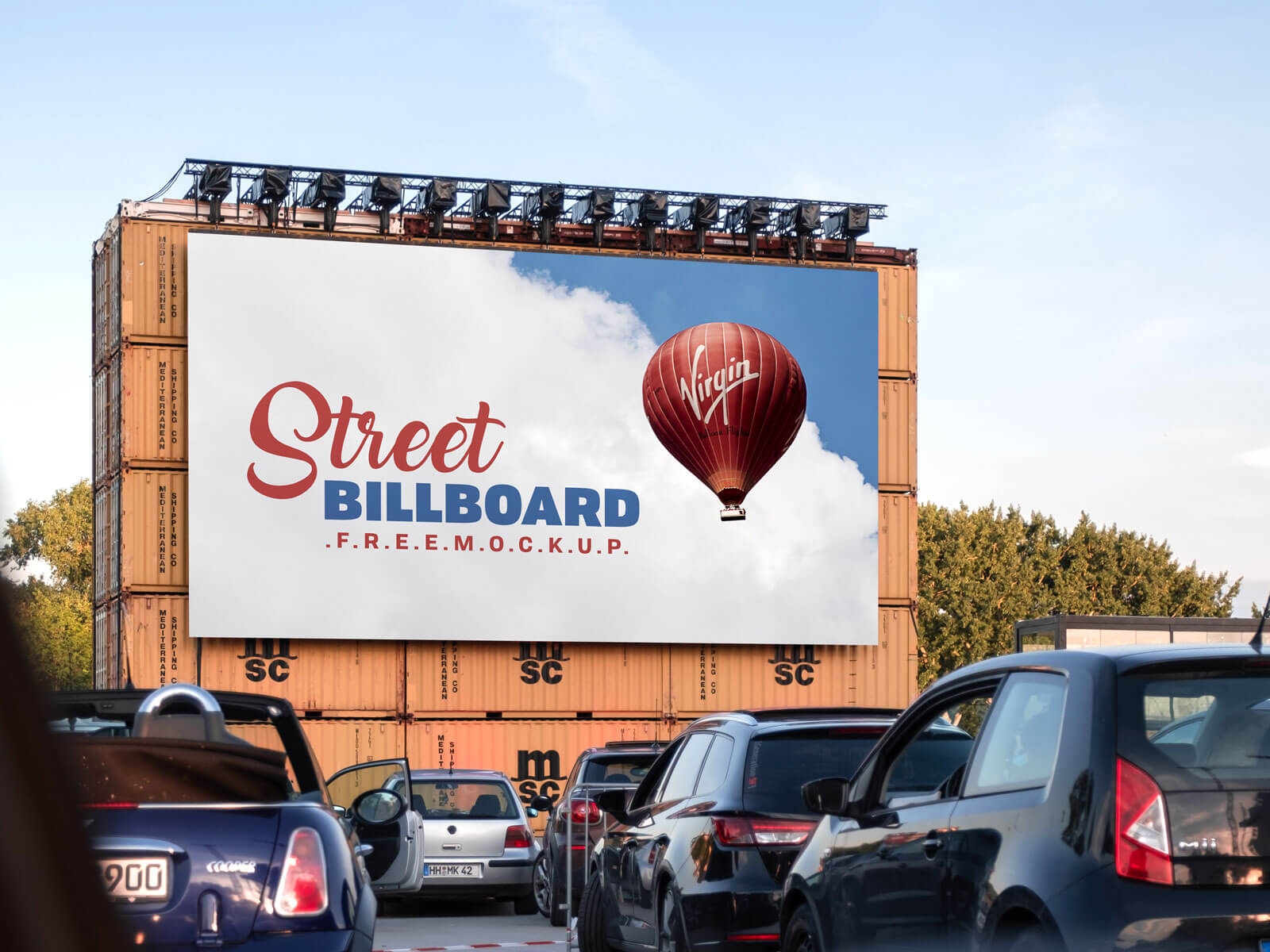 Available Format: Layered PSD with smart object insertion
License: Free for personal presentational use only
RAR File Includes: Outdoor Billboard Mockup PSD
Note:
1. PSD Outdoor Billboard Mockup is allowed for sharing online (A Must Linkback to this page)
2. Layers are hidden to decrease the size of file kindly unhide and place your design on red colored layer.
3. Say thanks if you like or share/tweet with your friends.
Download Billboard Mockup
More Billboard Mockups From Designbolts: